Boating in Annapolis: 3 Questions to Ask Before Buying a Waterfront Home
Posted by Bob and Ronna Chew on Thursday, December 2, 2021 at 1:31 PM
By Bob and Ronna Chew / December 2, 2021
Comment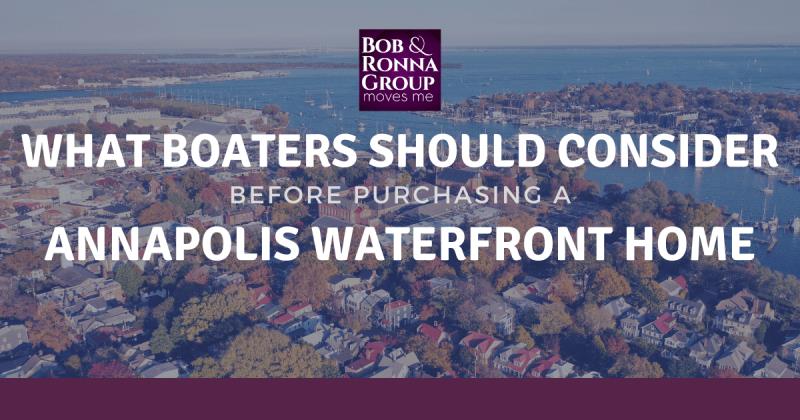 Annapolis is the perfect place to call home for boating enthusiasts. The 21km city is conveniently located along the Chesapeake Bay, just near the delta of the Severn River, meaning it's surrounded by water from nearly all sides.
There are also numerous boating and watersport-related events and activities to keep boaters indulged throughout the year. Buying Annapolis waterfront homes is one of the best ways for boaters to enjoy what this beautiful city has to offer. It'll allow them easy access to the bay whenever they want, plus one can always set up a private dock and avoid crowded marinas.
But before buying one, note, just like every other property, waterfront homes in Annapolis aren't the same. Some have a private direct waterfront, meaning sole and exclusive use, while others have a private, non-direct waterfront, so they're essentially separated from the waterfront by a provincial highway. But waterfront ownership rights are just one part of the picture. Read on to learn about three other essential things boaters should consider before buying a waterfront property in Annapolis.
Is there a Private Dock?
Having a private dock on your waterfront home in Annapolis means you'll never need to compete for the few boat slips at a crowded marina. It'll also increase the ROI of your Annapolis luxury waterfront home, and you can set up any design or even include CCTV cameras to improve the security of your boat. But not every waterfront property in Annapolis has a private dock.
So, before investing in a home, boaters should inquire about the existence of a dock. If there isn't, then discuss riparian rights. This is essential because although waterfront property owners in Annapolis have riparian rights, they're not limitless. Homeowners seeking to build piers, floating docks, boat lifts, or perform any other activity beyond the standard tide line must seek a permit from various entities, including the Maryland Board of Public Works or Maryland's Natural Resource Department. They are also expected to comply with marina regulations regarding sanitary waste removal processes and mooring setups in public and private shellfish beds.
What's the Moorage Like?
Even with riparian rights and proper permits, boaters can't moor anywhere as some spots are usually unsafe and may make getting in and out of the boat difficult. To identify a legal and safe location for mooring a boat, consider the water depth-first. It should be deep enough to keep the vessel afloat regardless of the tide phase.
Measure the depth at high tide, and then use the figure to calculate the average depth during the lowest tide. Also, if you plan on storing the boat on a lift, you'll need a water depth of 3 feet at low tide to securely store the vessel on the lift. Besides depth, check whether the moorage has a rocky or soft bed. A soft mooring bed enhances the security of the boat and prevents damage. Also, check whether the waters are turbulent and if there's any way to protect the boat from waves, wind, and other harsh conditions, especially during storms. Ensure there's ease of access to the boat too. Remember, even with permits, restrictions to how close the mooring can be to the shore still apply, so keep them in mind while reviewing the moorage conditions of your potential home.
How Much Boating Traffic is There?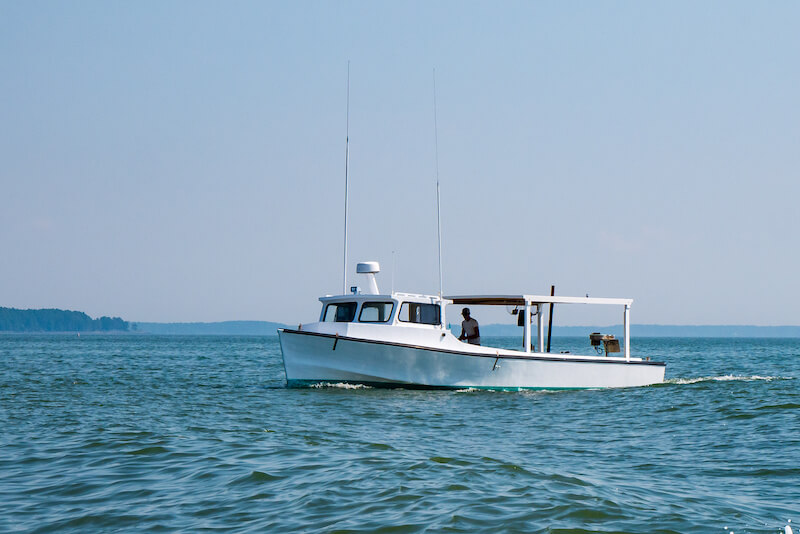 Due to the strategic location on the Chesapeake Bay, Annapolis is known as the sailing capital of the world. This port city attracts many boaters thanks to competitions like the Annapolis Sailboat Show, the largest boat show universally, and the National Sailing Hall of Fame.
It's also home to numerous maritime attractions, including the Naval Academy and the Annapolis Maritime Museum. Cruising tours and watersports are also quite popular, meaning Annapolis attracts tourists and sailors, watersport enthusiasts, and even investors who move here permanently to maximize the great weather and rich boating scene.
As a result, some waterfront properties, especially those close to the bay, can be subject to boating traffic. So, before buying one, consider how much traffic you might experience. Usually, the larger the waterfront area, the more traffic one is likely to encounter. On the bright side, however, there are many waterfront communities in Annapolis designed to suit boaters. They're often privately designed to keep out the crowds.
Boaters: Ask the Right Questions When Buying a Waterfront Property in Annapolis
Buying a waterfront property is a big deal when you're a boater. So, it's only fair that you get the best value from your investment by getting a property with riparian rights and proper moorage conditions. Besides, boats are quite a valuable investment, and the last thing you want is a waterfront property that exposes your vessel to risks.
On the bright side, most waterfront properties in Annapolis, MD, usually unlock access to quality mooring conditions. What's more, plenty of neighborhoods support boating, meaning most homes may feature already built private docks and designated moorage locations.