Things to Do in Severna Park: Find Weekend Fun Near Your Severna Park Neighborhood
Posted by Bob and Ronna Chew on Friday, November 26, 2021 at 2:50 PM
By Bob and Ronna Chew / November 26, 2021
Comment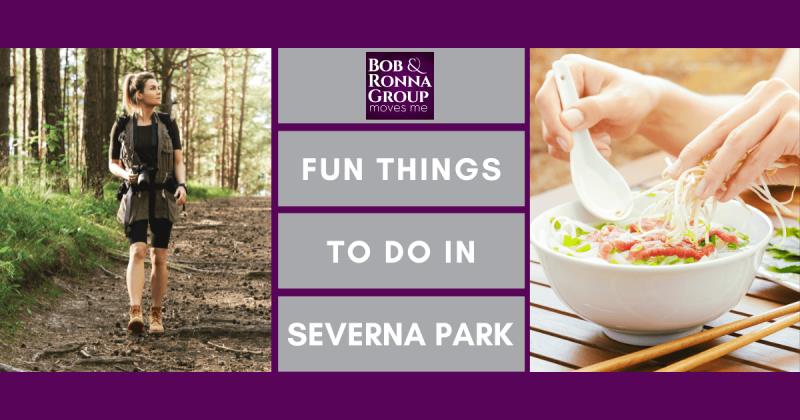 Choosing a home in Severna Park, Maryland, allows a person to have access to the Baltimore-Washington, D.C. area and all of the amenities that come with it. This community is about 8 miles to the north of homes in Annapolis and just 17 miles from the city of Baltimore, making it a good option for many who need to commute into the city for work or school. Luckily, there are also numerous local activities and amenities in and around the community to enjoy. Want to get out and about? Read on to take a look at some of the many fun things to do in Severna Park.
Outdoor Adventures in Severna Park
Outdoor activities are some of the best ways to spend time in Maryland. There's much to love and enjoy outdoors year-round. The city sits on the eastern shore of the Severn River and near the Magothy River, which creates spectacular things to do. Here's a look at some of those activities.
Parks
Parks in Severna Park
Lake Waterford Park
Baltimore-Annapolis Trail Park
Kinder Farm Park
Severna Park offers numerous parks, including local neighborhood parks, walking paths, and playgrounds in residential areas. A few parks stand out, such as Kinder Farm Park, a 288-acre park with fishing and hiking options along with farm tours, a petting zoo, and a museum. There is also Severn Run Environmental Area, an open space located near the highway.
For those looking for trails, B&A Trail is a Rails to Trails Park system with running and walking trails that welcome dogs. Nearby Lake Waterford Park has a playground, beautiful views, and fishing options.
Water Recreation
Natural Water Sources in Severna Park
Lake Waterford
Lake Liberty
Magothy River
Severn River
When the weather warms up in late spring, many people in Severna Park take to the water. There are many ways to do so, including kayaking, canoeing, and sailing in the rivers that border the city. In the local neighborhoods and some of the parks, a few natural creeks and ponds make for a fabulous way to explore the outdoors. For those who want a bit more adventure, consider taking sailing lessons on the Magothy River through the Magothy River Association. The Cattail Creek is the ideal place to do some kayaking as well. There's also the Severn River Swim Club for those who are looking for pools.
Hiking & Biking Trails
Trails Near Severna Park
B&A Trail
Kinder Farm Park Trail
Baltimore-Annapolis Trail
Forked Creek Trail
One of the best perks of living in Severna Park is the direct connection to the Baltimore and Annapolis Trail. Originally a railroad track, it's been transformed into a 13.3-mile-long paved path for biking and jogging. It's quite a beautiful place to go for a walk. A Half Marathon takes place at the Severna Park High School every year that runs through a portion of the B&A Trail. Kinder Farm Park offers a fairly expansive paved jogging trail, along with sports fields that allow runners to use the paths around them.
Any of these activities can make enjoying nature easy in and around Severna Park. For those looking for more things to do, it's easy enough to find plenty of other options in Annapolis and Baltimore as well.
Shopping in Severna Park
Severna Park Shopping Centers
Park Plaza Shopping Center
Severna Park Marketplace
Severna Plaza
Magothy Gateway
Severna Park has numerous shopping areas with a good blend of local shops and larger, national brands. Park Plaza is one of the prominent locations in the heart of the city. It's home to Five Below, Jo-Ann Fabrics, and some smaller locations. Severna Park Marketplace is a shopping center with several retailers, including Giant Grocery Store, Office Depot, Kohl's Department Store, A.C. Moore, and smaller tenants. There's also a Bath & Body Works here, along with several restaurants and fast-food locations.
Both of those shopping centers are along Ritchie Highway, the city's main shopping and commercial district. There are other shops along this area, including Whole Foods Market, Harris Teeter, and Safeway, all grocery stores.
Marley Station Mall is just to the north of the city and offers additional shopping options for Severna Park residents. It's a traditional mall with stores such as Hot Topic, Pandora, Champs Sports, Claire's, and many others.
Severna Park Restaurants
Restaurants in Severna Park
Café Mezzanotte
Park Tavern
Brian Boru Restaurant and Pub
Garry's Grill
The Breakfast Shoppe
Life Pho
As a larger community, there is a wide range of restaurants located in and around Severna Park. Several national chains are located nearby, but this city has plenty of local eateries. For those looking for a traditional burger and beer, the Severna Park Taphouse is one of the best options. It's also known for its seafood. Squisito Pizza and Pasta is a solid choice for those looking for an Italian meal.
In the mornings, many residents visit The Breakfast Shoppe with its extensive menu of local favorites. It's open for just breakfast and lunch, but a fun location for healthy food. For a good cup of coffee and Italian cuisine, check out Café Mezzanotte. It's a bit more formal than other destinations. For higher-end American cuisine with a healthy flair, check out Garry's Grill. It offers fresh sandwiches, soups, and vegan entrees. Shoppers can also stop by for bakery fare and groceries.
Arts & Culture in Severna Park
Severna Park is in one of the most historical areas in the country, and there are numerous cultural and arts experiences to have in the community or nearby. Take a look at some of the numerous amenities in the community.
Museums
Museums Near Severna Park
Kinder Farm Park Tobacco Barn Museum
Annapolis Maritime Museum & Park
The Chesapeake Children's Museum
Benneker-Douglass Museum
Several museums exist in and around Severna Park, many of which provide some history on the area. One option is the U.S. Naval Academy Museum located nearby in Annapolis, showcasing a lot of history about the area's efforts from the War of 1812. For more local history, check out the Historic Severna Park Model Railroad Club. There are scale replicas of the Chesapeake and Allegheny Railroads here to explore. The Marley Station Model Train Garden in Glen Burnie may be another must-see for history buffs, and model train lovers will love the detail of these displays.
Another option is a visit to Kinder Farm Park. It's located in nearby Millersville. It's a good way of exploring the agricultural history of the community. While this is a park and a petting zoo, it's also the home of the farming history programs in the area. It's a fantastic option for those looking to learn the area's history through an actual working farm.
Art Galleries
Severna Park Art Galleries
Gallery 564
Benfield Gallery
King James Galleries
There are a few nearby art galleries in the community. Benfield Gallery is one of those in the city. It's common to find a new show on display, often filled with paintings and other works of art from locals. These change throughout the year, often showcasing local talent. This is also an excellent place to come for help with custom works and custom framing.
Looking for more local creators? Visit Gallery 564. The pieces here showcase the work of local artists, including paintings, photos, and fine art objects. There's also a display on fused and blown glass. This gallery sells works of art to the public and also hosts workshops throughout the year.
Dance & Theatre
Performing Arts Near Severna Park
Stage & Screen Studios
Pascal Center for the Performing Arts
Theater in the Park
There are a few options to consider for those who wish to spend a night out enjoying local theatre. First, be sure to look towards the local high schools and performing arts programs for productions that happen throughout the year. For a different experience, visit the Maryland Performing Arts Center. This dance-focused performing arts center also offers classes to help teach those that wish to learn the fine art of dancing, acting, and otherwise performing.
Another option is the Pasadena Theatre Company, which performs Broadway shows. There are a few venues for this program throughout the region, including the Anne Arundel Community College, just a few minutes from Severna Park.
Exploring all that the area offers in arts and theatre allows locals to become more invested in the community. The opportunities present in this community can be amazing, with local artists of all ages showcasing all that they do.
Severna Park Nightlife
Nightlife in Severna Park
JB's
Severna Park Taphouse
Park Tavern
Copper Creek Pub & Ale House
Adams Taphouse and Grille
While Severna Park is mainly a residential community, numerous clubs and restaurants in the area offer dancing and live music. Some local nightclubs to check out include Power Plant Live!, Hellas Restaurant and Lounge (great for live music on the weekends), and Identity Ultra Lounge (perfect for dancing and cocktails). Be sure to check out the night's lineup before visiting, as it can change often.
Looking for live music, dancing, and food? Check out Brian Boru Restaurant and Pub. There are typically weekend bands here that know how to get people out on the dance floor to enjoy the night. Twain's Tavern is another location like this. The live bands help to make the experience a bit more enjoyable, though many love the food that comes with an experience here, too.
When it comes to the best bar, one location that typically gets recognition is Severna Park Taphouse. It's the local gathering place where many come to grab a drink after work or out for a Saturday night with friends. The taphouse offers a full menu as well as beer, wine, and spirits. There are events scheduled throughout the year, too.
Exploring All That Severna Park Has to Offer
If you're thinking about moving to Severna Park, MD, rest assured that it offers plenty of entertainment and activities. From fine dining to fun live music and dancing, there are lots of experiences to be had here. It's also very community-forward, with a variety of options available to encourage people to get involved within the city itself. This can open the door for lots of fun things to do throughout the year.
If you're looking for your Severna Park dream home, contact The Bob & Ronna Group of Berkshire Hathaway HomeServices with Maryland Real Estate Advantage at (410) 465-4440 to get in touch with a Severna Park real estate agent who can help find the perfect place for you.