What Is a Ranch Style House? 4 Common Traits of Ranch Style Homes
Posted by Bob and Ronna Chew on Tuesday, October 4, 2022 at 10:06 AM
By Bob and Ronna Chew / October 4, 2022
Comment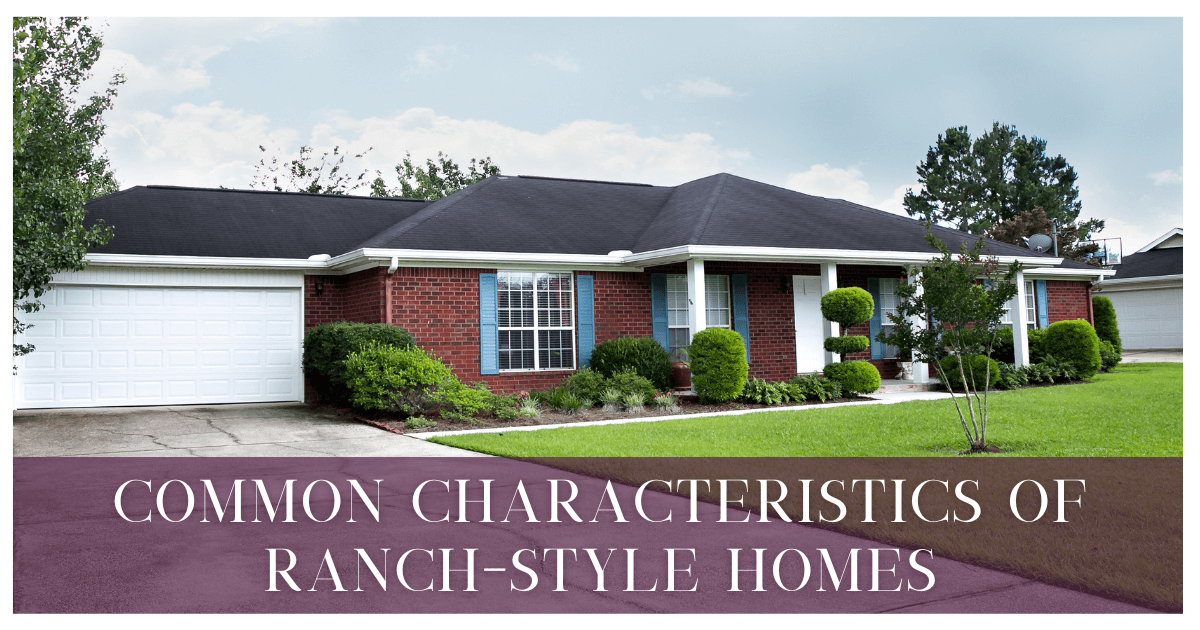 Homebuyers are often drawn to ranch-style homes because they're warm, open, and inviting. Anyone who wants to host large gatherings for the holidays or dinner parties throughout the year will appreciate the open floor plan and natural light ranch homes provide. It's a type of architecture that says, "Come in, get cozy, and stay a while."
Although they originated in the Southwest, ranch-style homes are so popular that they exist throughout the country. Here's a look at some common characteristics of ranch-style architecture and why homebuyers love this style.
Types of Ranch Homes
There are five primary ranch-style homes, each offering homeowners different lifestyle features:
California Ranch: This is an L- or U-shaped home with a patio and front lawn. Its single-story profile blends with the surrounding nature.
Raised Ranch: The front door of a raised ranch opens on a dual staircase leading upstairs and downstairs. It's a multi-story home, usually with bedrooms and a kitchen on the upper floor.
Split-Level Ranch: This home has three staggered stories of living space. The front door opens to the kitchen and dining room. Two half-flights of stairs lead to the additional rooms in the home.
Storybook Ranch: This home looks like something out of a storybook. It has more decorative features, like a faux chimney made of brick or stone, diamond-shaped windows, and a gabled roof.
Suburban Ranch: The Suburban ranch has an L- or U-shaped design but is more compact than a California ranch. It usually has a backyard and an attached garage.
Single-Story L- or U-Shaped Layout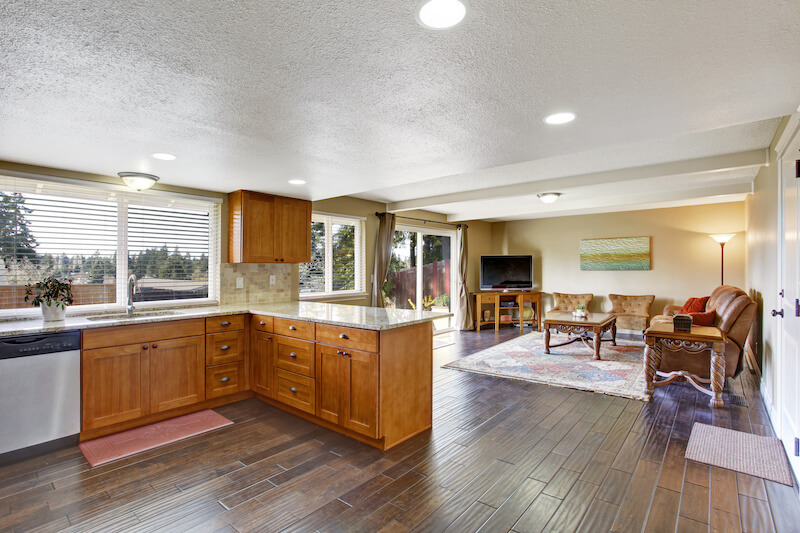 Most ranch-style homes have an asymmetrical design and are built low to the ground on a single story. The U- or L-shaped design allows for a long horizontal facade facing the street side of the property. The one-story low profile is so that the home blends in with its surroundings without blocking the view of any neighboring homes (like a two- or three-story house might).
The open floor plan of L- or U-shaped homes is one of the most attractive features for many homebuyers. It's an interior style where the kitchen, dining room, and living room all blend, creating a large area for entertaining guests.
A ranch home's sliding glass doors and large windows allow the open layout to let in natural light during the day. The glass doors typically open out onto the home's patio. Large picture windows allow the view outside the house to be enjoyed from inside, no matter what time of year it is or what the weather is like. Ranch-style homes have a light, airy feel throughout the year.
Low Rooflines, Gables, & Eaves
As mentioned above, the low rooflines of ranch-style properties intend to create a "low profile." There are two main styles of roof found on ranch-style homes, each with its own practical and aesthetic designs. These are hipped roofs and gabled roofs. Ranch roofs also commonly have wide eaves extending from the home's sides, allowing rain and snow to slide off without adding wear and tear to the home's siding.
A hipped roof slopes on each side, with the ends sloped inward to a ridge that forms where two adjacent roof pieces meet. The "hip" refers to that angle.
A gabled roof is more steeply pitched, with a triangular-shaped wall beneath the roof's front- or rear-facing end. Hipped roofs are a better design feature in areas with heavy winds because they support against such stresses.
Both roof styles provide plenty of attic space in a ranch-style house. Sufficient attic space means the home will have better ventilation and energy efficiency. Some ranch houses have room for a cathedral ceiling, thanks to the ample attic space provided by the roof design.
Attached Garage
An attached garage has been a feature of ranch-style homes since they were first popularized in the early 20th century in the Southwestern states. Ranch homes were primarily a suburban development and required a commute into the city for work. An attached garage before and after work was a convenience feature, providing a way to keep the car out of hot and cold weather.
There are several benefits of having a home with an attached garage. This feature makes it convenient to move household members, pets, and groceries from the car to the inside of the house. Additionally, an attached garage is convenient during bad weather.
Attached garages are more affordable to build because they share one wall with the side of the house. They are also easier to hook up to the same utilities as the rest of the house, such as electricity and water. This capability makes the garage an ideal space for an extra refrigerator, power tools, or other items requiring an electrical hookup. An attached garage can even raise the home's property value because most people like the convenience it provides.
Why Ranch-Style Homes Are So Popular
A ranch-style home's characteristics make it a popular property style with homebuyers. The open floor plan and natural light make it truly feel like a home, and the asymmetrical design adds a unique look. Searching for a ranch home to buy becomes much easier once you understand the architectural style and know what to look for.