5 Questions to Ask When Buying a Waterfront Home: Find Your Chesapeake Bay Dream Home
Posted by Bob and Ronna Chew on Wednesday, April 19, 2023 at 10:30 AM
By Bob and Ronna Chew / April 19, 2023
Comment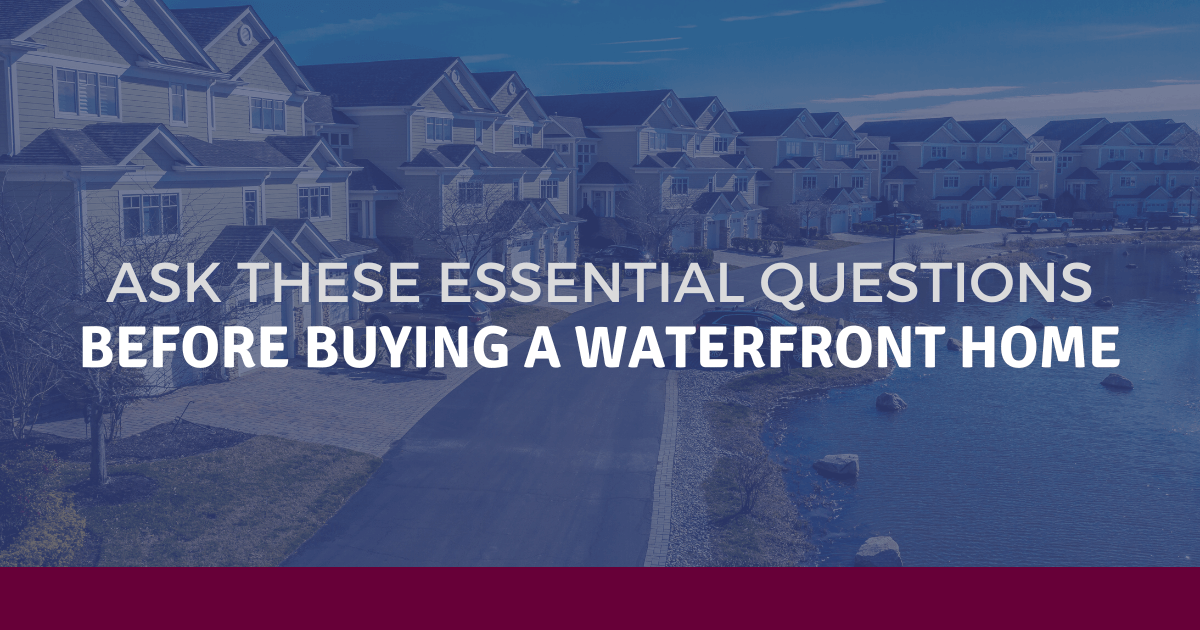 Waterfront homes have an extraordinary appeal for those who appreciate nature and enjoy the sights, sounds, and recreational opportunities owning such a property offers. However, there is a bit more to consider before investing in a waterfront home, as certain restrictions and guidelines are generally in place. Read on to discover some essential questions home shoppers need to ask before signing a contract for any waterfront home.
What Are the Boundaries of Waterfront Ownership?
One of the most important things to clarify before buying a waterfront home is ownership boundaries concerning having access to bodies of water adjacent to the property. These generally are determined by water rights and are regulated by each state.
However, depending on the type of water and municipality restrictions, greater provisions may be applicable concerning usage and access. This brings about the terms and rules of riparian rights and littoral rights for landowners with waterfront property.
Riparian rights are water rights afforded to landowners with property located along any flowing body of water like streams or lakes. Owners are most often awarded the right to use these navigable waters as long as they don't disrupt or harm neighbors up or downstream. Should the stream or river not be navigable, owners typically have a claim to all the land under the water to the center of the waterway.
Littoral land rights are water rights pertaining to owners with land bordering large, navigable oceans, bays, and lakes. Landowners with littoral rights will have full, unrestricted access to the waters. However, they will only own the land fronting the shoreline to the median high-water mark.
What Is the Water Quality Like?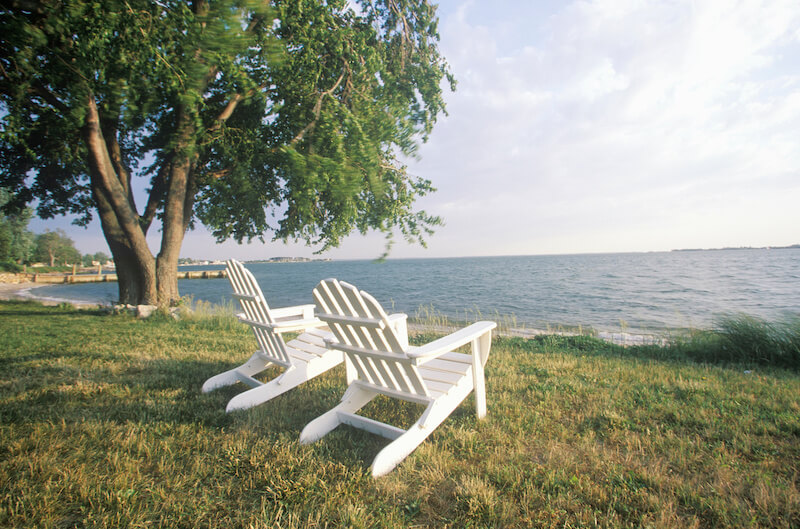 The water quality fronting the property is more important than many buyers think. This is especially a concern for those planning to fish or enjoy recreational activities in the water.
Water quality can impact home value should it be unsafe for drinking or filled with flourishing algal blooms or harmful bacteria. Water pollution comes from many sources, such as:
Acid rain
Overflows of untreated sewage
Runoff of animal excreta and fertilizers
Chemical pollution from industrial sites & activities
Oil & chemical spills
When one comes directly in contact with contaminated water—especially for long periods—serious health risks can occur or trigger allergic reactions to pets and people. Before buying, closely evaluate the latest health reports concerning the water quality of nearby properties under consideration.
Keep the future in mind, and give a second thought about waterfront properties close to potential sources of contaminants down the line, such as industrial facilities, processing plants, and large agricultural operations. Not only can this diminish the perceived value of the property overall, but the water may not be suitable for use at some point, according to recreational water quality guidelines.
Has the Home Flooded Before?
Days of heavy rains, broken barriers or dams, and uncontrollable storm surges can result in waterfront homes suffering from flood damage. Minimal damage, when repaired immediately, can prevent long-term problems, but neglected properties with water damage may prove to be hazardous.
A wise first step is to look at FEMA flood plan maps to see if the home is in a high-risk zone, a moderate-risk zone, or a minimal-risk zone for flooding. However, more than natural disasters can result in a home becoming flooded, such as plumbing mishaps, roofing issues, etc.
While sellers or their agents should ideally disclose any previous water damage or flooding, buyers will want to check with neighbors and have an independent inspector look for any telltale signs of prior flooding. Armed with these details, buyers can decide whether to move forward with the purchase.
What are the Insurance Requirements?
When looking to buy a waterfront property, you may be required to have certain types of insurance in addition to the types required for an inland home. Here are some of the insurance options to ask if you need:
Flood insurance: Waterfront properties are at a higher risk of flooding, so it's important to check if the property is in a designated flood zone. If it is, you'll need to purchase flood insurance, which may be required by your lender if you're taking out a mortgage.
Windstorm insurance: If you're in an area prone to hurricanes or tropical storms, you'll want to check if windstorm insurance is required or recommended. This type of insurance can help protect your property from wind damage.
Liability insurance: If you plan on renting out your waterfront property or hosting guests, you'll need liability insurance to protect yourself in case someone is injured on your property.
Homeowner's insurance: You'll also need standard homeowner's insurance to protect your property from other risks, such as fire or theft.
Special considerations: Depending on the location and type of waterfront property you're buying, there may be additional insurance requirements to consider. For example, if you're buying a property with a dock or boathouse, you may need separate insurance to cover those structures.
It's important to ask your real estate agent any questions you have about insurance requirements. In addition, an experienced insurance agent can help you navigate the insurance requirements for waterfront properties and make sure you have the coverage you need to protect your investment.
Can a Dock Be Built on the Property?
A private dock is an essential purchase for a waterfront home. The best way to discover whether a dock may be built on a property is to check the deed, consult with city, county, and state agencies, and inquire with the home or property owners association if one exists. Obtaining a dock construction permit may be required.
In some cases, installing a dock on a property may not require a permit; however, owners will likely need to follow detailed dock planning and construction regulations. More commonly, especially in planned waterfront communities, general dock permits may be required by the city and state, in addition to permission from the HOA.
A few of the most common restrictions set forth when building a dock on a lake include rules such as:
No area of the dock spans wider than eight feet
Docks cannot serve as a marina
Docks must allow water to flow beneath them
Docks must comply with local restrictions and guidelines
Docks cannot pose any hazards to safety, health, or navigation
Buy Waterfront Property Armed with Knowledge
Going in without knowing any community restrictions, how much property and shoreline is owned, or how 'healthy' the water and surrounding environment is could lead to challenges when purchasing a waterfront home. Asking these key questions offers buyers peace of mind and ensures the waterfront home they invest in will exceed their expectations for years to come.