Moving to Columbia: Everything You'll Love About Living in Columbia, MD
Posted by Brian Alexander on Tuesday, November 16, 2021 at 9:18 AM
By Brian Alexander / November 16, 2021
Comment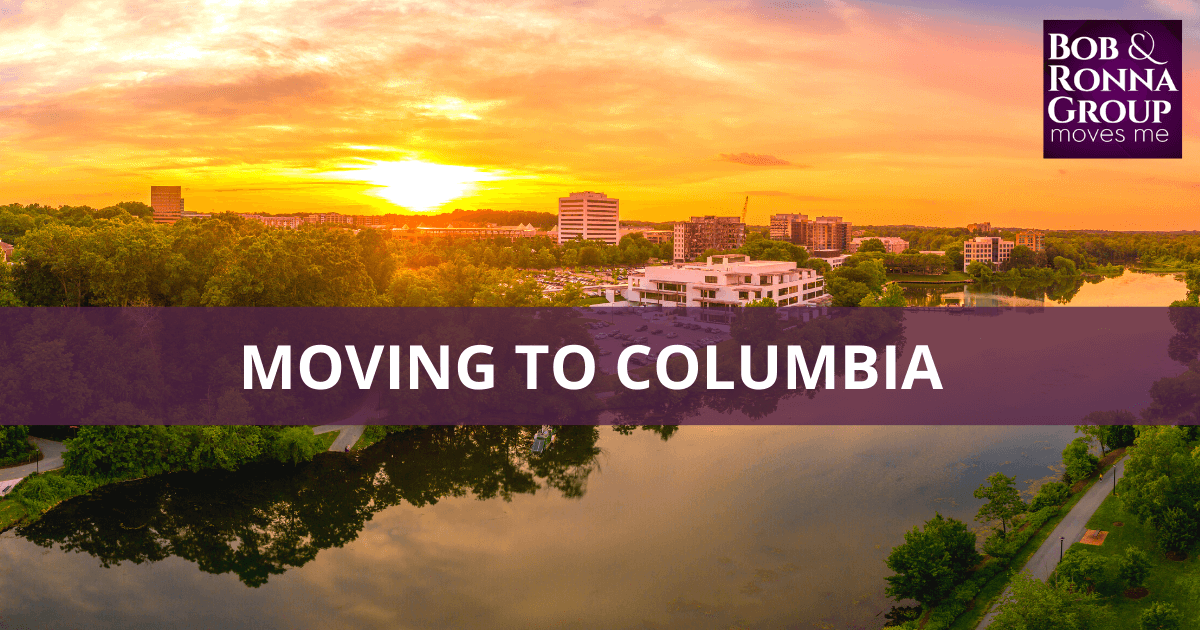 Living in Columbia, MD
Columbia, Maryland boasts a thriving tech industry, plenty of fun things to do, warm summers, access to both Baltimore and the national capital, convenient public transportation options, and proximity to numerous schools and universities. Located along the Baltimore-Washington corridor, Columbia is a planned community of ten villages. Nestled among several lakes, homes in Columbia offer the charm of a small town while providing access to the amenities of major cities. Thinking of moving to Columbia? Keep reading for an overview of what new residents can expect.
Cost of Living in Columbia, MD
Living in Columbia tends to be more upscale than other parts of the United States, with the overall cost of living around 46% higher than the national average. Most of this cost comes from the area's housing prices. However, health care in Columbia tends to be less expensive than in other parts of Maryland.
In Columbia, single-family homes range from around $266,000 to $1,500,000, with the median home valued at about $372,000. New construction homes for sale in Columbia are considerably more valuable than older ones. Homes built after 2014 have a median value of $650,000, while homes built before 1940 typically have a median value of around $243,000.
Although housing in Columbia usually costs more than it does elsewhere in the nation, renting in Columbia tends to be less expensive on average than it is in other parts of Maryland. Rental prices break down as follows:
Studio apartments can cost about $900/month.
One-bedroom apartments can cost around $1,000/month.
Two-bedroom apartments and homes can rent for about $1,300/month.
Three-bedroom homes can cost about $1,600/month.
Four-bedroom homes can average about $1,900/month.
Other essentials such as utilities, groceries, and transportation costs tend to be more expensive in Columbia than in other parts of the nation, but only marginally so. A Columbia energy bill averages around $180/month, while a phone bill tends to be around $190. As for transportation costs, gas costs about $2.70/gallon, and bus fares come in at $15 for ten rides.
Meanwhile, health care costs in Columbia are 8% lower than the national average. An average doctor's visit costs about $100, while veterinary visits cost about $50.
More information about cost of living in Columbia:
Columbia Job Market
Columbia's job market reflects the community's proximity to Baltimore and the capital, with plenty of public and private employers offering work in numerous industries, such as cybersecurity and IT, health care, and public administration. While several large companies call Columbia home, commuting to work in Baltimore or D.C. is not uncommon.
The biggest cybersecurity company based in Columbia is Tenable. The company services over 30,000 organizations worldwide, including more than half of Fortune 500 companies.
Columbia has no shortage of health care companies. The largest is Maxim Healthcare Services, a private medical staffing company that has operated out of Columbia for over 30 years. MedStar Health also has its headquarters in the community and has ten hospitals servicing the Baltimore-Washington metropolitan area.
Based nearby in Baltimore is Johns Hopkins Medicine, the company behind the world-famous Johns Hopkins Hospital. In 2021, the U.S. News and World Report ranked Johns Hopkins Hospital #1 in Maryland and #4 in the United States.
Another major employer in Columbia is the Columbia Association, which maintains the planned community. Following the vision of Columbia's founder James Rouse, the Columbia Association operates numerous amenities for the community, including various sport and fitness clubs, swimming pools, and parks.
Popular Industries in the Area
In Columbia, the top industries include professional, scientific, and technical services, health care and social assistance, and public administration.
Many occupations in the professional, scientific, and technical services sector involve cybersecurity, IT, and other work with computers. The industry accounts for nearly 17% of Columbia's workforce, while about 11% of Columbia workers have computer- and math-related occupations.
Meanwhile, about 14% of Columbia's workforce works in the health care and social assistance industry. With major health care providers based in Columbia and the famous Johns Hopkins Hospital nearby, it's no surprise health care is so integral to Columbia's economy.
Thanks to Columbia's proximity to the national capital, public administration is a major industry in the community, accounting for 12% of the workforce. Columbia has nearly 2.6 times as many workers in public administration than is expected of a city of its size.
More information about finding a job in Columbia:
Things to Do in Columbia, MD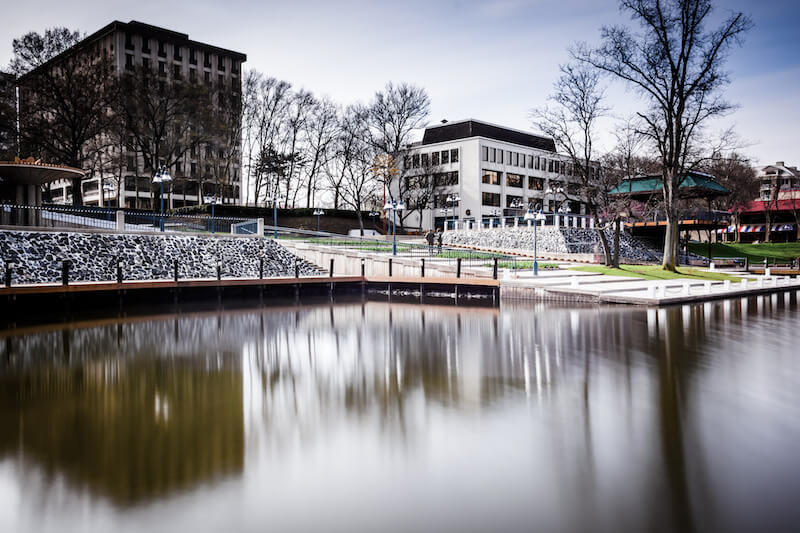 Thanks to the Columbia Association and the work of local entrepreneurs, there are plenty of things to do in this beautiful planned community. Columbia features numerous parks, lakes, and clubs for outdoor activities, plenty of local bars and restaurants for drinking and dining, and several venues for music and other live performances.
Outdoor Activities
In addition to the 3,600 acres of open spaces maintained by the Columbia Association, Columbia also has several lakes, sports clubs, and tot lots, Columbia's inventive version of playgrounds.
Lake Kittamaqundi is one of Columbia's largest lakes, stretching across 27 acres. The lake is one of Columbia's three artificial lakes, first created in 1966. The lake features a boathouse and draws many visitors during the summer for festivals.
The Columbia Association operates several sport and fitness clubs, including the Supreme Sports Club, which offers various amenities and classes.
Currently, the Columbia Association maintains about 170 tot lots across the community and has plans for even more. Bleak House is one of Columbia's most notable tot lots. The historic ruined home now features a slide after its conversion into a tot lot.
Restaurants, Breweries, and Bars
Numerous restaurants, breweries, and bars call Columbia home, allowing patrons to sample craft beer and international cuisines.
At Sapwood Cellars, patrons can enjoy a craft beer or fare from one of the location's rotating line-up of food trucks. Meanwhile, the Frisco Taphouse offers over 100 beers on draft and a full dinner menu.
As for high-end dining, Sushi Sono is a popular Japanese restaurant overlooking Lake Kittamaqundi. The Iron Bridge Wine Company also offers a carefully curated collection of 300 wines to pair with their lunch and dinner menus.
Nightlife
Many dining establishments in Columbia host live music at night, but Columbia also has other great venues for theater, music, and drinks. At Toby's Dinner Theatre, guests can enjoy brunch or dinner and a show. The venue frequently hosts musicals, comedies, and other plays.
The Merriweather Post Pavilion is an outdoor music venue featuring year-round events, an annual jazz festival, and Wine in the Woods. The wine tasting event earned recognition as the best festival in Howard County.
Climate in Columbia, MD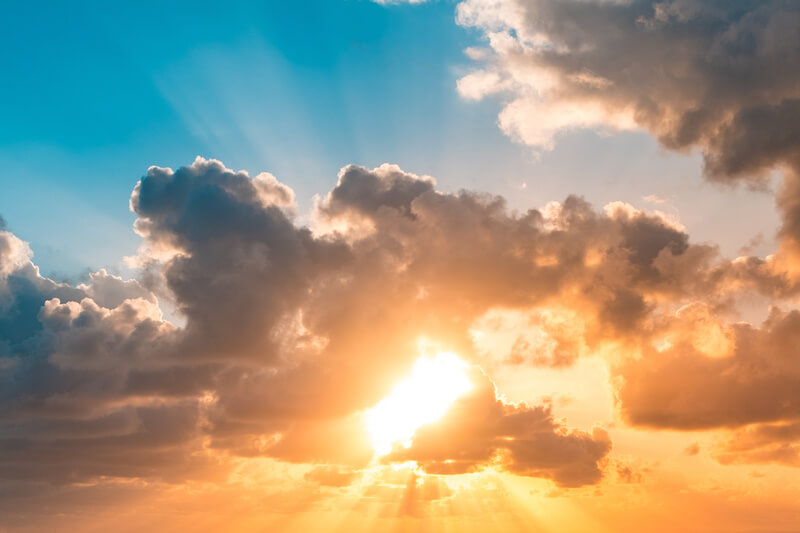 As a Mid-Atlantic community surrounded by lakes, Columbia has warm, humid summers and cold, snowy winters, with temperatures typically ranging from 26°F to 86°F. Although temperatures, precipitation levels, and winds vary throughout the year, Columbia experiences partly cloudy skies year-round.
Columbia can reach freezing temperatures during the winter, with an average low of 27°F in January, its coldest month. Although the community gets chilly enough to receive snow, the cold season also tends to be dry. In February, Columbia's snowiest month, the average snowfall is about 8 inches.
Temperatures and precipitation levels in Columbia gradually rise throughout the spring. Meanwhile, winds begin to slow. By April 5th, temperatures are usually warm enough for the growing season to start.
Summers in Columbia tend to be warm rather than hot, with an average high of 86°F in July, the community's hottest month. Although mid-July can get a bit muggy, many consider summer the best time to visit Columbia.
With fall comes the start of Columbia's dry season and gradually falling temperatures. In late October, the growing season ends, and the wind begins to pick up in preparation for winter.
More information about the climate in Columbia:
Traffic in Columbia, MD
As the most populated community in the Baltimore-Washington suburban corridor, Columbia sometimes struggles with heavy traffic and lengthy commutes to nearby urban centers, but leaving early and following traffic updates can help.
Although buses to D.C. can take 50 to 80 minutes, the average commute time in Columbia is about 29 minutes. Meanwhile, the national average is about 26 minutes. Commuting to Baltimore is much quicker than traveling to the capital. It usually takes somewhere between 26 to 30 minutes.
Most businesses in Columbia have free on-site parking, and the community does not have any paid parking lots or garages.
Major roads in and around Columbia include US-29, I-95, MD-32, MD-108, MD-100, and MD-175. Some key congestion spots to be aware of include the on-ramp from Broken Land Parkway onto Route 29, the Ridge Road and Route 40 intersection, and Snowden River Parkway.
There are plenty of resources for keeping track of traffic updates in the Columbia area. Maps applications like Google Maps and Mapquest offer live traffic updates. Meanwhile, the MD511State Twitter account automatically announces major roadway events on Maryland roads.
Alternative Routes
Although some of Columbia's major roads tend to experience congestion during the rush hour, some alternative routes can make getting around town quicker.
Saner Road and Cedar Lane provide a north-south route west of I-95, but most commuters choose US-29 over I-95 when traveling into D.C. Additionally, while using Broken Land Parkway to get onto US-29 can be difficult, the road provides a great shortcut from US-29 to MD-32.
The junction of US-29 and MD-32 can get hectic, but luckily, several roads around it allow drivers to avoid its clover-style ramps. Shaker Drive, Martin Road, and Old Columbia Road allow for easy access to businesses and homes in the area without the need for getting on a major roadway.
More information about traffic in Columbia:
Public Transportation in Columbia, MD
Columbia's primary source of public transportation is the Regional Transportation Agency of Central Maryland (RTA), but the Maryland Transit Administration (MTA) and Howard County Bikeshare system also serve the community.
RTA operates buses on 15 different routes in and around Columbia and Howard County. The Mall in Columbia serves as a transfer point for many lines, with seven routes passing through the shopping center. RTA buses usually run from 6 am to 10 pm Monday through Friday and from 8 am to 6 pm on weekends and holidays. Fixed route tickets cost $15 for a 10-ride ticket book or $40 for a monthly pass.
MTA operates several routes connecting Columbia to other parts of Maryland and Washington, D.C. Depending on the destination, a one-way fare can cost between $4 to $8. Monthly fares range from $136 to $272. MTA also operates the Maryland Area Regional Commuter (MARC) train service, with five stations in Howard County on its Camden Line. One-way fares on this route can cost between $6 and $9.
The Howard County Bikeshare system offers both traditional and electric-assist bicycles at nine stations throughout the county. Annual memberships cost $85, while monthly memberships are $15. Per ride, bikes cost $2 and can be used for 30 minutes before incurring additional charges.
Columbia Schools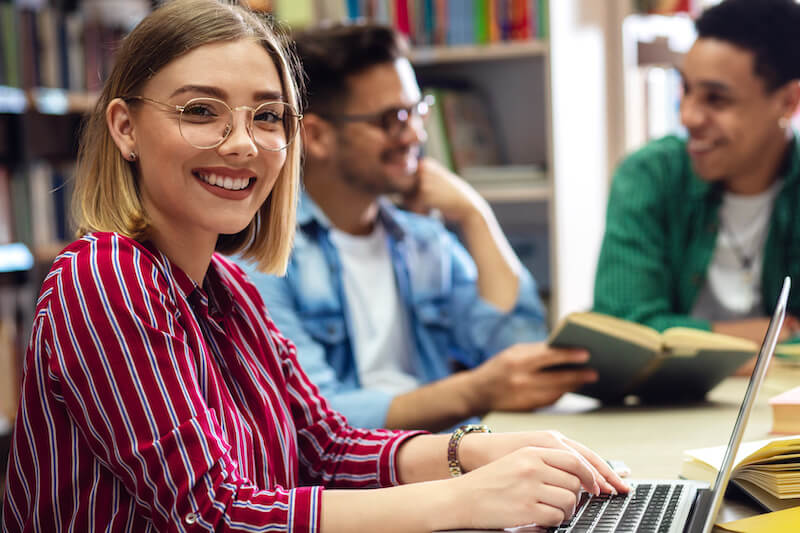 Columbia offers plenty of opportunities for education through the Howard County Public School System, dozens of private schools, and numerous nearby colleges and universities.
The Howard County Public School System operates 23 public schools in Columbia, including 14 elementary schools, four middle schools, and five high schools. The county's public schools have over 57,000 students and over 8,000 staff.
Howard County also has numerous private schools, including 37 preschools, 27 elementary schools, and 11 high schools. The average tuition cost in Howard County is about $12,700, slightly lower than the Maryland average of $13,300.
For higher learning, Columbia offers Howard Community College, a public 2-year college. Additionally, the community can easily reach nearby 4-year schools in other cities, such as Baltimore and Washington, D.C.
Baltimore features many universities and colleges, including the prestigious Johns Hopkins University, Loyola University Maryland, Coppin State University, Maryland Institute College of Art, the University of Baltimore, Morgan State University, and a branch of the University of Maryland.
Meanwhile, the national capital has plenty of schools, such as George Washington University, Georgetown University, the Catholic University of America, Trinity Washington University, University of the District of Columbia, American University, Howard University, Gallaudet University, and Strayer University.
Find Well-Planned Excellence in Columbia
Thanks to the management of the Columbia Association, Columbia now supports a population of over 100,000, making it one of the Baltimore-Washington metropolitan area's largest communities. Moving to Columbia is so popular because it can provide numerous benefits. Despite the community's growing size, Columbia maintains its charm with its natural beauty, thriving local businesses, and plenty of opportunities for work and education in various fields. Although the community sometimes struggles with traffic, it has several public transportation options for getting around. Additionally, Columbia has access to affordable and high-quality health care.
If you're looking for your Columbia dream home, contact The Bob & Ronna Group of Berkshire Hathaway HomeServices with Maryland Real Estate Advantage at (410) 465-4440 to get in touch with a Columbia real estate agent who can help find the perfect place for you.