Moving to Anne Arundel County: 19 Reasons Anne Arundel County Is a Good Place to Live
Posted by Bob and Ronna Chew on Thursday, June 15, 2023 at 11:45 AM
By Bob and Ronna Chew / June 15, 2023
Comment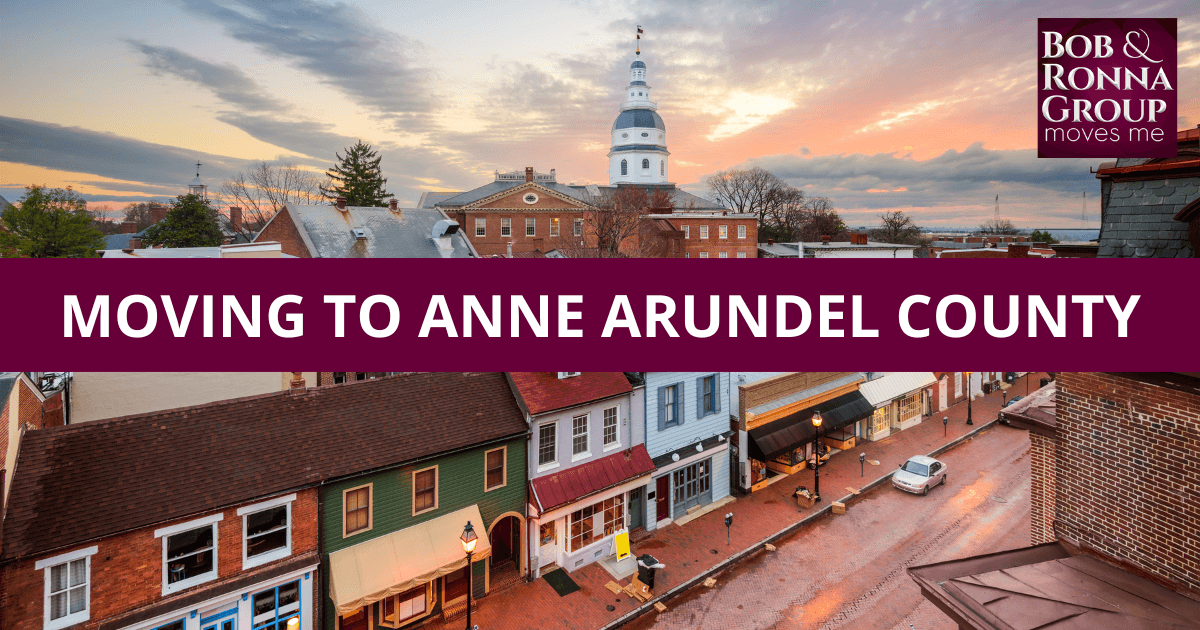 Living in Anne Arundel County, MD
Anne Arundel County is the heart of Maryland. Its county seat is the city of Annapolis, the capital of Maryland, and sits right on the edge of the Chesapeake Bay between Baltimore and Washington, D.C. It's a beautiful place full of rich history and a beautiful shoreline with waterfront and luxury homes. With the many engaging opportunities and activities available as well, it's no wonder why Anne Arundel County is a great place to live.
If you are moving to Anne Arundel County, you can learn some essential things to help ease the transition and make yourself at home. This article will provide information on the county's cost of living, the economy and job opportunities, things to do, transportation, and more. With this information, you'll be able to learn all you need to know about Anne Arundel County and what makes it so unique.
8 Reasons to Live in Anne Arundel County
Anne Arundel County has over 570,000 residents, making it one of the most populated counties in the state. Some of the many reasons that people choose to live here include:
Located on the Chesapeake Bay
Baltimore/Washington International Thurgood Marshall airport
Easy access to Baltimore and Washington, D.C.
Events including the Annapolis Film Festival and Maryland Renaissance Festival
Over 100 parks and an extensive trail system
Home to communities like Annapolis, Severna Park, and Crofton
Anne Arundel County Public Schools system
More than 500 miles of shoreline
Cost of Living in Anne Arundel County
The average cost of living in Anne Arundel County, Maryland, is about $2,216 per month. The average salary in this area of Maryland is about $4,647 after taxes, which more than covers the average living expenses of staying in Anne Arundel County. The typical rent and utilities for a single person is about $1,430; for a family of four, monthly rent and utilities total about $2,311. A one-bedroom apartment in a city center costs around $1,487 each month, but the same apartment outside that city's heart costs about $1,194. Homes for sale in Anne Arundel County list for an average of $410,000.
Job Market in Anne Arundel County
Some of the biggest employers in Maryland have their headquarters in Anne Arundel County, and there's much more than just the plentiful jobs in Annapolis. Some of the biggest employers in the private sector include Northrop Grumman and The Anne Arundel Health System. The latter has around 5,100 different staff members, including doctors, nurses, and administrative personnel. Southwest Airlines has about 4,860 employees in the area, and an Amazon Distribution and Warehouse Center employs over 2,000 people.
Other private businesses with significant workforces include Booz Allen Hamilton, Allegis Group, DXC Technologies, Jacobs, and Raytheon Technologies. Anne Arundel County also has a massive number of government employers, like Fort Meade, a U.S. defense installation with many different agencies operating out of it, such as the National Security Agency, Defence Information System, and U.S. Cyber Command. Other government employers include the Anne Arundel County School System and the State of Maryland.
Popular Industries in the Area
The major industries in the area include Accommodation, Healthcare, Management and Finance, Maritime, Manufacturing, and Professional Services. Being on the banks of the Chesapeake Bay, Anne Arundel County caters to maritime industries, including marine equipment manufacturing. A growing retail trade industry also helps support local businesses and bring in new visitors to the Anne Arundel County area.
Things to Do in Anne Arundel County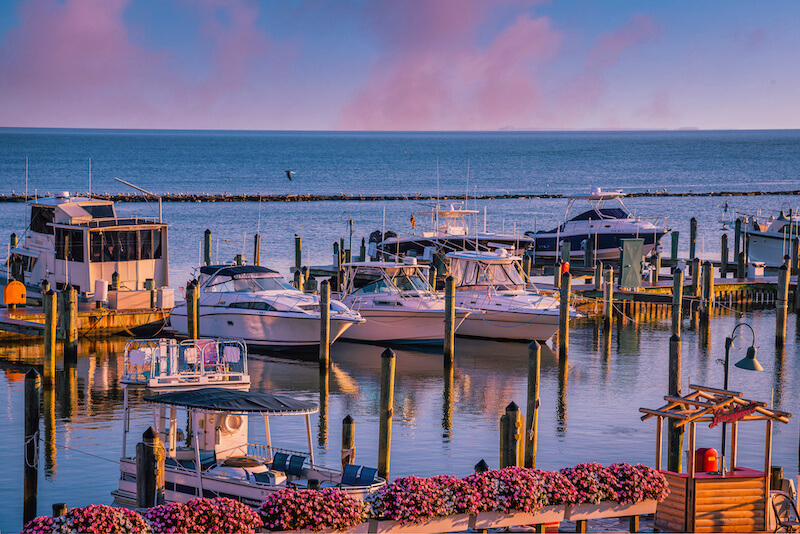 Anne Arundel County's historic, rustic charm is bolstered by a vibrant downtown district, walkable streets and neighborhoods, and a strong business community that supports local entrepreneurs. Unlike the markets of the city of Baltimore or Washington, D.C., Anne Arundel County has a small-town atmosphere that is perfect for catering to tourism, boutique restaurants, waterfront activities, artistry, and artisanal vendors. There's no end to what you can do in Anne Arundel County, so let's break down some of the most popular options for residents and tourists alike.
Outdoor Activities
Anne Arundel County has over 500 miles of coastline, with endless fun things to do on the Chesapeake Bay, including boating, fishing, kayaking, canoeing, and even laying out on the beach. The beautiful waterfront areas are cultivated to allow residents to take in the views and explore the area's natural wildlife while exercising on paved walking and hiking trails.
You can enjoy playgrounds and picnic areas alongside the waterfront and make the most of your visit with great lookouts and scenic spots for viewing. Anne Arundel County also has an extensive trail network for walking, running, or biking, many of which are great places to take dogs. The trails intersect with national trails like the American Discovery Trail and the East Coast Greenway, allowing you to try longer trips and overnight camping.
Local Attractions
Anne Arundel County has a strong sense of heritage and history embedded into everything from the architecture to the area's local traditions, and the things to see go well beyond the great attractions in Annapolis. Much of the history precedes the Revolutionary War, so local museums are top-rated among tourists and residents. The Historic London Town and Gardens is a "lost" colonial town and garden sanctuary located on the South River. This 23-acre park is a non-profit organization to educate and entertain people who want to understand more about the region's history, environment, and culture.
Another popular attraction is Sandy Point State Park, which has beautiful picnic and beach areas with breathtaking scenic views of the Chesapeake Bay. It offers activities like boat rentals and a marina store, special events like Christmas lights, polar plunges, and youth fishing competitions, among many others. You can even reserve certain parts of the park for weddings and special events.
Restaurants & Nightlife
There are many popular restaurants in Anne Arundel County. Seafood restaurants are especially popular, using the bounty of fish, crabs, oysters, and scallops found in the Chesapeake Bay. The local farmland around Anne Arundel County also supplies restaurants with fantastic produce and meat ingredients, which makes the restaurant scene stand out. Many foodies enjoy eating new creations with classic influencers at places like Bread and Butter Kitchen, Bakers & Co, Wild Country Seafood, Vin 909, Preserve, Sailor Oyster Bar, and Flamant.
If you want to enjoy the nightlife, there are many bars and cocktail restaurants in the Annapolis area. With live music, fantastic drinks, and great ambiance, there's always somewhere new to check out at nighttime. Residents might also enjoy Live! Casino and Hotel, which has great tables and games, dinner and drinks, and many live performances by major headliners.
Anne Arundel County Climate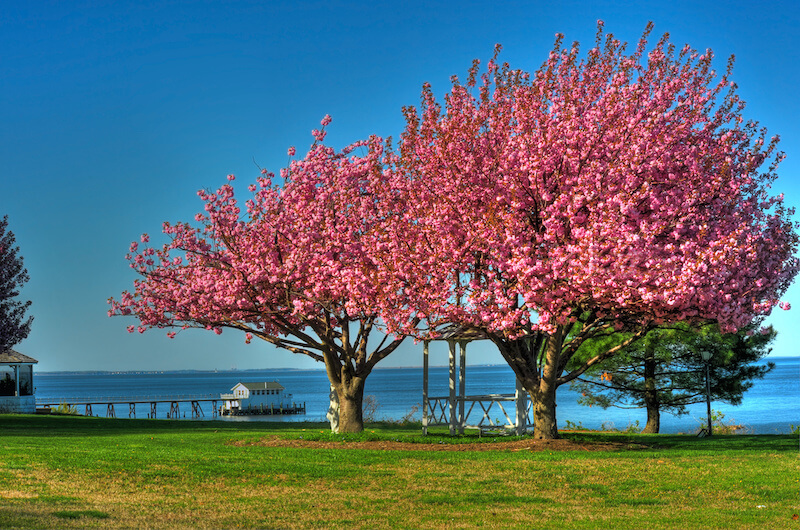 Like all of Maryland, Anne Arundel County gets a full range of weather, from warm, humid summers to snowy, cold winters and everything in between. Its location on the water, combined with the climate, is the primary reason for the popularity of vacationing in Annapolis. During the hottest months in summer, the average temperature is around 78 degrees, while the average temperature in winter can drop to about 34 degrees.
On average, Anne Arundel County gets about 44 inches of rain annually and about 14 inches of snow. There are 212 sunny days, which is fantastic for outdoor lovers who want to explore the Chesapeake Bay shoreline. Anne Arundel County's waterfront homes provide unparalleled access to the pristine coastline for those who want to remain there.
Traffic in Anne Arundel County
Many residents of Anne Arundel County have to commute to work, with the Annapolis commute to D.C. being the most common. The average commute is about 30 minutes each way, which is just slightly higher than the national average. The busiest times of the day for traffic are from 7:00–8:00 a.m. and 4:30–6:00 p.m. About 80 percent of residents take their own car to work, with about 7.5 percent carpooling, 5 percent working from home, and 3.6 percent using mass transit such as buses or trains.
Alternative Routes
One of the most congested areas is the Chesapeake Bay Bridge, which can be busy during work hours and in the summer months on weekends. There is a toll for crossing the bridge, but only going eastbound. The busiest times of day in the summer season are Fridays before 10:00 a.m. and after 10:00 p.m.; Saturdays before 7 a.m. and after 5 p.m.; and Sundays before 10 a.m. and after 10 p.m. An E-ZPass can help you get through the bridge quickly, but if you are not avoiding it on your trip, you might want to try and plan a crossing time before or after the busiest times of the day.
Anne Arundel County Public Transportation
There are several methods of public transportation in Anne Arundel County that residents can take advantage of. The Shopper Shuttle Service and Brooklyn Park Connector help people travel within Anne Arundel County, along with the A.A. Bus Routes for 201, 202, Gold Line Extension, Gold Edgewater, and Yellow Route. The local bus transit includes the Regional Transportation Agency of Central Maryland and Annapolis Transit.
Commuters can also use the Maryland Transit Commuter Bus Service and Washington Metropolitan Area Transit Authority to get to and from their destinations. Light rail and train services include the MARC Train, MTA Light Rail, and Amtrak. Ride-share apps like Uber and Lyft are also available.
Schools in Anne Arundel County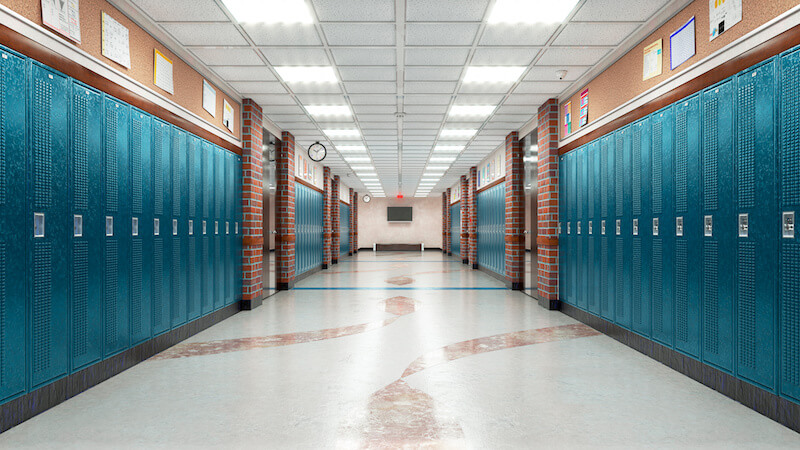 Anne Arundel County Public Schools is the major public school system for the Anne Arundel area. They cover the entire county and offer many elementary, middle, and high schools for students in the area. There are also many private schools in the area, including Annapolis Area Christian Schools, Chesterton Academy of Annapolis, Divine Mercy Academy, St. Andrew's United Methodist Day School, and St. Martin's School of Annapolis.
For colleges, there is the Anne Arundel Community College, which has several campus buildings throughout the county to help students get their postsecondary education. Anne Arundel County is also the home of the United States Naval Academy and St. John's College.
Find Your New Home in Anne Arundel County, MD
Anne Arundel County is a wonderful place to call home. Natural beauty is abundant from the Chesapeake Bay, and the waterfront homes in Annapolis are spectacular. The county contains charming small-town features, local attractions, and plenty of entertainment to go along with its great job opportunities. No matter your reason for moving, you can find your new home in Anne Arundel County.
If you're dreaming of living in Anne Arundel County, call The Bob & Ronna Group of Berkshire Hathaway HomeServices with Maryland Real Estate Advantage at (410) 465-4440. Our experienced and local Anne Arundel County real estate agents can help you find the perfect home.