8 Annapolis Home Builders to Design Your Dream House
Posted by Bob and Ronna Chew on Thursday, July 7, 2022 at 9:34 AM
By Bob and Ronna Chew / July 7, 2022
Comment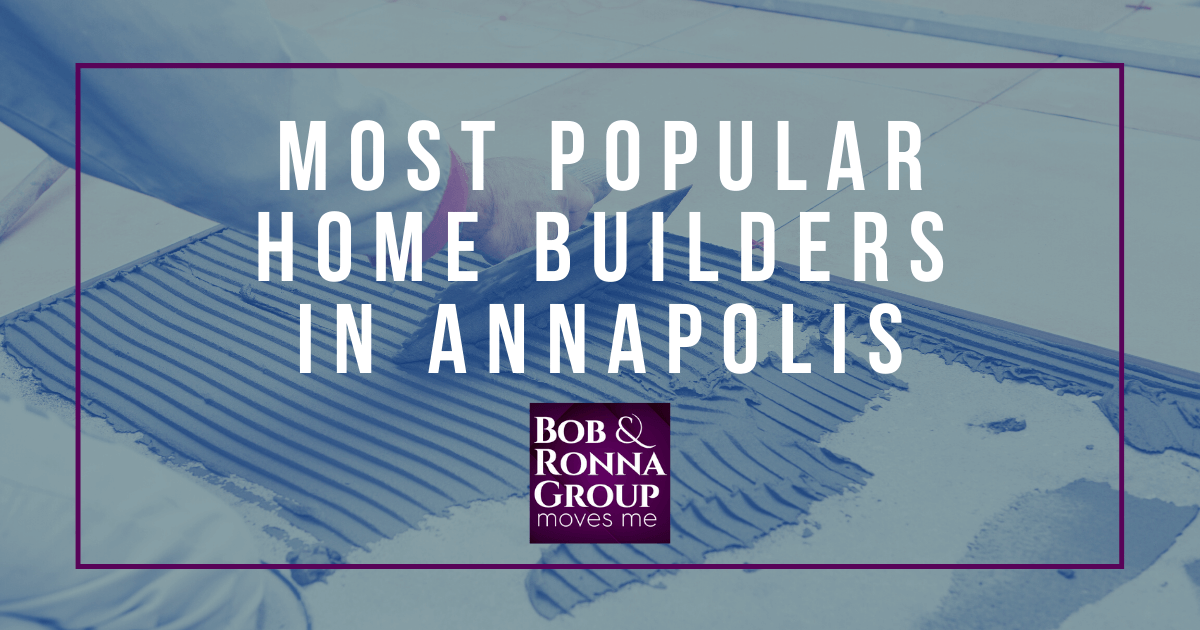 Home Builders in Annapolis, MD: Annapolis's Most Popular Home Builders Guide
The city of Annapolis is a stunning community with a mixture of historic charm and modern amenities. It's no wonder this location is sought after by many people looking to find new construction homes or luxury homes close to the city's main attractions. Located on the Chesapeake Bay, the area has a long history of beautiful mansions and stunning 1800s estates. Yet, today's homes are filled with modern luxuries and fantastic design elements. Keep reading to look at some of the best home builders in Annapolis that may be available to help create custom homes.
Bayview Builders LLC
Bayview Builders LLC is noted for its superior quality on estate-like projects. The company is built on four principles: honesty, integrity, craftsmanship, and loyalty. The company takes pride in offering exceptional craft and attention to detail while meeting the needs of today's consumers. They offer a full line of services from architects to home builders to create finely crafted spaces and homes. Their previous work includes high-performance structures, whole house remodeling, and custom waterfront homes.
Dave Carlisle is the founder and president of Bayview Builders LLC and was recognized as one of the Top 40 Builders Under 40 in 2018. The company has in-house craftsmanship to handle most projects, which helps to maintain a high level of control over the finished details. If they use subcontractors, they do so for their expertise and to ensure the work is done to satisfaction.
Bayview Builders LLC Additional Information
Price Range: $1 to $3 million
Areas Served: Annapolis
Services Offered: Custom-built homes, home remodeling, waterfront properties
Vintage Homes LLC
Vintage Homes LLC is committed to providing excellence in each project it takes on. The company was founded in 1999 by Bryon Krane and has grown substantially since then. It's completed numerous projects in the Baltimore and Washington market, including services to the vice president. The company began with the sole goal of creating a homebuilding company that would provide exceptional value, quality, and service to its clients.
One of the core benefits of Vintage Homes is that it helps customers through the homebuilding process each step of the way, creating exactly what the customer desires. One of the ways it stands out is by offering living models. These are properties they've built that their customers are happy to showcase upon request.
Vintage Homes LLC Additional Information
Year Established: 1999
Price Range: $300,000 to $2 million
Areas Served: The Baltimore community, Annapolis, and Washington, DC
Services Offered: Full home building process support, new homes, waterfront specialists, tenant build-outs, additions and renovations, commercial construction, demolition, and more
Procopio Homes
Albert Procopio and son Albert Procopio, Jr. have worked to build Procopio Homes since 1967. The company builds custom properties throughout Baltimore County and Anne Arundel County. It offers a wide range of home plans and style options to meet the unique lifestyle needs of customers. Throughout its history, it's built over 2,500 homes to meet customers' needs.
The company works to use only the highest quality subcontractors and skilled craftspeople to complete each component of a project. It's won numerous awards throughout its history for excellence. It also builds its homes to last, offering a 10-year structural warranty. The company has also worked hard to build a strong reputation in the area.
Procopio Homes Additional Information
Year Established: 1967
Price Range: $250,000 to $4 million
Areas Served: Annapolis, Annapolis Junction, Arden on the Severn, Arnold, Baltimore, Cape Saint Claire, Columbia, Crofton, Crownsville, Davidsonville, the Edgewater community, Fort George G Mead Junction, the Fort George G Meade community, Gambrills, the city of Glen Burnie, Green Haven, the Harmans community, Herald Harbor, the city of Jessup, Lake Shore, the city of Laurel, Londontowne, Mayo, Millersville, Mitchellville, Odenton, Parole, the Pasadena community, Riva, Riviera Beach, the city of Savage, Selby-on-the-Bay, Severn, Severna Park, South Gate, South Laurel, Woodmore
Services Offered: Energy-efficient homes, new home construction, pool house design and construction, garage building, barn design and construction, accessory dwelling units, and more
Chesapeake Energy Homes
Chesapeake Energy Homes has completed over 32 custom home projects, dozens of home additions, and over 160 renovations to properties throughout Maryland. This multifaced company has worked to provide a wide range of upgrades and restorations in the area while also focusing much of its attention on custom home building projects. One of its specialties is building net-zero homes, some of the most sought-after green buildings. It is dedicated to helping property owners create the reduced carbon footprint they desire through the use of modular homes. This allows for fast delivery, too.
A custom design team works closely with property owners to accommodate their needs and goals. Don Althoff is the company owner and has over 20 years of experience.
Chesapeake Energy Homes Additional Information
Price Range: $200,000 and up
Areas Served: All of Maryland
Services Offered: Custom homes, garage building, new home construction, home additions, green building, and energy-efficient homes
Mueller Homes Inc
For many, custom and luxury estates built by Mueller Homes are some of the best in the area. The company has a finely tuned construction process that uses some of the best talents in the industry. That, along with a long history of serving the community, this family-owned business is a staple in new home construction in Maryland. Paul Mueller Sr. taught his son Paul the ins and outs of the industry, allowing them to focus on work ethic, client-centered visions, and strong core values for decades.
The company has developed a reputation for exceptional service and consistent communication as a distinctive custom home builder. Some of the homes they've built are award-winning properties planned and designed by the company.
Mueller Homes Inc Additional Information
Year Established: 1992
Price Range: $1 to $5 million
Areas Served: Baltimore, the city of Eldersburg, the Finksburg community, the city of Marriottsville, the Mount Airy community, the city of Reisterstown, the Sykesville community, the city of Westminster, the Woodbine community, Roland Park, Annapolis, St. Michaels, the Columbia community, Ellicott City, the city of Severna Park, the Owings Mills community, the city of Lutherville, the Hunt Valley community, the city of Sparks, the Frederick community, the city of Crownsville, Easton
Services Offered: Custom home building, energy-efficient homes, site prep, design-build, waterfront homes, architect collaboration, guesthouse design and construction, and universal design
Lynbrook of Annapolis
Lynbrook of Annapolis creates fine residential properties with a strong focus on modern building methods and techniques. The company offers a highly specialized level of skill, especially in building traditional homes. Raymond Gauthier and Bryan Beauchemin came together to form the company in 1994, bringing with them a shared 40 years in the industry. Ray's experience was passed down from his father and years in construction management.
Throughout its time serving the area, Lynbrook of Annapolis has created stunning homes, including waterfront homes, estates, and custom projects. They work closely with homebuyers to build value into every square foot of space they offer. They offer an architect in the company to help work closely with clients to create the best results possible.
Lynbrook of Annapolis Additional Information
Year Established: 1994
Price Range: $300,000 and up
Areas Served: Annapolis
Services Offered: Custom home building, custom property development, new construction, renovation and remodeling, historic craftsmanship services, and green building
Baines Construction
Baines Construction is a home builder focusing on customer satisfaction, energy efficiency, and superior quality on every project. The company works with buyers in a wide range of price ranges, providing everything from budget-friendly to luxury homes. They work directly with homeowners and architects to finish projects and closely with only a handful of skilled subcontractors to ensure outstanding results.
Thomas P. Baines is the company owner and has over 30 years of experience in the construction industry in Maryland. Since the company's founding, they have sought to provide superior craftsmanship and tailored results for each of its clients. Their current projects range from renovations to new construction. They have strong relationships with their home buyers and clients, which is why much of their work comes from referrals.
Baines Construction Additional Information
Year Established: 1979
Areas Served: All of the Annapolis area and surrounding region
Services Offered: Design and building of custom homes, renovations, restorations, and home additions
Ram Construction
Ram Construction calls itself an elite home builder that uses only the highest quality of materials and promises dependable craftsmanship. While they do new home construction, they also work on specific projects such as roofing, decks, windows, doors, and more. The company does everything from waterfront homes to luxury estates with a team of trained professionals and subcontractors.
Ram Constructions can help those who own a lot (or help in finding one) build custom homes using a hand-in-hand method to meet customers' needs. Homes are designed to meet the needs of those who will live there while offering superior value.
Ram Construction Additional Information
Year Established: 2012
Price Range: $800,000 to $5 million
Areas Served: Annapolis, the Arnold community, Cape Saint Claire, the city of Crofton, Crownsville, the Davidsonville community, Edgewater, the Gambrills community, Gibson Island, the city of Harwood, Herald Harbor, Mayo, the city of Millersville, Mitchellville, the city of Odenton, Parole, the Riva community, Selby-on-the-Bay, the city of Severn, Severna Park
Services Offered: Full construction, roofing, remodeling, restoration work, home extensions, and more
Build with Confidence
For those who are moving to Annapolis hoping to build luxury homes or want waterfront homes designed just for their unique needs, these home builders may be the exact professionals to turn to. Some of these homes may even be located in Annapolis' best neighborhoods, meaning plenty of extra amenities. With the builders offering a wide range of projects, buyers will surely find any of these builders to be professionals noted for their superior work.
If you're looking for your Annapolis dream home, contact The Bob & Ronna Group of Berkshire Hathaway HomeServices with Maryland Real Estate Advantage at (410) 465-4440 to get in touch with an Annapolis real estate agent who can help find the perfect place for you.