8 Most Expensive Annapolis Neighborhoods: Find Luxury Waterfront Communities
Posted by Bob and Ronna Chew on Friday, December 17, 2021 at 6:15 AM
By Bob and Ronna Chew / December 17, 2021
Comment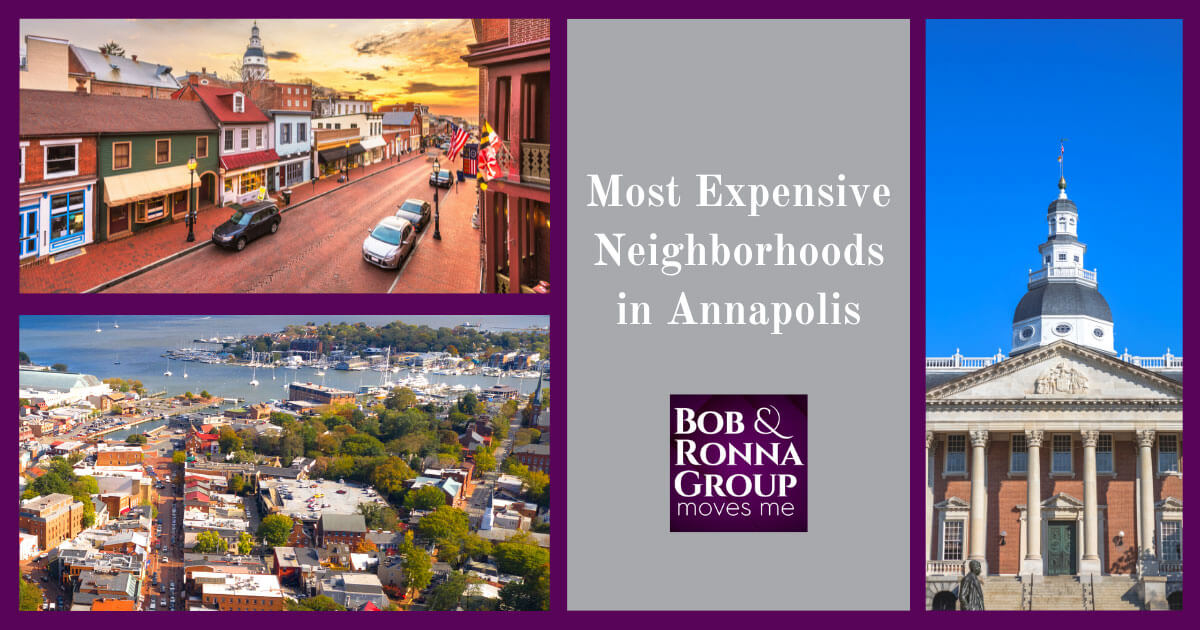 Annapolis, Maryland, is one of America's oldest cities, home to more than 350 years of history from the colonial era to modern times. But Annapolis is also home to something else - some of the best waterfront living on the Chesapeake Bay. When browsing the most expensive neighborhoods in the Annapolis real estate market, prospective buyers will find an abundance of desirable waterfront homes for sale. Keep reading to learn all about the waterfront lifestyle found in Annapolis's top eight most expensive neighborhoods.
Eastport
Eastport Amenities
Multiple marinas and water access points
Horn Point waterfront park
Severn Avenue commercial/dining corridor
Located on a small peninsula where the Severn River meets the Chesapeake Bay, Eastport is not only one of the most expensive neighborhoods in Annapolis — it's also one of the city's most beautiful. It's considered the "maritime district" due to many marinas and extensive waterfront. Eastport preserves this heritage at the famous Maritime Museum and Park in a former oyster canning factory building along Back Creek. It's also a perfect area to chow down, particularly on the region's famous seafood at the handful of beautiful restaurants along Severn Avenue and Spa Creek. These include Carroll's Creek Cafe and the Boatyard Bar and Grill, both local favorites. Eastport also offers one of the quickest and easiest commutes to downtown Annapolis while remaining away from much of the tourist hustle and bustle.
Eastport's homes consist of a mix of multifamily condo and apartment buildings and high-end and luxury single-family detached homes. Most homes list for $700,000 or more and include 3-4 bedrooms and 2-3 bathrooms. Even smaller, 1-bedroom condos generally reach a half-million dollars or more. But the area's most expensive homes are found along the water. These Annapolis boat dock homes for sale can easily reach the $1.2-1.4 million range and often come with easy access to Spa Creek, Back Creek, or the Severn River.
Epping Forest
Epping Forest Amenities
Clubhouse
Community beach
Marina
Tennis courts
Automatic secure-access gate
Those looking for luxury, high-end homes away from the historic and commercial core may find what they're looking for in the Epping Forest neighborhood. As one of the best Annapolis neighborhoods for boating, Epping Forest occupies a small peninsula sticking out into the Severn River between Clements Creek and Saltworks Creek. Epping Forest dates back to 1926, when the community was first developed, though construction continued for decades as lots were slowly sold. The neighborhood is close-knit, united by various community events and amenities like a clubhouse and private beach. Winding, shady streets provide a tranquil place to call home, just a short drive from downtown Annapolis and less than an hour from Washington, DC, and the city of Baltimore. The community claims it's so tree-lined that temperatures are as much as ten degrees cooler than nearby communities.
This exclusive planned community is occupied entirely by detached single-family homes and is among the priciest in the Annapolis area. Houses on interior streets start around a half-million and mainly sell in the high six figures. But waterfront Epping Forest homes quickly sell for over a million dollars, with some exceeding $1.5 million. Homeowners will enjoy spacious, unique houses with 3-5 bedrooms, 3-5 bathrooms, and 2,000-4,000 square feet of living space for their money.
Historic Annapolis
Historic Annapolis Amenities
Historic buildings and museums
Extensive shopping and dining options
Maryland State House
U.S. Naval Academy and St. John's College
Historic Annapolis is the beating heart of this vibrant waterfront city. The oldest part of Annapolis, this area was the first neighborhood settled after the city's founding in the mid-17th century. These days, it's the center of the Annapolis tourist district and is world-renowned for its buildings dating back to the 1600s and 1700s. Located between Spa Creek and College Creek, it's home to both the exclusive U.S. Naval Academy, which trains officers for the military, and the prestigious St. John's College, one of America's oldest institutes of higher education. On top of all this, it's also the site of the Maryland State House and other important state government buildings. These areas, along with the many shops and restaurants along Main Street, are within walking distance of Historic Annapolis residents.
As one of Annapolis' oldest and densest neighborhoods, homes are naturally among the most expensive in the region. Housing primarily consists of single-family homes, many of which are historic, providing incredible character and unique restrictions. Even the smallest two-bedroom, two-bathroom homes sell in the high six figures, while condo units near the edge of the district start around half a million dollars. Waterfront homes or those close to the city dock area easily surpass $1 million, with some listing for well over twice that much!
Annapolis Roads
Annapolis Roads Amenities
Private beach
Community boat ramp
Neighborhood playground
Fusco Athletic Park
Another top spot with Annapolis luxury homes for sale, Annapolis Roads, is located south of downtown, near Lake Ogleton on the shores of the Chesapeake Bay. It was first established more than 75 years ago, designed on leading green space, open space, and community design principles. The result is a neighborhood noted for its winding roads, shady lots, and shared amenities. Many homes have direct waterfront access, some with stunning views of the Bay Bridge or across the Chesapeake Bay. This secluded community is only a few minutes' drive from shopping and dining on Bay Ridge Road, including local favorite Annapolis Smokehouse and Tavern. A few minutes farther, and residents will already find themselves in the heart of downtown Annapolis.
All of these benefits can come with a high price tag. This community of large, single-family homes is among the most expensive in the region. The most affordable homes in Annapolis Roads start in the half-million-dollar range, though even these generally have more than 2,000 square feet of space and 3-4 bedrooms. However, homes along the community's extensive waterfront are the stars of Annapolis Roads. Many have sold for around $1.5 million, some reaching nearly $3 million.
West Annapolis and Wardour
West Annapolis and Wardour Amenities
Close to Navy-Marine Corps Memorial Stadium
West Annapolis Elementary School
Tucker Street Boat Ramp
Medical and health services at West Annapolis Professional Center
West Annapolis and Wardour are two of the closest areas to downtown Annapolis while also separating from the historic core. While technically distinct, the two neighborhoods are often referred to together because they are sandwiched between Weems Creek, College Creek, and the Severn River. Wardour boasts the larger, more expansive homes, some dating back more than a century. On the other hand, West Annapolis is home to more commercial areas, including local shops and restaurants like The Crabby Quilter and Evelyn's. The southern portion of the neighborhood, across College Creek from downtown, is used primarily by the U.S. Naval Academy, which also has its football field adjacent to West Annapolis.
Wardour's waterfront homes can be leaps and bounds ahead of other parts of Annapolis when it comes to price. Some have sold for more than $5 million, many others in the $1.5-4 million range. Many include private docks, allowing easy access to the Severn River and the Chesapeake Bay. Even those looking for the most affordably priced homes in the West Annapolis/Wardour area will find they start around a half-million dollars. They tend to be located further west or inland than the community's luxury homes.
Downs on the Severn
Downs on the Severn Amenities
Clubhouse
Outdoor pool
Pickleball and tennis courts
Playground
Two marinas
Convenient commutes to Annapolis, Baltimore, and D.C.
Downs on the Severn is another luxury private community located outside the northern edge of Annapolis. The neighborhood's 225 homes are set on a 335-acre peninsula between Brewer Creek and Clement Creek. Homeowners become members of the Downs Property Owners Association, which maintains many amenities. These include a clubhouse, pool, multiple sports courts, and green spaces. These shared areas create a tight-knit neighborhood removed from the suburban Annapolis sprawl. While there are no shopping or dining options within or directly adjacent to Downs on the Severn, the community is just a few minutes' drive from the many malls, restaurants, and other commercial spots near U.S. Route 50 and State Route 450, including the Westfield Annapolis mall.
Downs on the Severn is made up of luxury, custom homes, which occupy the entirety of the community. This makes even the lowest priced houses sell for the high six figures around a million dollars. Homes on the waterfront or water views easily cross the $1.5 million mark, with some selling for $3-4 million. However, even those without waterfront access for a personal dock can use one of the community's two private marinas.
Fishing Creek Farm
Fishing Creek Farm Amenities
Clubhouse
Marina with jet ski dock
Private beach
Pool
Tennis court
Crabbing pier
Walking trails
Close to Thomas Point Park
Fishing Creek Farm is a waterfront subdivision located south of Annapolis near small, charming communities like Arundel on the Bay and Highland Beach. It borders the South River and includes secluded, private coves and beaches like Cherry Tree Cove and Duvall Cove. Residents can take advantage of many waterfront amenities, as well as a clubhouse and sports courts, all set within a lush, tree-lined community. Despite the quiet lifestyle, Fishing Creek Farm is still just 10 minutes or so from downtown Annapolis and has a wide variety of dining, shopping, and entertainment options.
Fishing Creek Farm is also the site of some of the largest Annapolis homes with acreage, many of which are comfortably spread apart on large lots. Homes measure more than 2,500 square feet on the low end, while the biggest can be more than three times that large. With just 120 homes, it's also among the most exclusive communities. Home prices start in the high six figures. But living in one of the neighborhood's signature waterfront properties will cost most buyers $2-3 million.
Beechwood on the Burley
Beechwood on the Burley Amenities
Many waterfront homes with private docks
More rural, wooded feel
Close to state parks and outdoor recreation areas
This small neighborhood is one of the most distant from the historic center of Annapolis, but buyers shouldn't let that distance fool them - it still has a fantastic amount to offer. The community is named Burley Creek, a small local waterway that feeds into Mill Creek. While there's little in the way of standard amenities, Beechwood on the Burley makes up for it with an excellent location, just minutes from the famous Sandy Point State Park and the Chesapeake Bay Bridge, which offers access to the eastern shore beaches and other attractions. Residents can also take advantage of the Navy's Greenbury Point Conservation Area for outdoor recreation. Meantime, the neighborhood is still only about 20 minutes from the heart of Annapolis.
While Beechwood on the Burley's homes may not be as large as others, they still generally include 2,000-3,000 square feet of living space. Because of this, they're among the more affordable of Annapolis' waterfront homes, ranging from the high six figures to just over $1.5 million. Inland homes in the community can start just under half a million dollars.
Discover Waterfront Luxury in Annapolis Neighborhoods
There are few better places in Maryland than the Annapolis area for homeowners with a big budget and a desire to live near the water. Out of all of the Annapolis neighborhoods, these eight diverse communities offer distinctive advantages and appealing amenities to would-be residents. Whether it's a home in the historic district or a sprawling waterfront estate, Annapolis truly has something for every taste moving to the city.
If you're looking for your Annapolis dream home, contact The Bob & Ronna Group of Berkshire Hathaway HomeServices with Maryland Real Estate Advantage at (410) 465-4440 to get in touch with an Annapolis real estate agent who can help find the perfect place for you.