8 Most Affordable Neighborhoods in Columbia: Best Bang For Your Buck
Posted by Bob and Ronna Chew on Thursday, February 24, 2022 at 3:25 PM
By Bob and Ronna Chew / February 24, 2022
Comment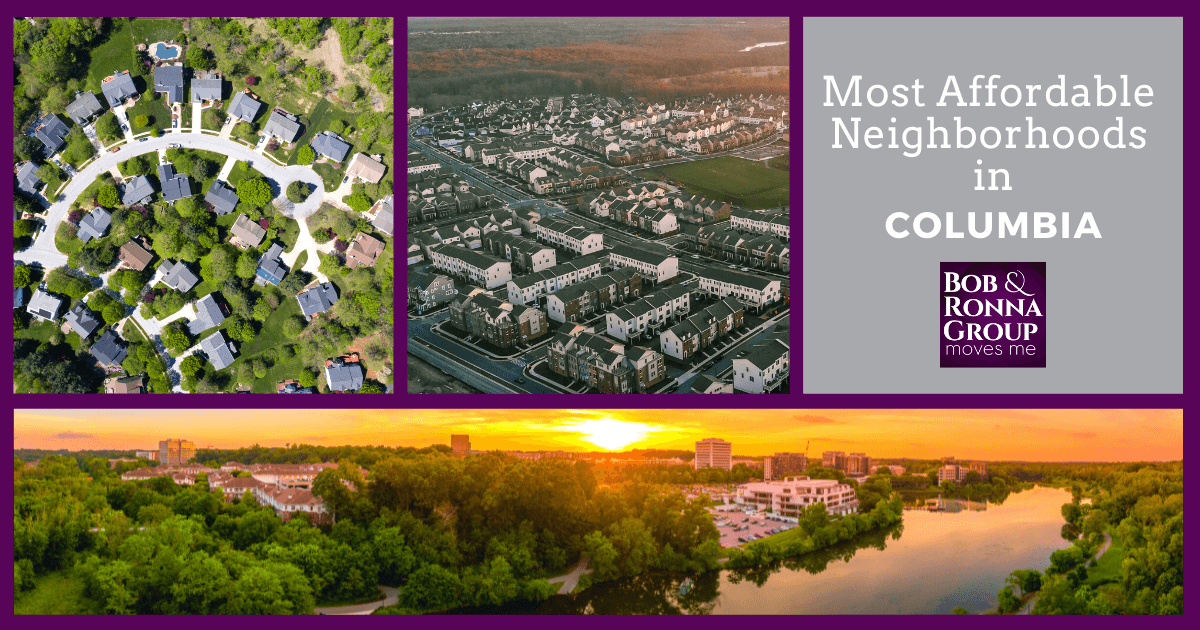 Columbia might not be as touristy as the beach and mountain cities around it, but it's one of Maryland's best cities to live in. The city of Columbia offers an excellent quality of life and affordability to its residents. It has many great communities, ranging from luxury homes in Columbia's most expensive neighborhoods to affordable properties in exciting areas. Keep reading to discover some of the most affordable neighborhoods in Columbia, Maryland.
Allview Estates
Allview Estates Amenities
Atholton Shopping Center
Columbia Crossing
The Mall in Columbia
Lake Elkhorn Park
The planned development Allview Estates is in central Howard County. It is among Columbia's first villages, with most of its properties dating back to the 1950s and 60s. The village has about 500 homes featuring a mix of architecture, including solid-brick ranch to contemporary styles. Most homes feature half and one-acre lots with a median selling price of about $250,000.
Allview Estates is conveniently located 30 minutes from downtown Baltimore and is flanked by Route 29 from the west, offering access to cities like Washington, D.C., and the city of Annapolis. The suburb has a rural atmosphere despite its location near major highways. Crab apple trees and other vegetation line the streets in Allview Estates, allowing residents to enjoy a countryside-like vibe while being minutes away from Columbia's top hot spots.
Allview Estates' central location has also seen countless industrial parks and office buildings set up within its environs, meaning plenty of job opportunities for residents.
Harpers Choice
Harpers Choice Amenities
Brown's Bridge Recreation Area
Maiwand Kabob, the first-ever Afghan restaurant in Columbia
David's Natural Market offers fresh, local, and organic produce
Hobbit's Glen Pool
Harpers Choice is a village located a mile northwest of Columbia. It's one of the city's ten villages and comprises three areas: Hobbit's Glen, the Swansfield neighborhood, and the Longfellow community. Harpers Choice has an estimated population of 8,695. It is named after Robert Goodloe Harper, one of the area's earliest inhabitants and landowners who sold part of his land to the Rouse Company to develop the community.
Today, the Harpers Choice community is one of Columbia's best and most affordable neighborhoods. Many types of home architecture are present, and the median listing price is about $400,000. The village has a laidback suburban vibe, and living here means a peaceful, scenic experience. At the same time, Harpers Choice is just a mile from downtown Columbia, meaning a short commute and ease of access to urban amenities.
What's more, Harpers Choice has a community center with excellent grocery, shopping, and a slew of casual dining options ranging from Mexican to Italian and Afghan restaurants. It's also within a short distance from the Howard Community College and the Howard County General Hospital. The Harper's Choice Community Association, a non-profit organization dedicated to upholding the health and social welfare of the area's residents, maintains the community.
Kings Contrivance
Kings Contrivance Amenities
The original Kings Contrivance restaurant
Dog-friendly Huntington Park
Community center at the Kings Contrivance Village Center
Community amenities
The Kings Contrivance community is in the southwestern part of Columbia. Like most of the area's villages, it was also part of the Rouse Company's planned development communities. Kings Contrivance has three neighborhoods with 11,000 residents and is named for the first-ever local restaurant in the area, opened by Kingdon Gould Jr. in 1962.
Each of the community's neighborhoods offers convenient access to Columbia's downtown and areas such as Washington, D.C., and the city of Baltimore. For instance, Macgill's Common, one of its three residential areas, is bounded by routes 32 and 29 from the south and west, respectively, offering residents an effortless commute to Columbia and its environs.
All three neighborhoods — the Huntington community, MacGill's Commons, and the Dickinson community — contain single-family homes, townhouses, and condos with community amenities managed by the Kings Contrivance Community Association, such as an 18-hole golf course and a community swimming pool. The median list price for a four-bedroom house with two bathrooms is about $400,000.
The association-run community also features an open-air village center, including various eateries such as an Italian pizzeria, retail stores like the Harris Teeter Supermarket, and a range of department stores.
The original Kings Contrivance restaurant
Dog-friendly Huntington Park
Community center at the Kings Contrivance Village Center
Community amenities
Long Reach
Long Reach Amenities
Long Reach Park
Dobbin Center
Bennet 5 Star Grill
Long Reach High School
The Long Reach community is one of the largest and oldest of Columbia's ten villages. Its four main neighborhoods, Jeffers Hills, Phelps Luck, Locust Park, and Kendall Ridge, have a population of 1,571. Long before development began, the 448-acre piece of land the village sits on was home to Major Edward Dorsey. He later divided it among his three sons in 1682 before it was sold to the Columbia Hills Corporation in 1954 for development. Long Reach has eclectic home architecture and properties ranging from high-rise condominiums to three-bedroom bungalows.
The village is conveniently located eight minutes from downtown Columbia. Long Reach offers amenities such as the recently renovated Long Reach Village Center, containing a string of casual dining and shopping options and open space with a strong sense of community. The community also holds an annual sheep and wool festival every May, further strengthening the social bond among locals.
Like most of Columbia's villages, Long Reach has a community association run by a village board of five elected members and a Columbia Board of Directions representative.
Sewells Orchard
Sewells Orchard Amenities
New Concept Business Park
Benjamin Banneker Historical Park and Museum
McGaw Plaza
Central location near Howard Community College
30-minute drive from Baltimore/Washington International Thurgood Marshall Airport
Located about five miles from downtown Columbia, the quaint Sewells Orchard community contains around 570 single-family homes. The community offers Sewells Orchard Park, which features well-paved walkways, ponds, and plenty of local wildlife, including beavers and Canadian geese.
There's also a well-maintained, extensive common area with slides, swings, and other recreational equipment. Sewells Orchard is a sustainability-focused community with five beautiful rain gardens and multiple conservation areas to prevent water pollution and storm-water erosion.
Sewells Orchard is near everything residents might need. It's 12 minutes from the Howard Community College and about 30 minutes from the Baltimore/Washington International Thurgood Marshall Airport.
Before the Rouse Company took over in 1979, Sewells Orchard was a thriving farm owned by Ronnie Sewell and his brother. The two brothers sold off the land to facilitate the development of a planned community where residents would enjoy country-living with ease of access to Columbia's hot spots.
Village Of Wilde Lake
Village Of Wilde Lake Amenities
Wilde Lake
Slayton House
The Shoppes at Wilde Lake
Wilde Lake Barn
The Village Of Wilde Lake community was the first of the ten Columbia villages planned and implemented by the Rouse Company. Like most planned communities, Village Of Wilde Lake has three neighborhoods: Bryant Woods, Running Brook, and Faulkner Ridge. All three are named after famous poets and writers.
Village of Wilde Lake is home to about 5,000 residents. It has single-family homes, townhouses, and condos that are pretty affordable, with the median list price for a five-bedroom home averaging approximately $570,000. A community association oversees the neighborhood's overall maintenance and only charges association fees based on current home values.
Each of the village's communities boasts attractive amenities, such as outdoor pools, roller and ice skating rinks, and even volleyball, basketball, and racquetball courts. There's a village center with a grocery store, restaurants, and retail establishments. Village Of Wilde Lake is also close to Columbia's schools, like the Bryant Woods and Running Brook elementary schools and Wilde Lake High.
Commuting from Village Of Wilde Lake is seamless, thanks to the area's proximity to transit providers such as Maryland Transit Administration and the Maryland Area Regional Commuter.
Oakland Mills
Oakland Mills Amenities
Oakland Mills Village Center
Nottingham's Tavern
Blandair Park
Columbia Ice Rink
Oakland Mills is a planned suburban community with three main neighborhoods: Talbott Springs, Steven's Forest, and Thunder Hill. It primarily comprises three- to four-bedroom single-family homes and high-rise apartments, with properties built between 1970 and 1999.
Oakland Mills is named after a mill and postal station. This peaceful suburban community is located directly east of Columbia's town center, just across route US-29. That often means easy access to popular urban amenities like the AMC theater and mall. Dobbins Center also bounds Oakland Mills to the east, including retail stores such as Target, JC Penney, and Nordstrom.
Living in Columbia
Columbia, Maryland, boasts nearly endless natural attractions such as expansive parks and lakes and a variety of urban attractions. Homebuyers should consider real estate in these most affordable Columbia neighborhoods to experience all the city offers.
If you're looking for your Columbia dream home, contact The Bob & Ronna Group of Berkshire Hathaway HomeServices with Maryland Real Estate Advantage at (410) 465-4440 to get in touch with a Columbia real estate agent who can help find the perfect place for you.