Top 8 Affordable Annapolis Neighborhoods: Best Prices on the Chesapeake Bay
Posted by Bob and Ronna Chew on Monday, December 20, 2021 at 6:41 AM
By Bob and Ronna Chew / December 20, 2021
Comment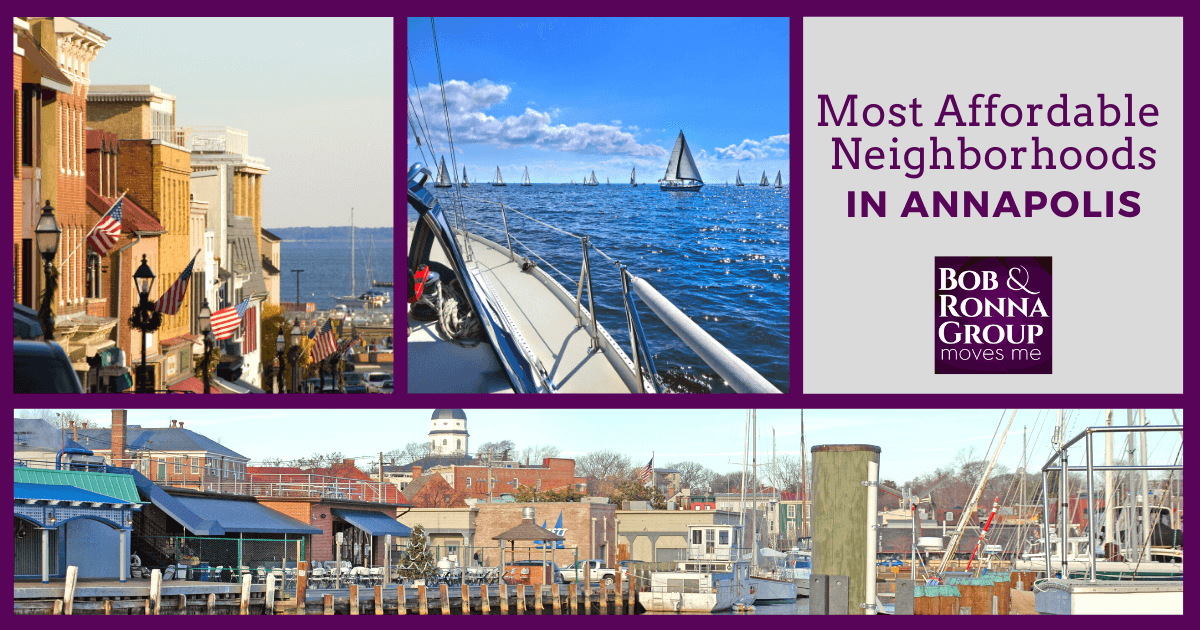 Nestled against the Chesapeake Bay and the Severn River, Annapolis, Maryland, serves as the capital of the state of Maryland and as the county seat of Anne Arundel County. Home to St. John's College and close to the U.S. Naval Academy, Annapolis has played a prominent role in the history of the U.S. military.
Annapolis real estate is known for desirable homes in charming communities near the water. This all ties into the region's maritime and nautical heritage, which has led to some people calling Annapolis "The Sailing Capital of the World." Enjoying the benefits of a waterfront lifestyle in the neighborhoods of Annapolis doesn't require an extra-large budget. Keep reading to learn about the eight most affordable neighborhoods in Annapolis.
Arundel-on-the-Bay
Arundel-on-the-Bay Amenities
Annapolis Maritime Museum & Park
Great Frogs Winery
Sailor Oyster Bar
Chart House
Located on a peninsula known as the Annapolis Neck, the neighborhood of Arundel-on-the-Bay has its private beach, pier, and boat ramp for use by community members. Dating back to 1939, the Arundel-on-the-Bay community features Annapolis waterfront homes for sale with Chesapeake Bay views.
Prices for homes in the Arundel-on-the-Bay neighborhood range from $253,000 to $2.5 million. Sizes for homes in the area range from around 700 to 6,800 square feet. The number of bedrooms and baths in area homes ranges from two beds, one bath to six beds, five baths.
In addition to its many beautiful homes, Arundel-on-the-Bay has a variety of neighborhood hotspots, including restaurants, shopping, and more. Restaurants include Jack's Fortune Restaurant, offering Asian favorites; Main & Market, known for its distinct charm and fresh food; and Caliente Grill, serving Latino cuisine.
Local bars and cafes include Dark Horse, a full-service sports bar that serves drinks and food; Annapolis Smokehouse & Tavern, offering food, music, and drinks; and Grump's Café, with burgers, breakfast, and more.
For residents who like the outdoors, Arundel-on-the-Bay has a private beach. The community is also on the opposite shore from Thomas Point Park, which has bay and river fishing, walking trails, and plenty of green space.
Oyster Harbor
Oyster Harbor Amenities
Thomas Point Park
Main & Market
Annapolis Smokehouse & Tavern
Wayfinder's Wharf
The community of Oyster Harbor is found on the Annapolis Neck peninsula. The Oyster Harbor neighborhood offers impressive views of the nearby Chesapeake Bay from many more than 400 homes. Architecturally, the community has a wide selection of different-styled homes, including beach bungalows and homes on pilings to avoid the tide.
In addition to its private beach area, the neighborhood offers a variety of homes, ranging in price from $305,000 to $1.15 million. Home sizes start with as little as 740 square feet to homes with almost 10,000 square feet. In addition, homes in the area have anywhere between two beds and one bath to five beds and five baths. Oyster Harbor invites buyers to enjoy the upscale perks found in Annapolis luxury homes without spending quite as much.
Area hotspots include Taqueria Juquilita, a Mexican restaurant that serves tacos, burritos, and other fares; Grapes Wine Bar of Annapolis, offering a variety of fine wines and food items; and Great Frogs Winery, with a selection of artisan wines.
Other area attractions include Quiet Waters Park, offering winding trails through forested terrain nestled between the South River and Harness Creek. The Annapolis Maritime Museum & Park educates visitors and area residents about Annapolis' rich maritime heritage and history.
Highland Beach
Highland Beach Amenities
Taqueria Juquilita
Dark Horse
Jack's Fortune Restaurant
Caliente Grill
Founded in 1893 by the youngest son of Frederick Douglass, the small community of Highland Beach has played a big part in the surrounding region's history. The Highland Beach community was once a top vacation destination but now is home to many full-time residents.
The approximately 80 homes in the neighborhood range from $390,000 to $787,000. Featuring mostly mid-sized homes, Highland Beach offers homes starting at around 1,000 square feet of space and up to 4,300 square feet of living area. Homes in the neighborhood generally have between two and five bedrooms.
Most of the hotspots near Highland Beach are closer to Annapolis to the north. Some area hotspots in Highland Beach include Eastport Kitchen, with menu items made from seasonal and local products; Davis' Pub, serving good, affordable food; and Wild Country Seafood, located behind the Annapolis Maritime Museum, bringing the old crab shack to feel to the Annapolis area.
Other area restaurants and bars include Vin 909 Winecafe, serving various food, craft beer, and wine; Chart House, a former historic boathouse turned seafood place; and Sammy's Italian Pizza Kitchen, a family-owned restaurant that serves Italian food in a casual atmosphere.
Revell Downs
Revell Downs Amenities
Nagoya Asian Bistro & Sushi Bar
Sandy Point State Park
Maryland World War II Memorial
The Ugly Pig
The small community of Revell Downs is located in the northeast part of the city of Annapolis. The Revell Downs neighborhood is characterized by cozy homes in an urban setting close to Blue Star Memorial Highway. This gives residents of the community easy access to the rest of Annapolis, the Chesapeake Bay Bridge, and beyond.
Homes within the Revell Downs neighborhood range in price from $250,000 to $665,000. Floor plans include a variety of styles, with the number of bedrooms starting at one bedroom and one bath, going up to seven bedrooms and three baths. Square footage wise, homes are between 1,500 and 2,400 square feet.
Restaurants near the Revell Downs community include Red Hot & Blue, a barbeque joint serving ribs, cocktails, and more; Broadneck Grill & Cantina, offering a variety of Mexican dishes; and Donnelly's Dockside, a family-owned establishment located near the Chesapeake Bay.
Nearby bars include The Brass Tap, with over 150 craft beers worldwide; Galway Bay Restaurant and Pub, an Annapolis tradition since 1998; and the Trophy Room, serving hot bites and a variety of cocktails. The Bean Rush Café is an area café that serves coffees, teas, and delicious café food.
Hillsmere Shores
Hillsmere Shores Amenities
Caliente Grill
Quiet Waters Park
Taqueria Juquilita
Little Italy Famous Pizza & Pasta
Just a three-mile drive to the southwest of downtown Annapolis, the neighborhood of Hillsmere Shores is a quiet waterfront community located on the shores where the South River and the Chesapeake Bay meet. The Hillsmere Shores neighborhood has a private marina and access to the South River, making it one of the best places to find Annapolis boat dock homes for sale.
Houses in the Hillsmere Shores community cost anywhere between $177,000 and $2.1 million. Home sizes in the neighborhood range between 770 to 4,500 square feet, with dwellings having between one and seven bedrooms.
In addition to their private beach access, the residents of Hillsmere Shores have access to many local amenities. Some of these amenities include the many great area restaurants, such as Rocco's Pizzeria, serving New York-style pizza; Miss Shirley's Café, serving breakfast, brunch, and lunch; and El Catracho Food, which has a variety of Honduran cuisine.
Great Frogs Winery is a family-owned winery that works hard to bring the best wines to its clientele. Other area wineries and breweries include Cooper Hawk's Winery & Restaurant, Gordon Biersch Brewery Restaurant, and Forward Brewing.
Whispering Woods
Whispering Woods Amenities
Donnelly's Dockside
Cantler's Riverside Inn
Cooper Hawk's Winery & Restaurant
Anglers Sport Center
Situated on the Broadneck Peninsula, the neighborhood of Whispering Woods is a tight-knit community to the east of the Severn River. The different homes in the Whispering Woods neighborhood include single-family homes, townhouses, and duplexes located on Bay Dale Drive, which serves as the neighborhood's main artery.
Home sizes range from one to five beds. The houses lay along the main thoroughfare and on the community's side streets. Prices for homes in Whispering Woods start at around $185,000 and go up to $720,000. Square footage for homes in the neighborhood falls between 1,000 and 4,200 square feet.
Eateries close to the Whispering Woods community include The Point Crab House & Grill, offering a casual dining experience with locally sourced dishes; O'Loughlin's Restaurant & Pub, an area landmark in operation since 1986; and the River Bay Roadhouse, with a menu full of burgers, salads, and fresh seafood.
Nearby parks include Broadneck Park to the east, which features multipurpose fields, a pavilion, and its dog park; Arnold Park, which has a playground, picnic area, sports facilities; and the Governor Ritchie Scenic Overlook, located in the Maryland World War II Memorial.
Mariner's Point
Mariner's Point Amenities
Vin 909 Winecafe
Bakers & Co.
The Lucky Knot
Annebeth's
Filled with attractive Annapolis townhomes for sale, the community of Mariner's Point lies near Black Creek. The Mariner's Point neighborhood boasts community perks like a clubhouse, pool, and large wooded common area for use by the residents. The community also extends to the other side of Edgewood Road, to Mariner's Landing, which has additional housing units.
Homes in the Mariner's Point community range from $262,000 to $701,000. Houses have anywhere from two bedrooms and two baths to four bedrooms and four baths. Residences range in size from 1,200 square feet to 2,500 square feet. In addition, home prices in the Mariner's Landing community start at $279,000 and go up to $393,000.
Local establishments frequented by Mariner's Point residents include Blackwater Hitch, featuring a variety of rustic dishes with bold flavors; Leeward Market Café & Grocery, offering a variety of menu items, some with a Greek flare; and Adam's Taphouse and Grille, serving ribs and other barbecue favorites since 1981.
Shopping options in the area include She's a 10 Boutique, offering comfortable, well-designed women's clothing; Lorna Awalt, a local pottery store; and women's clothing store, The Pink Crab. In addition, the U.S. Naval Academy and St. John's College lies to the north in downtown Annapolis.
Cape St. Claire
Cape St. Claire Amenities
The Brass Tap
Broadneck Grill & Cantina
Blue Rooster Café
Whimsicality
With easy access to Route 50 in Annapolis, the community of Cape St. Clair is located along the waterfront to the north of Broadneck Park. The Cape St. Claire neighborhood has a private clubhouse and gives residents quick and easy access to six community beaches and the nearby Fairwinds Marina.
Houses in the Cape St. Claire neighborhood range from about $108,000 to $2.6 million. Home sizes start at about 1,400 square feet and go up to over 7,100 square feet. Residences in the community include many waterfront homes and a mixture of one- and two-story houses.
Area hotspots include Bay Hills Golf Club, a golf course providing 18 holes with scenic fairways and challenging golf action; Graul's Market, a family-run market that has seen four generations of ownership; and Houck's Menswear, a local men's clothing store.
Other nearby locations include Rise Up, a coffee joint featuring locally roasted coffees and a laid-back attitude; Severna Park Taphouse, specializing in craft beer; and Green Valley Marketplace, a market that has been in the area for over 100 years.
Find Affordable Homes For Sale in Annapolis
With its strong connection to U.S. nautical history, the Annapolis, MD, area is chock full of vibrant and lively locations. You don't have to live in the most expensive neighborhoods in Annapolis to enjoy high-end perks. Residents of the various neighborhoods in Annapolis can enjoy all of the available restaurants, shopping, and outdoor activities nearby.
In addition, as a part of the Washington-Baltimore metropolitan area, Annapolis gives residents quick access to the surrounding Anne Arundel County area, including the many available employment opportunities, things to do, and other activities. At the same time, the Annapolis area can provide a refuge from the rigors of the larger cities surrounding it.
If you're looking for your Annapolis dream home, contact The Bob & Ronna Group of Berkshire Hathaway HomeServices with Maryland Real Estate Advantage at (410) 465-4440 to get in touch with an Annapolis real estate agent who can help find the perfect place for you.