Private Boat Dock Vs. Public Marina: Which Do You Prefer?
Posted by Brian Alexander on Tuesday, January 4, 2022 at 8:48 AM
By Brian Alexander / January 4, 2022
Comment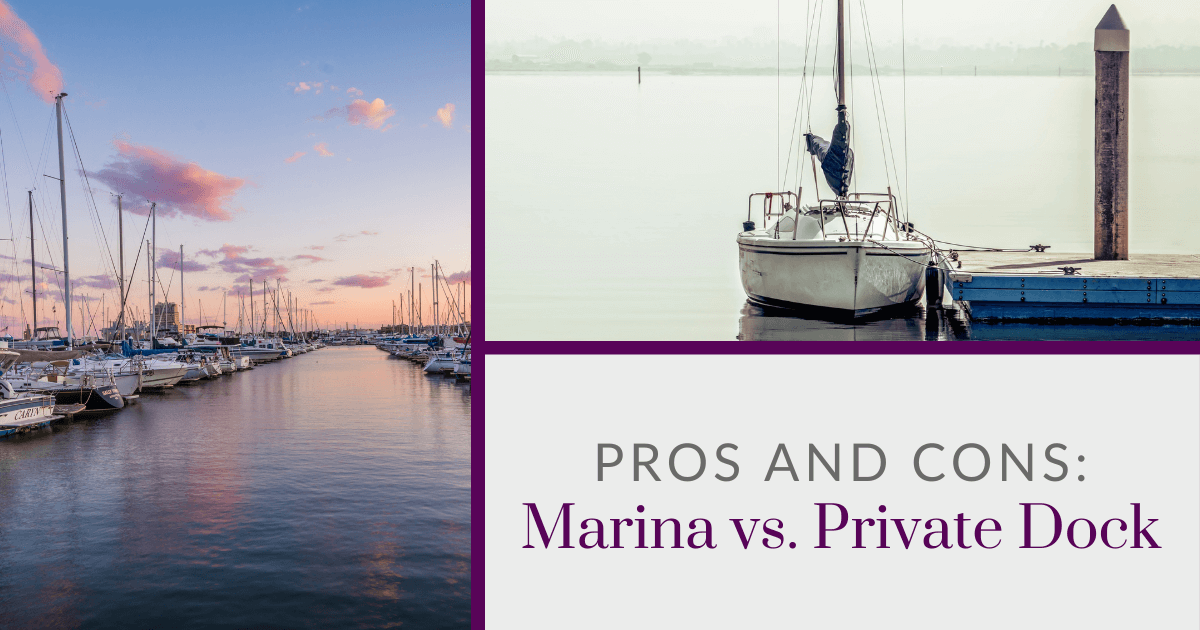 Boat ownership means the owner will need to decide between a home with a private dock or a home near a marina for storage. There are pros and cons to both options. Owners need to weigh privacy and security, convenience, insurance, and extra amenities when making this decision. To help boat owners come to a conclusion that works best for them, keep reading to get a look at how private docks stack up against communal marinas.
Privacy & Security
First, how much privacy does the boat owner want or need? Some owners like the open nature of communal marinas and the boating community that comes with it. People will be around most days of the week at a public marina, whether they're heading out on the water, performing maintenance on their boats, or even living on their boats part-time or full-time. For those who appreciate privacy more, a private dock says it right in the name. Owners with private docks can control who is allowed at the dock because it is on their personal property.
Security is another major consideration. When someone owns a private dock, fewer people are around, which minimizes the chances of vandalism or theft. Private dock owners can spring for their own level of security, including cameras, alarms, or even hiring a private security firm.
Public marinas will have some level of security as well, which is included in the monthly fees. However, smaller marinas may not afford the protection that owners want. On the other hand, some marinas may have 24-hour security personnel, a gated entrance, and security cameras built into the slip fee. When choosing a marina, security should be one of the questions boat owners have in mind.
Convenience
Convenience is an area where private docks might have an advantage. Whenever an owner with a private dock wants to head out on the water, they walk outside to their boat. There's no need to drive anywhere or tow the boat to a public landing.
A private dock may cost more upfront, but the owner doesn't have to pay monthly slip fees like they would at a marina. Public marinas can also get crowded during the busiest boating months of the year. Private dock owners never have to shop around to find an available slip, which might be further away from their home.
On the other hand, public marinas might have conveniences that a private dock lacks. For example, some marinas provide full head pump-out services, fueling stations, and dry dock storage. These are all conveniences that a private dock owner may not have available on their personal property. For some owners, having the ability to refuel their boat right at the marina is a big enough convenience for them to opt for marina storage.
Insurance
Boat insurance doesn't cover everything related to the boat, and what it does cover depends on whether they own a private dock or store their boat at a public marina. Private docks are typically covered under a homeowner's insurance policy. They are classified as "Other Structures or Personal Property." The insurance covers the cash value of the dock upon its destruction or loss, minus the policy's deductible. Docks that begin on the owner's property and extend off the property (into the water) are still considered "on-premises" by the homeowner's insurance company. Note that this is separate from the insurance policy for the boat itself.
Docking a boat at a public marina means the owner is not paying for the whole of the insurance to protect the dock, although the monthly slip fees may help cover it. The marina will have liability coverage to protect the docks and the business itself. Note that this does not include insurance for the loss of a slip renter's boat due to an accident, vandalism, or act of nature. Insurance coverage is the responsibility of the boat owners and not the marina. Many marinas will ask boat owners to show proof of insurance for the vessel when signing the rental contract.
Extra Amenities
Having a private dock means that the owner has control of the amenities on and near the dock. The only limits are the owner's imagination and budget. If the owner wants a fire pit, a gazebo, a jet ski ramp, special lighting, or other boating homes features, they can install them on their property.
At a public marina, the amenities often increase along with the slip price. Higher-end marinas might have a private swimming pool for members and a clubhouse. Some marinas will have a grassy area on the property for kids or pets to run and play while adults enjoy a barbecue. Shore-power hookups, showers, fresh drinking water, water for refilling the boat's tanks, dock carts, dinghy storage, and other amenities may or may not be included, depending on the marina.
Private Docks vs. Communal Marinas
Communal marinas and private docks each have pluses and minuses. The decision comes down to what level of responsibility and expense an owner wants to have. While private docks are more expensive initially, they can offer privacy, security, and convenience tailored to the individual if the owner is willing to go the extra mile. Some communities with on-site marinas, on the other hand, offer stellar amenities and different perks. Boat owners should consider all of their wants and needs when deciding which option is best for their preferences.