How to Spend a Day on Main Street in Ellicott City
Posted by Bob and Ronna Chew on Wednesday, August 10, 2022 at 11:17 AM
By Bob and Ronna Chew / August 10, 2022
Comment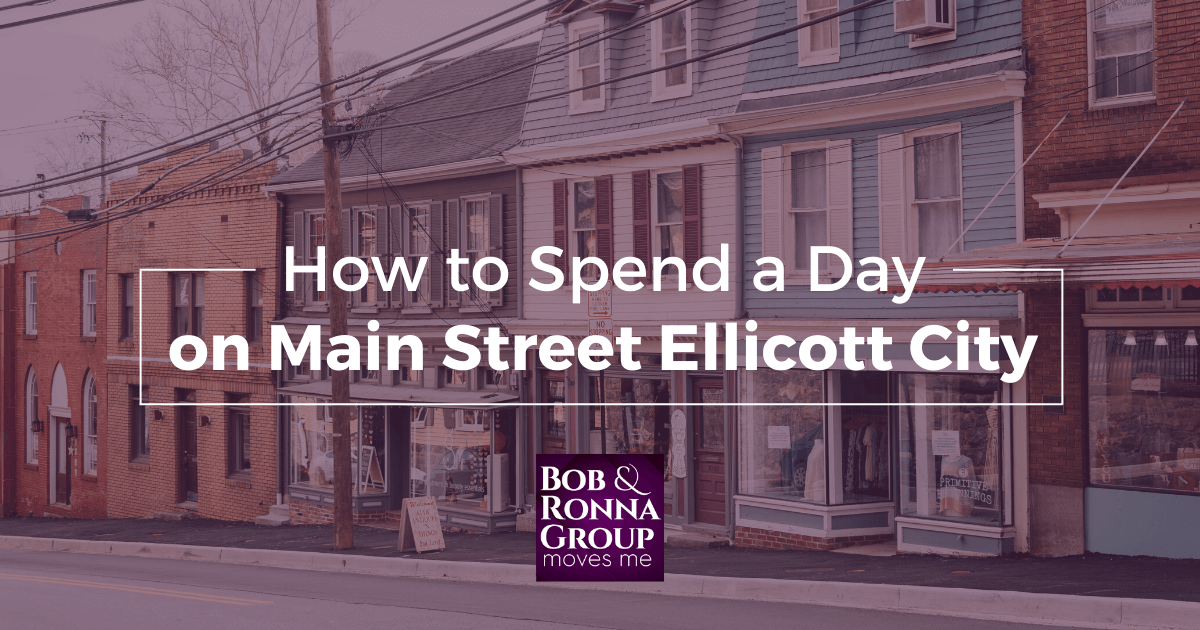 As the central hub of Ellicott City, Main Street is a charming, walkable area featuring historic architecture, local businesses, and various cultural attractions. Old Ellicott City offers an authentic early American downtown experience rarely found elsewhere. Take a stroll down Main Street to see Ellicott City's best restaurants, shops, galleries, museums, and events.
Fuel Your Adventure With Brunch on Main Street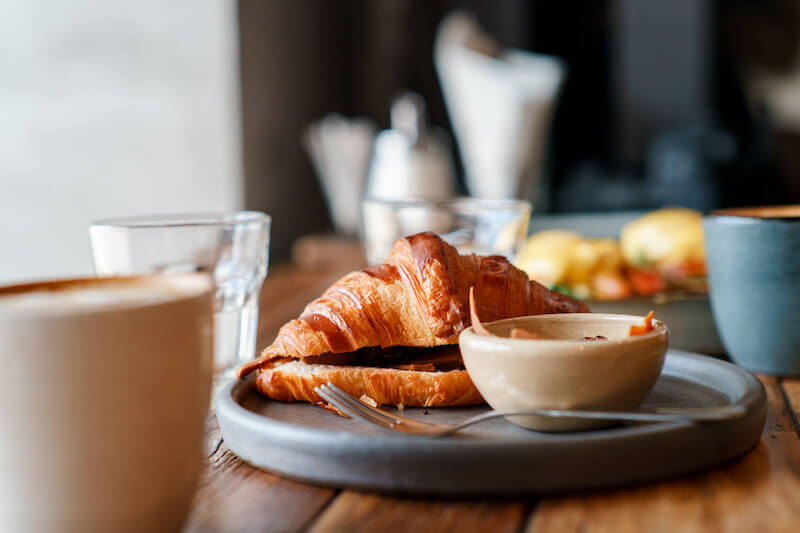 Get your day started with brunch at one of the excellent restaurants in Old Ellicott City. From breakfast tacos to baked goods, Ellicott City's brunch options can satisfy any palate.
La Palapa Grill & Cantina is a laidback Mexican restaurant styled after a hacienda that serves brunch on Saturdays and Sundays. While Mexican dishes like breakfast tacos, burritos, and huevos rancheros are the grill's specialties, it also serves French toast, waffles, and pancakes. Swing by on Sundays to catch live Mariachi music.
At Cozy's BakeryCafe, diners can enjoy a delightful assortment of baked goods, croissant sandwiches, and all-day breakfast items. The halal cafe features a new specialty burger every weekend to keep its menu fresh.
Featuring seasonal ingredients from local Bella-Vita Farm, Big Little Cheese offers American fare, including sandwiches, breakfast bowls, and plates piled high with waffles, bacon, and eggs. Be sure to come early, because the cafe closes in the early afternoon.
For a European-inspired brunch packed with Greek flavors, check out Georgia Grace Cafe. The upscale restaurant's extensive menu includes breakfast bowls, sandwiches, crepes, crostini, and omelets. Many options are naturally vegan, vegetarian, and gluten-free, and almost anything can be made gluten-free upon request.
Support Small Businesses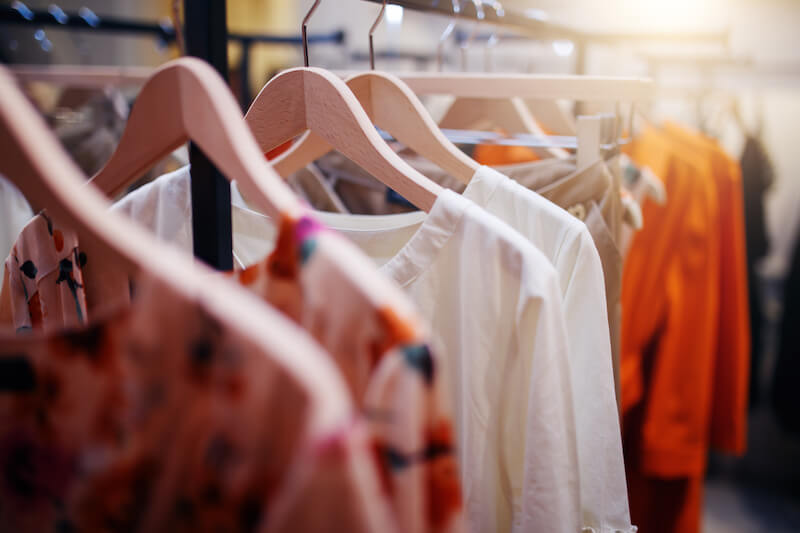 Shopping on Main Street is always one of the most fun things to do in Ellicott City. Ellicott City's small businesses sell specialty foods, home goods, apparel, and so much more.
Park Ridge Trading Company boasts artisan goods like local honey, extra virgin olive oils, and unique types of infused balsamic vinegar. Meanwhile, Matcha Time Gift Shop offers a taste of Japanese culture with a diverse selection of teas, snacks, and decor.
Shoppers can treat their furry friends to natural pet food, gourmet treats, and unique toys at Clipper's Canine Cafe. Shop inside or call ahead for their curbside carryout service.
Main Street shops like Gramp's Attic Books, The Archive Music & Games, and Time Warp Media Video Games offer various entertainment options. Shoppers can discover rare books at Gramp's, vinyl records at The Archive, and video games, comics, and trading cards at Time Warp Media.
Fashionable outfits are easy to find at stores like Cavern Apparel and Simply the Best Boutique. Cavern Apparel features designer looks, while Simply the Best offers size-inclusive apparel, classic jewelry, and stylish accessories.
Numerous lifestyle stores and antique shops make it easy to find unique home decor and memorabilia on Main Street. Look for funky furniture and decor at A Journey From Junk, nostalgic decor and toys at Forget Me Not Factory, and collectible dolls and jewelry at Attic Antiques and Things.
Embrace Your Artsy Side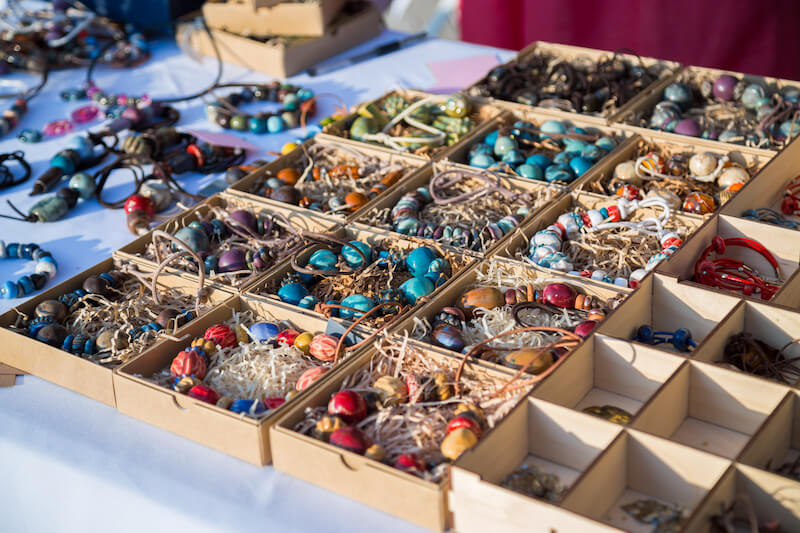 Ellicott City boasts a vibrant arts scene centered on Main Street. Learn about art in fun classes and explore unique jewelry, pottery, photography, and more at Main Street's galleries and studios.
The non-profit Arcade Art Studio offers classes in painting and other art techniques for all ages. The studio also sells jewelry and provides professional portrait photography services. Artists' Gallery features the work of 25 local artists, with exhibits rotating monthly. Experience media from pastel and watercolor to stained glass and woodworking.
You can also get lost among thousands of unique items available at Discoveries, where you'll find handmade jewelry, clothing, art, pottery, and blown glass from hundreds of artists, near and far. Just a few blocks away, Divine Planet Studio offers handcrafted jewelry and classes like blending essential oils, painting talismans, and making mala. For even more custom jewelry, check out Made On Main. The studio specializes in semi-precious gemstones, Czech glass, and sterling silver.
Meanwhile, Southwest Connection highlights the work of Navajo, Zuni, and Hopi artists. The shop offers Native American jewelry, artifacts, and pottery alongside delicious homemade fudge and candies. Located in one of the nation's oldest duplexes, Syriana Cafe is both a restaurant and a gallery showcasing Syrian mother-of-pearl inlay woodwork, mosaic work, metal crafts, and brocade silk products.
Uncover Local History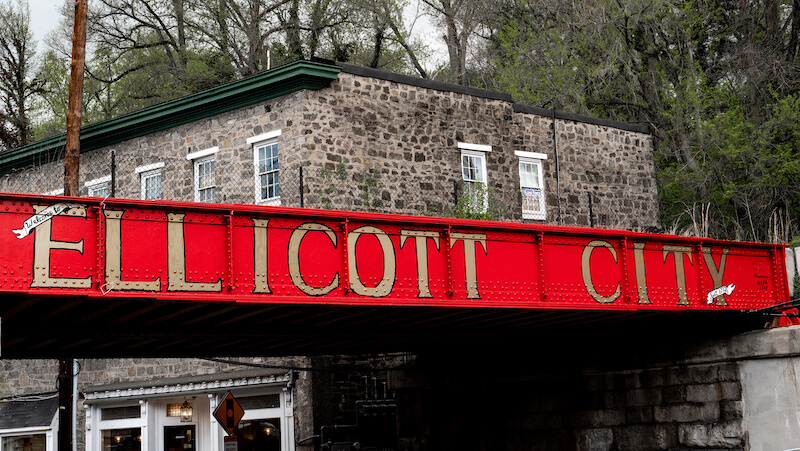 Home to Ellicott City's oldest structures, Main Street has no shortage of historical attractions. Learn about local history at museums or on a walking tour of Ellicott City's historic district.
Get started at the Howard County Welcome Center, housed in a renovated New Deal-era post office. Pick up a visitor guide, regional maps, and travel brochures and check out the post office's historic oil paintings. The US Treasury Department's Section of Painting and Sculpture commissioned Petro Paul De Anna to create the murals in 1942. The initiative was part of a morale-building project countering the Great Depression with public art.
The Museum of Howard County History, operated by the Howard County Historical Society, is just a short drive away from Main Street. The free museum hosts various local artifacts from before European settlement to the present day.
First built in 1780 on the nearby Merryman Street, the Thomas Isaac Log Cabin has changed locations several times. It served as a meeting place for the St. Luke AME Church in the 1870s, but now resides at the intersection of Main Street and Ellicott Mills Drive, offering a glimpse into Ellicott City's earliest days.
Several Ellicott City History Tours meet on Main Street, including Haunted Main Street and the Spirits Pub Crawl. These walking tours explore Ellicott City's unique haunted history.
Time Your Trip With Local Events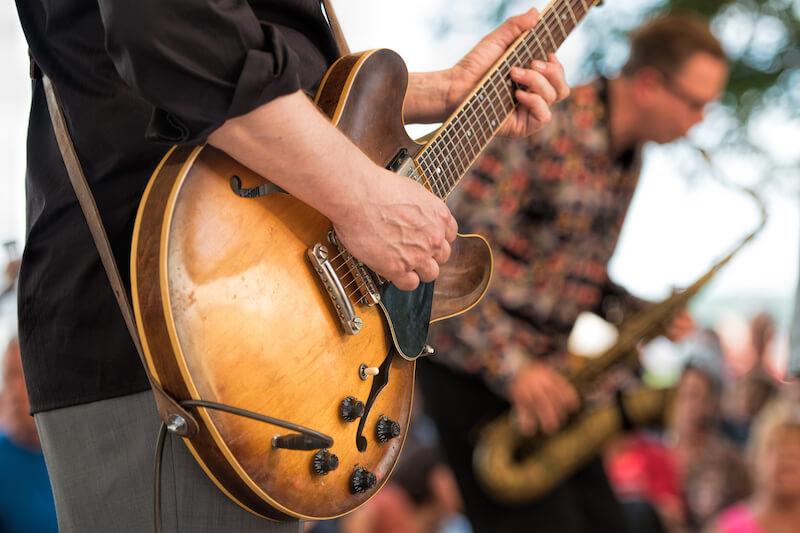 Main Street offers plenty to do on a regular day, but it can be even more fun during local events. Festivals, monthly meet-ups, and holiday events on Main Street provide excellent opportunities to enjoy some of the best events in Howard County.
The annual Main Street Music Fest hosts Mid-Atlantic indie artists across four outdoor stages, three indoor stages, and pop-up venues throughout the city. In addition to live music, festivalgoers can enjoy carnival rides, artisan vendors, food trucks, and local craft brews and wines.
Get ready to laugh at the annual Ellicott Silly Comedy Festival. For a whole week, live comics take to stages across Ellicott City to provide sidesplitting entertainment. Sip, stroll, and shop for the monthly Girls Night Out. Enjoy featured drinks, raffles, and special discounts with seasonal themes like back-to-school and flower power.
Ellicott City has celebrated Halloween with Trick or Treat on Main for over three decades. During the early evening, shops and residents of Old Ellicott City pass out candy to eager trick-or-treaters.
Main Street has an even longer winter festival tradition stretching back more than 40 years. Midnight Madness begins with a tree lighting ceremony. Carolers provide a festive atmosphere while Main Street's shops stay open until midnight for shoppers to search for the perfect gift.
Exploring Ellicott City's Main Street
There are so many fun things to do on Main Street that it should be easy to see why it's one of the best neighborhoods in Ellicott City. Living in nearby Ellicott City townhouses and new construction homes offers the unique opportunity to explore all of Main Street's restaurants, shops, and cultural attractions. Whether it's your first day on Main Street or your hundredth, you're sure to find something new to love about it.
If you're looking for your Ellicott City dream home, contact The Bob & Ronna Group of Berkshire Hathaway HomeServices with Maryland Real Estate Advantage at (410) 465-4440 to get in touch with an Ellicott City real estate agent who can help find the perfect place for you.