Dog Parks in Harford County MD: How Dog-Friendly is Harford County?
Posted by Bob and Ronna Chew on Tuesday, October 3, 2023 at 12:25:06 PM
By Bob and Ronna Chew / October 3, 2023
Comment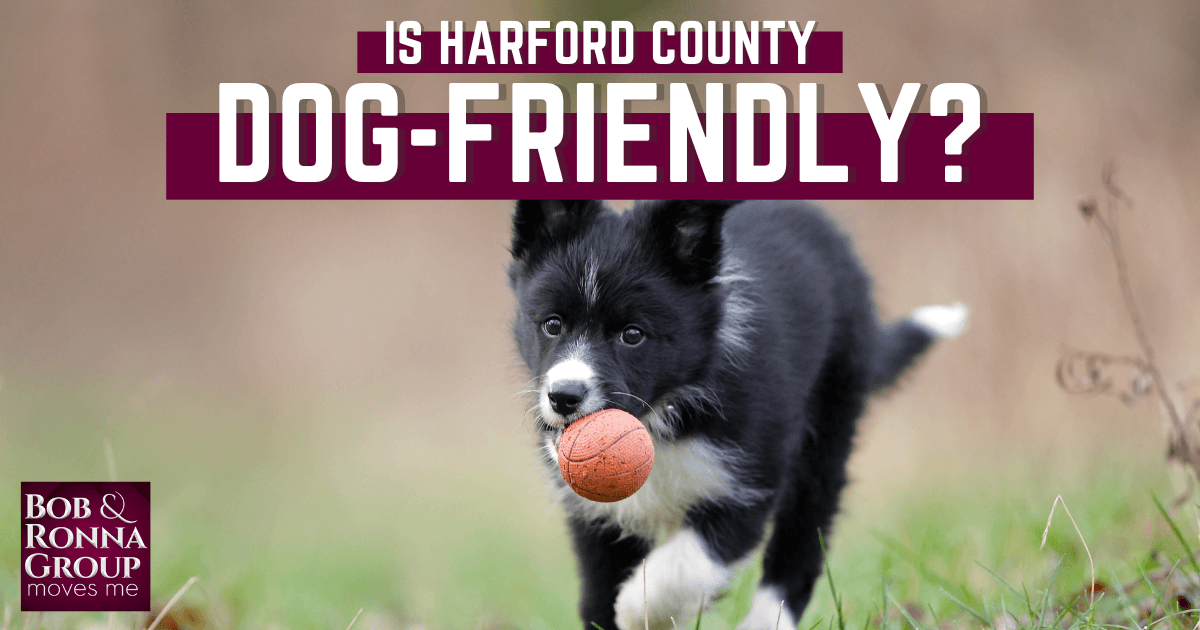 With its scenic landscapes and welcoming communities, Harford County, Maryland, deserves attention for another notable feature: its affinity for four-legged friends. A county that's renowned for its commitment to inclusivity, Harford County now beckons dog enthusiasts with a plethora of amenities and spaces tailored for canine companions. This article takes a leash-led journey through the county, highlighting the plentiful dog-friendly offerings for dog-loving residents and homebuyers moving to Harford County.
Best Neighborhood Dog Parks in Harford County
Harford County is located approximately 30 miles from the city of Baltimore; Washington, D.C., is 70 miles southwest of the heart of the county. This part of Maryland is animal-friendly, and there are plenty of quality dog parks for pet owners to choose from. Whether living in a neighborhood with condos or some of Harford County's new construction homes, there are always many places for pups to roam, exercise, and enjoy the great outdoors nearby.
The Ma & Pa Dog Park
The Ma & Pa Dog Park is a fenced dog park in the town of Bel Air with a separate area for smaller breeds. This park offers comfortable benches, a drinking fountain to keep pets hydrated, and picnic tables for owners. It also has plenty of shade so owners and pets can rest and cool off after playing. All dogs must be vaccinated, licensed, and wear a collar with proper identification. There are typically larger crowds here on the weekends, often with dozens of dogs.
Ma & Pa features three large dog runs and large water bowls throughout. Mulch is on the ground to keep dogs' paws comfortable and cool. The dog park is adjacent to a peaceful four-mile walking trail where dogs are welcome.
The Ma & Pa Dog Park Additional Information
Address: 702 N Tollgate Road, Bel Air, MD 21014
Hours: Open 7:00 a.m.–9:00 p.m., seven days a week
Abingdon Road Dog Park
The four-acre Abingdon Road Dog Park offers two mulched fenced areas to play in (one for large dogs and one for small dogs). The park opened in the Abingdon community in 2017 and sits upon a capped landfill behind a water treatment plant. As you're sitting in the park, you can enjoy incredible views of the surrounding hills.
The park features a one-mile-long paved trail that leads to the dog run, and it also includes a shaded pavilion and benches for resting outside of the dog park. However, be aware that there isn't much shade or water fountains in the dog park itself, so be sure to bring extra water on hot days. Two parking lots are available, and all dogs must have a Harford County license.
Abingdon Road Dog Park Additional Information
Address: 3330 Abingdon Road, Abingdon, MD 21009
Hours: Open 7:00 a.m.–8:30 p.m., seven days a week
This 24-hour dog park is located within Victory Street Park in the city of Aberdeen and was constructed in 2017. The dog park portion offers almost one-third of an acre of land and includes fire hydrants, ramps, exercise tunnels, and more. The park features separate small and large dog areas, and a community dog toy bin is in each section. A water feature was also added in the fall of 2017 so dogs can enjoy a refreshing drink and cool off while they play. All dogs must be fully vaccinated and licensed.
The park has plenty of trees for shade on hot days, and there is a drinking fountain right outside of the entrance with a dog bowl. Agility features offer owners the chance to train, and the park is typically quiet during regular daytime hours, except for most Saturdays when more pet owners take their dogs there to play.
Victory Street Dog Park Additional Information
Address: 7 Franklin Street, Aberdeen, MD 21001
Hours: Open 24 hours, seven days a week
K9 Cody Dog Park
Located in the city of Havre de Grace, K9 Cody Dog Park features a half-acre fenced-in space separated for small and large dogs. The park has drinking fountains for dogs and their owners, and there are plenty of trees and shade. A bench is offered on each side of the park so owners can chat while keeping an eye on their pets. Shovels and pet waste bags are available on-site for easy cleanup.
K9 Cody Dog Park is a popular place for residents to give their dogs some socialization, exercise, and outside time near Downtown Havre de Grace. Pet owners appreciate that this dog park provides plenty of room for their rambunctious family members to run and play.
K9 Cody Dog Park Additional Information
Address: 1008 Graceview Dr, Havre De Grace, MD 21078
Hours: Open 24 hours, seven days a week
Dog-Friendly Activities in Harford County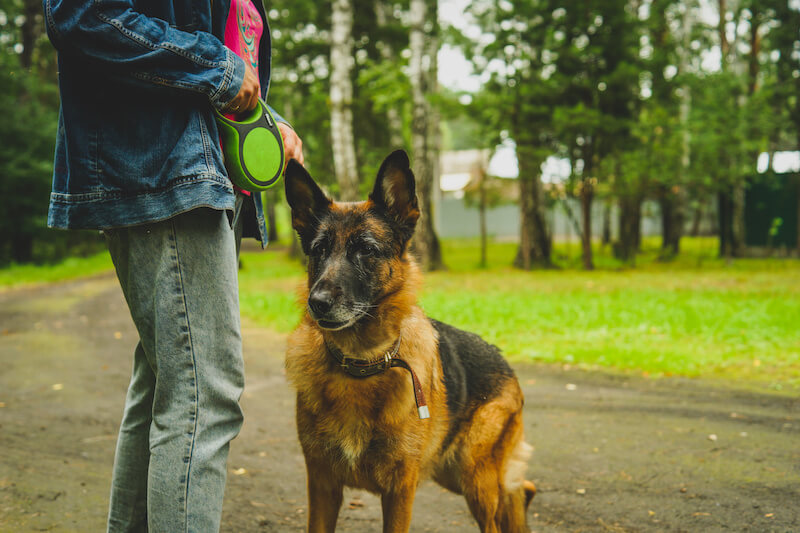 Dog owners will find various fun things for their pets to do in Harford County. From theaters to parks, there is no shortage of options.
Bark Social is the first social club for dogs in Baltimore County. Members can relax, enjoy a beverage, and get to know one another while their dogs socialize and play. This club offers toys, treats, and fun swag for both dogs and humans.
Gunpowder Falls State Park is an excellent spot for walking dogs and exploring. This 18,000-acre park offers trails that go by a beautiful river, through forests, and by historic sites, giving avid nature lovers lots of places to explore with their pooches.
Bengie's Drive-In Theatre is an amazing dog-friendly outdoor movie theater located in the Middle River area. Dogs are welcome to join their owners for movie nights, and two feature films are shown on Fridays and Saturdays. All pets must be on a leash, cleaned up after, and attended at all times. There's also a snack bar with sandwiches, pizza, popcorn, and sweet treats. The box office itself is cash only, but credit cards are accepted at the snack bar.
Dog-Friendly Restaurants in Harford County
Aside from outdoor activities, there are a good number of delicious, dog-friendly restaurants located throughout Harford County.
Sunny Day Café serves up tasty breakfast fare as well as plenty of good grub for lunch, like subs and sandwiches. The outside seating area is dog-friendly, weather permitting. Staff will bring your dog a bowl of water as soon as you sit down, and guests love their delicious variety of breakfast treats and classic dishes.
For those who prefer beer, check out Chesepiooc Real Ale Brewery. This local brewery serves delicious craft beers and welcomes pups of all kinds. Pooches will get dog biscuits to munch on, and they also sell special non-alcoholic beer made just for dogs.
Vagabond Sandwich Company sells incredibly unique and flavorful sandwiches, and the outdoor space features 10 dog-friendly tables. Enjoy everything from grilled cheese to gourmet burgers and beyond.
Naughty Dogs Restaurant Pub and Grill has a huge menu and six pet-friendly tables for dogs. This restaurant serves burgers, seafood, gourmet hot dogs, and much more. Martinis, wine, and beer are also available, and pets are always welcome.
Dog-Friendly Shopping in Harford County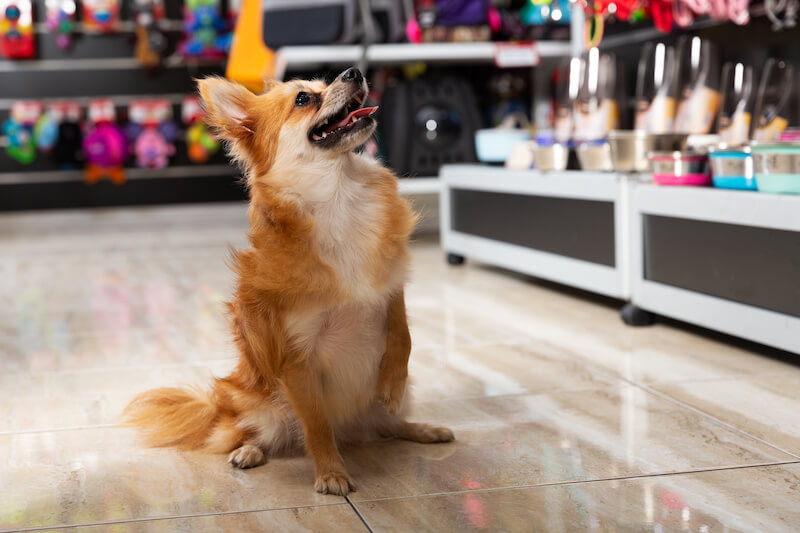 Parks, restaurants, and trails are just some of the places where dogs are welcome in Harford County; there are plenty of great stores and shopping experiences that welcome and cater to dogs.
Pet Supplies Plus in Aberdeen has a wide selection of pet products for dogs, cats, birds, fish, and more. This pet store is the nation's largest independent pet store and offers services including nail trims, grooming, and more. Patrons are welcome to bring their pets along for a shopping trip as long as they are secured with a leash and collar.
Pet Nirvana is a local store offering full-service grooming, walk-in nail trims, and a self-serve dog bath. The store also offers a variety of nutritious pet food, treats, and fun toys. This small store caters to pets' needs and allows owners to bring them along for a shopping trip or a quick bath. Guests say that the pet food at Pet Nirvana is top-of-the-line, and it features healthy ingredients that dogs and other animals love.
Baron's K-9 Market was established in 2004 and is now the leading independent pet store in Northern Maryland. Based in the Forest Hill community, just north of Bel Air, the store focuses on pet wellness, nutrition, supplements, herbal remedies, and more. The knowledgeable owners have been in the pet industry for almost 20 years.
Pet-Friendly Lodging
Harford County and the surrounding areas offer several pet-friendly lodging options. Bar Harbor RV Park and Marina offers beautiful camping areas on the wooded peninsula of the Bush River. This is the closest RV park to Baltimore's Inner Harbor, a 30-minute drive away. Guests can bring their dogs and cats (with proper supervision), and the site offers shady trees, four-point hookups, beach access, and a pool.
Candlewood Suites in Bel Air is a pet-friendly hotel with studio and apartment-like suites featuring fully equipped kitchens, living and work areas, and TVs. The hotel also offers free high-speed wireless Internet access, a 24-hour business center, free laundry facilities, a fitness center, and an outdoor gazebo with BBQ grills.
The Spencer-Silver Mansion in Havre de Grace, Maryland, is a beautiful bed and breakfast that welcomes pets and their owners with advanced reservations. This unique home is located by the bay in the heart of the historic district, just a few blocks away from Concord Lighthouse and other attractions. Visitors will enjoy amazing views of Chesapeake Bay, local state parks, and more. Baltimore is just a short drive away, and the host is happy to help guide guests to unique attractions and events hosted there throughout the year.
Harford County's Dog-Friendly Offerings
From sprawling parks to canine-centric amenities, Harford County is a haven for dogs and their human counterparts. Dog-friendly Baltimore County is Harford County's western neighbor, offering even more for dogs to see and do. As the county continues to grow and evolve, its commitment to catering to the canine community remains clear. Harford County is an exemplary choice for those seeking a community that embraces and celebrates the bond between human and hound.
If you're thinking about moving to Harford County, call The Bob & Ronna Group of Berkshire Hathaway HomeServices with Maryland Real Estate Advantage at (410) 465-4440. Our experienced and local real estate agents can help you find your Harford County dream home.