Is Columbia Dog Friendly? Columbia Dog Park & Pet Friendly Things to Do [2023]
Posted by Bob and Ronna Chew on Wednesday, November 23, 2022 at 3:48:57 PM
By Bob and Ronna Chew / November 23, 2022
Comment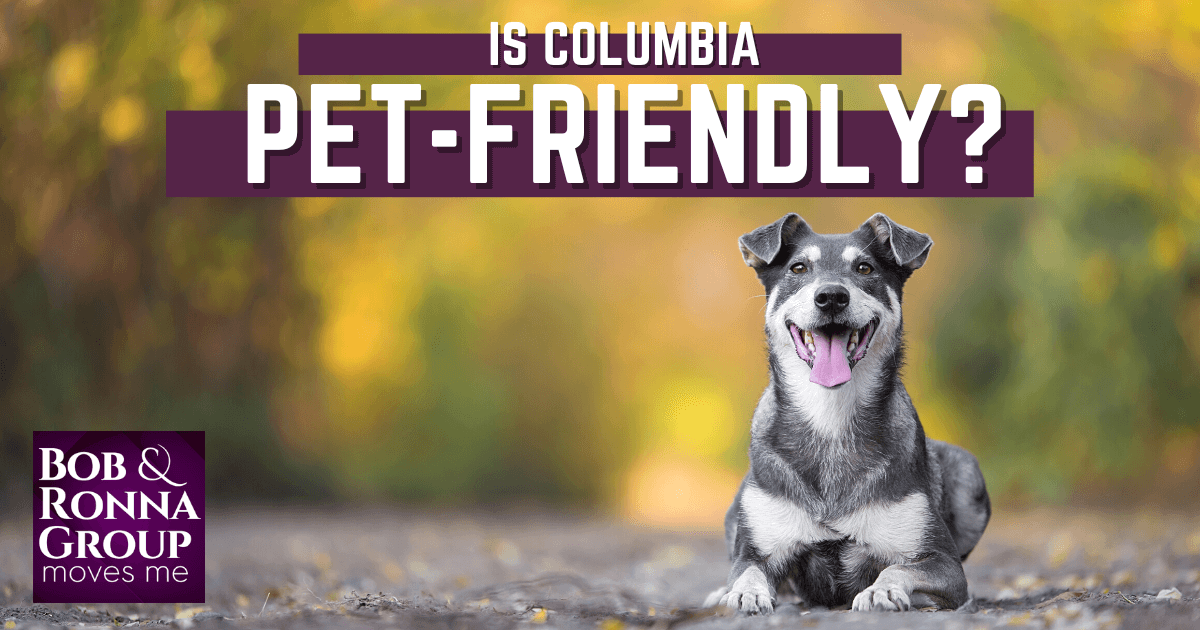 Dogs feel right at home in the city of Columbia! There are a variety of great resources for pet owners here, including dog parks, vet clinics, and pet stores. More importantly, there's a mindset among neighbors that dogs are not only a part of their lives but are a life enhancement. There are dog-friendly restaurants in town, pet-friendly hotels for visitors who want to bring their dogs on a trip here, and even some shopping venues where everyone is welcome to bring a leashed pet with them. This short guide should help answer newcomers answer the question of just how dog-friendly Columbia is.
Best Neighborhood Dog Parks & Trails in Columbia
Some of Columbia's best parks and walking trails provide space where dogs can play both on- and off-leash. Wilde Lake Park and Lake Elkhorn have trails that wind through the neighborhood while circling the lakes. Here are some other parks and trails that dog owners and their pets will enjoy.
The Columbia DogPark
The Columbia DogPark is located in the Harper's Choice neighborhood. The park entrance is just south of the Cedar Lane Park sports fields in the area behind Harper's Choice Middle School. The dog park has two fenced-in areas — one for large dogs weighing over 25 pounds and one for small dogs. Both areas are "off-leash," so owners can let the dogs loose to run around and play in a safe environment.
Both parks have benches for owners to use, doggy drinking fountains, and waste stations with waste bags. There is no fee to use the Columbia DogPark.
The Columbia DogPark Additional Information
Address: 5901 Rivendell Lane, Columbia, MD 21044
Winter Hours: 7 a.m. to 5 p.m.
Spring & Fall Hours: 7 a.m. to 7 p.m.
Summer Hours: 7 a.m. to 8 p.m.
Patuxent Branch Trail
The Patuxent Branch Trail winds through several neighborhoods, connecting Savage Park in the south with Lake Elkhorn in the north. This mostly flat and easy trail is about 4.5 miles from end to end. Most of it is surfaced with asphalt, but there is a 1.3-mile stretch covered with crushed gravel. This is a spectacular area to take the dog for a walk. The route follows the Patuxent River most of the way, and follow trail markings at intersections to stay on the correct path.
A 2-mile section of the trail follows the old Baltimore & Ohio Railroad's Patunxet route, where the trains served a cotton mill in Savage and a gravel quarry in Guilford. Hikers who head out to enjoy this trail will cross the historic Pratt Truss Bridge, built in 1902. On the Savage side of the trail, there is a parking lot on Fair Street. Parking at Lake Elkhorn Park near Dockside Lane and Cradlerock Way is available on the Lake Elkhorn end of the trailhead.
Patuxent Branch Trail Additional Information
Address: 9190 Old Guilford Rd, Columbia, MD 21046
Hours: 6 a.m. to 8 p.m.
Dog-Friendly Restaurants in Columbia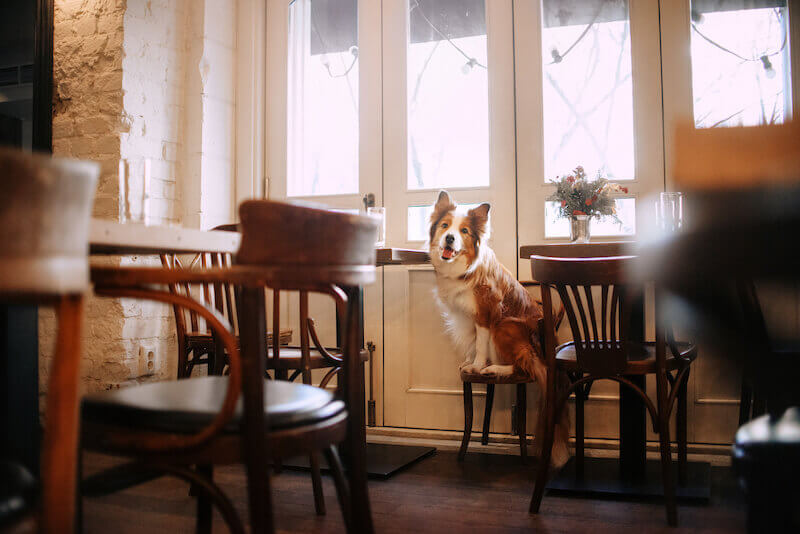 Going out to eat in Columbia doesn't mean you have to leave your dog at home. Columbia has several places to eat and grab a drink where dogs are welcome to come along too.
The Pub Dog Pizza & Drafthouse opened in Columbia in 2007. Weather permitting, it has an outdoor patio where they serve food and craft beers. The patio is mainly uncovered, but umbrellas cover some of the tables for shade in the summertime. Dog owners can bring a well-behaved, leashed pet for dinner if they choose outdoor seating.
The food is mostly pizza, salads, and fresh-baked pretzels, and they do have an option for gluten-free crust on all pizzas. The beers they have on tap change frequently, and they sell growlers for customers to take home.
The Black Flag Brewing Co. is located just south of Lake Elkhorn. Dogs are allowed inside, but they must be seated at a table with owners and on a leash at all times. Pets are not allowed in the bar area. The rotating schedule of food trucks makes Black Flag a great place to grab a flight of craft beers.
Located north of Columbia in Ellicott City, the White Oak Tavern has an outdoor patio where leashed dogs are welcome. They serve several dozen beers on tap, and good old-fashioned burgers, fries, and comfort pub food.
The Hysteria Brewing Company is in the Guilford Square neighborhood of Columbia. They have a few outdoor seats, but leashed dogs are allowed inside and outside the business. Hysteria only serves beer, but patrons can bring their food or pick something up at Bullhead Pit Beef next door.
Dog-Friendly Shopping in Columbia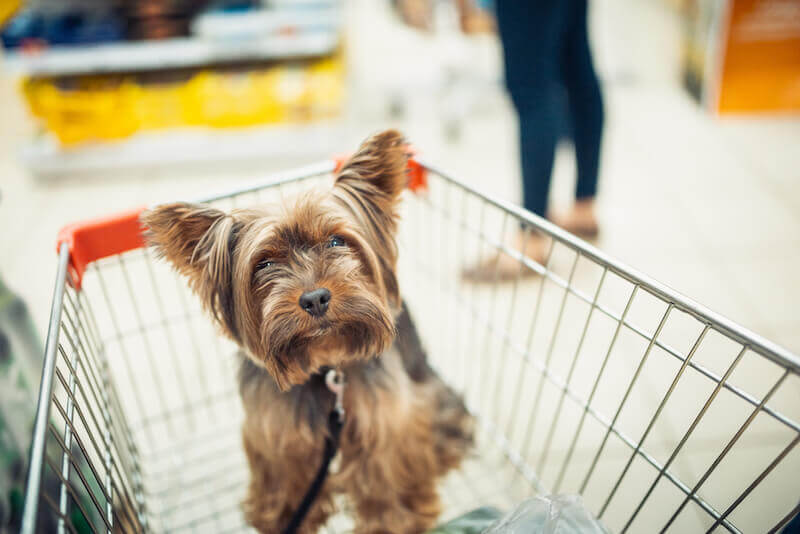 Shopping venues that allow dogs are somewhat limited in Columbia, but there are hidden gems where people can get some of their shopping done and bring the dog. Most people have heard of the Mall in Columbia since it's one of the top attractions in Columbia's Town Center. The Mall does not allow dogs on the property most of the time other than service dogs. However, families are welcome to bring a leashed dog to the Mall for select pet night photo events for holidays like Easter or Christmas.
Another option is the Howard County Farmer's Market in the Oakland Mills neighborhood. People can bring their leashed dogs while shopping at the outdoor vendors' booths. The Market meets on Sundays at 5851 Robert Oliver Place.
The Touche Touchet Bakery & Pastry Shoppe in Columbia is another pet-friendly venue. They have a covered outdoor patio where patrons can bring a leashed dog. Touche Touchet even makes some fresh-baked dog treats. They do serve some sandwiches, wraps, and coffees for people, but the emphasis here is on the pastries and cakes that the bakery makes, which can be purchased for take-home.
Find Pet Stores Near You in Columbia
There are multiple pet stores in and around Columbia where dog owners can pick up food, toys, and treats and take their pets in for grooming. Columbia has several "big box" chain stores in and around town and some locally owned options. Here are a couple of local favorites.
Loyal Companion is a chain pet store in the northeastern US and along the Atlantic. They sell many dog foods, treats, toys, supplies like blankets and pet beds, and some pet medical supplies. It provides pet grooming services by appointment and has a station where owners can wash their dogs. An on-site veterinarian is available for limited preventative medicine treatments, such as vaccines, parasite testing, and deworming.
Today's Pet is a locally owned family business that's been in operation in the city of Elkridge since 1996. They sell a wide variety of dog treats, foods, chew toys, leashes and collars, health supplements, and flea and tick medications. For every $1 spent on pet supplies, they donate $0.45 back to the community and various pet-related charities. They occasionally have special offers on pet supplies for store members and host various pet-related events.
Pet-Friendly Hotels in Columbia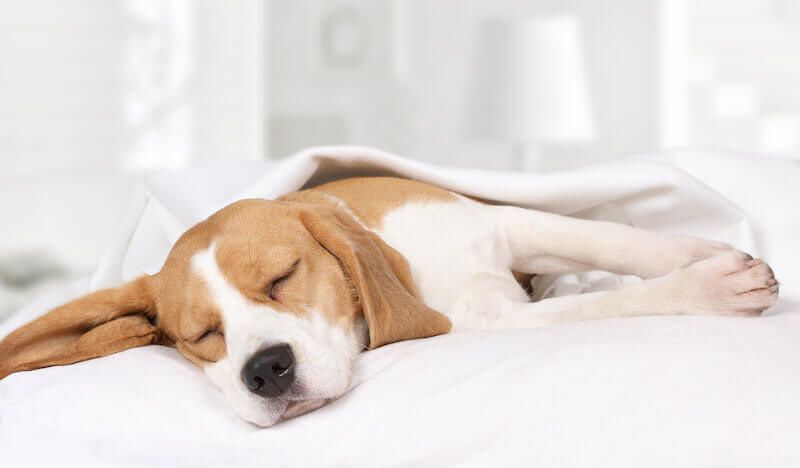 Vacationing in Columbia? Have family or relatives coming into town, and they're dog owners? Here are a couple of pet-friendly lodging locations in Columbia.
Sonesta ES Suites Columbia is pet-friendly in the Long Reach neighborhood. They have no size or weight limits for pets and allow up to two animals per suite. There is a flat $75 pet fee for the first seven days and $150 for any stay longer than a week. Sonesta even provides special amenities for pets at check-in, such as food and water bowls, waterproof mats, and some doggie treats.
The Merriweather Lakehouse is a four-star luxury hotel near Lake Kittamaqundi in Columbia. The Lakehouse is extremely dog-friendly, but cats are not allowed. They charge a $100 pet fee and allow up to two dogs. The dogs can weigh up to 50 pounds and even be left unattended for short periods. There's a grassy area outside the hotel for pets to relieve themselves.
Veterinarians in Columbia

Knowing that local vet clinics and animal hospitals can give potential homebuyers peace of mind when moving to a new community. Knowing that they'll be able to find regular wellness care for their dogs, in addition to emergency services if needed, is a factor that pet owners should consider. Fortunately, Columbia has several options available that are locally owned and operated.
The Hickory Ridge Animal Hospital is a full-service vet clinic in the Hickory Ridge neighborhood. They perform annual wellness checks, dental cleanings, parasite control, vaccinations, pet dermatology, and more. In-house diagnostic testing is available, including X-rays, blood and lab tests, and tonometry to test a pet's eyesight. Advanced care services include orthopedics, cardiology, pain management, and internal medicine. The hospital has a surgical suite for performing tissue repair surgery, mass removal, and spay/neuter services.
Located just north of Lake Elkhorn, the Cat & Dog Hospital has been in operation since 1983 and has an excellent reputation for its care for Columbia pets. As the name suggests, their practice focuses mainly on dogs and cats. They perform vet checkups, vaccinations, ultrasounds, general surgery, and pet dentistry. The hospital has in-house diagnostics, lab testing, and a radiology suite with X-rays. The Cat & Dog Hospital also provides assistance in chemotherapy for dogs and cats diagnosed with cancer.
Find Dog-Friendly Places & Things to Do in Columbia!
Columbia locals love their pets, which shows from the many venues and resources available here that cater to dog owners. Anyone moving to Columbia can rest assured that there are plenty of things for pet owners to do with their dogs. This list only scratches the surface, so keep exploring to find more outdoor spaces and activities for dog owners.
If you're looking for your Columbia dream home, contact The Bob & Ronna Group of Berkshire Hathaway HomeServices with Maryland Real Estate Advantage at (410) 465-4440 to get in touch with a Columbia real estate agent who can help find the perfect place for you.