Baltimore County's Best Dog Parks & Pet-Friendly Places: Unleash the Fun!
Posted by Bob and Ronna Chew on Wednesday, May 17, 2023 at 10:42:37 AM
By Bob and Ronna Chew / May 17, 2023
Comment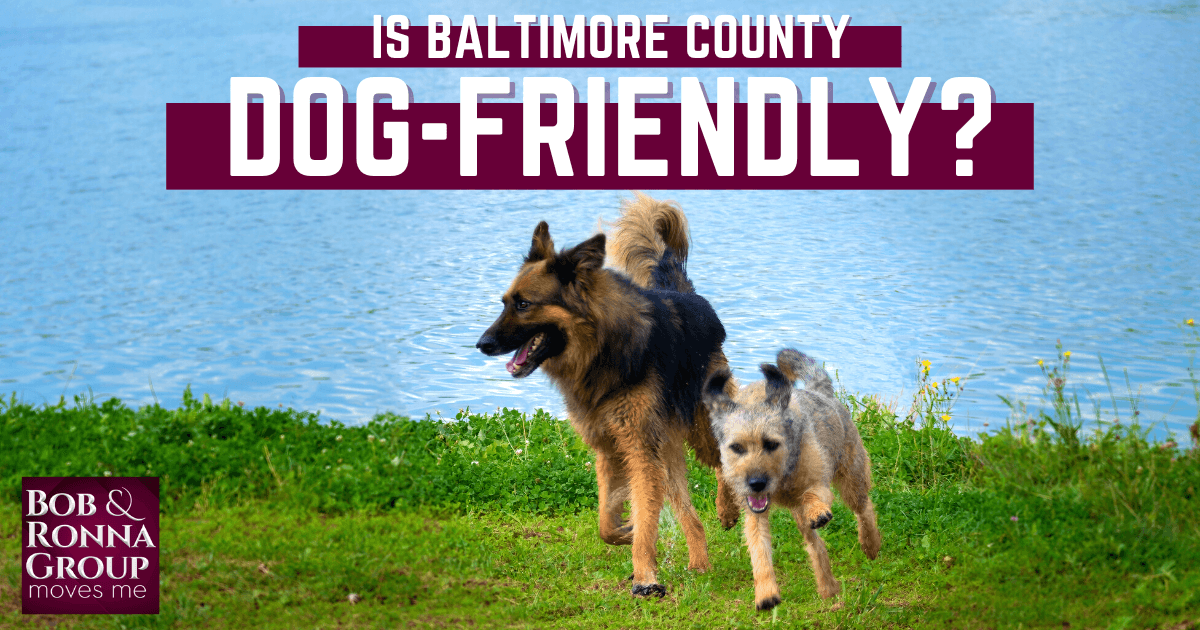 Baltimore County, MD, is great for dog owners to explore with their furry friends. From hiking trails and dog parks to pet-friendly cafes and accommodations, there are plenty of activities to keep you and your dog entertained. With beautiful scenery and a welcoming community, Baltimore County is the perfect destination for dog lovers to buy a home or for a dog-friendly getaway. Neighboring dog-friendly Anne Arundel County is just to the south of Baltimore County and offers even more dog-friendly amenities. This article will highlight some of Baltimore County's best dog-friendly things to do and amenities.
Best Neighborhood Dog Parks in Baltimore County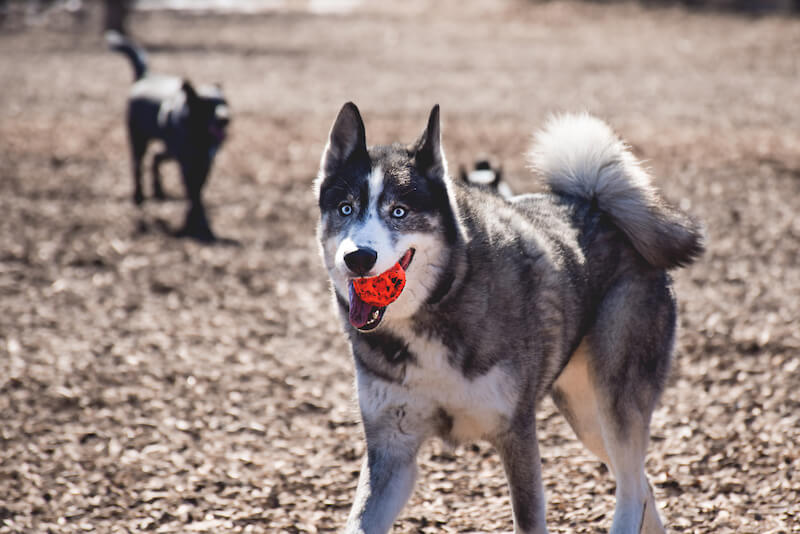 An off-leash dog park is a must-have amenity for Baltimore County residents living in condos or homes with small yards. Fortunately, Baltimore County is exceptionally dog-friendly. There are a combined 16 dog parks in the county and the city of Baltimore, all of which are worth visiting at some point. Here are five of the best ones available.
Paw Point Dog Park
The Paw Point Dog Park is located in Lake Roland Park in Baltimore. This is a 1.5-acre off-leash swim and play park. Dog owners must pay for a membership for access to use the off-leash area. The park has a double-gated entry that is code-controlled. Only paying members have the code, and the $35 membership fee includes tags for up to two dogs. In addition to plenty of space to run around, this park has an area of Lake Roland that is safety-gated for dogs to play and swim in the water.
The dog park is located in north Baltimore, near many of Baltimore's luxury homes. Park rangers periodically do spot checks and issue citations if anyone uses the park without proper tags and a paid membership. The park has benches and doggie bag dispensers available. Out-of-state visitors can purchase memberships to use the park but must provide proof of vaccination with their application.
Paw Point Dog Park Additional Information
Address: 1000 Lakeside Dr., Baltimore, MD 21210
Hours: Open daily from sunrise to sunset
Patterson Dog Park
People living in the Baltimore townhomes in the Canton and Baltimore Highlands neighborhoods appreciate the proximity of the Patterson Park Dog Park. It has separate fenced-in areas for large and small dogs. The park has an astroturf surface, which helps to keep the site looking clean and green. There are benches for owners to sit and watch their dogs play and a drinking fountain for water. No food is allowed in the off-leash park, and no children under eight years of age are allowed inside. Owners can bring up to three dogs to run around and play.
Leashed dogs are allowed in the rest of the outdoor areas at Patterson Park, an ample green space worth exploring. It has many walking paths, a boating lake, fountains, an outdoor swimming pool, and a children's playground.
Patterson Dog Park Additional Information
Address: 2601 E Baltimore Street, Baltimore, MD 21224
Hours: Open from sunrise to sunset daily
Howard Street Dog Park
The Howard Street Dog Park is in the Bromo Arts District just north of downtown Baltimore. Most dog owners who use this small park walk here from their homes or apartments. This small park can fill up quickly, and pet parents must always keep a close eye on their dogs. There are separate fenced-in areas for large and small dogs, with double-gated entrances. The off-leash areas have grass-covered mounds for the dogs to run and climb on. There is also a hose and water fountain.
Parking is on the street at Howard Street Dog Park. This is a tiny dog park, but it is surrounded by shade trees to keep pets and owners out of the sun. There are also park benches for owners to enjoy.
Howard Street Dog Park Additional Information
Address: W Centre Street & N Howard Street, Baltimore, MD 21201
Hours: Open from sunrise to sunset daily
Perry Paw Dog Park
The Perry Paw Dog Park is located inside the much more extensive Honeygo Run Regional Park's grounds. This park is near some of the great homes in Perry Hall, approximately 20 miles northeast of downtown Baltimore. Park in the main parking lot and look to the left of the football field to see the dog park in the distance. Membership fees support the dog park. It features tall, escape-proof fencing and separate areas for large dogs and small or elderly dogs. Annual membership costs $25 for two dogs or $30 for three dogs.
Each dog park section has grassy surfaces and lots of space to run around. There are doggie drinking fountains and benches for the owners to sit on. The entrances are double-gated and require a security keycard to enter. Applicants for membership must submit their dog's rabies certificate and city/county license to be approved.
Perry Paw Dog Park Additional Information
Address: 9033 Honeygo Boulevard, Perry Hall, MD 21128
Hours: Open from 7:00 a.m.–9:00 p.m. daily
BARC Park
The Baltimore Animal Recreation Center (BARC Park) is located in Reisterstown on the western side of Baltimore County. The BARC Park can be accessed inside Hannah More Park from the end of Academy Lane. This members-only off-leash park has more than two acres enclosed, with separate areas for large and small dogs. The park is mostly surfaced with grass and mulch. During the summer, wading pools are set up in both enclosures to let the dogs get wet. Both parks include doggie water fountains and some benches for owners.
The membership fee for the BARC Park is $30 for the first dog and another $10 for each additional dog. Rabies certificates and county dog licenses must be provided with an application.
BARC Park Information
Address: 826 Academy Lane, Reisterstown, MD 21136
Hours: Open from sunrise to sunset daily
Dog-Friendly Activities in Baltimore County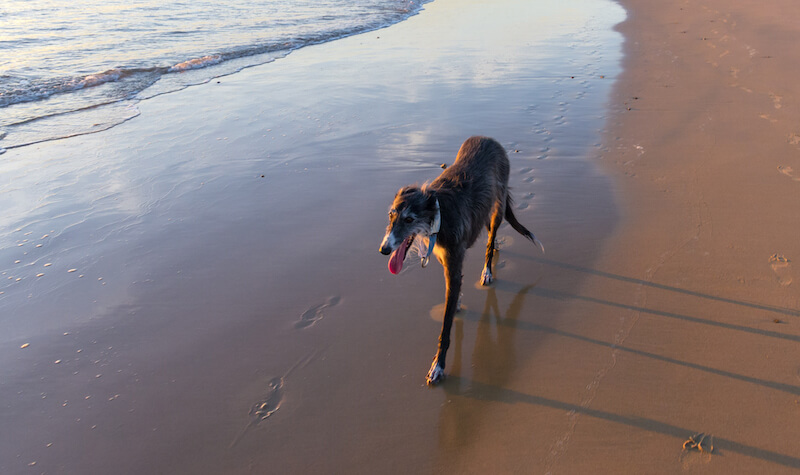 Baltimore is an incredibly dog-friendly county, with tons of activities geared specifically toward four-legged friends. Here are some of the best examples for locals and visitors.
The annual BARCStoberfest is much like a typical Octoberfest, with a beer garden and other activities. The event is a significant fundraiser for the Baltimore Animal Rescue and Care Shelter, which rescues approximately 10,000 dogs annually. Leashed pets are welcome. It features a one-mile Walk Run, children's activities, and a pet costume contest.
Bark Social is a unique restaurant and play center for dogs. One location is in the Canton neighborhood in Baltimore, and another is among the quiet homes in Bethesda. It has menu items for humans and dogs and plenty of social activities for the pets to run around and engage in. Memberships are available at the social club daily, monthly, or annually. The annual membership offers the most perks. Proof of vaccination and licensing are required to purchase a membership.
The Canine Fitness Center is located in the Crownsville community, south of Baltimore County. It offers acupuncture and doggie massages and has a pool for dogs to exercise (dog swim vests are available). The fitness center is excellent for dogs needing some exercise, rehab, or recovery following surgery or an injury.
The Downs Park Dog Beach in Pasadena sits right on the shores of Baltimore Bay. It's a fun dog beach where pets can learn to swim or enjoy some time in the water before heading back to Baltimore County or to their Pasadena homes.
Dog-Friendly Restaurants in Baltimore County
There are several pet-friendly options for those who want to grab a bite to eat in Baltimore County and bring their leashed pet along with them. Here are some places to explore.
The Glyndon Grill in Glyndon has a limited number of tables on its outdoor patio where leashed pets are welcome. Seafood, wings, burgers, and steaks are on the menu.
The Greene Turtle is a sports bar and grill located in Owings Mills. It has a large patio with tables where leashed dogs are allowed with their owners. It serves burgers, tacos, salads, and desserts. There's also a kids' menu.
Mama's on the Half Shell is a popular seafood joint in the Canton neighborhood of Baltimore. They offer water bowls and belly rubs for dogs accompanying their owners on the outdoor patio. They serve everything from crab cakes to lobster rolls, and this is considered one of the best seafood restaurants in Baltimore.
The Blue Pit Barbecue in the Hampden neighborhood has a large outdoor patio in the back of the restaurant where dogs are welcome. They provide water bowls, pet treats, and unique gifts for dogs. In addition to pit barbecued meats, they serve a variety of whiskeys and cocktails.
Riptide is a seafood bar and grill located in the Fells Point neighborhood. Fresh Maryland crabs are the main thing on the menu. They have an outdoor patio where dogs are always welcome, and they provide water bowls.
Dog-Friendly Shopping in Baltimore County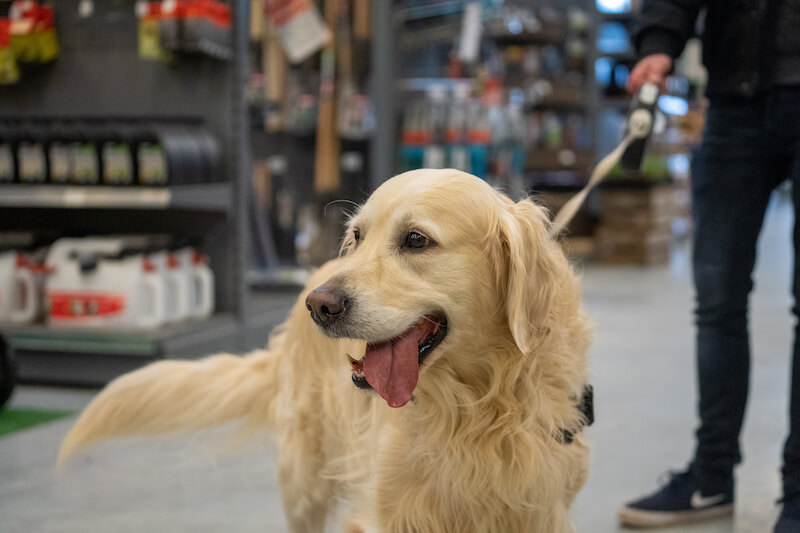 While there are plenty of dog parks and dog-friendly activities, including dining in Baltimore County, shopping venues that allow dogs are a little less common. There are still some places that are pet-friendly, however, for those who want to run some errands and bring their dog along with them.
According to the website Paws in the DMV, there are six dog-friendly bookstores in Baltimore and 30 in the greater Washington, DC-Baltimore metro area. All of these bookstores are locally owned and dog-friendly. Leashed pets are allowed and welcomed inside each store with their owners as they browse for books. Many of the bookstores also have an in-house coffee shop.
The Hunt Valley Town Centre is in Cockeysville in the northern part of Baltimore County. This outdoor shopping mall has a pet-friendly policy in most businesses (just not the ones serving food indoors). It has more than 40 non-food stores where leashed dogs are welcome with their owners. The town center is also the location of a live summer concert series every Friday night from late June until September.
Street Style Baltimore is an AirBnB Experience in which a professional stylist walks a group of women through the boutiques on Antique Row in Baltimore. On the tour, participants receive style advice, refreshments, exclusive discounts, and a glass of wine. Leashed dogs are welcome, although they may not be allowed in all shops.
Don't forget that the Baltimore Waterfront Promenade is more than seven miles long, and leashed dogs are welcome with their owners. Walking on the promenade is a great way to explore the many shops, parks, and attractions this part of the city offers. Some stores allow leashed pets inside, but always ask at the door.
Pet-Friendly Lodging
Planning on enjoying a vacation or staycation in Baltimore County? Here are some of the options when it comes to pet-friendly lodging and hotels.
Canopy by Hilton Baltimore Harbor Point is a hotel with floor-to-ceiling windows that allow guests to enjoy the views of the Inner Harbor in Baltimore. The hotel allows up to two dogs per guest room. The dogs must not weigh over 75 pounds, and there is a non-refundable $50 pet fee.
Hotel Indigo Baltimore Downtown is another excellent pet-friendly lodging place. This boutique hotel allows dogs and charges a $25 pet fee per night. The pet fee is waived if visitors purchase a pet getaway package. They also offer dog treats.
The Ivy Hotel used to be a luxury mansion in Baltimore. This pet-friendly hotel was built in the 1880s. They allow pets that weigh 25 pounds or less. The Ivy provides guests with complimentary dog beds, bowls, and walking services.
Baltimore County Welcomes Canines & Their Owners
Baltimore County, MD, is a dog-friendly destination with plenty of activities and amenities for you and your furry friend. With various hiking trails, dog parks, and pet-friendly cafes, there's no shortage of things to do. Dog owners can also head to dog-friendly Annapolis for endless waterfront recreation. Plus, with pet-friendly accommodations, you can extend your stay and truly experience all that Baltimore County offers. So pack up your pup and head to Baltimore County for a dog-friendly adventure you won't forget!
Want to move to Baltimore County? Call The Bob & Ronna Group of Berkshire Hathaway HomeServices with Maryland Real Estate Advantage at (410) 465-4440. Our local real estate agents are ready to help you find your dream home in Baltimore County.