Is Anne Arundel County Dog Friendly? Best Dog Parks, Beaches & Fun Places to Take Your Dog
Posted by Bob and Ronna Chew on Thursday, January 19, 2023 at 12:10:43 PM
By Bob and Ronna Chew / January 19, 2023
Comment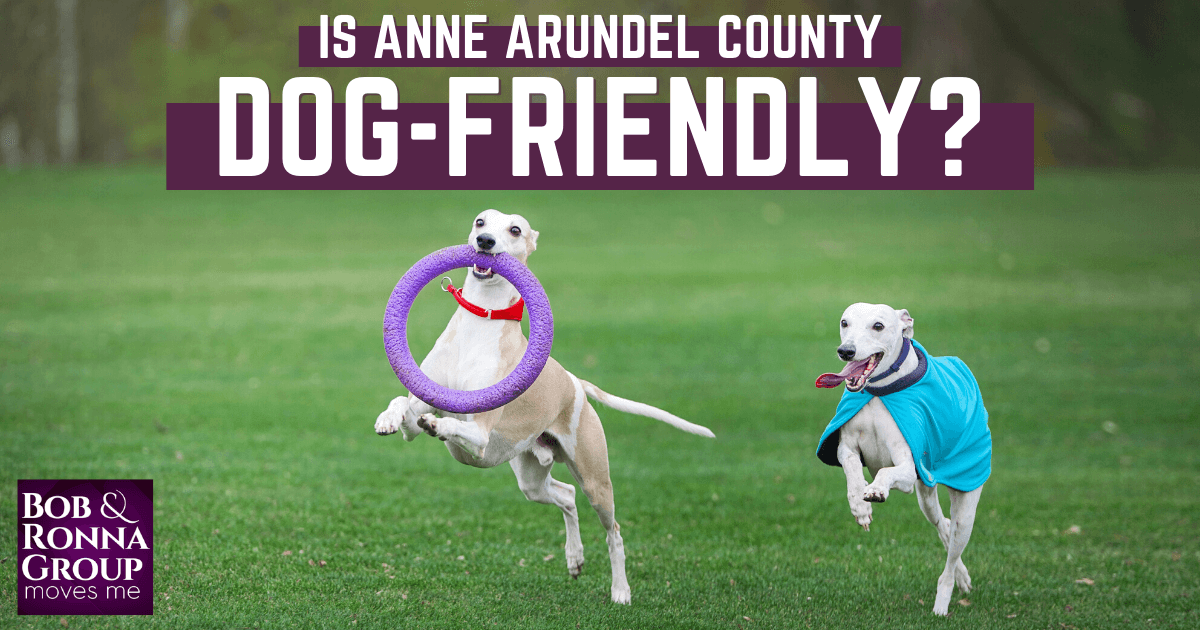 Life is rarely rough for dog owners in Anne Arundel County! From the dog-friendly neighborhoods in Annapolis to the spacious suburbs just outside Washington, DC, and Baltimore, the county offers many great resources for dog owners. Many of the best cities in Anne Arundel County offer several off-leash dog parks and beaches open to the public daily. Aside from outdoor activities, there are numerous restaurants with patio dining, shops that welcome dogs, and pet-friendly hotels. Visiting the area? Whether you're just visiting or you're moving to Anne Arundel County, here's everything you and your dog can look forward to.
Best Neighborhood Dog Parks in Anne Arundel County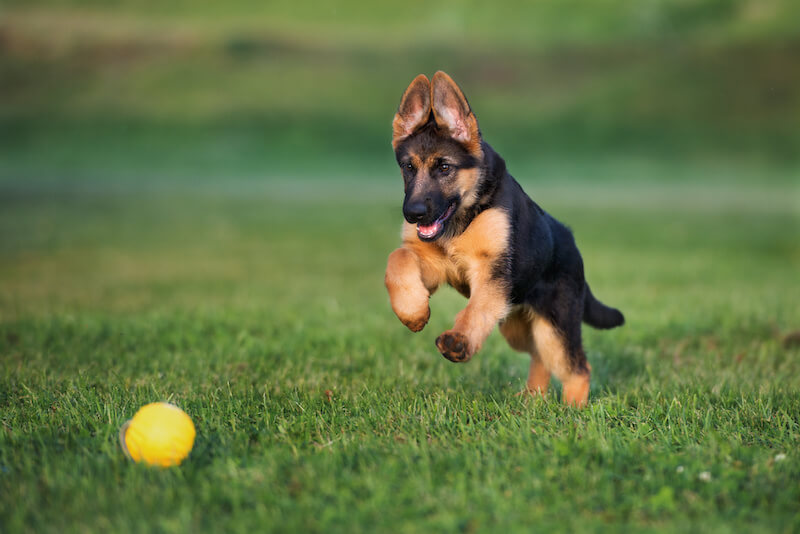 Dog parks are one of the best ways for an owner to bring their pet for some outdoor exercise and socialization with other friendly dogs. Easy access to off-leash areas can be one of the best perks for homebuyers with dogs. Fortunately, living in Anne Arundel County means you and your dogs will have plenty of play spaces to choose from.
Bell Branch Dog Park
The Bell Branch Dog Park is located inside the Bell Branch Athletic Complex in the town of Gambrills. Drive all the way into the park to the end of Barbara Swann Way to reach the off-leash dog area. It has a double-gated entrance for added safety. Dogs must be kept on a leash until they are inside the dog park. There are separate large and small dog areas.
The park has restrooms available seasonally. There's a playground and a shade pavilion with picnic tables opposite the parking lot from the dog park. Dogs must be attended to by their owners at all times when off-leash. Owners should also have proof of vaccinations and their dog's license with them.
Bell Branch Dog Park Additional Information
Address: Bell Branch Dog Park, 1150 Barbara Swann Way, Gambrills, MD
Hours: Open seven days a week from dawn to dusk
Broadneck Park
Broadneck Park is in the far northern part of the Annapolis city limits, near Cape St. Clair. The Broadneck Dog Park is in the southeast corner of the larger park. Visitors who want to use the dog park must use the main parking lot off Broadneck Road inside the park. Then, cross the street to the paved Broadneck Park Walking Trail and follow the signs to reach the dog park.
The dog park is fenced in and double-gated, and visitors can take their dog off the leash once it's inside one of the gates. There are separate large and small dog areas. The surface in the dog park is mostly grass and dirt, so it can get muddy after it rains. Broadneck Park also has a picnic area, some multipurpose fields, a playground, and seasonal restrooms.
Broadneck Park Additional Information
Address: Broadneck Park, 613 College Parkway, Annapolis, MD
Hours: Open seven days a week from dawn to dusk
Maryland City Park
Maryland City Park is in the town of Laurel, about halfway between Washington, DC, and Baltimore County. Visitors who want to use the dog park should park near the playground. Although there are some large, grassy multipurpose fields at this park, dogs are not allowed. To find the dog park, look for the small sign near the playground. The off-leash dog area is about 800 feet away along a paved trail. It can't be seen from the parking lot, as it's hidden inside some trees in the distance.
The dog park area is fenced in and has a large and small dog areas. Waste bags and trash cans are available, and guests are expected to pick up after their dogs immediately. This park has a concessions stand and restrooms that are available seasonally.
Maryland City Park Additional Information
Address: Maryland City Park, 565 Brock Bridge Road, Laurel, MD
Hours: Open seven days a week from dawn to dusk
Overlook Park
Overlook Park is located in the city of Linthicum Heights in the northern part of Anne Arundel County. The dog park here is easy to spot, as it's directly opposite the parking lot next to the playground. There are fenced-in areas for large and small dogs inside double-gated entrances. Dogs must remain on a leash until they are inside the gates.
This dog park is well-maintained, with a soft, grassy surface for pets to run on. Tennis balls and throwing discs are the only toys allowed inside dog parks in Anne Arundel County. The park has tennis courts, an outdoor basketball court, and a multipurpose field. Seasonal restrooms are available. Some paved and natural trails outside the dog park can be explored.
Overlook Park Additional Information
Address: Overlook Dog Park, 100 Governors Gate Lane, Linthicum Heights, MD
Hours: Open seven days a week from dawn to dusk
Towsers Branch Park
Towsers Branch Park is in the city of Odenton, not far from the county seat in Annapolis. This park is largely undeveloped, with very few amenities, but the dog park portion is very nice. It has separate fenced areas for large and small dogs. The park's surface is grass and dirt, so it can be muddy after it rains. There are benches and shade trees for owners to enjoy and a wading pool for the dogs to jump in. The dog park is impossible to miss, as it is directly next to the only parking lot in Towsers Branch Park.
The rest of the park has some paved and unpaved walking trails. There are also some outdoor basketball courts and a picnic area.
Towsers Branch Park Additional Information
Address: Towsers Branch Park, 1405 Jackson Road, Odenton, MD
Hours: Open seven days a week from dawn to dusk
Maryland Dog Beaches Near Anne Arundel County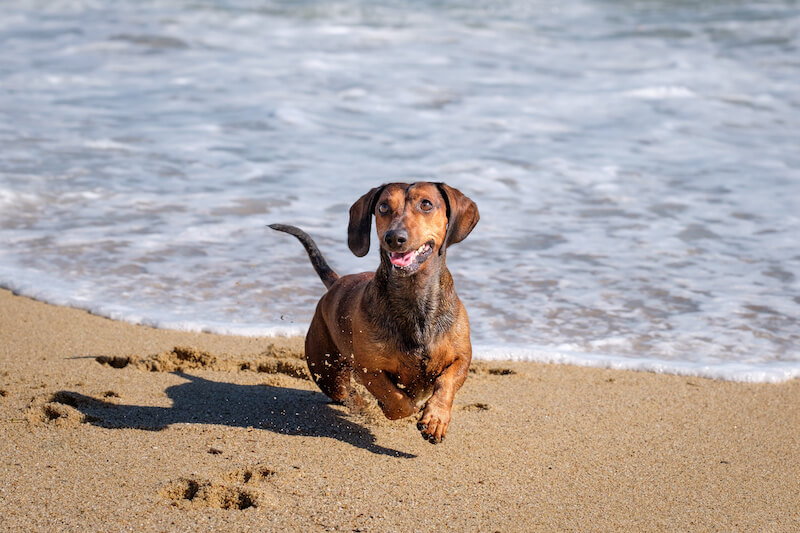 While dog parks are an excellent addition to any community, Anne Arundel County, has an additional lacking in many other parts of the country: dog beaches. These sandy areas are safe places for owners to take their dogs off-leash and let them enjoy the sandy beaches and play in the water. Here are three great dog beaches nearby.
Quiet Waters Park
Quiet Waters Park is a vast park on the Annapolis Neck in the Hillsmere Shores neighborhood. If visitors drive into the park and follow the road to the end, there's a parking lot with signs pointing toward the dog beach. Follow the trail south to reach Quiet Waters Dog Beach. This is a small, fenced-in beach where owners can take their dogs off the leash to run, play and swim. There is also a regular off-leash dog park back near the parking lot. Note that dog beaches in Anne Arundel County are for the dogs to go swimming—not their owners.
This large park has many walking and hiking trails where owners are welcome to bring their leashed pets with them. There are about 6 miles of paved trails overall. Quiet Waters Park has a cartop boat launch, a picnic area, and a play area.
Downs Memorial Dog Beach
Downs Park is located in the Anne Arundel County city of Pasadena near Lake Shore and Arcadia communities. It has a lovely fenced-in dog beach located off the trail that runs around the park's perimeter. Note that Downs Park charges a day-use fee of $6 per vehicle, or residents can purchase an annual pass if they plan to use this park a lot throughout the year. More than five miles of trails connect to the dog beach and numerous wildlife viewing areas to watch cranes and other waterfowl.
This is a large park with a lot of different activities available. It offers a public fishing pier and two separate launches for canoes and kayaks. There is an amphitheater for summertime concerts, public restrooms are available, and it has a large playground. Numerous outdoor playing fields and basketball courts are located in different areas of the park.
Matapeake Park Dog Beach
Matapeake Park is located on Kent Island in Queen Anne County. It's easy to get to from Anne Arundel County, though. Take a scenic drive across the William Preston Lane Memorial Bridge to the island and find the park entrance at 1112 Romancoke Road in Stevensville. The park is open from sunrise until sunset daily. This park has a public swimming beach, a picnic area, an outdoor amphitheater, and a one-mile-long hiking trail through the park's wooded areas.
The trail winds through the woods and emerges at a sandy dog beach. Visitors must park at the Matapeake Clubhouse and walk the rest of the way to use the dog park. Note that dogs are not allowed on the clubhouse lawn or the public swimming beach. Visitors should keep their pets on a leash and the trail until they reach the off-leash beach.
Fun Places to Take Your Dog in Anne Arundel County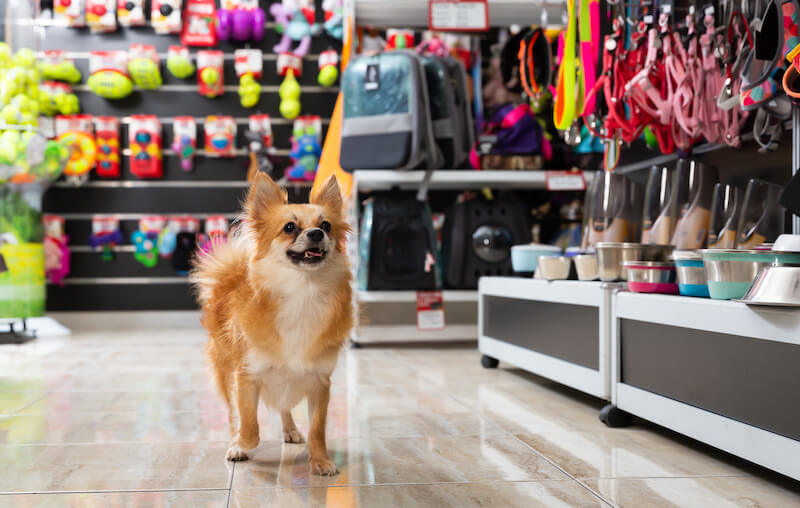 Many pet owners' dogs are a significant part of their life. They want to take their companions with them everywhere, including while they run daily errands or go out for a bite to eat. Fortunately, Anne Arundel County has several venues where leashed and well-behaved dogs are always welcome to accompany their owners.
Dog-Friendly Restaurants
The Boatyard Bar & Grill in Annapolis has a large covered outdoor patio where leashed dogs are welcome to join their owners. They have a raw oyster bar and serve some of the best crab cakes in Maryland. Fresh seafood is always on the menu at the Boatyard.
Mission BBQ in the town of Glen Burnie is located next to the Croydon Pet Hospital. This chain BBQ restaurant has an outdoor patio with several tables, and it is a dog-friendly environment.
The Broken Oar Bar & Grill in Glen Burnie offers waterfront dining on its large outdoor patio. The outdoor tables are all pet-friendly. This restaurant is best to visit in the evenings, as the views along the water are spectacular at sundown. Fresh seafood, sushi, burgers, and pizza are all on the menu here.
The Red Red Wine Bar is a great place to see historic Main Street in Annapolis. They have many different wines and champagnes available at their dog-friendly outdoor patio, seafood, and a cheese menu.
Dog-Friendly Shopping
Iron Will Woodworks is across the bay from Anne Arundel County in the town of St. Michaels. This home decor and furniture store repurposes historical buildings and scrap and turns them into beautiful pieces for decorating a home. The store is dog-friendly, and sometimes rescue black labs pass out treats to other pets.
Zachary's Jewelers in Annapolis crafts unique and elegant jewelry for engagements, special gifts, and other occasions. The store is dog-friendly, so patrons are welcome to bring their leashed pets with them as they browse the wares.
Salty Paws is an ice cream bar made just for dogs! The menu features lactose-free doggie ice cream, cookies, and other treats just for pets. They'll even host birthday parties, breed meetups, and charity events for dogs, making this one-of-a-kind spot one of the main attractions in dog-friendly Annapolis.
Pet-Friendly Lodging
The DoubleTree by Hilton in Annapolis is a pet-friendly hotel. They charge a $50 non-refundable pet fee and allow pets up to 50 pounds in weight.
The Home2Suites hotel in Hanover, MD, is also pet-friendly. They charge a non-refundable $75 pet fee for the first four nights and $125 for stays longer than five nights. Dogs and cats are allowed (up to two pets per room), and pets must weigh less than 75 pounds.
The Annapolis Waterfront Hotel provides a luxury stay next to the water, and they have a pet-friendly policy. They allow dogs, cats, birds, or fish that weigh less than 100 pounds and charge a $100 pet fee for room cleaning services.
Anne Arundel County Loves Dogs!
Anne Arundel County is a very dog-friendly environment. The local communities provide plenty of dog parks, beaches, dog-friendly restaurants, and other stores where canine friends are more than welcome. It's part of what makes life in Anne Arundel County even more enjoyable for residents.
If you're dreaming of living in Anne Arundel County, call The Bob & Ronna Group of Berkshire Hathaway HomeServices with Maryland Real Estate Advantage at (410) 465-4440. Our experienced and local Anne Arundel County real estate agents can help you find the perfect home.