Is Annapolis Dog Friendly? Best Dog Parks & Pet Friendly Annapolis Attractions
Posted by Bob and Ronna Chew on Friday, February 18, 2022 at 9:19 AM
By Bob and Ronna Chew / February 18, 2022
Comment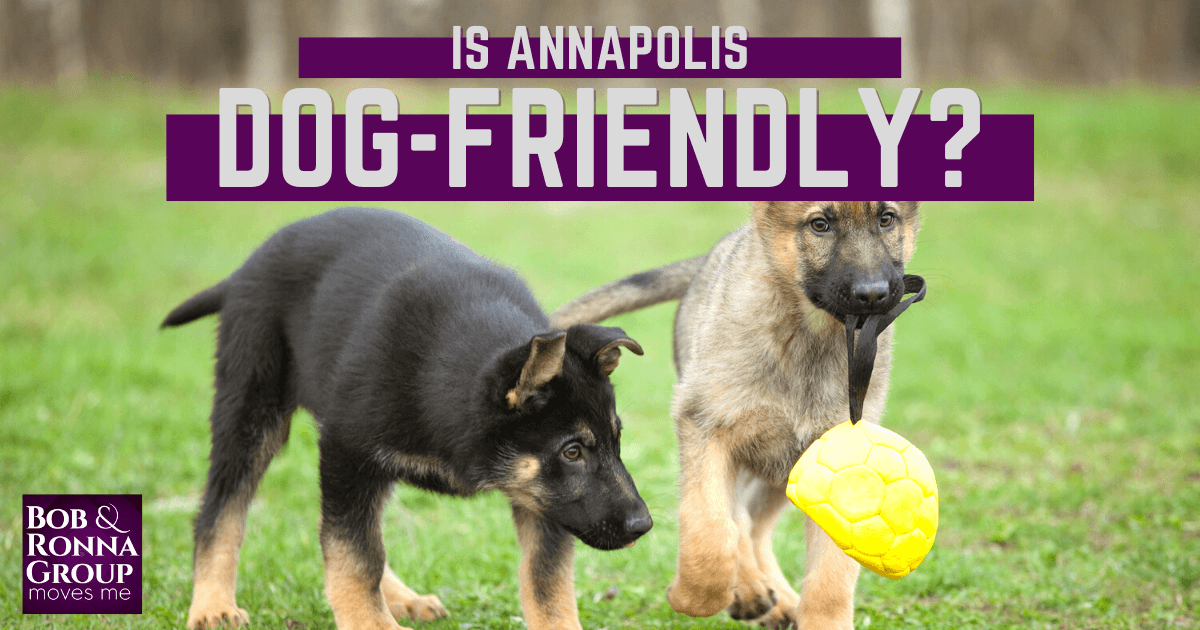 The beautiful waterfront city of Annapolis is located along the Chesapeake Bay in Maryland. Annapolis has a little bit of everything, from beaches and dog parks to 18th-century brick buildings and brick-paved streets that blend the past with the future. The city also boasts warm weather, manicured condos, luxury home neighborhoods, retail shopping options, and many sights and sounds for exploration.
Tagging your dog along will make your adventures even more exciting, especially because Annapolis is a dog-friendly city. Even so, traveling or exploring Annapolis with your dog might be challenging, which is why you need to plan for the day ahead of time. Read on to discover the best dog parks and dog-friendly activities in Annapolis, Maryland, to reduce your prep list for the dog day out.
Best Neighborhood Dog Parks in Annapolis
As a dog-friendly city, Annapolis is home to plenty of parks where dogs can run off-leash, play, and meet new furry friends. Here's a list of some of the best neighborhood dog parks in the city.
Quiet Waters Dog Beach
At Quiet Waters Dog Beach, pups get a chance to not only run freely, play in the sand, and splash in the surf. The dog park area has separate sections for big and small pups with full-fencing so every dog can safely enjoy running off-leash.
In addition to a dog park, Quiet Waters Park offers art galleries, six outdoor pavilions, and hiking paths in the wooded area, making it the ideal choice for a day trip with your dog. Access to the park is also free, but there's a $6 parking fee. All dogs need to be fully vaccinated and licensed.
Quiet Waters Park Additional Information
Address:

1701-1799 Quiet Waters Park Rd, Annapolis, MD 21403

Hours: Monday-Sunday, 7 a.m. to 8:30 p.m.
Broadneck Dog Park
The Broadneck Dog Park is a free dog park located on the southwest corner of the larger Broadneck Park. It has separate parts for large and small dogs with double entries, so owners can feel at ease letting their dogs run wild alongside other pups. These areas are fully fenced with dual entrances to keep pups who are master-escape artists safely within the dog area.
Dog owners can also explore other parts of the park, such as the baseball fields, or hike along the paved 1.4-mile trail with their dogs as long as they are on a leash. There's a fresh-water source nearby, but dog owners need to carry their own during winter when the pump is off. The Broadneck dog park sometimes provides tennis balls and waste bags, but it's advisable to bring some just in case they run out. Other Broadneck Park amenities include restrooms, a picnic and pavilion area, and a playground.
Broadneck Dog Park Additional Information
Address: 613 College Parkway, Annapolis, MD 21409
Hours: Monday-Sunday from dusk to dawn
Bell Branch Dog Park
Located inside the Bell Branch Park close to the athletic complex, the Bell Branch Dog Park in the nearby city of Gambrills has small and large canine sections fully fenced with double-entries to create a space for every dog to run free safely.
The park provides water and several pools during summer where water-loving pups can splash around to keep cool. They also offer waste bags, restrooms, a playground, picnic areas, and a paved trail for exploration with Fido nearby.
However, dog owners might want to plan their visit during mornings, evenings, or when it isn't too hot, as there is limited shade at Bell Branch Park. Like most dog parks nearby, access to the Bell Branch dog park is free.
Broadneck Dog Park Additional Information
Address: 1150 Barbara Swann Way, Gambrills, MD 21054
Hours: Open Monday-Sunday from sunrise to sunset
Downs Memorial Park Dog Beach
A trip to the Downs Memorial Park Dog Beach in the city of Pasadena is undoubtedly among the best treats to offer a dog in the Annapolis area. The dog beach is located inside the Downs Memorial Park, along the Chesapeake Bay, and is a chance for your dog to swim and splash around in the water or play in the sand with other pups. Humans aren't allowed in the water, and dogs aren't allowed in nearby woods.
For woofers who don't like water, the Downs Memorial Park has over five miles of natural trails for them to burn pent-up energy with their owners. Daily passes go for $6 per vehicle, but the park is generally free for military individuals and their families to access. Bring waste bags, water, and essentials as amenities are pretty limited at the Downs Memorial Park dog beach.
Downs Memorial Park Dog Beach Additional Information
Address: 8311 John Downs Loop, Pasadena, MD 21122
Hours: Monday-Sunday, 7 a.m. until dusk
Loch Haven Park
Loch Haven Park is a small park with a separate dog area. The park has an off-leash fenced area divided into small and large dog sections to ensure the safety of every dog who runs leash-free. Besides the designated area, dog owners can also take Fido on walks through the paved trails at the park but must ensure they remain on a leash. Even better, Loch Haven Park is open 24 hours.
Entry is free, and there are restrooms available nearby. Loch Haven Park has a playground with play features such as swings, slides, and a seesaw for dog owners who tag their kids along. As in most Annapolis parks, dog owners and handlers must clean up after their canines at Loch Haven, and their dogs must be fully vaccinated and collared to access the park.
Loch Haven Park Additional Information
Address: 3244 Pocahontas Drive, Edgewater, MD 21037
Hours: Open 24 hours
Dog-Friendly Activities in Annapolis
Dog parents who love taking their furry best friends everywhere will find living in Annapolis quite fulfilling, as there's nearly an endless array of fun dog-friendly activities they can try out.
Start the day with cruises on the Chesapeake Bay and enjoy views of downtown Annapolis while dogs enjoy the gentle rocking movements of the boat on the water and the relaxing breeze of the sea. Watermark Annapolis, a leading cruise provider on the Chesapeake Bay, provides 40-minute cruises. It even allows dogs on the first deck and provides doggie pools for an even more exciting and positive pup cruise experience.
The cruise provider also hosts dog days aboard the Harbor Queen during summer. If cruising alongside others is a deal-breaker, small boat rentals are available to enjoy a private cruise with your four-legged best friend. For those who fancy haunted adventures, Haunted Harbor Tours provides 90-minute nighttime tours at Dock Street daily from 8 to 10 p.m. The tour is free for pups but costs $20 for humans to attend.
If haunted tours are way too spooky, a walk through Ego Alley is an excellent alternative. The narrow waterway leads into spa creek from the city and is incredibly scenic, with benches along the streets to sit and relax with Fido as you take in the views and watch boats pass.
A visit to the Annapolis, US Naval Academy is also an excellent way for dog-parents to spend the day with their canines. Dogs are often allowed along the academy's perimeter, meaning one can explore the immense historic resources and attractions with their pup at the facility. Other dog-friendly places in Annapolis include Maryland State House and the William Paca House and Garden.
Dog-Friendly Restaurants in Annapolis
A snack or meal at a dog-friendly restaurant is the best way to end a dogs-day out in Annapolis. Head to Rams Head Tavern on 33 West Street for an extensive selection of draft and imported beers. The family-owned restaurant also offers a rich dog menu, including yummy options like Bowser Beer, non-alcoholic dog treats made with malt barley, USDA beef and glucosamine, and mutt meatballs made from oats, ground turkey, grated cheese, eggs, and oregano. Rams Head Tavern also offers canine water bowls and has a spacious outdoor patio where visitors can relax with their pups as they munch down their meal.
Acme Bar & Grill, a casual sports bar on Main Street, also has dog-friendly policies and a doggy bar with treats. The sports bar has two large tables on the shady side of the street, where dog-owners can sit with their canines as they enjoy feasting on delicacies like Acme's award-winning grilled chicken breast, applewood bacon, and cheddar salad. It can get crowded here on weekends, so consider making reservations.
For pups who love jumping in muddy puddles or owners who find washing their dogs taxing, stop by Barn N Bean. The coffee restaurant offers dog-grooming services and serves various espresso and coffee drinks, so dog-parents can relax and enjoy their coffee while the woofer gets pampered. For those who prefer to do the task, Bark N Bean has a self-wash station. They also sell dog treats, toys, and other canine supplies.
Annapolis is home to plenty of dog-friendly restaurants. Besides the things mentioned, dog-parents can also check Bruster's Ice Cream, Five Guys Burgers, or Muddy Paw Wash, among others.
Dog-Friendly Shopping in Annapolis
There are plenty of dog-friendly retail plazas and pet-focused shopping centers in Annapolis. Paws at Mall at the Westfield Annapolis Mall is an adoption and retail center, meaning dog-owners will not only get an array of canine supplies but can even get their pups a furry companion. Cats, guinea pigs, hamsters, rabbits, and other animals awaiting adoption are often allowed to roam freely in the front half of the store until they find their forever home, while the other half houses pet supplies.
Salty Paws Ice Cream Parlor on 8 Francis Street is heaven for dogs that enjoy cookies or ice cream. It is the country's first-ever dog ice cream shop and offers lactose-free dog-friendly ice cream in various flavors, including dog-favorites like blueberry & peanut and maple bacon. Your furry best friend also gets a huge selection of dog pastries such as doggie cookies, doughnuts, and cakes, as well as other delicious treats like dehydrated chicken. The parlor even provides wet wipes for dogs, and hosts dog birthdays, breed meet-ups, or any canine-related events one may have in mind.
Check out Pet Wants Annapolis if looking for fresh, high-quality dog food. The store offers healthy, fresh food for pets and often slow-cooks all pet food products in small batches using quality-sourced chicken, salmon, lamb, and other ingredients monthly to ensure freshness. Their products also contain no sugar, animal by-products, or fillers.
Pet-Friendly Lodging in Annapolis
Those visiting Annapolis with Fido for an overnight stay will be glad to know the city also boasts plenty of pet-friendly lodging options. The Annapolis Waterfront Hotel Autograph Collection, for instance, allows guests to bring two pets of up to 100 pounds to their suites for an extra $100.
The cost is worth it because this Annapolis-only waterfront hotel even offers a doggy bed and canine concierge assistance at check-in to ensure every dog parent who visits is assigned a pet-friendly room. Most rooms have waterfront views and luxury features to maximize comfort.
The Hamptons Inn & Suites on Womack Drive also allows guests to bring pets. The inn charges a $75 non-refundable fee for every stay with two pets. However, as with most dog-friendly hotels in Annapolis, they also have a 100-pound weight limit for pets staying at the inn. The Hamptons Inn & Suites is close to the US Naval Academy and other dog-friendly restaurants, shopping centers, and attractions. Other pet-friendly lodging options in Annapolis include the Graduate Annapolis, Country Inn & Suites, DoubleTree by Hilton, and Extended Stay America.
Explore Annapolis with Your Furry Best Friend
On top of its beautiful sandy beaches, great weather, and variety of home styles, Annapolis is largely a dog-friendly community. Living here means access to countless dog-friendly parks and beaches. Annapolis also boasts plenty of restaurants, pet stores, and event spaces dedicated to canines, such as Salty Paw, so residents will never have to leave their pooch behind when exploring this vibrant city.
If you're looking for your Annapolis dream home, contact The Bob & Ronna Group of Berkshire Hathaway HomeServices with Maryland Real Estate Advantage at (410) 465-4440 to get in touch with an Annapolis real estate agent who can help find the perfect place for you.