23 Fun Things to Do in Ellicott City, MD: Outdoor Adventures, Shopping, Nightlife, & More
Posted by Bob and Ronna Chew on Wednesday, June 9, 2021 at 1:15 PM
By Bob and Ronna Chew / June 9, 2021
Comment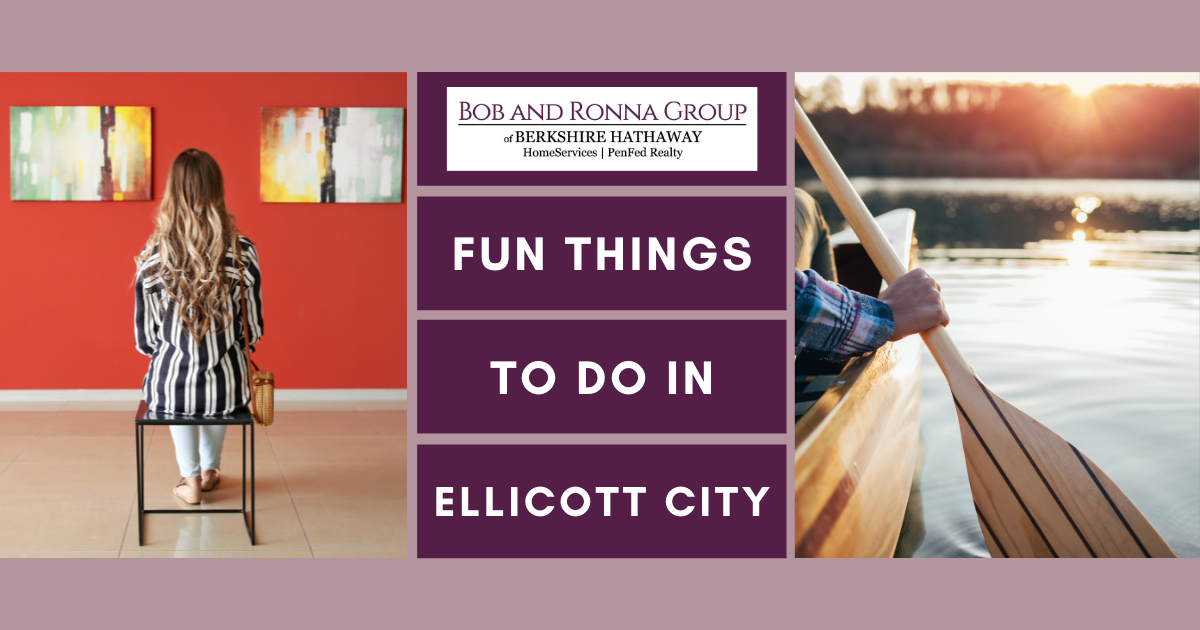 Ellicott City is known for its history. The first federally funded highway first ran through Ellicott. Additionally, the oldest railroad station and last operating grist mill in Maryland can be found within city limits. Despite its history, there are far more things to do in Ellicott City than appreciate its achievements. In fact, outdoor enthusiasts, shopaholics, foodies, and those immersed in art culture can find many activities to fill their time. Combined with the beautiful four seasons in Maryland, residents and visitors alike will love every moment of their time in Ellicott City.
If you're looking for things to do in Ellicott City, read on to explore a few options to get you started.
Ellicott City Outdoor Adventures
Between local and state parks, it's easy for anyone in the area to get outside and breathe fresh air. Each season produces enjoyment outdoors. Light snowfall and warm summer temperatures create some of the best outdoor adventures in Ellicott City.
Parks
Popular Ellicott City Parks
Centennial Park
Meadowbrook Park
Patapsco Valley State Park
While many parks are available to visit, one of the most beloved is Centennial Park. Over 330 acres of trails, open fields, and wooded lands with wildlife are available for visitors to enjoy. There is also a 54-acre artificial lake that's stocked with fish. Meadowbrook Park is another local park that features baseball fields, tennis courts, and basketball courts. There is also a playground.
Patapsco Valley State Park has over 300 miles of trails for visitors to enjoy throughout the year. Hiking, biking, canoeing, and horseback riding are all permitted within the park limits. Patapsco Valley State Park is nationally known, making it a special place for all to enjoy.
Water Recreation
Ellicott City Water Recreation Opportunities
Fishing
Kayaking
Canoeing
Roger Carter Community Center
There are many water recreation activities in Ellicott City, and fishing is one of the most prevalent. The most popular destination is Patapsco Valley State Park and the lake at Centennial Park. Additionally, many residents enjoy taking their kayak or canoe to Patapsco Valley State Park and Lake Roland for a day on the water. This seasonal activity is quite popular, which does make launching a bit of a challenge at times.
Roger Carter Community Center is the area's best athletic center for Ellicott City residents to enjoy swimming, basketball and volleyball courts, fitness classes, and a gym with cardio and strength equipment. The center also features a 26-foot indoor climbing wall.
Hiking & Biking Trails
Popular Ellicott City Trails
Trolley Trail
Cascade Falls Trail
Many Ellicott City residents love to strap on their hiking boots or grab their bikes when the weather permits. The Trolley Trail is the area's most iconic trail and used to be a trolley track. Only three miles long, this in-and-out trail is good for all skill levels and welcomes dogs on leashes.
Cascade Falls Trail is a must-do trail for anyone who lives in the area. The 2.1 in-and-out trail features a waterfall and is a good option for all skill levels during warm months. However, bikes should not be on the trail when snow is on the ground. Dogs are permitted throughout the year.
With so many outdoor activities, Ellicott City residents and visitors can find something to do year-round. Many outdoor groups have been formed over the years, allowing new and long-term residents to find those interested in similar activities.
Ellicott City Shopping
Ellicott City Shopping Destinations
Chatham Station
Long Gate
Turf Valley Towne Square
Chatham Station is a one-stop shop for anyone who wants to get their whole list knocked out at once. With a Home Depot, Wells Fargo, Music & Arts Center, Davidus Cigar, Squisito Pizza & Pasta, PetSmart, and more, residents can avoid driving to multiple shopping centers to complete their errands.
Long Gate is a shopping center in the heart of the city. With everything from books and art supplies to clothes and food, residents of all ages can easily find themselves spending the whole day here.
Turf Valley Towne Square is perfect for residents or visitors who want to slow down from the hustle and bustle. Visitors can enjoy drinks on the patio before slowly meandering through the square to look at everything from jewelry and wine to restaurants and boutiques. Turf Valley can easily be a day trip for one or a romantic evening for a date.
Ellicott City Restaurants
Popular Ellicott City Restaurants
Manor Hill Tavern
Eggspectation
Kelsey's Restaurant
While Ellicott City has many restaurants worth visiting, there are three iconic eateries that every resident must visit at least once.
Manor Hill Tavern features locally sourced ingredients and the restaurant's very own vegetables grown on-site. Diners can enjoy perfectly balanced plates or pizzas from the custom-built brick oven. Manor Hill Tavern even serves its own hoppy, aromatic brewed beer.
Eggspectation has served Ellicott City since 1993. Anything "breakfasty" can be found at this modern American restaurant, and so can mouthwatering lunch and dinner menus. With the main concepts of clean, fresh, and tasty, guests can enjoy a range of classic and modern dishes. Eggs benedict, seafood, steak, pancakes, and more are available all day long.
Kelsey's Restaurant is the Irish restaurant and tavern to visit on St. Paddy's day and all other days of the year. With daily deals on steak, burgers, oysters, and more, guests can always find a dish that fits their taste and budget. With the best selection of drafted beers and crafted drinks, this is the place to find the locals.
Arts & Culture in Ellicott City
The rich history of Ellicott City drives arts and culture in the area. Between museums, art galleries, and theatres, residents and their guests can feel the expression of the arts and dive into the history of the city at every turn.
Museums
Ellicott City Museums
Baltimore & Ohio Ellicott City Station
Benjamin Banneker Historical Park & Museum
Baltimore & Ohio Ellicott City Station is a free-admission museum that brings visitors back in time. From the agency's living quarters to the post office, telegram office, waiting room, and car house, visitors will take a step back in time. There are also scale models of the track from Baltimore to Ellicott City.
Benjamin Banneker Historical Park & Museum exists on 142 acres of land in the Patapsco River Valley. Visitors can learn about Benjamin's life and his relationship to the acreage he maintained.
Art Galleries
Ellicott City Art Galleries
Stone House Collective
Artists' Gallery of Ellicott City, MD
Stone House Collective is located right in the historic district inside a vintage three-story boutique building. Art, photography, antique furniture, vintage lighting, and home accessories can be found within. Art and handmade goods from local artists and photographers are always available for sale.
Artists' Gallery of Ellicott City, MD, is the area's only member-owned and -operated art gallery. All 25 members work together to create monthly rotating exhibits featuring a multitude of mediums. Commissioned work is available for those interested in working with specific artists.
Dance & Theatre
Ellicott City Dance & Theatre Locations
Jim Rouse Theatre
Horowitz Visual and Performing Arts Center
Jim Rouse Theatre comfortably seats over 700 patrons as they enjoy performances covering a range of topics. Shows for all ages are available throughout the year.
Horowitz Visual and Performing Arts Center has provided community theatre since 2006. With three venues and two art galleries, visitors may be faced with a difficult choice of selecting what they wish to see first. Many of the performers and artists are college students who are honing their skills.
The passion artists and performers have in Ellicott City is evident in every gallery and theatre. The time and effort museum curators have put into preserving the history of Ellicott City is something one often doesn't find. Any resident must visit these establishments at least once to understand the arts and culture of Ellicott City.
Ellicott City Nightlife
Ellicott City Nightlife Destinations
Judge's Bench Pub
Bippy's Pub
Bare Bones Grill
Ellicott City may be a historic area, but it does have plenty of nightlife to keep locals entertained. Judge's Bench Pub is the hometown bar most locals have visited at least once. With the widest selection of beer around—over 60 varieties—at prices that can't be beaten, good company is sure to find its way to Judge's.
Bippy's Pub is a homey bar that makes every guest feel like they've known their bartender for a lifetime. Patrons can be quick to strike up conversations with longtime residents and newcomers. Happy hour, pool, and darts are just some of the other benefits of visiting Bippy's.
Bare Bones Grill has been voted Best Live Entertainment and Happy Hour by Howard Magazine. With five microbrews, seven beers on tap, and various wines and spirits, everyone can kick back and enjoy the show. The selection of food keeps visitors coming back for more.
Discover Ellicott City
With the array of options for things to do in Ellicott City, residents always have plenty of reasons to explore around their Ellicott City condos. Local establishments are lining up good drinks, better food, and live entertainment even during the winter. Those who don't mind high temperatures or a little snow on the ground can find numerous hiking and biking trails, in addition to other outdoor activities. Shopping and enjoying the local arts and culture are also pleasant ways to spend time in Ellicott City. While the area may not feature an NYC-style skyline, it does have a community filled with people who love their history. Whether staying for a year or growing roots for a lifetime in an Ellicott City townhome, deciding to live in Ellicott City is something current residents would repeat.
If you're looking for your Ellicott City dream home, contact The Bob & Ronna Group of Berkshire Hathaway HomeServices with Maryland Real Estate Advantage at (410) 465-4440 to get in touch with an Ellicott City real estate agent who can help find the perfect place for you.