Driving in Annapolis: Annapolis to DC Commutes Made Easy
Posted by Brian Alexander on Thursday, November 18, 2021 at 9:50 AM
By Brian Alexander / November 18, 2021
Comment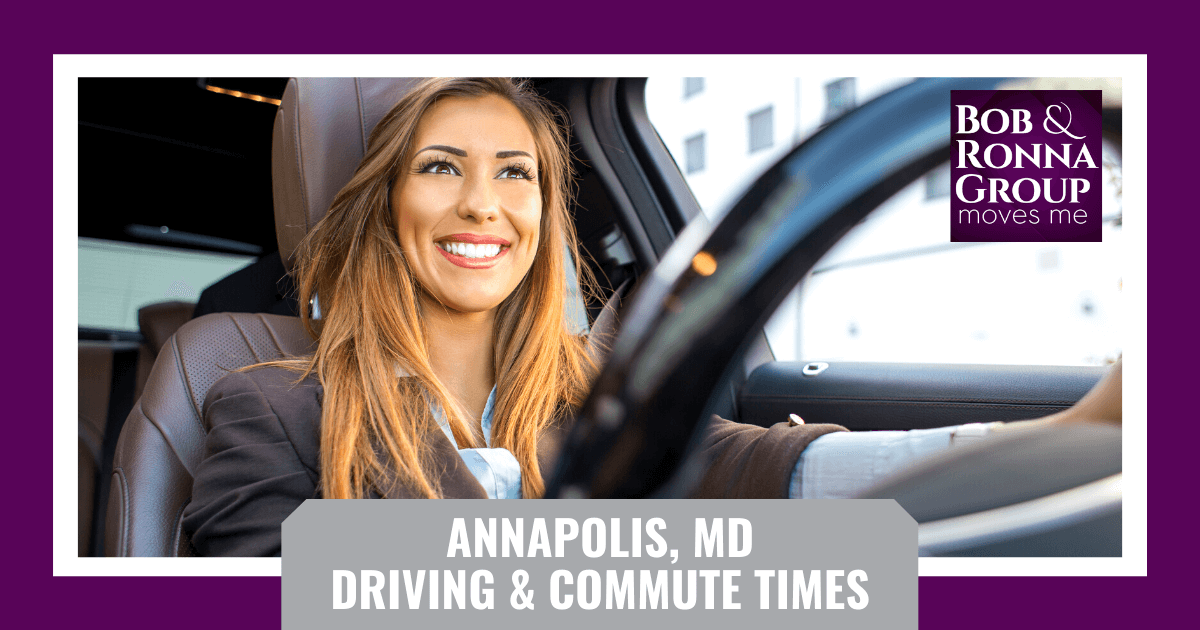 Anyone looking at purchasing property in the Annapolis real estate market will want to know what to expect when driving and commuting in the city. As one of the most important commuter communities near Washington, D.C., Annapolis is conveniently located near several state highways and two interstates. People moving to Annapolis will find that they can quickly learn the local roadways and adjust to driving in the city. Keep reading to learn about major roads, local traffic patterns, and other helpful tips for driving in Annapolis.
Get to Know Your Major Roads in Annapolis
Annapolis has worked hard to improve its overall mobility throughout the city, creating opportunities to allow most people to get to and from daily destinations with ease. Getting to know the most important roads and highways makes driving in Annapolis simple.
Perhaps the most crucial roadway through the city is Maryland Route 450, or MD 450. This state highway spans 30 minutes and runs from U.S. 50 to U.S. Route 1 Alternate. Other options exist throughout the city. For example, I-68 runs from I-70 near Hancock through Morgantown, Virginia. For those who need to travel west to Wheeling, US Route 40 remains the most commonly used route for most east to west movements throughout the area. Called National Road, U.S. Route 40 was the first route west when it was built in 1806.
No major highways directly enter the city limits, so most people need to use a nearby ramp. I-595/US Route 301 is another east to west route connecting the city to Washington, D.C. Maryland Route 70 connects the downtown area of the city to U.S. 50 and Maryland Route 6650. Other highways exist, including Maryland Route 181.
What to Expect Driving at Different Times of Day in Annapolis
As the state capital and one of the most populated cities in Maryland, Annapolis experiences daily rush hours. However, learning about traffic patterns and alternate routes can help drivers save time during their commutes.
Those traveling the Chesapeake Bay Bridge area can expect longer travel times during morning and evening rush hours, which occur from 7 am to 8:30 am and 4:30 pm to 7 pm. This bridge can also back up during the summer as people travel along Route 50, heading to the beach. For those coming on the weekends for a break, traveling on Fridays before 10 am and again after 10 pm is best. Traveling before 7 am on Saturday or after 5 pm on Saturday is also less difficult. On Sundays, travel before 10 am and after 10 pm, although traffic is significantly reduced on the weekends.
Commute times during the average week are highest around 7 am to 8 am, which some people are spending an hour or more on their commute into the city. However, many people only have a short commute of about 10 to 15 minutes, depending on where they leave.
Another concern is the weather. If there is any bad weather, conditions may warrant spending a lot of time on the roadway, though the city works to provide the best level of care to roads as possible. Still, this can slow down commutes substantially, especially from December into March.
Parking in Annapolis
Throughout Annapolis, there are numerous parking locations. In more residential areas, parking lots are often not challenging to find, with many retail locations having their own to offer customers. The trickiest areas involved locations near the Navy Academy as well as in the downtown region itself. For those visiting the State Office Complex, there is the Annapolis Transit Trolley Shuttle that creates a loop between the State Legislative buildings and the Stadium. This is the easiest option for parking at the trolley station.
In the historic downtown area, there's limited 2-hour parking along the streets. Several parking garages and parking lots exist with various fees (those fees change throughout the week based on the type of demand in the area).
For those touring the area, parking at the Gotts Court Parking Garage is ideal as it is located next to the Visitors Center. Stop in to pick up some maps. This location is conveniently located to all of the downtown area. There's also a free circulator shuttle that runs throughout the downtown area to each parking garage.
The city's parking team can offer some assistance for those looking for help with daily commutes or those who need a permit for parking downtown. Here are a few helpful links:
Park and Shop is one way to secure free parking downtown in Annapolis.
Residential parking permits are essential for some types of vehicles.
Metered parking is available in many areas.
Commute Times from Suburbs to Downtown
Many people commute from nearby suburbs to Downtown Annapolis for work. Here are some typical commutes and the length of time it takes to get around. Transit bus service is provided at some times along two routes. Fixed routes, shuttle service, and ADA service are available.
Crofton: 14 Miles to Downtown Annapolis
Driving from Annapolis to the town of Crofton takes about 21 minutes in average traffic. It's about a 14 mile trip along US-301 and U.S. It is also possible for those who want to avoid the busier highway to travel along with M.D., though that will take about 25 minutes to complete. It's possible to take the bus. It may be possible to find a driving service such as a taxi or an Uber available to help, too.
Hanover: 27 Miles to Downtown Annapolis
Traveling to the Hanover community, which is to the north of Annapolis, takes about 27 miles and about 34 minutes. This is typically done along with I-97 for the fastest route, most of the time. Another option is to use MD 32 and I-97, which may help if the freeway is backed up. It only extends the trip by about a minute during times of good traffic. Another option is to take MD 176 to Dorsey Road and then I-97, which is slightly shorter in the distance but takes a bit longer at 37 minutes due to the lights in the area.
Odenton: 16 Miles to Downtown Annapolis
For those heading to the town of Odenton, a residential and commercial area, the trip typically happens with I-97. It is about 16 miles and takes 23 minutes in good traffic to complete. This trip takes drivers through Gambrills, Crownsville, and Millersville along the route, all smaller neighborhoods, and cities that are primarily residential areas. A second option for reaching Odenton is to use MD 178. It takes about 27 to 30 minutes due to lights but is about a mile shorter. Either trip takes you through the Severn Run Natural Environment Area, which may offer some relaxing views.
Severn: 20 Miles to Downtown Annapolis
The city of Severn is located to the north of Annapolis. The fastest route there is along I 97, which will take about 35 minutes on an average morning. It is about 20 miles away. A second option is to take I 97 and then US 301 and U.S. 50, which may be better if there is an accident or traffic is congested. This route takes you through Millersville and Crownsville as well. Line 70 of the bus network offers another way into this city, but it requires switching to line 201 and can take almost an hour to complete depending on the traffic.
Glen Burnie: 21 Miles to Downtown Annapolis
The Glen Burnie community is a bit farther away, to the north of Annapolis, but a popular location for commuting into the city for work or recreational needs. Two routes offer the main path into the city. MD 2 is the most direct, taking about 16.5 miles to complete and around 32 minutes most often. However, I 97 is another option, though it is a bit longer at 21 miles. Bus line 70 provides an opportunity for getting into the city as well. It offers routine (nearly hourly) trips and takes about 45 minutes to complete each one.
Pasadena: 12 Miles to Downtown Annapolis
The town of Pasadena is located north of Annapolis, along the Ritchie Highway. The most direct route takes about 22 minutes to complete the nearly 12-mile trip. A more extended option is along with I 97, which is less direct, requiring 18 miles to complete and longer at about 35 minutes during routine traffic. The Route 2 option takes drivers through Severna Park, a larger community located between the two cities. There are numerous stops along the way, including Anne Arundel Community College. Those taking I 97 avoid this and travel instead through the preserves. Bus line 70 is an option, though it can take about 35 minutes with stops along the way.
Jessup: 28 Miles to Downtown Annapolis
Located 24 miles away, it takes about 40 minutes to commute to Annapolis on MD 178 from the Jessup community.
Although drive times are subject to increase during rush hour, two alternative routes (MD 32 and I-97) allow commuters to avoid delays if one of the three highways is backed up.
Fort Meade: 20 Miles to Downtown Annapolis
Fort Meade is to the northwest of Annapolis. It's relatively easy to get to along MD 32 and MD 178, though it takes about 35 minutes to travel the 20 miles here. This route is best when there is a slowdown on I 97, the second route. Either way takes drivers through Millersville, Gambrills, and Odenton. Taking a bus from Annapolis to the town of Fort Meade may be possible, but it involves several transfers, including Line 70, line 201, and line 502.
Baltimore: 32 Miles to Downtown Annapolis
Some people who live in Annapolis may need to visit the city of Baltimore on a routine basis. This is somewhat common for those working in the government or any Baltimore-based companies that prefer the lifestyle of Annapolis. The trip is about 30 miles between the two cities. The most direct route is MD 2, which is faster during many of the busy driving times. It still takes about 45 minutes to complete. I-97 is another option and is a common choice when conditions are good. It's about 32 miles and takes between 45 and 50 minutes to complete in good conditions.
Washington, D.C.: 35 Miles to Downtown Annapolis
Washington, D.C. is just to the west of Annapolis. That is one of the reasons some people who work in Washington, D.C., live in Annapolis or one of the suburbs in the area. The most direct route into the city is U.S. 50. It is about 35 miles away. This can take about 43 to 45 minutes in good traffic, but backups and slick conditions can slow it down significantly. For those who wish to take a bus, there is an option along with Union Station, but buses along this route take time, often as long as 2 hours during peak times.
Other Helpful Annapolis Driving Tips
As with most states, Maryland requires drivers to have a license and proper insurance on their car before operating it. There is also an emissions test that is completed. An inspection is also a requirement for many vehicles.
If there's a Navy football game or any other more significant event happening in Annapolis, plan to be stuck in traffic for at least an hour afterward and prior. There can also be concerns during the summer months on the weekend when out-of-town visitors cause traffic increases.
Get on the Road in Annapolis
For those planning a move to Annapolis, getting to know the local cost of living, nearby amenities, and regional infrastructure is critical, especially for those likely to need to commute into the city each day. Yet, learning how to navigate the region is essential for those who want to make the most of their time. Luckily, Annapolis has numerous routes and freeways to help facilitate the process. With so many desirable Annapolis homes with acreage for sale, the road to homeownership in Annapolis is wide open.
If you're looking for your Annapolis dream home, contact The Bob & Ronna Group of Berkshire Hathaway HomeServices with Maryland Real Estate Advantage at (410) 465-4440 to get in touch with an Annapolis real estate agent who can help find the perfect place for you.