Colonial Decor: 5 Interior Design Tips for Your Colonial Style Home
Posted by Bob and Ronna Chew on Monday, June 13, 2022 at 2:31 PM
By Bob and Ronna Chew / June 13, 2022
Comment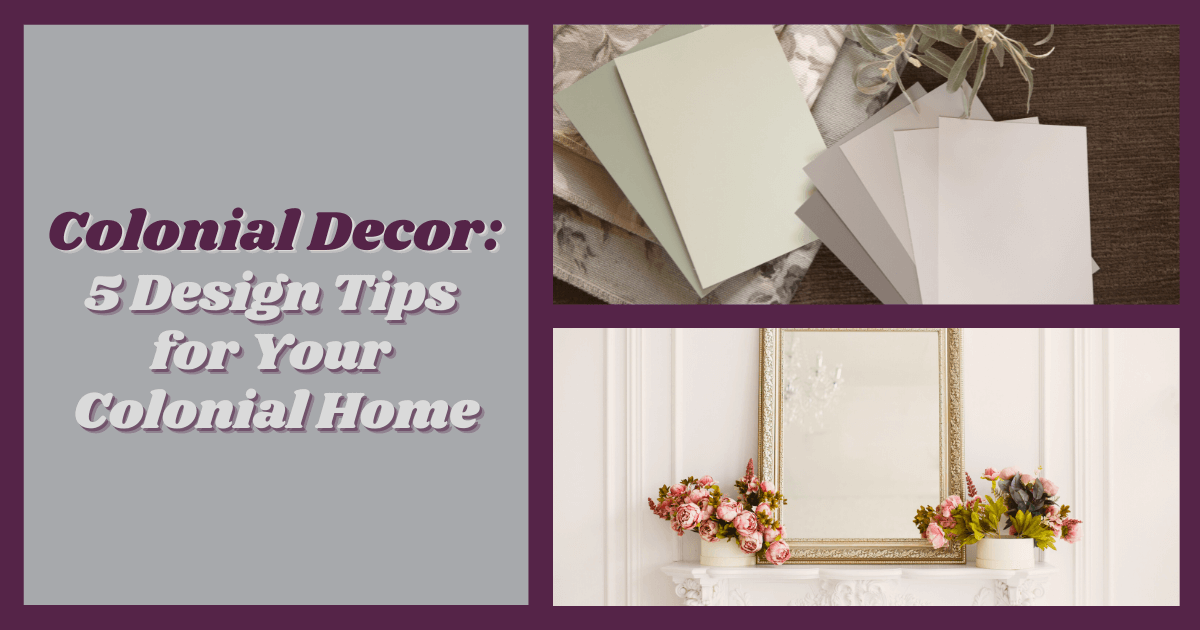 The Colonial style emphasizes a simple, traditional design based on the practical and aesthetic concerns of the US Colonial era. Spacious Colonial-style homes are excellent venues for entertaining guests or cozy relaxation with multiple stories and plenty of bedrooms. Keep reading to discover the best colonial decor to enhance your Colonial home's simple beauty.
Pick the Right Color Palette
Choosing the right color palette for a Colonial home is crucial for setting the mood. Soft and muted neutral tones are the best colors for Colonial-style homes. Pale peaches, pinks, soft blues, greens, yellows, and browns can create the sense of understated elegance associated with stately Colonial homes.
Drawing from the history of Colonial home design can aid in choosing colors today. Early Colonial homes featured various shades of brown because these were the easiest colors to obtain at the time. Whitewashes were also popular but were mostly restricted to the home's frame and trim. Painting the entire home's exterior did not become common until about 1725.
It was around this time that colored paints became more accessible. While some early Georgian homes boasted bright colors like reds, oranges, and the wildly popular Prussian Blue, later homes in this period featured stony grays, blues, ochers, and whites. These subdued colors can help set the tone without overpowering the rest of the room.
Patterns & Materials That Complement Colonial Homes
Complementary patterns and handcrafted materials can help elevate a Colonial home's style. Colonial homes look best with natural materials like cotton, wool, linen, wood, and leather. As for patterns, scrolling, dramatic visuals like those seen in classic China or French toile are suitable in a Colonial house.
Natural elements were popular materials for decorating homes in the Colonial period because early colonists used whatever they could find to decorate their homes. Rattan, wicker, reed, and sisal were popular in this era. Natural fibers like jute and wool also make good additions as woven pieces.
Wood is another excellent natural material to incorporate into a Colonial home. An ideal design would show off the home's wooden floors, accenting them with woven area rugs. Decor choices should include wooden carpentry emphasizing craftsmanship and simplicity alongside robust leather pieces.
When including metallic materials, it's best to choose a warm copper or pewter. Pewter works well with pastel color palettes.
Patterns can help enhance the home's classical feel. Choose traditional scrolling patterns, French toile, or floral imagery to add interest to the living space. Or opt for more simplistic designs like stripes, checkers, and plaid weavings.
What to Look For in the Best Colonial-Style Furniture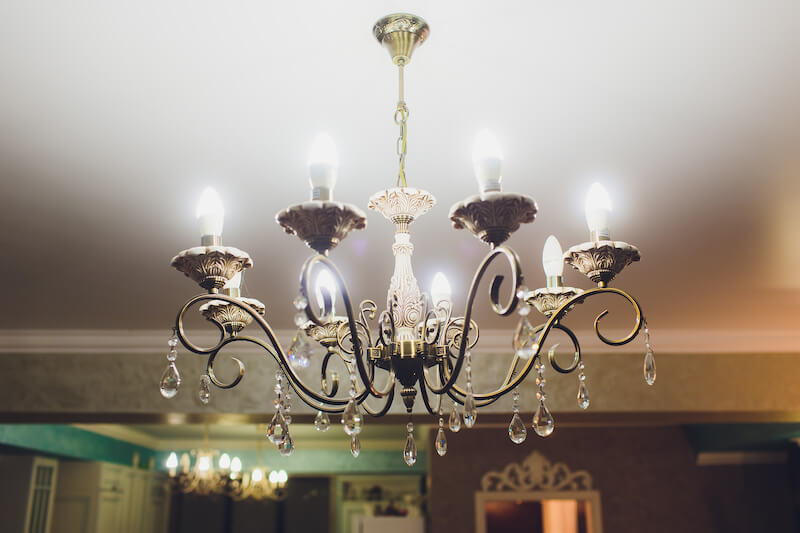 Early American homes featured a rustic, casual style with traditionally crafted wooden furniture. As a particularly bountiful resource, wood was an affordable and practical material for producing Colonial-era furniture. Simplistic but dutifully handcrafted wooden furniture can help create an authentic Colonial feel.
Look for wood and leather furniture, especially antiques. Oversized pieces, particularly armchairs and sofas, can help the home feel more inviting. Pine and birch woods were common in furniture like cabinets, trunks, tables, stools, and spindle-back or ladder-back chairs. Meanwhile, higher-quality woods like walnut, oak, maple, and cherry were the go-to for more ornate items. However, the piece's craftsmanship is more important than its material. The best Colonial-style furniture emphasizes quality and simple design.
As for lighting, it's best to choose pieces like cast-iron lamps, chandeliers, and candle holders to fit into the Colonial style. These pieces best replicate the light sources of the 17th and 18th centuries.
Fun Decor Ideas for Colonial Homes
American colonists typically decorated their homes with miscellaneous items collected while traveling or inherited from ancestors. Colonial decor maintains a sense of simplicity and practicalism, but personally significant objects can help make the space unique.
While it's important not to overcrowd a room, adding portraiture and artwork to the walls is essential in a Colonial-style home. Understated, naturally inspired works and Early Romantic portraiture are best. Incorporating wallpaper into paneling or small spaces like bookcases and other furniture can also help add visual interest.
Mirrors are another common wall hanging in Colonial homes. Complement ornate mirrors with elegant wall sconces hearkening back to when these fixtures were necessary for light.
Fascinating accessories like antique knick-knacks and copper objects fit nicely into a colonial home. These items provide great opportunities to showcase personal style and interests. Accessories like dishes, lampshades, and cushions featuring Colonial-inspired patterns also enhance Colonial-style homes.
Similar Styles to Draw Inspiration From
While there are several eras of Colonial design to draw from, mixing Colonial design with other similar styles can create a unique space. Look to adjacent styles like farmhouse, country, rustic, Craftsman, and Victorian designs.
While the farmhouse style works best with homes located on actual farms, it's still possible to take inspiration from farmhouse decor. Focus on creating a central gathering space for household members and guests for a farmhouse feel.
Country styles have plenty in common with Colonial ones, from wood materials to vintage decor. Incorporate weathered wood, flowers, and patterns like gingham and plaid for a cozy, inviting feel.
Colonial design often falls into the rustic style category. Natural, rough, and aged decor can help create a rustic vibe. Try incorporating more raw materials like unfinished or reclaimed wood to emphasize this style.
Craftsman-inspired decor works well with Colonial design's well-crafted works made from natural materials. This architecture and art movement responded to the Victorian tendency to showcase industrial and manufacturing innovations by focusing on handcrafted products.
While the Victorian design has its differences, it's also a good source of inspiration for Colonial homes. Victorian decor tends toward more vibrant darks, maximalist decor, and ornate designs.
Decorating a Colonial-Style Home
Selecting the best decor for a Colonial-style home can be tricky, but these design ideas can help. Choosing suitable colors, patterns, materials, furniture, and decorations to complement a Colonial home can enhance its beauty and make its living spaces more enjoyable and inviting. If you're interested in purchasing a Colonial-style house, consult a real estate agent to discover neighborhoods with Colonial homes today.