5 Common Characteristics of Colonial Style Home Architecture
Posted by Bob and Ronna Chew on Friday, May 6, 2022 at 2:50 PM
By Bob and Ronna Chew / May 6, 2022
Comment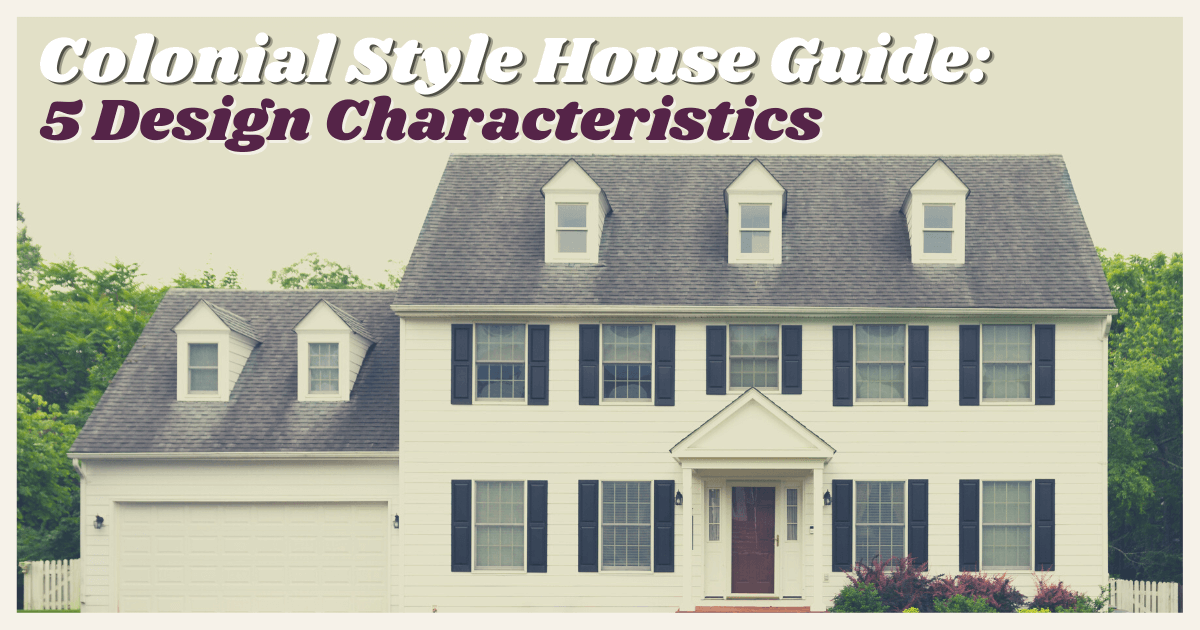 Many types of architecture are considered colonial style. The origins of the design hail from around the globe, and each has a distinctive flair. This style dates back to the 1600s and remains one of the most popular designs in new home construction—particularly on the East Coast of the US.
A few of the most popular types of colonial architecture include French, Dutch, Spanish, and British, the latter of which is the style most commonly constructed in the United States. Colonial homes usually have a simple, minimalist rectangular shape and other distinctive features. Keep reading to learn more about the common characteristics of colonial-style homes.
Most Colonials Have Two or Three Stories
Colonial-style structures almost always have multiple floors. The exception is Spanish colonial houses, which almost always have a single-story layout. Typically, colonial homes are two stories, and in some cases, such as luxury custom builds, they may be three stories.
These homes typically have a rectangular profile exterior with steep roofs with gables. Exteriors of colonial homes are traditionally constructed with bricks, wood, or stone, while Spanish colonial-style homes typically have stucco siding.
Bedrooms are often placed upstairs, with living spaces and kitchens conveniently located on the lowest floor. One interior feature common to this architectural style is placing a large fireplace centrally or at the end of the home.
Colonial Architecture Features Symmetrical Floor Plans & Exteriors
As mentioned earlier, colonial homes will typically have a rectangular or square symmetrical structure. Concerning the exteriors, most have a centrally placed front door with glass inserts or a frosted, decorative, or textural half top glass design. Oversized windows are usually evenly spaced on each side of the door and evenly across the home's facade.
However, there are usually few embellishments on a colonial-style home's exteriors. Instead, the architecture relies on minimalist color schemes and simple geometric lines. The steeply pitched roof will feature protruding dormer windows that increase usable space on the upper floors and attics.
The interior floor plan of a colonial-style home is also symmetrical in design. They tend to have a central hallway on all floors with rooms on either side. The formal living and dining rooms are typically in the front of the home, with a kitchen and family room in the rear. Bedrooms are usually on the second and third floors.
Steeply Pitched Roofs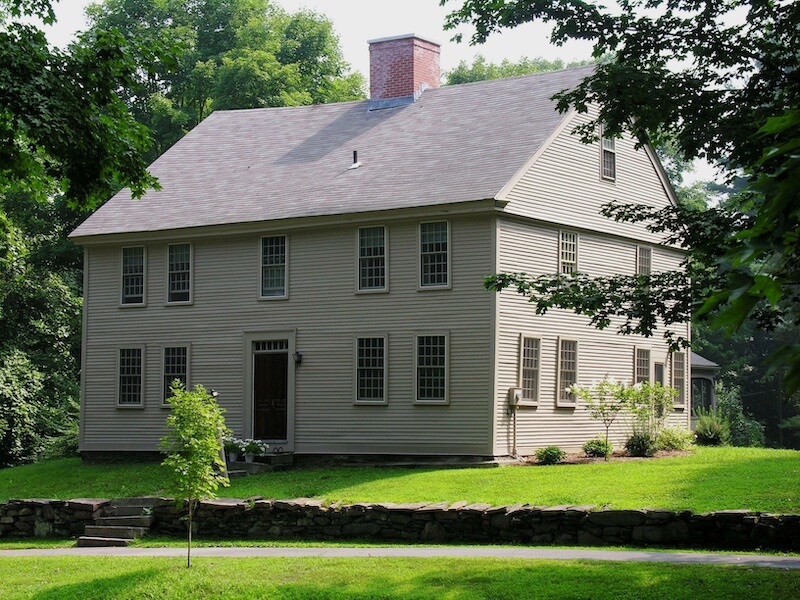 Colonial architecture is often recognizable for having steeply pitched roofs designed to allow heavy snow loads to slide off in cold weather locations. This roof design creates an illusion, as the triangle shape is only visible from the sides. From the front, only shingles are visible from the roofing installation. This design also allows owners to choose the form of their dormer windows during custom home builds.
Gabled roofing systems can provide additional attic space and better ventilation, but they are somewhat susceptible to damage. High winds and intense storms can result in losing portions of the roof, resulting in costly repairs or replacement.
Colonial-style homes typically benefit from a hip roof in regions prone to high coastal winds or hurricanes. Hip roofs can be linked up to fit L-shaped houses.
Decorated Entryways in Colonial Home Design
The entryways of colonial homes have several stand-out features designed to catch the eye and add a bit of pizzazz to the minimalist exterior. Most have graceful classical columns and pediment adornments that form a charming 'crown,' sometimes extending to create a covered porch. A paneled door is traditionally centered to flow with the home's symmetrical geometry.
Transom windows (known as fanlight windows in Britain) are often placed above the entryway door to add charm and a bit of drama. Another way to spruce up the entryway to a colonial home is to add neatly pruned shrubs and colorful annuals and perennials. Some owners also include window boxes in the design to enhance higher floors and side windows.
Multi-Paned Windows Add Beauty & Allow Natural Light to Flow Indoors
Colonial homes also have multiple windows placed symmetrically across the home's frontal facade. The windows often have numerous small panes to create a larger window with a grid-like appearance. Typically, windows are on each side of the front door, and three of five windows cross the second floor, again intending to stay symmetrical. Commonly, the windows are double-hung and boast shutters or planter boxes as modest adornments.
Bay windows are another popular option for colonial homes, and they also work in harmony with the architectural theme of simple lines and symmetry. An abundance of windows allows colonial homes to revel in natural daylight, and they are perfect for those with stunning views surrounding them.
Multi-pane windows and bay windows aren't energy efficient by design, so consider purchasing energy-efficient windows to reduce energy use and minimize heating and cooling loss in addition to other energy-efficient home upgrades.
Fascinated With Colonial-Style Architecture?
Many people are surprised to find existing colonial-style homes, while others are more interested in having a custom home built in this style. Make the dream a reality and research all of the unique features of Colonial-style homes that make them so desirable today.