Things to Do in Columbia, MD: What Are Your Weekend Plans?
Posted by Bob and Ronna Chew on Wednesday, March 2, 2022 at 8:30 AM
By Bob and Ronna Chew / March 2, 2022
Comment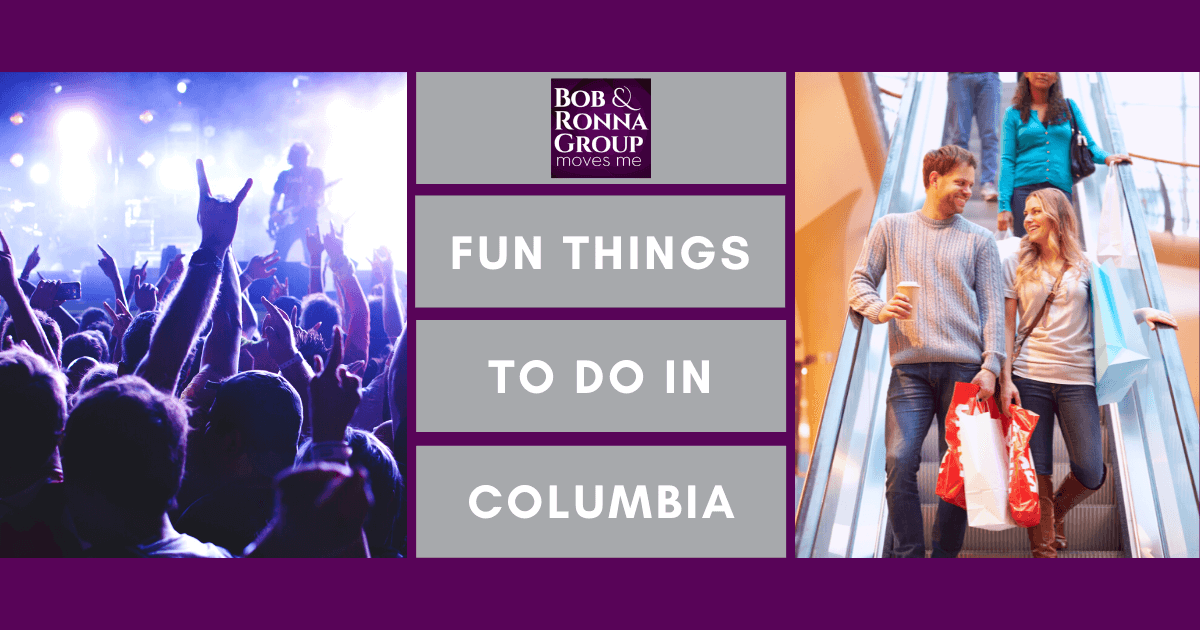 Columbia, Maryland, is a ten-village planned community in Howard County, about 20 miles west of the city of Baltimore. The community was established among three artificial lakes, stream valleys, and rolling hills in the Piedmont region to make it one with nature. As a result, the Columbia community contains plenty of open green spaces, parks, and scenic views all around.
Columbia has everything residents might need, from housing variety, recreational facilities, retail, and entertainment spots. Keep reading to discover fun things to do in Columbia, Maryland, from outdoor adventures to the best shopping and dining destinations.
Columbia Outdoor Adventures
Columbia's humid subtropical climate, coupled with multiple recreational options and entertainment readily accessible to all, makes spending time outdoors a favorite pastime for many. Here's a list of Columbia's outdoor adventures for ideas on what to do when leaving the house.
Parks
Parks in Columbia
Blandair Regional Park
Symphony Woods Park
Lake Elkhorn Park
Cedar Lane Park
Wilde Lake Park
Centennial Park
Living in Columbia offers residents easy access to multiple parks and open spaces for relaxation. Lake Elkhorn Park is a good choice for an intimate location. The park is next to the 37-acre Lake Elkhorn reservoir and has an open green space for relaxation, a picnic pavilion, and free parking.
Blandair Park is another option just six minutes away on Oakland Mills Road. The park sits on 300 acres and has a playground, multipurpose fields, press boxes, and a parking lot.
The 2.7-acre Columbia Dog Park on Rivendell Lane is an excellent place to spend time. Here, dogs can run free with others as owners watch from the benches. The dog park has a small and large area and amenities like a water station and waste disposal areas.
Water Recreation
Columbia Natural Water Sources
Lake Elkhorn
Little Patuxent River
Middle Patuxent River
Lake Kittamanqundi
Wilde Lake
Centennial Lake
Prefer to spend downtime splashing away in water? Columbia is nestled between three lakes: Kittamaqundi, Centennial, and Elkhorn. Lake Kittamaqundi is a 27-acre man-made lake located in Columbia's town center. It has a picnic pavilion and is home to various fish species, including bluegill and sunfish. Residents also enjoy walking, jogging, and biking while taking in the views from the 1.4-mile path around the lake. Swimming isn't allowed, but paddle-boating and pier fishing are permitted.
Centennial Lake is the place to go for more than just paddleboarding. The 54-acre artificial lake supports swimming, boating, and fishing. There's also a walking trail around it and a wildlife area.
Lake Elkhorn is also a good alternative. Like the latter, Lake Elkhorn has a paved path encircling it for walking, biking, and similar activities. It also features a park area and a picnic pavilion.
Besides lakes, there are 23 swimming pools and two indoor pools for water recreation in Columbia, Maryland.
Hiking & Biking Trails
Trails in Columbia
Lake Elkhorn Trail
Lake Kittamaqundi Trail
Wilde Lake Loop
Dorsey Run
Gorman Stream Valley Trail
Robinson Nature Center
Hobbit's Glen Hop
Head to the Robinson Nature Center for walking, hiking, or biking in Columbia. It sits on an 18-acre piece of land and has a 1.1-mile moderately trafficked outdoor trail perfect for all skill levels. The course also has wildlife, a river, and is an ideal spot for bird-watching.
The Patuxent Branch trail is perfect for a more challenging hike or walk. It's a 4.6-mile trail between Savage Park and Lake Elkhorn in Columbia. Visitors enjoy biking, fishing, inline skating, and horseback riding on the Patuxent Branch Trail. Additional hiking and biking trail options in Columbia include Lake Kittamaqundi to Wilde Lake, Gorman Stream Valley, and Dorsey Run.
Columbia's wide variety of outdoor adventures makes the community perfect for watersport lovers, hiking enthusiasts, and bird watchers.
Columbia Shopping
Malls in Columbia
The Mall in Columbia
Mall at Prince George's
Snowden Square
Columbia Crossing
Dobbin Center
The Mall in Columbia is a one-stop shopping destination, also known as Columbia Mall. It has five department stores, over 200 specialty shops, and dining to attract locals and shoppers from surrounding towns. Columbia Mall can get pretty crowded, making Columbia Crossing an excellent alternative for shopping needs. Columbia Crossing is a shopping center with retail and dining options such as Bob's Discount Furniture, Nordstrom Rack, and BGR The Burger Joint.
Head to Kings Contrivance Village Center for even more shopping, including specialty grocery stores, barber and beauty shops, and pharmacies.
Columbia Dining
Restaurants in Columbia
Cazbar
Stanford Grill
MISSION BBQ
The Turn House
The Walrus Oyster & Ale House
CAVA
The Food Market
Urban Hot Pot
Living in Columbia means favorite chain restaurants, fine dining spots, cafes, and bars are always within driving distance. Visit The Ale House Columbia for brunch and enjoy a fine selection of craft beers, mouthwatering starters, flatbreads, salads, and sophisticated menu options such as the Korean BBQ Poutine or the soy-glazed salmon.
For a quick breakfast, lunch, or snack, stop by Charter Deli. The eatery has been recognized as the county's best deli for four consecutive years and offers a variety of early starters, deli-style sandwiches, and beverages. Charter Deli even has a menu section dedicated to Columbian creations.
Residents also love spending time at the Victoria Gastro Pub on Snowden River Parkway. The kitchen serves delicious eats and is famous for its creative twists on classic drinks and cocktails. Victoria Gastro Pub also has a happy hour Monday through Friday from 4 to 7 p.m. It offers weekly specials such as brunch on Saturdays and Sundays and discounted whiskey flights on Wednesdays.
Other hot spots in Columbia include Cava, Sonoma Bar & Grill, Seasons 52, Maggiano's Little Italy, and Union Jack's.
Arts & Culture in Columbia
Even though Columbia is one of the smallest communities in Howard County, it's a hub for artistic creativity and rich culture. Columbia is home to museums, art centers, and theaters to discover new art, explore history, or soak in the region's culture. Discover Columbia's art and culture attractions below.
Museums
Columbia Museums
DoodleHATCH Interactive Art Museum
Belmont Manor & Historic Park
National Cryptological Museum
Howard County Center of African American Culture
The African Art of Museum of Maryland is one of the first-ever museums in the Columbia area. The facility exclusively showcases arts and exhibitions of Africa and is recognized among the top ten places to visit while in Howard County. AAMM also regularly plans and hosts outreach events that attract artists.
Those looking to bring out their inner child or an artistic experience ideal for both kids and adults can head over to the DoodleHATCH art museum, an interactive art museum with unique exhibitions such as the Intergalactic space station. Visitors can also put their artistic skills to the test at the craft workshops.
Other museums in the area include the Howard County Center of African American Culture and Sneakerhead U Museum.
Art Galleries
Columbia Art Galleries
Columbia Art Center
HorseSpirit aRt Gallery
African Art Museum of Maryland
The Artists' Gallery
Victorious Artwork
Columbia has an art facility for those looking to better their art or sell their artistic pieces. The Columbia Art Center in the Long Reach Village Center has a retail gallery shop where creatives and other affiliated individuals can sell or showcase their work. The center has rotating exhibitions, a Japanese Garden, and a gallery gift shop. It also offers open studio classes for adults and kids and summer art classes.
For an even more expansive collection of paintings, sculptures, and wearable art exhibitions, check out the award-winning HorseSpirit Arts Gallery in the Savage community. The 3,500-square-foot facility showcases original artwork from local artists and offers art classes. The gallery also showcases glass & mosaics, woodworking, and jewelry.
Dance & Theater
Columbia Performing Arts
Jim Rouse Theatre and Performing Arts Center
The Chrysalis
Toby's Dinner Theatre
Slayton House
Merriweather Post Pavilion
The Horowitz Performing Arts Center is Columbia's leading visual and performing arts facility. It contains two dance studios, three performance venues, art galleries, and several instructional spaces. The center attracts more than 50,000 attendees to exhibitions and performances held throughout the year.
The Jimmy Rouse Theatre is another performing arts venue. The theatre has a 747-seat capacity and regularly hosts plays, concerts, and dance recitals.
Whether someone is into dance or prefers artistic expression through paintings and sculptures, Columbia is home to a selection of museums, art galleries, and theatres to discover art and connect with other enthusiasts.
Columbia Nightlife
Bars & Clubs in Columbia
Sonoma's Bar & Grill
Pub Dog Pizza & Drafthouse
Nottingham's Tavern
Tabu Social Club
The Millstream Inn
Columbia might be a small town, but that doesn't mean it lacks nightlife. Residents like to hang out at Union Jacks, a British-style pub located at the heart of the town center serving classic American cuisines. It also has a rich drink menu and offers specials like trivia night and the NFL Gameday Menu.
Sonoma's Bar & Grill is also quite popular. The spot has been open since 1997, and apart from an excellent food and drink menu, it hosts trivia nights, specials, and events to keep residents entertained throughout the year. The bar accommodates 200 guests, while its exterior seats more than 50.
Other popular hangouts in Columbia include Nottingham's Tavern, the Merriweather Post Pavilion, Toby's Dinner Theatre, Cancun Cantina, and Zephyr Hookah Café.
Enjoy Year-Round Fun in Columbia
Columbia is one of the top planned communities in the country. This charming area has everything people moving to Columbia need, from endless outdoor adventures, art galleries, chain restaurants, and trendy nightlife spots. At the same time, it's located close to Baltimore and other major urban centers for easy commute times. Finally, the community has a range of housing options in many of Columbia's best neighborhoods.
If you're looking for your Columbia dream home, contact The Bob & Ronna Group of Berkshire Hathaway HomeServices with Maryland Real Estate Advantage at (410) 465-4440 to get in touch with a Columbia real estate agent who can help find the perfect place for you.