8 Best Places to Live Near Coast Guard Yard: Coast Guard Yard Off-Base Housing
Posted by Bob and Ronna Chew on Monday, January 16, 2023 at 2:16:02 PM
By Bob and Ronna Chew / January 16, 2023
Comment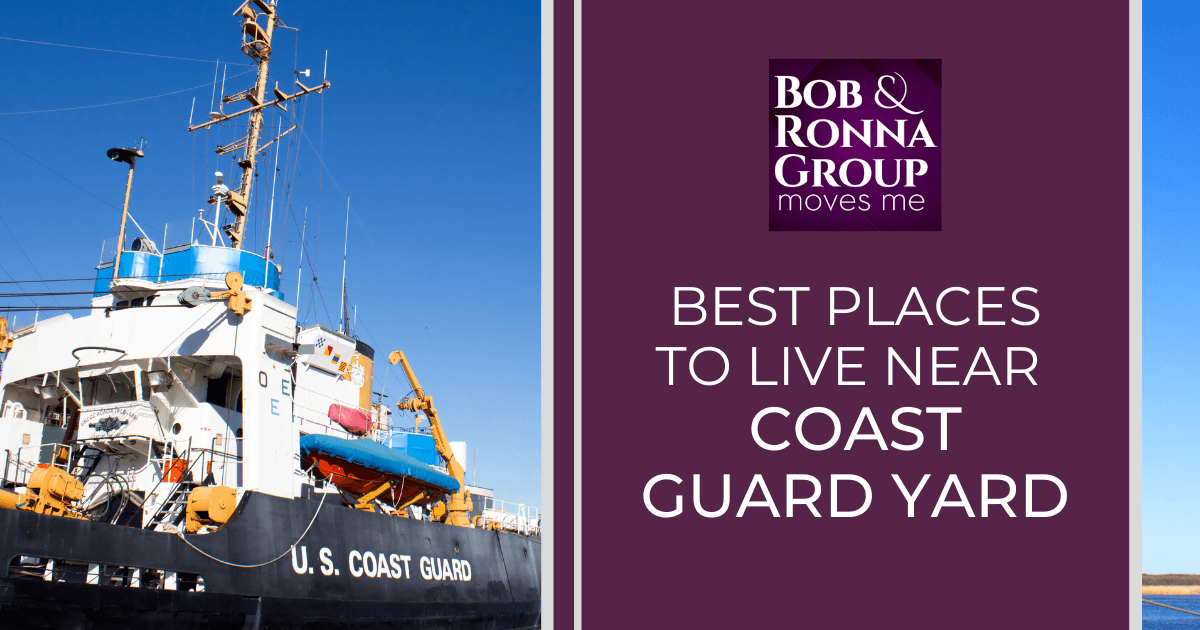 The Coast Guard needs plenty of boats, and it needs them in tip-top condition. Much of that shipbuilding, repair, and maintenance happens just outside the city of Baltimore, MD, at the Coast Guard Yard along Curtis Creek in Anne Arundel County. Thousands of dedicated servicemembers and civilian personnel work there supporting this mission, and they all need a place to lay their heads at night. Fortunately, delightful towns and communities near Coast Guard Yard are abundant and are home to convenient amenities, excellent parks, outdoor spaces, and diverse and high-quality homes. Read on as we explore eight of the best to prepare you for a move to Anne Arundel County.
Glen Burnie
Glen Burnie is one of the closest housing options to Coast Guard Yard, just southwest across Curtis Creek. Portions of town are less than a mile from the Yard, though downtown is just over six miles from the gate. It's conveniently located adjacent to Interstate 97 and Baltimore/Washington International Thurgood Marshall Airport, making it easy for residents to get around the region and the world.
Glen Burnie is also an excellent area for those who like to stay active. Parks like Sawmill Creek Park provide various sports facilities and walking trails, and the popular North Arundel Aquatic Center offers indoor swimming opportunities. Shopping is also a breeze at Marley Station Mall and several other nearby shopping centers, while restaurants range from innovative new spots to longtime favorites like Honey Bee Diner.
Homes in Glen Burnie consist of small and medium-sized condos, townhome communities, and single-family detached houses. The town's most affordable homes sell for $250,000 or less, as do some Glen Burnie condos. Single-family homes most commonly sell from the high $200s to just over half a million, though some larger or newer homes top $800,000 for sprawling luxury properties of 3,000 square feet or more.
Glen Burnie Amenities
Convenient to Interstate 97, State Route 100
Adjacent to Baltimore Washington International Thurgood Marshall Airport
North Arundel Aquatic Center
Marley Station Mall
Sawmill Creek Park
Baltimore and Annapolis Trail access
Severna Park
Just over 10 miles from Coast Guard Yard, the quiet community of Severna Park (not to be confused with nearby Severn) is another excellent option for members of the base community. Many homes offer waterfront views and access thanks to the Severn and Magothy Rivers that flank the community.
Severna Park is also home to Kinder Farms Park, a unique attraction combining local history, agricultural heritage, and preserved outdoor space. Visitors can enjoy miles of peaceful trails, attend regular community events, and learn about topics like animal care and gardening. There's even a petting zoo for kids!
Active residents can also walk, jog, or bike along the Baltimore and Annapolis Trail, a former railway right-of-way that stretches more than 13 miles from Glen Burnie to Annapolis. Ritchie Highway also runs through town, providing a quick, direct drive to nearby communities like Annapolis, Baltimore, and more.
With a mixture of townhouses and single-family detached homes, various quality housing options are available for those moving to Severna Park. Smaller townhouses and older single-family homes in Severna Park start in the high $200s to mid-$300s. More spacious, modern properties can sell from half a million to nearly twice that, offering 3,000–5,000 square feet of living space in many cases.
Severna Park Amenities
Convenient to Interstate 97
Baltimore and Annapolis Trail access
Kinder Farm Park
Olde Severna Park Community Beach
Chartwell Golf and Country Club
Annapolis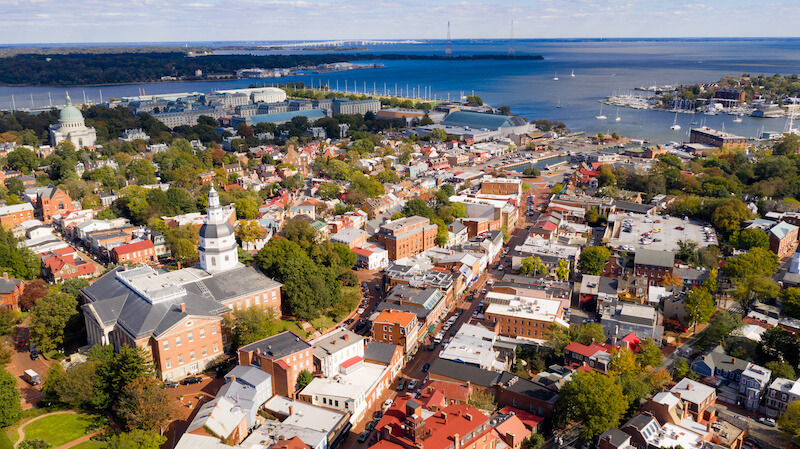 Those looking for a combination of waterfront charm, history, and top-quality homes will love Annapolis, approximately 20 miles south of Coast Guard Yard. It's the capital of the Free State and also home to the prestigious US Naval Academy, which trains and educates the next generation of Navy officers and hosts a variety of sports and public events that draw thousands to town. Water dominates the landscape of Annapolis, from smaller waterways like Back Creek, College Creek, and Spa Creek to the impressive Severn River, which borders the historic downtown area.
Just steps from the docks, residents will find a wide variety of local shops and restaurants along quaint brick streets and entertainment venues like Rams Head On Stage. Meanwhile, more residential neighborhoods throughout the city offer a quieter lifestyle, still filled with the area's unique character.
Homes in Annapolis range from historic 18th- and 19th-century properties to new construction over a similarly wide-ranging price spectrum. Annapolis townhomes, condos, and single-family homes can be found in the $200s, while the majority sell from the $300s to the high six figures. However, it's not uncommon for larger, luxury, or waterfront homes to reach $1–2 million or more. These houses can sprawl to over 5,000 square feet and include spacious lots and amenities like private docks and swimming pools.
Annapolis Amenities
Historic downtown shopping and dining district
Extensive waterfront
US Naval Academy
Truxtun Park
Baltimore and Annapolis Trail access
Pasadena
East of Richie Highway and south of Stoney Creek lies the small but beloved community of Pasadena. At roughly 10 miles from Coast Guard Yard, it provides an easy commute even on the DC and Baltimore region's notoriously traffic-filled roads. While Pasadena is more residential than some nearby towns, it offers convenient everyday shopping and a handful of restaurants like Kent Island Crab Co., which showcases the region's iconic and delicious seafood.
Not all of the natural fun in the area comes on the Chesapeake Bay and the many rivers; Lake Waterford Park is also a local favorite. The peaceful park, centered around the 12-acre lake, offers places for fishing, birdwatching, hiking, or even a relaxing picnic.
Would-be buyers in Pasadena will find primarily single-family detached homes supplemented by a few townhouse communities. On the low end, smaller townhomes and ranch-style detached properties can be found from the low $200,000s. Most homes for sale in Pasadena list from the low $300s to just over $600,000 and offer three to five bedrooms spread over 1,400–2,000 square feet. However, luxury homes in Pasadena can list for over $1 million.
Pasadena Amenities
Lake Waterford Park
Baltimore and Annapolis Trail access
Festival at Pasadena shopping center
Compass Pointe Golf Courses
Severn
Severn is just over a dozen miles southwest of Coast Guard Yard, tucked against the edge of Baltimore Washington International Thurgood Marshall Airport. The community is a shopper's delight, with the massive Arundel Mills complex located just outside town. This popular development includes a shopping center, big box stores, a movie theater, and the Live! Casino & Hotel Maryland. Meanwhile, Severn-Danza Park offers a peaceful green space to relax and a perfect place to get active, whether residents prefer the numerous sports courts and fields or the BMX bike track. Maryland State Route 100 also runs through the community, providing direct access to Interstates 95 and 97 and many other prominent local roads.
Homes in Severn are similar to many nearby communities, with a relatively even mix of townhouses and single-family detached properties. While some can occasionally be found in the $200s, most sell from around $300,000 through the high $400s. A variety of newer townhomes and larger single-family detached houses form the top tier of Severn's housing market, selling from just over half a million to more than $900,000.
Severn Amenities
Arundel Mills shopping center
Severn-Danza Park
Arundel Golf Park
Provinces Park
Adjacent to Baltimore Washington International Thurgood Marshall Airport
Thomas A. Dixon, Jr. Aircraft Observation Area
Columbia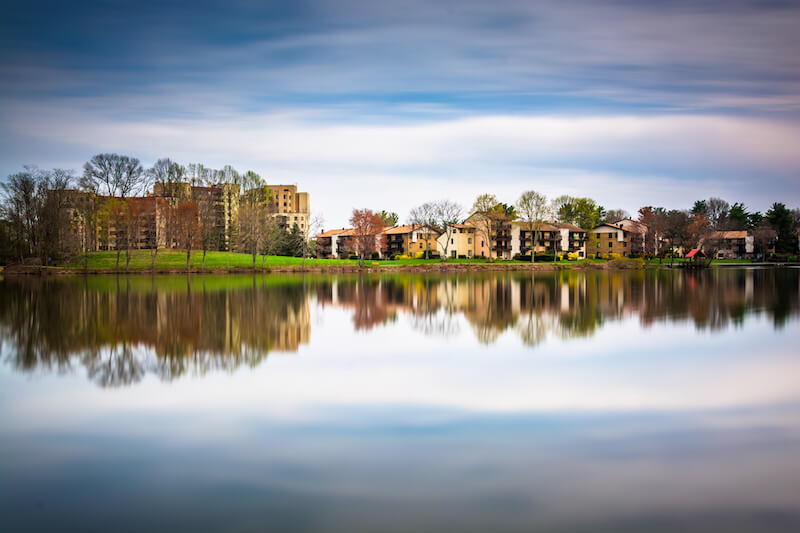 Just under 25 miles west of Coast Guard Yard, Columbia is a planned community made up of 10 "villages," each with its own amenities and conveniences set right within the city. The result is a desirable mix of local and national businesses, wide-ranging dining options, and top local shopping, leading to plenty of things to do in Columbia. In addition, lovers of music and other live shows will have plenty to check out at one of the region's top venues: Merriweather Post Pavilion, an outdoor performance space that draws some of music's biggest acts and festivals.
Columbia homes are among the most diverse in the area, with condos, townhomes, and single-family properties available in various styles and prices. The most budget-friendly options start in the mid-$100s; here, homebuyers will find condos with under 1,000 square feet of living space. Townhomes in Columbia start in the mid-$200s, while single-family properties can be found as affordable as the mid-$300s. However, luxury homes for sale in Columbia list from the high $700s to more than $1 million.
Columbia Amenities
Convenient to Interstate 95, US Route 29
The Mall in Columbia shopping center
Merriweather Post Pavilion
Middle Patuxent Environmental Area
Howard Community College
Howard County General Hospital
Fairway Hills Golf Club
Riviera Beach
Riviera Beach may not be the best-known place to live near Coast Guard Yard, but home shoppers shouldn't overlook it. This hidden treasure marks the meeting place of the Patapsco River and the Chesapeake Bay, between Stoney Creek and Rock Creek. It's also highly convenient to the Yard, which is only five miles to the north. The town's compact footprint means almost all residents are within walking distance from the charming downtown, with waterfront views, shops, and parks.
Would-be homeowners also have many dining options for a town of Riviera Beach's size, from restaurants showing off the area's fresh seafood like Stoney Creek Inn to relaxed but delicious Italian cuisine at Primo Pasta Kitchen. Just across Rock Creek, Fort Smallwood Park provides a 380-foot fishing pier, beaches, and walking trails through the fort's historic gun battery.
Buyers interested in Riviera Beach can find both townhomes and single-family detached properties. Many homes are quaint, beachy cottages set alongside larger, more modern homes that can sprawl to 5,000 square feet or more. These can be found listed from around $200,000 but occasionally approach the $1 million mark, while townhomes list from the mid-$200s to $400,000.
Riviera Beach Amenities
Extensive Chesapeake Bay/Patapsco River access and views
Thriving restaurant scene
Riviera Beach Community Park
Fort Smallwood Park
Odenton
Approximately 16 miles west of Coast Guard Yard, Odenton offers a quiet, primarily residential community with an excellent location. Odenton is roughly equidistant from Washington, DC, and Baltimore, allowing residents to reach either city by car in 30 minutes; the Maryland Area Rail Commuter (MARC) also provides service to both cities. Odenton residents enjoy easy access to several parks—including the vast Patuxent Research Reserve—with its preserved natural areas for hiking, fishing, hunting, and other outdoor pursuits. Closer to home, GORC Park offers a variety of sports fields and green space.
Housing in Odenton primarily comprises single-family detached homes in ranch, split-level, and various other styles. Homes in Odenton start in the low $300s for more modestly sized three- or four-bedrooms, with most selling for half a million or less. New construction homes are also available for buyers looking for higher-end properties, typically selling from the $600s to around $1 million. Would-be townhouse buyers will also find a variety of homes from the $300s to the $600s.
Odenton Amenities
Odenton MARC rail station
GORC Park
Waugh Chapel Town Center shopping mall
Piney Orchard Ice Arena
Patuxent Research Reserve
Odenton Library
Extraordinary Choices for Would-Be Buyers Near Coast Guard Yard
From the waterfront neighborhoods in Annapolis on the Chesapeake Bay to the hustle and bustle of downtown Baltimore and DC, the area around Coast Guard Yard is one of the most distinct regions of the country. Luckily for those looking to buy a home here, there are also many desirable towns for Coast Guard Yard community members to call home, no matter their needs, interests, or budget. The hardest part may be picking just one!
If you're dreaming of living in Anne Arundel County, call The Bob & Ronna Group of Berkshire Hathaway HomeServices with Maryland Real Estate Advantage at (410) 465-4440. Our experienced and local Anne Arundel County real estate agents can help you find the perfect home.