5 Things Dog Owners Should Look For When Buying a New House
Posted by Bob and Ronna Chew on Tuesday, November 29, 2022 at 11:52:25 AM
By Bob and Ronna Chew / November 29, 2022
Comment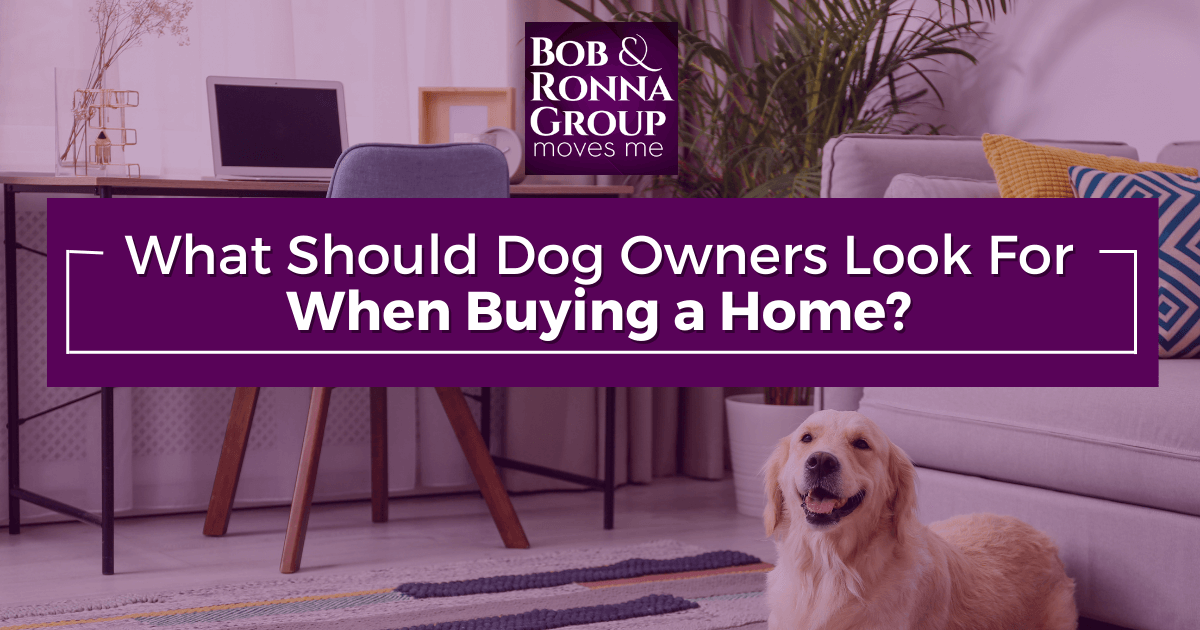 Are you moving with a dog? Dogs occupy an essential role in many households, so it's important to consider them before moving to a new home. Rules on dog ownership vary from city to city and state to state. The best neighborhoods for dog owners are close to pet-friendly amenities like walking trails, dog parks, and a veterinarian's office. Additionally, fenced yards, open floor plans, and pet-friendly HOAs will help your dog feel at home. Sit, stay, and keep reading to learn what your dog wants in a new home!
Dog-Friendly State, City & HOA Laws
Most cities, states, and homeowner associations (HOAs) will have some rules or regulations regarding dog ownership. Before buying a home, dog owners (and soon-to-be dog owners) should familiarize themselves with these laws. While the laws vary from location to location, these are some of the most common ones that dog owners may have to contend with.
Most cities and counties have animal laws that require current vaccinations and licenses. Some states, including California, require dog microchipping, whereas other states simply encourage it. Most cities require owners to clean pet waste, especially in public areas. Many communities also have leash laws in public places, such as parks.
The closer a person gets geographically to the home they want to buy, the more specific the laws might get. HOAs have a wide range of additional rules—some very specific—that apply to dogs. These can include registering all dogs with the HOA, in addition to a limit on the number or size of dogs. Some HOAs prohibit certain breeds of dogs. There might be limits to where a pet can be when outside the home, such as on a patio or backyard.
The gated community homes within HOAs might even have rules about fencing; if a dog owner wants to build a fence to keep their pet in, they may or may not be allowed to do so. HOA contracts should be read carefully to understand all the pet laws.
A Big, Fenced Yard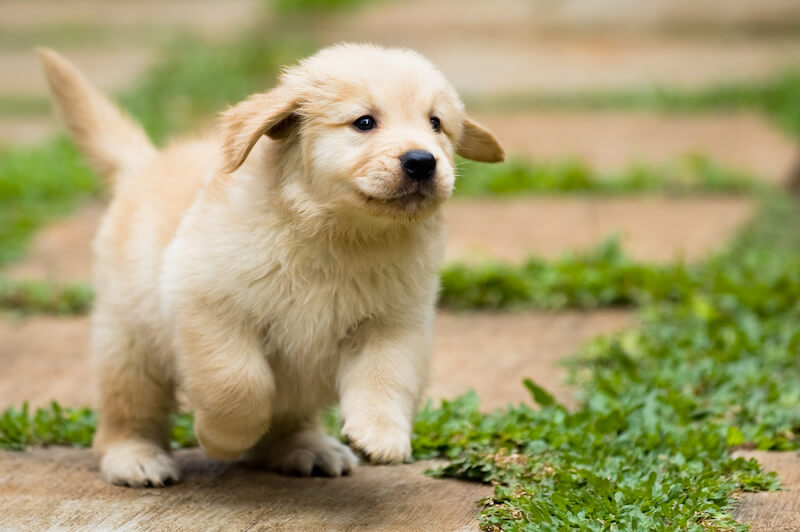 Keep you dog in mind when designing an outdoor space! Some breeds require more space to run and play than others, based on their size and activity needs. Purchasing a home with a big, fenced yard can solve many problems for homebuyers who already own a dog or who plan to own one (no need to build a new fence if the home has one). A fenced yard can also make it possible to go outdoors independently, making it easy to avoid accidents while owners are away.
Here are some square footage recommendations for yard sizes based on a few different common breeds of dogs:
English bulldogs, toy dogs: 100 sq ft
Spaniels: 200 sq ft
Dalmatians, retrievers: 500 sq ft
Guard dogs, pointers, sheepherders: 2,500 sq ft
Fighters, setters: 2,500+ sq ft
These are just recommendations and are not carved in stone. All dogs will benefit from at least some outdoor space to run around and exercise, even if the yard is smaller than recommended for each breed!
Easy Access to Walking Trails & Dog Parks
All owners know how important daily walks and trips to the park are. A home near local walking trails or dog parks is a must-have. If these amenities are close to the home they buy, they're more likely to use them often. If a community has a lot of off-leash dog parks or other areas where dogs are welcome, it's a great indication that that community is very dog-friendly overall.
Off-leash dog parks allow the opportunity for dogs to get some exercise and socialize with other dogs. It provides dog owners with a chance to meet like-minded people as well. Most owners enjoy watching their dogs run around and play off the leash, and dog parks provide a safe place for that. There's something very relaxing about watching a dog enjoy himself outdoors. Some exercise on a walking trail or in a park will also let the dog release some energy in a place outside the house, which is a relief to many dog owners.
A Dog-Friendly Layout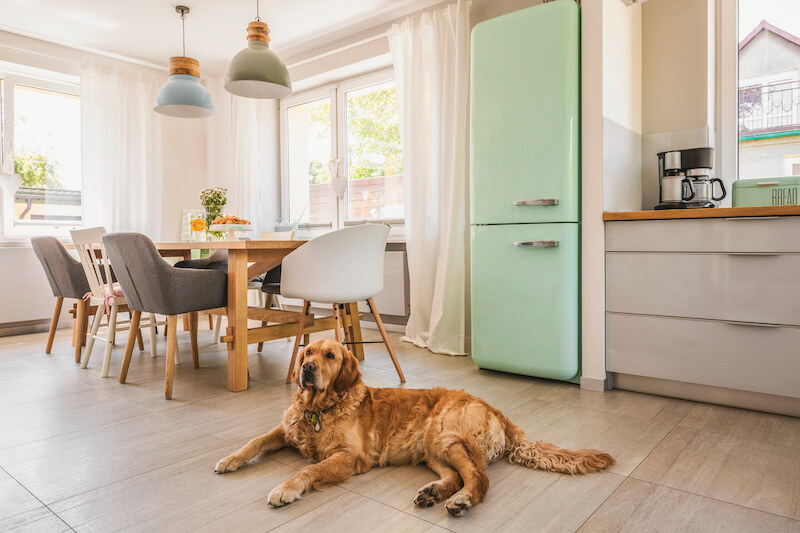 Some people might not think about it when purchasing a resale or new construction home, but the house's layout is essential when owning a dog. Just like with the yard, the size of the interior can make a big difference. For example, a large dog breed in a small home could mean the owner is frequently tripping over the dog (or vice versa). An open floor plan can be especially functional for households with larger dogs. If this sounds relatable, consider narrowing your search to ranch-style homes, modern houses, and other architectural styles known for open floor plans.
The type of flooring is essential as well since most dog breeds run around occasionally and have the potential to scratch the flooring with their nails. Hardwood that can be refinished occasionally, tile, high-end vinyl, or laminate are all excellent flooring choices for dog owners. Carpeting is not such a good choice because it's prone to stains and odors.
Finally, remember that pets get older just as humans do. Arthritis in dogs is prevalent, especially with larger breeds. If a home has stairs or other challenges to get around in, will the pet be able to manage it? Most owners don't want to distress their aging pets with additional challenges like this.
A Veterinarian in (Or Near) the Neighborhood
A new home with a veterinarian close by is something else that dog owners should consider when shopping for a home. Vet visits are a part of life for dog owners, even if it's just for annual wellness checks and teeth cleanings. Having vet services close by makes it much easier for a homeowner when these eventualities arise.
Also, remember that there are different veterinary options, such as private practices, vet clinics, urgent care clinics, and emergency animal hospitals. Private practices, clinics, and urgent care facilities might only be open during Monday through Saturday business hours. They may or may not offer emergency services during those hours. A 24-hour animal hospital, on the other hand, is ready to deal with emergencies up to and including emergency pet surgery at a moment's notice. For dog owners worried about their pet's health, it can be essential to research the proximity of veterinary services to a home they're buying.
Buy the Right Home For You & Your Dog
Pet ownership is on the rise globally, so dog-friendly amenities are one of the top things homebuyers are looking for these days. Dog owners should look at homes and neighborhoods that are known for spacious yards, easy proximity to community parks, and accommodating pet laws. A homebuyer might not be a dog owner today, but they might want to own one (or more) in the future. Does a potential home look the same when imagining a dog running around in it? Keep these things in mind when shopping for a home.
If you're looking for your Maryland dream home, contact The Bob & Ronna Group of Berkshire Hathaway HomeServices with Maryland Real Estate Advantage at (410) 465-4440 to get in touch with a Maryland real estate agent who can help find the perfect place for you.