5 Severna Park Neighborhoods With Private River Amenities
Posted by Bob and Ronna Chew on Tuesday, December 14, 2021 at 9:13 AM
By Bob and Ronna Chew / December 14, 2021
Comment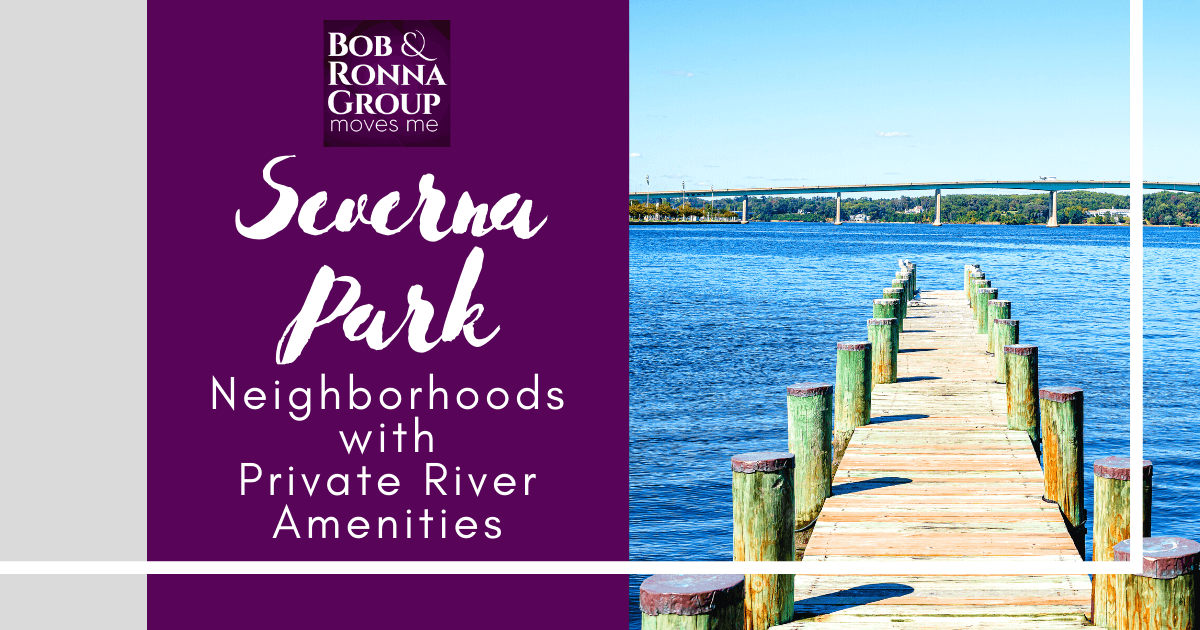 Severna Park, MD, is located in Anne Arundel County and is about eight miles north of Annapolis, 17 miles south of Baltimore, and 39 miles east of Washington, DC. As a part of the Baltimore-Washington Metropolitan area, it has a population of about 38,000. One of Severna park's more notable features is that it lies between the eastern shore of the Severn River and the northwestern shore of the Magothy River, giving this area plentiful space for waterfront housing and its residents plenty of opportunities to have fun in the water. Both rivers enter the Chesapeake Bay; the Severn River near Annapolis and the Magothy near Gibson Island. Looking for a home in Severna Park to enjoy the river? Keep reading to discover Severna Park neighborhoods with private river amenities.
Olde Severna Park
Olde Severna Park Water Amenities
Severn River
Hatton Memorial Beach
Piers
Ramps
Kayak and catamaran racks
Olde Severna Park provides access to the Severn River and has many waterfront homes. Its Hatton Memorial Beach is a sandy beach with a roped-off lifeguard-monitored swimming area, two large piers, a playground, and a pavilion. The beach also offers moorings, pier slips, piling tie-ups, a kayak rack, a catamaran rack, and a boat launch ramp. The Old Severna Park Improvement Association manages the beach and plans community events there.
The walkable neighborhood also offers various housing options, including both historic homes and new construction. The neighborhood also includes the Village of Severna Park, a group of 116 semi-detached houses. Prices vary as well. For example, houses in the Village of Severna Park typically sell in the mid-$300,000s to low $400,000s, while waterfront homes will usually sell for more than $1 million.
In addition to the river access, the neighborhood also has other amenities. It is accessible to the Baltimore & Annapolis trail and about a quarter of a mile from the B&A retail corridor along Route 2, featuring local shops.
Manhattan Beach
Manhattan Beach Water Amenities
Magothy River
Dividing Creek
Cypress Creek
Cypress Beach
Dividing Road Beach
Oak Grove Beach
Manhattan Beach is a waterfront community on the Magothy River. It occupies a peninsula between Dividing Creek, Cypress Creek, and the Magothy River. Many areas provide water access, and the neighborhood has a pier, boat ramp, two marinas, a kayak launch, and three beaches: Cypress Beach, Dividing Road Beach, and Oak Grove Beach. Swimming, fishing, and boating are popular recreational activities.
The 568-home community also provides several other non-water recreational opportunities, including walking, jogging, biking, gardening, and barbecuing. The community also has a clubhouse and playground, and the community association plans various activities throughout the year. A sidewalk extends to the B&A linear park, about one-half mile away.
A variety of home types, including condos, townhomes, and single-family homes, are available here at a wide range of prices starting in the mid $300,000s. Most houses were built between the 1950s and 1980s.
Round Bay
Round Bay Water Amenities
Severn River
Three piers
Main Beach
Kayak and dinghy storage
The Round Bay neighborhood of 230 homes sits on Round Bay near the Severn River. Most homes face the bay and provide amazing views. The neighborhood has three piers, two of which have boat slips and beaches, including Main Beach, which is the heart of the community and has cabanas and sandy beaches. The neighborhood also has a kayak and dinghy storage, its own swim team, and a wide variety of year-round activities, many built around the water. Examples include a community-wide camping trip, a summer dance, and a Christmas Eve bonfire around the dock. Watching sailboard races from the pavilion is a popular summer activity. Swimming, diving, and beachfront picnics are also popular.
Round Bay also has recreational activities that do not involve the water, including tennis and sailing classes and roaming the grassy fields. It has tennis courts, basketball courts, walking trails, and access to the B&A trail.
Houses range in age from historic homes built in the 1930s to those built in the present day. While the average selling price is around $635,000, the typical range is about $400,000 to $1 million.
Ben Oaks on the Severn
Ben Oaks on the Severn Water Amenities
Severn River
Marina
Boat ramp
Kayak launch
Scott's Pond
Ben Oaks is an enclave of 154 homes along the Severn River. Unlike many waterfront communities, Ben Oaks has no homes on the Severn River, preferring instead to make the entire 3,500 feet of waterfront accessible to the community. The community features a 61-boat marina, two tot lots, a boat ramp, a kayak launch, and a large amount of waterfront green space. An essential amenity in the community is the half-acre artificial Scott's Pond, an aquifer-fed freshwater pond with a white sand beach that serves as a neighborhood gathering place. The pond's shore provides lovely views of the Severn, and a playground, basketball court, green space, and picnic tables surround the pond. The neighborhood features various community events, including pier parties in the summer.
The first homes in the community were built during the 1950s, and most homes are from that decade or the 1960s. Despite its proximity to the city of Annapolis, the city of Baltimore, and Washington D.C., the neighborhood has a small-town feel. Home prices are generally from the mid-$500,000s and up.
Whitehurst
Whitehurst Water Amenities
Magothy River
Marina
Waterfront clubhouse
Fishing and crabbing pier
Whitehurst is located on the east side of Route 2 and at the end of Arundel Beach Road on the Magothy River. It has views that stretch as far as Kent Island. The community has a marina with five dinghy dock spaces and 16 dinghy rack spaces. During the summer, residents can participate in boat races, volleyball races, paddleball outings, and community-wide cookouts. The neighborhood has a club, managed by Whitehurst Club Resident Association, that includes a swimming pool and recreation area, waterfront clubhouse, volleyball court, fishing and crabbing pier, and a corn hole court. It also has a yacht club and swim team.
The more than 30 acres were once owned by a local poet, Folger McKinsey, who sold the property in 1909. In 1938, James Whitehurst bought the entire area. It originally developed with summer beach cottages; Whitehurst developed and built his first houses in the mid-1960s. Most houses in Whitehurst today were built in the 1960s and early 1970s. The price range is generally between $400,000 and $500,000.
Crave a Waterfront Lifestyle?
Severna Park is a vibrant community with neighborhoods that revolve around water. Most offer sandy community beaches with great swimming and water sports, and many have community marinas and boat slips.
While Severna Park is famous primarily for its waterfront, those who move to Severna Park have access to a wide variety of other amenities. Access to the B&A trail, which follows a former rail line that terminated service in 1968, is available from most of Severna Park. Each year the trail hosts a marathon and a half marathon. A retail corridor features hotspots such as The Big Bean local coffee shop and Rita's Italian Ice. Kinder Farm Park, which features the opportunity to greet farm animals, also is popular. Along with the many things to do in Severna Park, residents also have access to its larger neighbors and all the employment, culture, and activities those cities offer.
Those who hope to enjoy water activities will find a variety of potential homes to choose from in Severna Park's riverfront communities.
If you're looking for your Severna Park dream home, contact The Bob & Ronna Group of Berkshire Hathaway HomeServices with Maryland Real Estate Advantage at (410) 465-4440 to get in touch with a Severna Park real estate agent who can help find the perfect place for you.