Best Water Activities in Ellicott City: Ellicott City, MD Water Recreation Guide
Posted by Brian Alexander on Monday, July 12, 2021 at 11:36 AM
By Brian Alexander / July 12, 2021
Comment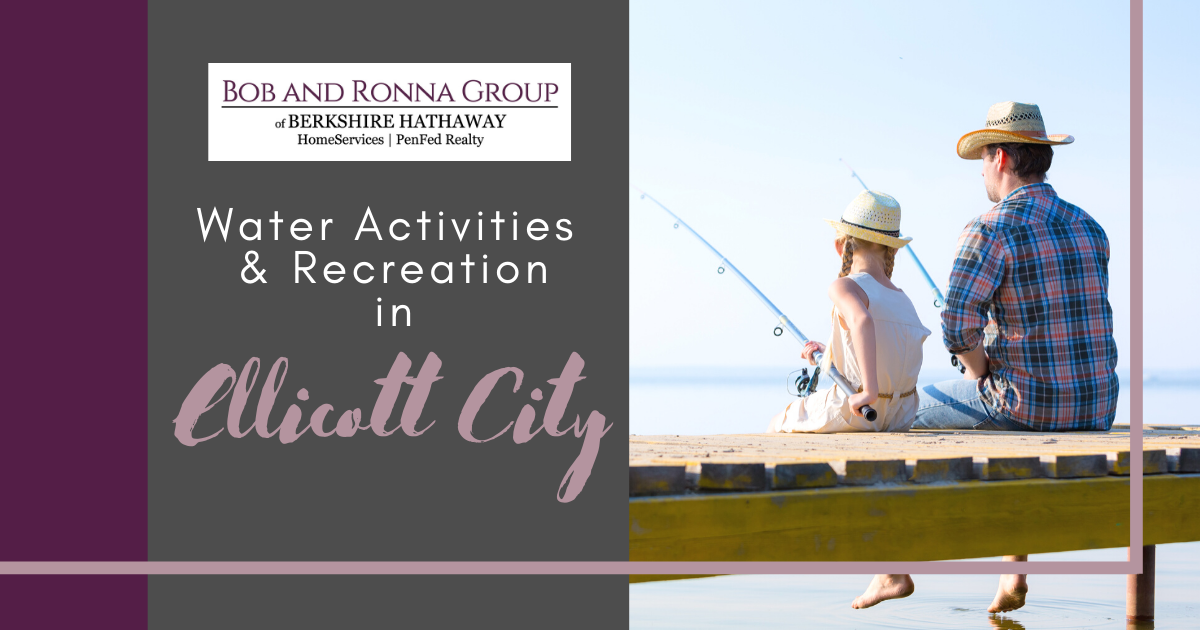 Residents of the Ellicott City community are within 10 miles of water at any given time, which is perfect for water recreation year-round. The city itself has a rich history in railroads and industrial operations. However, residents are sure to quickly realize just how many opportunities they have to engage in boating, paddleboarding, fishing, swimming, and other water recreation. Residents don't have to live in Ellicott City waterfront homes to have access to the best activities in every season. Dive into the best locations for water recreation in Ellicott City listed below.
Patapsco River
Patapsco River Amenities
Fishing
Kayaking
Canoeing
Paddleboarding
Class I and II rapids
Patapsco River is a historic river in Ellicott City that is responsible for quite a bit of history! Without this river, the nation would not have the National Anthem, Baltimore would not have its harbor, and Maryland would not have its first state park. This is the very river where Francis Scott Key wrote "The Star-Spangled Banner." Additionally, the mouth of the Patapsco River forms the Baltimore Harbor. Finally, the popularity of the river for all of its water activities is the reason interest groups decided to designate the land around the river as Maryland's first state park, which is aptly named Patapsco Valley State Park.
At the river, visitors have a plethora of activities that can be completed in a day, weekend, or longer visit. The river offers many fishing opportunities. Whether one wants to fish from the banks of the river or use a small boat, any avid fisher will be happy to catch bass, trout, and other fish.
In addition to fishing, visitors can also kayak, canoe, or paddleboard down the river. During certain parts of the year, the river even produces Class I and Class II rapids, allowing for an adrenaline-filled adventure. Many visitors enjoy camping and taking in as many water activities as possible before returning home.
Centennial Lake
Centennial Lake Amenities
54 acres
Regularly stocked with fish
Boating
Paddleboarding
Kayaking
Rowing
Canoeing
Centennial Lake is a 54-acre artificial lake located within the 337-acre Centennial Park. Created by damming in the early years of Howard County's development, Centennial Lake is loved by many locals and tourists. The lake is regularly stocked with a variety of fish for visitors to catch. Bass, rainbow trout, catfish, and black crappie are seasonally stocked and have been since 1995. A valid Maryland fishing license is required for anyone over the age of 16.
Water vessels are permitted on Centennial Lake. The boat ramp is open for public use, but it requires a $5 daily permit. Only boats less than 16 feet long are permitted, and they must only use an electric motor. Non-motorized water vessels like paddleboards and kayaks are also permitted. The lake's on-site boathouse rents out rowboats and canoes during the summer.
Triadelphia Reservoir
Triadelphia Reservoir Amenities
Fishing
Paddling
Launch sites
Triadelphia Reservoir is surrounded by the Patuxent Reservoirs Watershed, which features thousands of acres of water and wooded private property. Despite being private, Triadelphia Reservoir is available for public use. Created by the Brighton Dam, the 132 square miles of the watershed were purchased with ratepayer dollars to protect the surrounding wetlands. The use of those funds is why the public has permission to utilize the area for water recreation.
Over 16 miles of shoreline fishing and acres of paddling are available for public use. A small fee is required to utilize the Triadelphia Reservoir. A valid fishing license is required for those who will be catching fish in the watershed. Several launch sites are scattered throughout the area. Visitors may not launch from the shore, and only small electric vessels and non-motorized vessels are permitted. These rules are in place to protect the local environment from excess wear and tear.
Lake Kittamaqundi
Lake Kittamaqundi Amenities
27 acres
Kayaking
Canoeing
Nomanisan Island
Fishing
Ice fishing
Lake Kittamaqundi is a 27-acre artificial lake developed in 1966. The name, which translates to "meeting place," comes from the first recorded Native American settlement in the area. The lake only features a maximum depth of 7 feet, but anyone who enters the water must accept they are entering at their own risk.
The lake features Nomanisan Island in the middle. It's accessible by electric motor vessels and non-motorized vessels like kayaks and canoes. The island is available for the public and a popular gathering spot for summertime activities. Some of the most popular activities include Fourth of July fireworks and camping under the stars.
Fishing is permitted in Lake Kittamaqundi with a valid Maryland fishing license. The most popular species of fish include bass, carp, and bluegill. Lake Kittamaqundi is also a popular fishing spot in the winter, as well. The standard fishing license also covers ice fishing, which is one less thing to worry about while packing up the winter gear.
Wilde Lake
Wilde Lake Amenities
22 acres
Kayaking
Canoeing
Paddleboarding
Fishing
Wilde Lake was constructed in 1967 when it was originally a low-lying meadow with grass, flowers, and a small stream. The lake was transformed into a 22-acre artificial lake with a dam. The dam is roughly 8 feet from Wilde Lake's center and is 15 feet high, 200 feet wide. The dam features logs to enhance the beauty of the water as it cascades over the top. Wilde Lake itself ranges from depths of 13 feet to 8 feet.
Since the dam is in the lake, buoys are placed to ensure visitors do not approach the dam too closely. Visitors are absolutely prohibited from touching, moving, or going underneath the buoys for any reason. Anyone who is caught violating this rule will face penalties from local law enforcement. Kayaking, canoeing, and paddleboarding are all permitted at the lake. Guests may use the kayak launch, but they may not launch from the shoreline. Additionally, fishing from a non-motorized water vessel or from the shoreline is permitted. So long as the one fishing has a valid Maryland fishing license, they can enjoy catching bass, bluegill, and crappie.
Make a Splash in Ellicott City
When it comes to living in a community, there is more to consider than just the economy or proximity to the nearest grocery store. The community quickly becomes one's new home, which means daily routines soon expand to exploring the local area. Those who choose to call Ellicott City home have the ability to get outdoors and breathe fresh air throughout the year. Whether one enjoys ice fishing during the winter, meeting new friends by row boating, or any other water activity, Ellicott City makes it easy to accomplish any of these activities. Combine that with the hiking, biking, camping, shopping, dining, and other amenities easily reachable from Ellicott City's townhomes, and anyone would be hard-pressed to find a better area to call home than one of Ellicott City's best neighborhoods.
If you're looking for your Ellicott City dream home, contact The Bob & Ronna Group of Berkshire Hathaway HomeServices with Maryland Real Estate Advantage at (410) 465-4440 to get in touch with an Ellicott City real estate agent who can help find the perfect place for you.