Explore the Bay: 5 Fun Things to Do on the Chesapeake Bay in Annapolis
Posted by Bob and Ronna Chew on Friday, January 28, 2022 at 7:45 AM
By Bob and Ronna Chew / January 28, 2022
Comment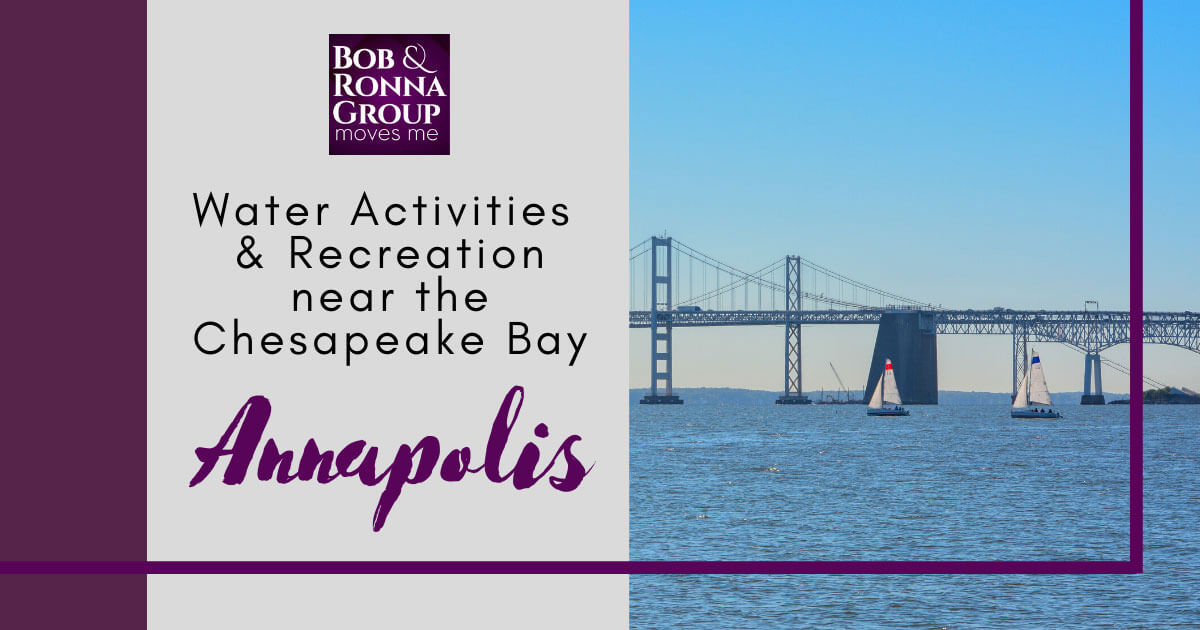 The immense Chesapeake Bay watershed spans six states and the District of Columbia. It is the largest estuary in the United States. For residents and visitors to the city of Annapolis, Maryland, it's a site teeming with fun, exciting things to do and see.
The Chesapeake Bay is the place to experience. Go for a leisurely boat ride, get active with a paddleboard or kayak, fish, explore the shoreline, and make time to visit the museums and historic lighthouses. Keep reading to discover more water activities in Annapolis, Maryland.
Visit the Beach at Sandy Point State Park
The Sandy Point State Park sits less than 10 miles from downtown Annapolis and Chesapeake Harbour. This park in Annapolis is located off Highway 50 on East College Parkway. It spans nearly 800 acres and sits on the northwestern shore of the Chesapeake Bay. The mile-long public beach with a swimming area and lifeguards is a must-visit in Annapolis. Beach chairs and umbrella rentals may be available.
Come to the beach at Sandy Point State Park to enjoy the bay views, launch a boat, fish, crab, or have a picnic. Got a large group? There are several shelters available for rent, plus areas for grilling. The beach does have restrictions regarding pets and alcohol.
Sandy Point State Park Additional Information
The park is located at 1100 East College Parkway in Annapolis and Anne Arundel County.
If needed, the park office number is 410-974-2149.
Park hours vary by season, but it opens year-round at 7 a.m, except for Christmas Day. It's advised to double-check park hours before visiting.
Some activities are permitted outside of regular park hours. Check with the office for details.
Boating and fishing access is available year-round.
The park has a day-use admission fee that ranges from $3 to $5.
Take a Historic Sailing Tour
There's nothing like time spent out on the open waters of the Chesapeake Bay. The scenery is gorgeous, and when setting off on a professional sailing tour, it's the ideal way to take in some of the area's historic sites. Annapolis is known as "America's Sailing Capital," so why not book a sailing tour on the bay?
The Schooner Woodwind Sailing Tours offer public and private cruises on their 74-foot wooden schooners. Tour visitors will enjoy seeing the Annapolis skyline, the United States Naval Academy, and the Severn River. When the wind is right, cruises also include views of the nearly five-mile-long Chesapeake Bay Bridge, Kent Island, and the Thomas Point Lighthouse.
The Dock and Ticket Office number is 410-263-8994. The business address is 80 Compromise Street, and tickets can be purchased online. Unless otherwise stated, all cruises leave from Pusser's Caribbean Grille located at the Annapolis Waterfront Hotel, found across from City Dock. It's recommended to arrive 15 minutes before your scheduled departure time. Recommended parking is in private lots, city garages, and Eastport Street Parking.
Paddle Around Annapolis
The Chesapeake Bay and its tributaries are excellent choices for paddling around the Annapolis area in a kayak and canoe. Kayaking, canoeing, and paddleboarding have become some of this region's most popular water activities. Whether a novice or long-time paddler, it's possible to find equipment, training, and plenty of open water for a fantastic experience on the Chesapeake Bay.
Check out a local business, Annapolis Canoe and Kayak, for equipment rental and purchase. They can be found at 311 Third Street near the waterfront homes of the Eastport neighborhood.
Residents and guests visiting Annapolis may want to check out the Chesapeake Paddlers Association for information regarding safety classes, workshops, trips, and other activities for paddlers of canoes, kayaks, and boards. There are multiple launch sites around the bay and paddle-in campsites as well. The Association maintains an updated Interactive Chesapeake Bay Access Map with those sites.
Annapolis Canoe and Kayak Additional Information
Hours vary by season. Check the website or call 410-263-2303.
Items available to rent include canoes, kayaks, paddleboards, and related gear.
Hourly rentals are available on a first-come basis.
Equipment demos are available on the floating dock located at Spa Creek.
Cast a Fishing Line
While you can cast a fishing line from various sites around the Chesapeake Bay, like at the Sandy Point State Park beach, it's exciting to go out on the waters for an authentic fishing boat experience. In Annapolis, Family Fishing Adventures offers seasonal day trips for all ages and special kids' fishing adventures. The interactive catch-and-release trips run seven days a week, five times a day on the 30-foot Sea Dragon, a fishing and crabbing boat.
Family Fishing Adventures in Annapolis is located at 410 Severn Avenue. They provide seasonal fishing adventures for all ages, usually opening in May. When open, trips run seven days a week, five times a day. Those interested can book online or call 410-279-8325. Equipment is provided and includes fishing poles, lures, bait, and crabbing gear. No fishing or crabbing permits/licenses are needed as the U.S.C.G.-certified Captain has all required permits/licenses.
The Chesapeake Bay is home to a wide array of sea life. Some of the fish that may be caught include but are not limited to bluefish, rockfish, flounder, croaker, and speckled trout.
Tour the Thomas Point Shoal Lighthouse
Built in 1875, the Thomas Point Shoal Lighthouse sits on the Chesapeake Bay, south of Annapolis and north of the South River. It stands 43 feet above high water and is an active lighthouse with an eleven-mile range. Annapolis owns the lighthouse, while its managers are the United States Lighthouse Society and the Chesapeake Chapter. It is a National Historic Landmark.
Public tours of the lighthouse began in 2007. Today, adventure tours run throughout the summer that offer insight into how the original lighthouse keepers lived, why other lighthouses on the Chesapeake Bay are no longer operational or standing, and ways that the U.S. Lighthouse Society is working to preserve and restore the Thomas Point Shoal Lighthouse.
Historic Lighthouse Tours Additional Information
Three tours are offered daily.
Each tour is 90 minutes, including a 30-minute boat ride to the lighthouse and a 30-minute boat ride to return to the dock.
A docent-led tour of the interior of the lighthouse is included.
The tour boat departs from the dock behind the Annapolis Maritime Museum located at 723 Second Street.
An adventure tour means there are vertical steps and limited space. No pets or service animals are allowed due to the vertical steps and small spaces.
Children must be twelve and older. All participants must be at least 48 inches tall.
The cost is $85 per person.
For additional information, call 415-362-7255.
The Chesapeake Bay is Annapolis Treasure
When looking to move to Annapolis or planning a visit, it's the Chesapeake Bay that calls for attention. The bay and its tributaries offer unlimited outdoor recreation and adventure possibilities. From boating to paddling, fishing, crabbing, sightseeing, and relaxing picnic venues, the Chesapeake Bay in Annapolis has it all.
If you're looking for your Annapolis dream home, contact The Bob & Ronna Group of Berkshire Hathaway HomeServices with Maryland Real Estate Advantage at (410) 465-4440 to get in touch with an Annapolis real estate agent who can help find the perfect place for you.