8 Best Places to Live Near Fort Meade: Find Fort Meade Off-Post Housing
Posted by Bob and Ronna Chew on Tuesday, February 14, 2023 at 12:47:14 PM
By Bob and Ronna Chew / February 14, 2023
Comment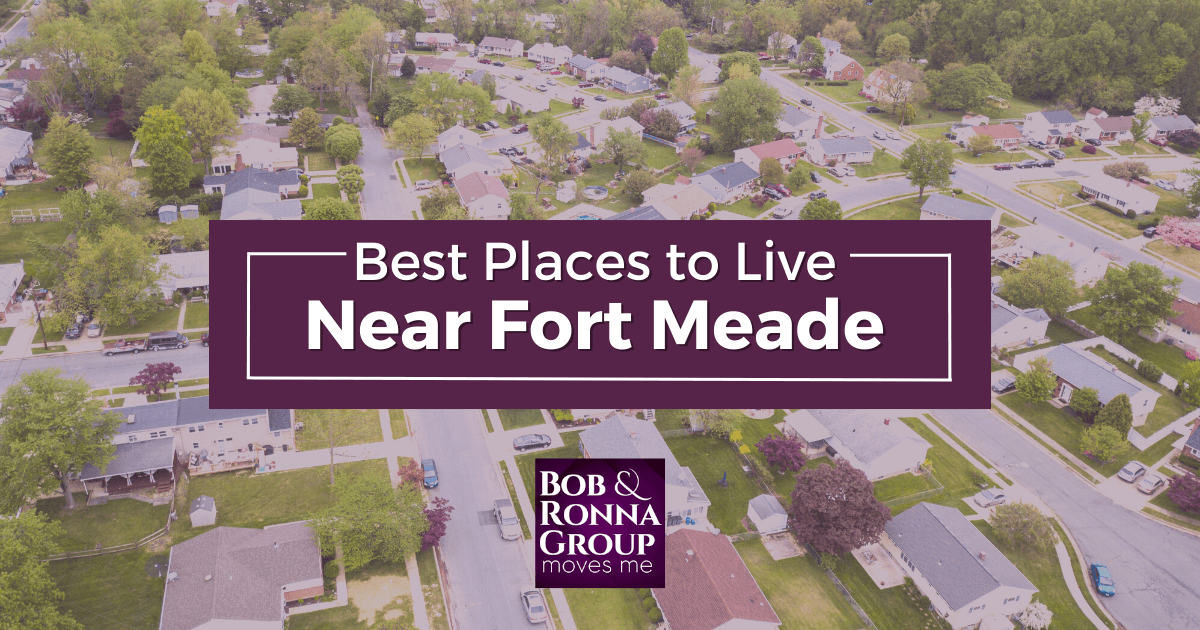 Members of the Fort Meade community know the installation (among the US military's largest) dominates a large part of the beautiful area it occupies between the city of Baltimore and Washington, DC. But when it comes to searching for off-base housing, it can be overwhelming to learn about the numerous smaller, distinct communities surrounding the base. Fortunately, there are many great choices of communities near Fort Meade for those moving to Anne Arundel County. These areas are great for those who need easy, everyday access to Fort Meade, and quality, affordable housing within or close to the military's BAH (basic allowance for housing) rates.
Ellicott City
Ellicott City is a charming small town approximately 15 miles north of Fort Meade. It's best known for its historic downtown along the Patapsco River, home to dozens of shops, restaurants, and even the local craft alcohol makers at Ellicott City Distilling. The area is also home to several museums, art galleries, and other cultural attractions that will keep residents returning.
Ellicott City is also known for its gorgeous parks and natural landscapes. These include Centennial Park, which offers walking trails, sports facilities, fishing areas, playgrounds, and picnic areas, and the more wild Patapsco Valley State Park, a sprawling preserved area of trails and wilderness. Plus, it's less than ten miles from Baltimore, putting big-city conveniences just minutes away for anyone moving to Ellicott City.
Homes in Ellicott City are predominantly single-family detached houses, with some condo and townhouse communities. The latter two styles are the city's most affordable, starting in the low $300s. However, they can reach as high as the $800s for high-end or new construction units. Detached homes can be found from the mid-$500s but can top out north of $2 million for Ellicott City's luxury homes.
Ellicott City Amenities
Historic downtown shopping/dining district
Roger Carter Community Center
Howard County Library System, Miller Branch
Centennial Park
Patapsco Valley State Park
Convenient to US Routes 29, 40, and I-70
Gambrills
Just five miles southeast of Fort Meade, Gambrills is a small, mostly rural community perfect for buyers looking for a quieter, more spacious place to call home. Gambrills offers quiet residential streets flanking farms and the area's main thoroughfares: Patuxent Freeway and Crain Highway. Crain Highway contains many of Gambrills' amenities, like the side-by-side shopping centers of Waugh Chapel Town Centre and The Village at Waugh Chapel. Gambrills is also home to various small restaurants scattered throughout the community, like the longtime local favorite The Blackwall Barn and Lodge.
Condos, townhomes, and single-family detached homes are all available in the Gambrills area. The former two are more commonly found along Crain Highway in the southern parts of the community, while detached homes dominate in the more northern areas. Condos and townhomes start in the low $200s, topping out near half a million. Single-family detached homes in Gambrills are more common, ranging from the low $300s to more than $1.1 million.
Gambrills Amenities
Waugh Chapel Town Centre
The Village at Waugh Chapel shopping mall
Convenient to Interstate 97
Arundel Middle and High Schools
Night Hawk Golf Center
Crofton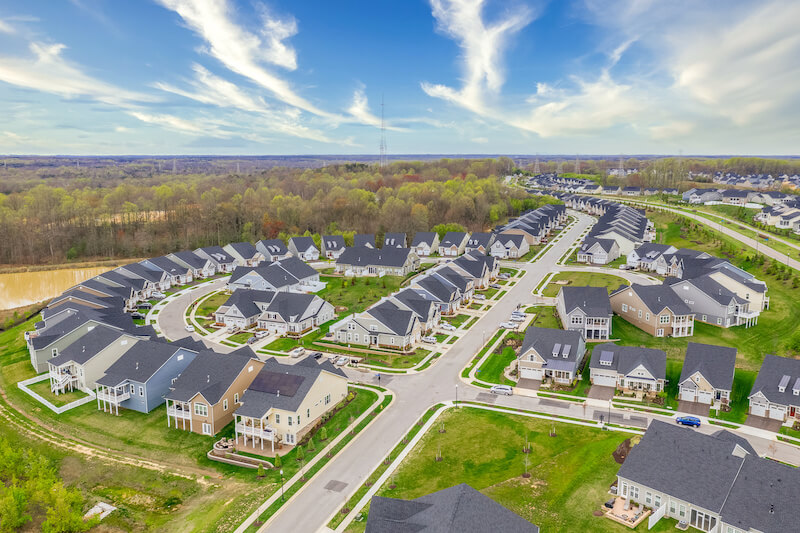 Crofton traces its roots back to the 1960s when it was first developed as a planned, gated community. This heritage can still be seen today, with the original, now gate-free development located inside the Crofton Parkway loop, which also includes the beautiful and popular Crofton Country Club. This loop is now ringed with restaurants, businesses, parks, schools, high-quality housing, and popular walking and biking trails.
Residents can also enjoy nearby Crofton Park, which includes a variety of walking trails, sports fields, a picnic area, a playground, and more. This area is home to the historic Linthicum Walks, which offers beautiful landscaped gardens and opportunities to learn about local history and heritage. Crofton is located about 10 miles south of Fort Meade, making it the closest of our top Fort Meade-adjacent communities to Washington, DC.
Crofton's townhomes are the most affordable housing option, starting in the mid-$200s for the most modest properties. However, the largest of these attached homes can top 2,700 square feet and sell for half a million or more. Single-family detached homes in Crofton list from the $500s but can reach twice that price or more for the largest and newest properties.
Crofton Amenities
Crofton Park
Swann Park
Crofton Centre shopping mall
Crofton Country Club
Walden Country Club
Odenton
Odenton is one of the two communities on our list that touch Fort Meade, putting even the furthest reaches of the town less than five miles from the base; it's also one of the best cities near the US Naval Academy. The fast-expanding city has seen its population more than double in the past two decades, partly due to the growth of Fort Meade and the general DC/Baltimore area, along with its convenient MARC rail stop. There's plenty for active residents and lovers of the outdoors to do in Odenton, including exploring the massive Patuxent Research Refuge, a 13,000-acre spot for hiking, biking, fishing, hunting, horseback riding, and more.
The town is also home to one of the area's best skating facilities at Piney Orchard Ice Arena. Afterward, residents can satisfy their hunger at one of the town's popular restaurants, like the regionally famous barbecue of The Hideaway or Mexican at Rinconcito Mexicano.
Housing in Odenton offers buyers a mix of single-family detached homes, condos, and townhouses. Condos start from the mid-$200s while townhomes can be found from the mid-$300s and up. Detached homes in Odenton list from the mid-$400s but can reach as high as $1.5 million for the largest properties on the most spacious lots.
Odenton Amenities
GORC Park
MARC Penn Line commuter rail stop
Odenton Library
Piney Orchard Ice Arena
Adjacent to Patuxent Research Refuge
Columbia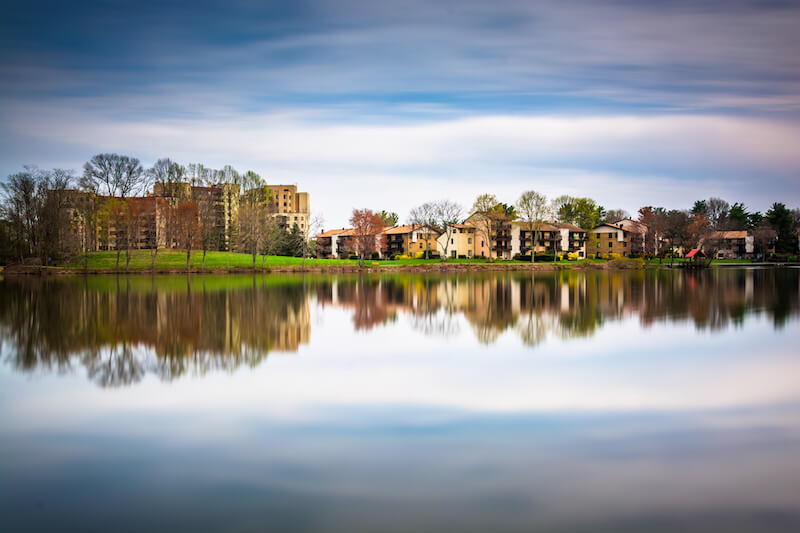 Another planned community less than 15 miles northwest of Fort Meade, Columbia comprises ten villages. These subdivisions are designed to be primarily self-sustaining, with a variety of everyday spots like schools, parks, businesses, and more. Together, they form a thriving town of more than 100,000, with public spaces and other attractions maintained by the Columbia Association, funded by voluntary memberships that provide access to pools, fitness clubs, golf courses, and other more exclusive community amenities. More people are moving to Columbia yearly, too.
Columbia is also home to the sprawling shopping center known as The Mall in Columbia and one of the region's best music venues: Merriweather Post Pavilion. This, combined with the city's proximity to many highways and commuter routes, earned Columbia the title of Money Magazine's Best Place to Live in Maryland in 2022.
Detached single-family homes, townhouses, and condos can all be found in Columbia in relatively equal numbers. Columbia condos are the most budget-friendly, with extensive options for less than $200,000, though high-end units can reach the half-million range. Townhouses start in the mid-$200s and can reach $600,000, while single-family detached properties typically sell from the low $400,000s to just under $1 million. However, new construction homes in Columbia can sometimes reach as high as $1.5 million.
Columbia Amenities
Convenient to Interstate 95, US Route 29
The Mall in Columbia
Columbia Crossing shopping center
Merriweather Post Pavilion
Cedar Lane Park
Middle Patuxent Environmental Area
Howard Community College
Howard County General Hospital
Severn
Severn lies on the north side of Fort Meade, making it one of the closest communities to the base. It's primarily residential, though residents can easily access everything they need nearby. The town offers some of Maryland's best shopping and entertainment just over the western border, with Arundel Mills shopping center. This sprawling, modern facility includes more than 250 stores, a movie theater, and even the popular casino and hotel Live! Casino & Hotel Maryland.
Residents also have quick access to Baltimore/Washington International Thurgood Marshall Airport (also the site of an Amtrak and MARC rail station) for trips around the country or the world. Car travel is also easy, with MD Route 100 and the Patuxent Freeway flanking the northern and southern ends of the community.
Severn homes are roughly split between traditional single-family detached homes and townhouses. The latter are typically more affordable, with many options available from the mid-$100s to the low $300s. Higher-end townhomes can top $600,000. Modestly sized detached homes start in the high $300s, while vacant land and lots in Severn list from the $100s.
Severn Amenities
Convenient to Arundel Mills shopping center
Adjacent to Baltimore/Washington International Thurgood Marshall Airport
Severn-Danza Park
Provinces Park
I-97 access
Elkridge
Elkridge is a historic community ten miles north of Fort Meade, stretching from the banks of the Patapsco River southwest along each side of Interstate 95. With roots dating back to the 17th century, Elkridge has preserved many historic homes, churches, and other properties. These include the historical park at Belmont Manor and numerous structures in Patapsco Valley State Park, like the Thomas Viaduct, the world's oldest multi-arched stone railroad bridge. Troy Park offers public sports facilities, while the nearby Timbers at Troy golf course is another local favorite.
Meantime, Elkridge's location along I-95 makes it quick and easy for day trips into Washington, DC, or Baltimore, two of the Mid-Atlantic's most fun and exciting cities. Closer to home, residents will find a variety of convenient shops, restaurants, and other local businesses along Washington Boulevard/US Route 1, which runs parallel to the interstate.
Would-be buyers will find a mix of single-family detached homes and townhouses throughout Elkridge. Townhomes start in the mid-$200s, while detached properties start in the mid-$300s. Elkridge's most spacious and luxurious properties can reach $1 million or more on the high end. More commonly, homes in Elkridge list from the low $400s to the high six figures.
Elkridge Amenities
Convenient to Interstate 95, US Route 1
Access to Dorsey MARC rail stop
Troy Park
Waterloo Park
Howard County Library System, Elkridge Branch
Arnold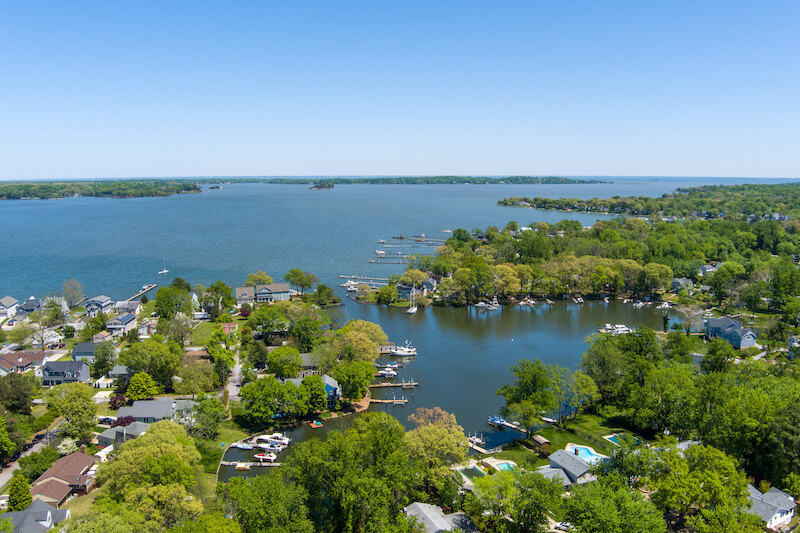 Our final top community is roughly 20 miles southeast of Fort Meade, near the shores of the Chesapeake Bay. Arnold sits on a peninsula between the Severn and Magothy Rivers, which feed into the nearby bay. This creates a perfect community for those who love boating, fishing, or generally being around the water, with many riverfront homes—some of which include private docks and other high-end features. Some of the bay's best and most popular beaches can be found just a few minutes away at Sandy Point State Park.
Arnold is also conveniently located near the city of Annapolis, just a few miles south of the Severn River. This charming waterfront town (home to the state's capital and United States Naval Academy) offers extensive dining, shopping, and cultural options just minutes from home.
Homes in Arnold are primarily single-family detached properties, though a few townhouse communities are also available. Two- or three-bedroom attached properties can be found from the low $300s, with detached homes starting in the half-million range. In many cases, Arnold's high-end waterfront homes can reach the $1.5–$3 million range.
Arnold Amenities
Close to Annapolis shopping/dining/nightlife
Adjacent to Severn and Magothy Rivers, Chesapeake Bay
Baltimore and Annapolis Trail access
Arnold Park
Anne Arundel Community College
The Greater Annapolis Y fitness/community center
Fantastic Fort Meade Housing Options Are Waiting Just Off Base
Members of the Fort Meade community have so many excellent options for homes close to this critical and fast-growing base. Buyers of all budgets, needs, and tastes will find a perfect fit in these communities, which stretch throughout central Maryland's diverse and beautiful environments. Whether relocating to the area or just moving off base, new residents of these great towns and cities will feel at home in no time.
If you're moving to the Fort Meade area, contact The Bob & Ronna Group of Berkshire Hathaway HomeServices with Maryland Real Estate Advantage at (410) 465-4440. Our local real estate agents can help find the best home for you near Fort Meade.