8 Best Places to Live Near Fort Detrick: Off-Base Housing Made Easy
Posted by Bob and Ronna Chew on Wednesday, August 16, 2023 at 12:43:50 PM
By Bob and Ronna Chew / August 16, 2023
Comment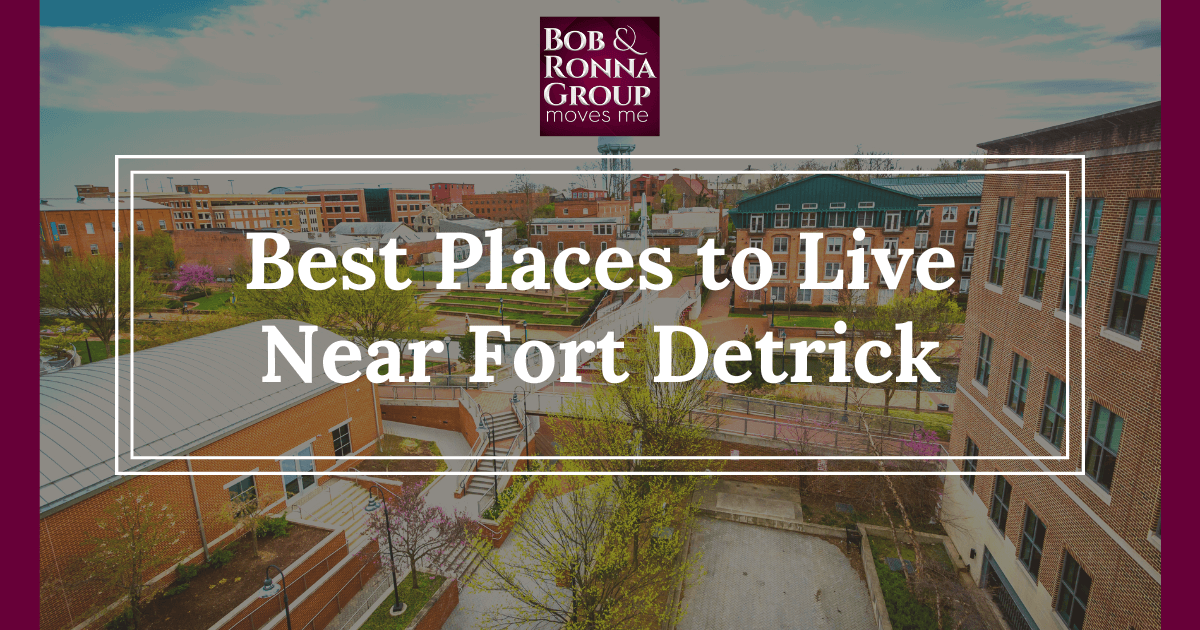 Fort Detrick, a prominent Army base in Frederick County, Maryland, is a magnet for those associated with military and defense activities—both military personnel and civilian employees. Surrounding this significant establishment, various neighborhoods and localities have flourished, offering residents a blend of convenience and charm. This article aims to spotlight the top places to live near Fort Detrick, focusing on amenities, accessibility, and the unique allure each area provides.
Frederick
The city of Frederick is right next to Fort Detrick, making it one of the most convenient places to find a home near the base. This town offers a variety of amenities to those who enjoy an active lifestyle. Frederick County is a place where visitors can tour historic battlefields, national and state parks, wineries, breweries, and much more. In addition to being a military town, Frederick is also a college town, which opens up the possibility of finding a home to suit any price range.
A lot of the housing along this part of the East Coast consists of single-story brick homes. These can be the ideal starter home for a military household, with some properties in Frederick priced in the $100s. Condos for sale in Frederick list from the high $100s to the $600s. Older established homes, including some of Frederick's luxury homes, can be found in various architectural styles, including Greek Revival, Italianate, Federal, and Late Victorian. Developers are also building many new construction homes and townhomes in the area, which are priced in the $600s to $700s.
Frederick Amenities
Historic Downtown Frederick
Public Art Trail
Clustered Spires Golf Club
Rooftop dining at Brewer's Alley
Riverwalk Park
Walkersville
The center of Walkersville is about eight miles northeast from the main gate at Fort Detrick, and directly north of Frederick. Walkersville is a small town with a population of around 6,000 people. It has two elementary schools, a middle school, and a high school. The town has several parks with baseball, softball, soccer, and lacrosse fields. Walkersville is big enough to support a couple of grocery stores, multiple restaurants and fast food places, and some retailers. For anyone looking for a town with a rural feel to it, Walkersville is a good choice.
Agriculture and the Walkersville Southern Railroad are some of the main drivers of the economy here, although people from many different walks of life choose to live here as well.
Walkersville has several residential areas, each with its own distinct architectural style. Some of the historic structures here date back to the town's founding in the late 18th century. Homes for sale in Walkersville typically list from the $200s to the $600s, but the area's stately luxury homes can list in the low $800s. Sometimes, townhomes come on the market that can be purchased in the mid-$200s.
Walkersville Amenities
Guided tours on the Walkersville Southern Railroad
Fountain Rock Park & Nature Center
Heritage Farm Park
Walker's Overlook
El Rancho Restaurant
Hagerstown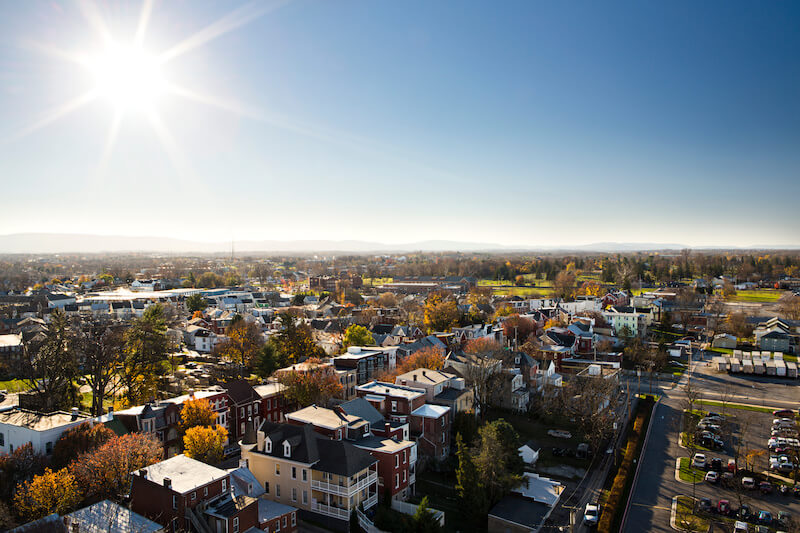 For those who don't mind a longer commute, Hagerstown is about a 30-minute drive to the northwest of Fort Detrick. This is a larger town with a population of around 45,000 residents, with close to 300,000 in the larger metro area. The Hagerstown Aviation Museum pays tribute to the city's long history of building aircraft, dating back to World War I. Canoeing and kayaking are extremely popular on the Antietam Creek Water Trail.
Hagerstown has two large shopping malls that provide everything a household might need. The Maryland Theatre is home to the Maryland Symphony Orchestra, and it also hosts the annual Miss Maryland USA pageant. Annual community events include the Quad State Beer Fest and the Western Maryland Blues Fest.
The architectural styles of homes represented in Hagerstown include Bungalows, Colonial Revival, Foursquare, Queen Anne, Tudor Revival, and Spanish Colonial Revival. Frederick County vacant land for building a new home can be purchased for around $75,000 an acre when it comes on the market. Many modestly-priced homes are on the market in Hagerstown, with older models starting in the upper $200s. Townhomes are also in that same price range. Hagerstown's share of Frederick County luxury homes sell in the $700s.
Hagerstown Amenities
Antietam Creek Water Trail
Stone Arch Bridges
Antietam Brewery
Hoffman's All-American Grill
Hagerstown City Park
Hagerstown Greens at Hamilton
Middletown
Middletown is just a 20-minute drive directly west of Fort Detrick. George Washington once called the Middletown Valley one of the most beautiful places he had ever seen. This is a small, laid-back town with a population of around 5,000 people. This town hosts several annual events, including a sidewalk chalk art festival on Main Street in the summer and a classic car show in the fall.
There are multiple parks and walking trails for residents to enjoy here, including a fenced-in dog park. This part of Maryland is wine country, and there are multiple wineries, breweries, and distilleries to explore in the area.
Smaller homes for sale in Middletown can be found in the upper $200s. Middletown luxury homes on sizeable acreage can sell for as much as $1.6 million. Many of the homes, including some spacious four-bedroom houses, can be found in the $500s to $600s. Architectural styles include Federal, Greek Revival, Queen Anne, Gothic Revival, and Colonial Revival. There are golf course homes and townhomes available in the community around the Richland Golf Club.
Middletown Amenities
Richland Golf Club
Wiles Branch Dog Park
Middletown Park
Dempsey's Grille
Orchid Cellar Meadery & Winery
Heritage Walking Tours
Eldersburg
The community of Eldersburg is about 30 miles directly east of Fort Detrick, just west of Baltimore County. Eldersburg has around 30,000 residents. This area of Carroll County is surrounded by beautiful forests, and Eldersburg is bordered on the north and east by the Liberty Reservoir. Most of the commercial developments are centrally located along the major highways, and the rest of the town is residential. While it is close to a major metropolitan area, Eldersburg remains a quiet suburban place to live.
Most of the shopping in Eldersburg is concentrated along Liberty Road, especially near Sykesville Road. The town has five elementary schools, two middle schools, and three high schools. Outdoor activities are plentiful in Eldersburg, due to a number of parks, forested areas, and lakes. Piney Run Park and Piney Run Lake are extremely popular. Several farms in the area provide tours, fresh produce, and fun activities for guests of all ages.
The population of Eldersburg has been growing in recent years, which has led to the development of a lot of new construction homes and townhomes. Some simple starter homes can be found for less than $200,000, but prices of homes for sale in Eldersburg more commonly range from $300,000 to $700,000. The Sykesville neighborhood in Eldersburg has many luxury homes, which can range above $1 million in price.
Eldersburg Amenities
Piney Run Park
Morgan Run Natural Environment Area
Sykesville Historic District
Horseback riding at Sunny Knoll Farm
Top Gun Baseball Academy
Oscar's Alehouse
Germantown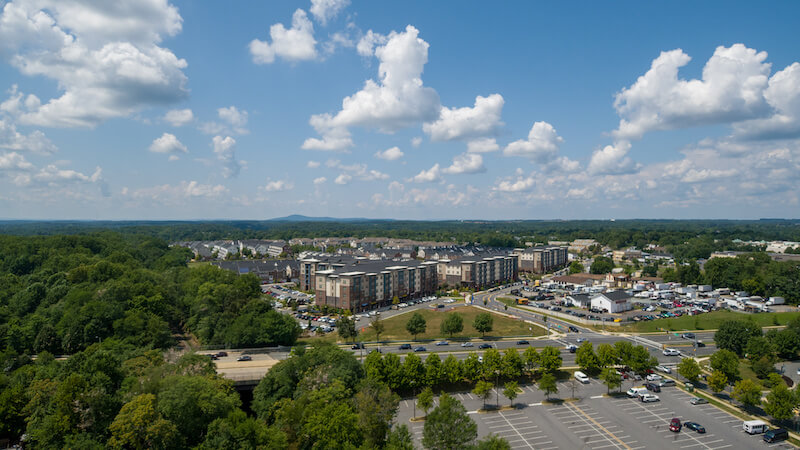 For those who want to live closer to Washington, DC, Germantown could be a good option. It is located about 25 miles to the southeast of Fort Detrick in Montgomery County. This census-designated area was founded in the 1830s and today has a population of more than 90,000 people. The community is divided into six smaller villages, each with its own residential character. There is shopping, entertainment, restaurants, parks, and outdoor adventures year-round for residents of Germantown.
The Blackrock Center for the Arts is the main venue in Germantown for live musical performances, theater shows, and art exhibits. Great Seneca Stream Valley Park is a great place for hiking, cycling, or birdwatching. There are nine bus routes and two rail routes for public transportation, and the community is considered highly walkable.
The average price range for homes in Germantown is in the 300s to 500s. It's a great location to get into a Colonial-style home, with its proximity to DC, although there are many contemporary homes on the market as well. Townhomes and starter homes begin in the upper $200s, while larger Germantown luxury homes can range from $900,000–$2 million. Waterfront homes occasionally come on the market along Lake Churchill or Little Seneca Creek.
Germantown Amenities
Blackrock Center for the Arts
Butler's Orchard
Black Hill Regional Park
Rita's Italian Ice & Frozen Custard
South Germantown SplashPark & Mini Golf
Damascus
Damascus is located about 25 miles east and slightly south of the main gate at Fort Detrick. This is another census-designated place in rural Maryland, with a population of slightly more than 17,000 residents. It's a popular community for kids to participate in equestrian and 4-H activities. Restaurants, shopping, and entertainment are all easily accessible. Those who want to enjoy an active, outdoor lifestyle will feel right at home in Damascus.
The Damascus Fair and the Damascus Art Festival are two of the biggest annual events in the town. Backyard gardening is very popular with residents, who get the chance to show off their wares at the fair or in the Damascus Farmers Market. Damascus Recreational Park provides courts for basketball, tennis, and volleyball, along with outdoor fields for softball, cricket, and soccer.
Housing tends to be more expensive in Damascus. Homes for sale in Damascus start in the 300s and can easily go into the multi-millions. Larger farm and horse properties with considerable acreage can cost up to $2 million. Even Montgomery County's new construction homes in Damascus can top $1 million in price. A lot of new home development is happening in Damascus due to increased demand.
Damascus Amenities
Out of the Box Stables
Damascus Farmers Market
Damascus Recreational Park
Damascus Community Recreation Center
Brazil Gourmet Pizzeria & Grill
Hornets Nest Grill
Woodsboro
Woodsboro is a small town less than 20 minutes to the northeast of Fort Detrick. With a population of just over 1,000 people, it is the smallest and most rural town in this guide. The Rosebud Perfume Company first opened its doors here in 1895, and it has been family-owned and operated ever since. The town has one elementary school. Older students have to commute to nearby Walkersville to attend public school.
There are a few local specialty shops along Main Street in Woodsboro. The town has a small Trout's Market and a convenience store. Frederick or Walkersville are close at hand for larger-scale shopping. Woodsboro is nestled at the foothills of the Appalachian Mountains, so there are ample hiking and outdoor adventures in the area. Trout fishing is popular during the spring. Most of the community comes out for sledding in the winter.
Homes for sale in Woodsboro cover a wide price range. Detached homes can sell in the $400s to $500s. Some luxury homes in the surrounding area can be purchased for closer to $900,000. It can be a challenge waiting for the right property to open up in this charming little town, but it can be worth the wait. Some lots are also available for those who want to build their dream home.
Woodsboro Amenities
Woodsboro Park
Glade Valley Golf Club
The Olde Towne Restaurant
Rosebud Perfume Company
High's Kitchen
Rosie Cheeks Distillery
Great Maryland Communities Near Fort Detrick
Proximity to Fort Detrick Army Base does not just signify closeness to a military establishment. The neighborhoods and localities nearby echo a rich tapestry of culture, convenience, and community spirit. These places have uniquely carved their niche, presenting an ideal blend of modern amenities and tranquil living spaces. As Fort Detrick remains a central fixture in Maryland, the surrounding regions continue to be coveted destinations for those seeking both utility and charm in their living environments.
Looking to live near Fort Detrick? Call The Bob & Ronna Group of Berkshire Hathaway HomeServices with Maryland Real Estate Advantage at (410) 465-4440 to speak with a real estate agent who can help you find the perfect home near Fort Detrick.