8 Best Places to Live Near Camp Fretterd Military Reservation: Enjoy Beautiful Homes & Short Commutes
Posted by Bob and Ronna Chew on Wednesday, June 21, 2023 at 12:46:37 PM
By Bob and Ronna Chew / June 21, 2023
Comment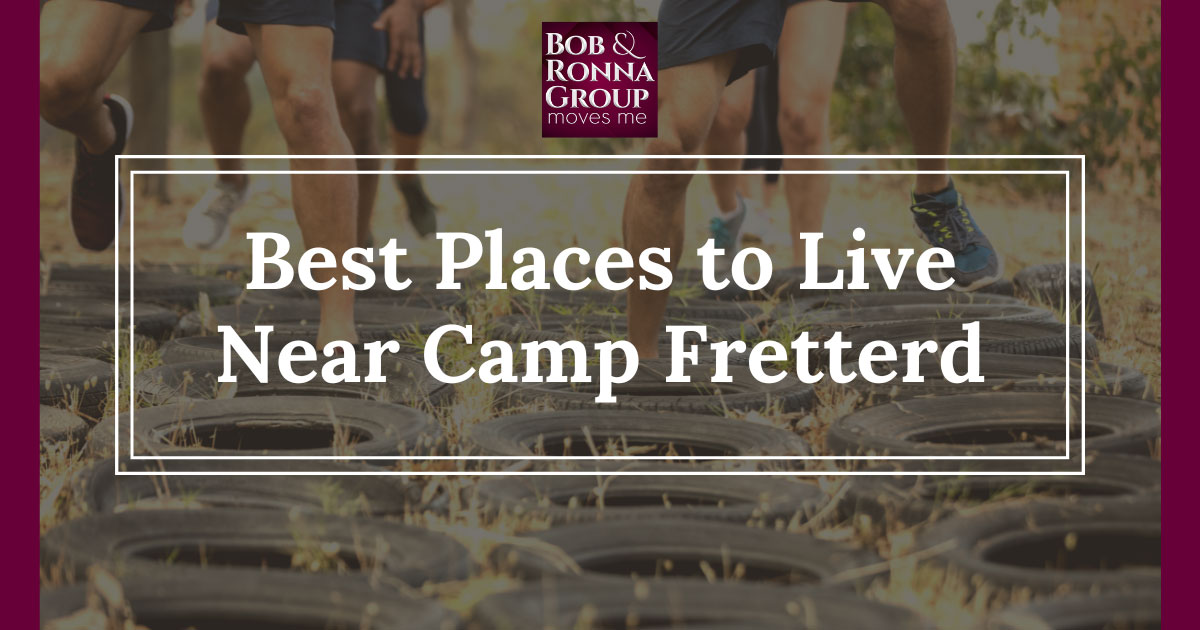 Located in Maryland, Camp Fretterd Military Reservation boasts a unique blend of military significance and natural beauty. This article explores the best places to live near Camp Fretterd Military Reservation, catering to a range of individuals seeking proximity to this facility. From tranquil suburban neighborhoods to bustling urban centers, the Baltimore County region surrounding the reservation—which is less than 30 miles northwest of the city of Baltimore—offers many options for those looking to settle down.
Sykesville
Just over 15 miles southwest of Camp Fretterd, Sykesville offers a compact yet surprisingly hip and historical place to call home that's convenient to Baltimore and DC. It offers residents a quaint, walkable downtown district along Main Street, near the South Branch of the Patapsco River. The area is home to popular local restaurants like E.W. Beck's and quirky independent shops, often housed in preserved 19th-century buildings alongside fascinating and informative historic sites. It's also the location of the city's many community events.
In addition, Sykesville is surrounded by numerous public green spaces and preserved areas, ranging from the Hugg-Thomas Wildlife Management Area to the McKeldin Area of Patapsco Valley State Park and many neighborhood parks. The town is also just a short distance from Interstate 70, allowing residents to zip into Baltimore or out to cities like Frederick and Hagerstown to the west.
Homes in Sykesville are primarily single-family detached properties, starting around $300s for modest ranches and split levels. Most sell from the mid-$400s to close to a million dollars for beautifully restored or newly built homes that can top 4,000–5,000 square feet in many cases. A smaller selection of townhomes is also available, typically selling in the $500s and $600s.
Sykesville Amenities
Walkable downtown shops and restaurants
Freedom Park
Millard Cooper Park
Hugg-Thomas Wildlife Management Area
Sykesville Community Garden
Owings Mills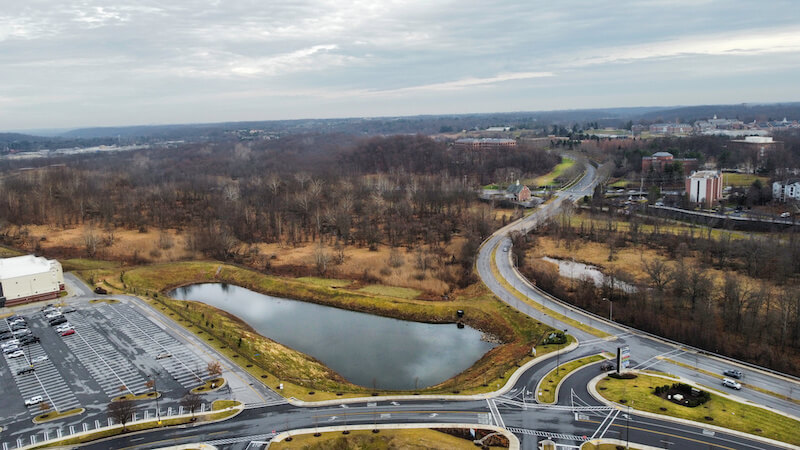 Sitting at the outer edge of the more developed areas ringing Baltimore, Owings Mills is a popular suburban community less than ten miles southeast of Camp Fretterd. The Owings Mills community straddles Interstate 795/Northwest Expressway, which provides quick access to both Camp Fretterd and the network of highways around Baltimore. The community is anchored around the Mill Station shopping complex, a sprawling, recently redeveloped area with dozens of shops and restaurants, green space, walking trails, and various everyday services and office space.
Lovers of the outdoors will enjoy Soldiers Delight Natural Area, a popular hiking spot, while sports fans can check out the Baltimore Ravens practice facility and training camp, which is held in the area every summer. It's also the last stop on the Baltimore Metro Subwaylink, allowing residents to enjoy the excitement and amenities of the city without the hassle of driving or parking.
Would-be Owings Mills buyers will find a variety of housing styles and price points throughout town, including condos, townhomes, and single-family detached properties. Owings Mills condos are the most affordable, selling from the low $100s into the $300s. Townhomes start at the top of this range, reaching close to half a million for the largest and newest options. Detached properties span the broadest price spectrum, from around $200,000 for modest two bedrooms to nearly $2 million for spacious Owings Mills luxury homes, often on multi-acre lots.
Owings Mills Amenities
Northwest Regional Park
Mill Station shopping mall
Convenient to Interstate 795/Northwest Expressway
Stevenson University
Eldersburg
Eldersburg may be expansive, but it offers members of the Camp Fretterd community a distinctly small-town feel roughly 13 miles southwest of the facility. Commercial development is centered around the intersection of Liberty and Sykesville Roads, home to numerous supermarkets, local restaurants like Oscar's Alehouse, and fun spots for the whole family like Stratosphere Social. Outside of this area, Eldersburg is almost entirely residential, other than the many nearby parks. These include Piney Run Park, which offers locals a 300-acre lake for fishing and boating, miles of hiking trails, or the even more expansive Liberty Reservoir nature preserve.
Single-family detached homes are the most common housing type available in Eldersburg. Characterized by a diverse mix of small and large, historic and new, homes for sale in Eldersburg start as affordably as the high $200s but can rise to as much as $1.5 million for the most expansive luxury properties. In addition, the more rural nature of the area makes it easy to find larger-than-average lots. Like many nearby communities, newer townhomes are available from the high $200s to the mid-$300s. Buyers may also find a limited number of two-bedroom condos, typically selling in the mid- to high $200s.
Eldersburg Amenities
Piney Run Park
Liberty Reservoir
Morgan Run Natural Environmental Area
Eldersburg Marketplace mall
Patapsco Valley Disc Golf Course
Reisterstown
One of the closest communities to Camp Fretterd, Reisterstown, is located immediately south of the facility, just two to three miles away. The town dates back to the mid-18th century and has retained much of this charm throughout the historic district, which runs along Main Street/Reisterstown Road. This 2.5-mile stretch running the length of town is lined with convenient shops and everyday services, mixed with a wide variety of restaurants, from The Grill at Harryman House (run out of an expanded cabin originally built in 1791) to international cuisine like the Georgian food of Little Georgia.
The strip also offers nearby park space, like the green areas of Roaches Run to the sports facilities of Hannah More Park. Meanwhile, the location adjacent to Interstate 795/Northwest Expressway provides easy and quick travel around the region.
Reisterstown offers would-be residents a wide-ranging mix of single-family detached homes, condos, and townhomes. On the low end, one- or two-bedroom condos in Reisterstown start in the low $100s, with townhouses selling from the mid-$100s and detached properties from the mid-$200s. Most Reisterstown homes sell from around $300,000 to the high $800s. However, luxury homes in Reisterstown reaching $1.5 million or more aren't uncommon.
Reisterstown Amenities
Historic district shops and restaurants
Roaches Run Park
BARC dog park
Reisterstown Sportsplex
Convenient to Interstate 795/Northwest Expressway
Hampstead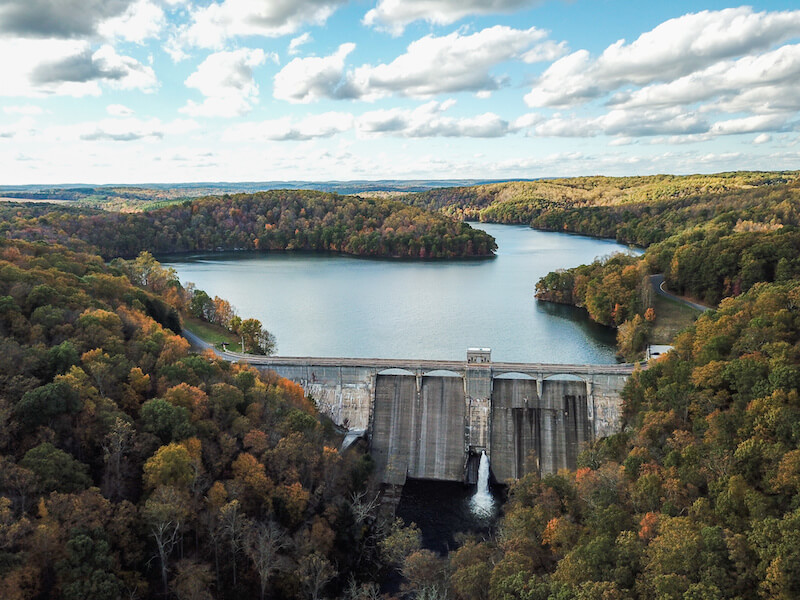 Hampstead is the northernmost choice among area communities, sitting a short drive from the Pennsylvania border and approximately eight miles north of Camp Fretterd, a quick drive along Hanover Road/State Route 30. The town is also built around this road, with residential neighborhoods flanking commercial areas along the main strip. This central area includes extensive shopping options, popular chain restaurants, and local favorites like Greenmount Station.
There are also numerous parks in town, making it easy for residents to enjoy the beautiful Maryland scenery. Those willing to make a short drive northeast will also find Prettyboy Reservoir Park, a top spot for hiking, hunting, fishing, and other outdoor pursuits.
Despite its relatively rural location, homes in Hampstead consist of a variety of options, including condominiums, townhomes, and single-family detached houses. Detached properties are the most common, starting around $200,000 but selling over a wide range up to as high as a million dollars. Semi-attached townhomes typically list from the high $200s to the low $300s, while condos offer the most affordable options from the high $100s.
Hampstead Amenities
Lions Club Park
Panther Park
Coppermine Pantherplex recreation center
Coppermine Cascade Park
Piney Branch Golf Course
Carroll County Public Library - North Carroll Branch
Westminster
The Westminster area, located just under 15 miles northwest of Camp Fretterd, is rich in history dating back over two and a half centuries, including Civil War skirmishes. Today, it's known as a top outer Baltimore suburb and the site of many of Carroll County's best attractions and amenities. Multiple shopping centers, higher educational institutions, a hospital, and even an airport prove this isn't just any old small town.
In addition, residents can stroll the thriving downtown area along Main Street, lined with local shops and restaurants like the Chesapeake Bay-focused RockSalt Grille, as well as the popular Carroll County Arts Council, which hosts shows, art exhibitions, and other cultural events. Westminster also provides many neighborhood parks and larger city parks like Westminster Community Pond, meaning green space is usually just steps away from owners' front doors.
Homes in Westminster are primarily single-family detached properties, except for a few townhouse communities. Prices start in the mid-$200s for modestly sized one-story homes and are available consistently through a range up to around $700,000. Westminster new construction homes are also available, sometimes reaching $1 million or more. In addition, those who'd like to build their dream home can find vacant land in Westminster available from as low as $50,000 to the mid-$300s.
Westminster Amenities
Westminster Community Pond
Landon C. Burns Park
TownMall of Westminster shopping center
Carroll Community College
Carroll Indoor Sports Center
Carroll Hospital Center
Carroll County Regional Airport
Pikesville
Pikesville takes its name from explorer Zebulon Pike, for whom Colorado's Pikes Peak is also named. It straddles the Baltimore Beltway, making it highly convenient to the city's many attractions, from cultural spots like museums and the famous National Aquarium to a wide selection of restaurants, nightlife, shopping, and other services.
Residents don't need to drive, as the area is connected to Baltimore's Metro SubwayLink network. Still, it remains an easy drive to Camp Fretterd, just under 15 miles northwest of town. As one of the denser and more developed suburbs, owners are never far from everyday shopping and services, located in several shopping centers spread throughout the town.
Buyers shopping in Pikesville will find a mix of single-family homes, townhouses, and condos. Typical detached homes in Pikesville start around $200,000, with most selling from the mid-$300s to the mid-$800s. Luxury properties can reach $1.25 million or more. Condos and other multifamily units can be found as affordably as under $100,000, while higher-end options list for as high as half a million dollars.
Pikesville Amenities
Convenient to Baltimore
Blue Stone Park
Adjacent to Interstate 83/Jones Falls Expressway, 695/Baltimore Beltway
Baltimore Metro SubwayLink access
Multiple country clubs/golf courses
Finksburg
Another highly convenient place to call home for members of the Camp Fretterd community, Finksburg is just five miles west of the facility, wrapped in the northern end of Liberty Reservoir. It's the smallest locale among these top choices, comprising just a few residential streets on either side of Baltimore Boulevard/State Route 140.
While Finksburg provides the quiet escape some would-be owners are looking for, it's nevertheless just a few minutes drive from Reisterstown's many restaurants, bars, shopping opportunities, and more. Those looking to grab a bite in Finksburg have great choices, including Taqueria El Guacamole. Finksburg also provides easy access to plentiful green space around Liberty Reservoir and in town at Roaring Run Community Park.
Finksburg housing comprises single-family detached homes, split between older or historic properties and large, newly-built luxury homes. The former list from the mid-$200s, topping half a million for recently renovated or updated choices. The highest-end homes in Finksburg sell for north of $1 million, offering 3,000–6,000 square feet of living space, spacious lots, and a diverse mix of luxury features inside.
Finksburg Amenities
Roaring Run Community Park
Liberty Reservoir access
Convenient to Reisterstown dining and shopping
Finksburg Plaza Shopping Center
There's Something for Everyone Around Camp Fretterd
With its rich history, stunning landscapes, and many amenities, the areas surrounding Camp Fretterd Military Reservation in Maryland offer several enticing living options. From the peaceful charm of suburban neighborhoods to the dynamic energy of urban centers, this region ensures something for everyone. Whether it's the convenience of nearby job opportunities or the opportunity to explore the surrounding area's natural beauty, moving to Baltimore County in the Camp Fretterd region can encourage a high quality of life.
Looking to live near Camp Fretterd Military Reservation? Call The Bob & Ronna Group of Berkshire Hathaway HomeServices with Maryland Real Estate Advantage at (410) 465-4440 to speak with a real estate agent who can help you find the perfect home near Camp Fretterd.