8 Best Places to Live Near Aberdeen Proving Ground: Off-Base Housing Made Easy
Posted by Bob and Ronna Chew on Thursday, May 4, 2023 at 12:56:29 PM
By Bob and Ronna Chew / May 4, 2023
Comment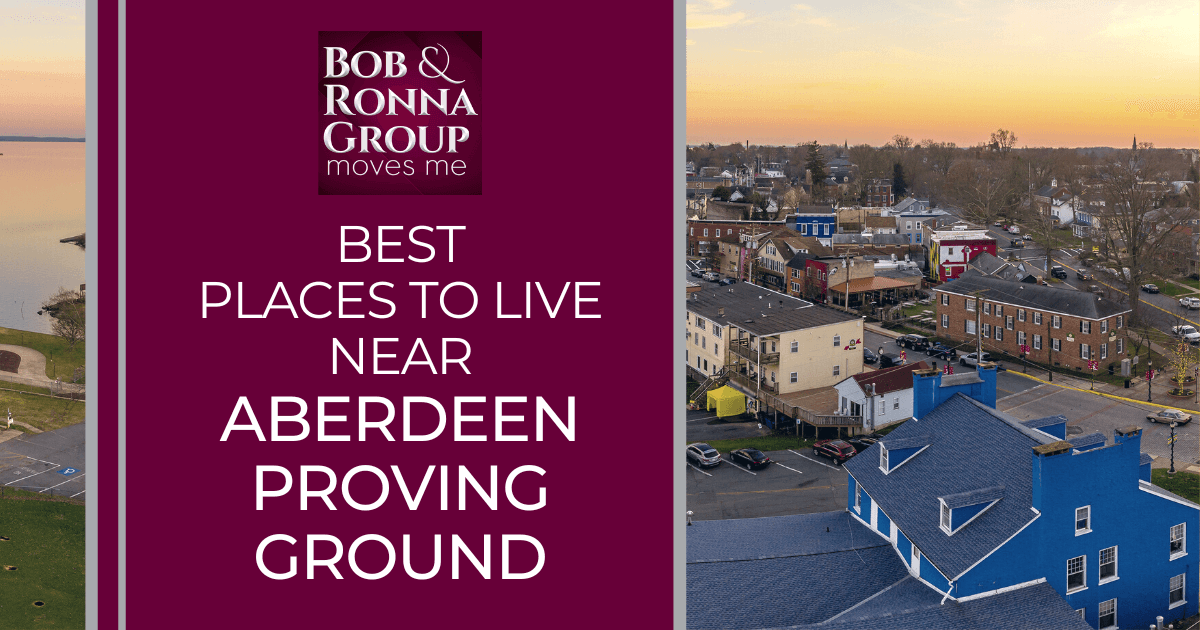 Finding suitable off-base housing is essential for military personnel stationed at the Aberdeen Proving Ground in Harford County, Maryland. While the base offers on-base housing options, many prefer the convenience and flexibility of living off-base. Fortunately, the Aberdeen Proving Ground area provides a range of communities catering to military personnel and their households' needs. This guide will explore some of the best communities for off-base housing near the Aberdeen Proving Ground for military members stationed there or for anyone moving to Harford County.
Perryville
Perryville is a small town near the Susquehanna River, about 14 miles north of the Aberdeen Proving Ground. The town was first established in the 1600s, and historic buildings still stand, including the oldest home: a Greek Revival structure built in 1810 for the Coudon family.
Due to the ongoing improvements, many neighborhoods have an eclectic mix of modern and classic home styles. When buying a home in this area, homebuyers will see average home prices at around $300,000. Rent ranges from $1,000 to $1,800 monthly, depending on the rental style, amenities, and location.
Upon moving here, many people love all the things to do on the water and at local attractions, like Great Wolf Lodge. When a day out on the water calls, boaters can launch their watercraft at Owens Marina or the Perryville Boat Ramp to the north. Fishing is good right off the pier, too, sending many residents south to Perryville Community Park.
Great Wolf Lodge never fails to delight visitors with their full-scale waterpark and resort accommodations. Kids and adults can play in the park to their heart's content, giving them a great place to escape it all while staying close to home.
Perryville Amenities
Food Lion
Hollywood Casino Perryville
Johnny's Sushi House
5th Company Brewing
Trego Field
Bel Air
Bel Air is a quaint town located approximately 18 miles away from Aberdeen Proving Ground. The area slowly evolved through the late-1700s and beyond, transforming from rolling fields to a charming town centered around the local courthouse. Shops, restaurants, and service centers filled the town from there, along with many beautifully designed neighborhoods.
Homes for sale in Bel Air typically list from the $400s. Bel Air condos can be found in the $200s, but options are limited at this price point. Residential architectural styles range from Cape Cod dwellings to traditional ranch houses, and the luxury homes in Bel Air tend to be farmhouse or Georgian revival. Renting a home costs about $1,600 per month on average for a one-bedroom unit.
Upon moving to this city, residents enjoy shopping, dining, and outdoor recreation opportunities whenever they want to leave the house. For the ultimate shopping and dining experience, they just have to go over to the Harford Mall. Over 35 stores and kiosks make it easy to find whatever's on the list, while 10 excellent restaurants are always ready to help visitors satisfy their cravings.
When it's time to get outdoors, residents have their choice of six local parks, including Aquila Scott Park near The John Carroll School. This park features all the sports fields and courts visitors could want and a track for walking, jogging, and running.
Bel Air Amenities
Looney's Pub
Vagabond Sandwich Company
Jurassic Golf and Arcade
Ma & Pa Heritage Trail
Rockfield Park
Havre de Grace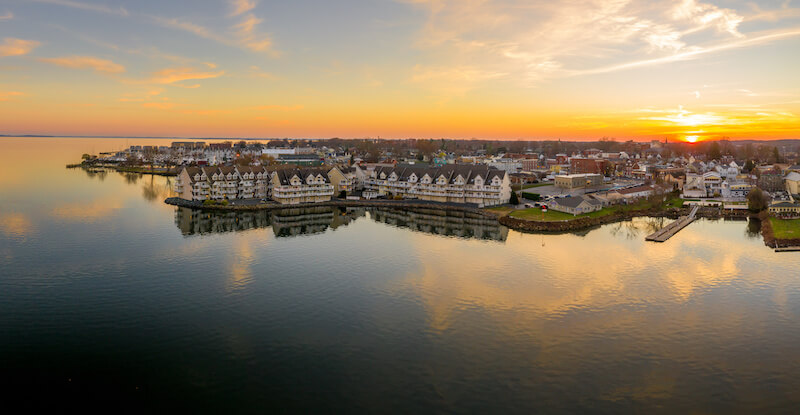 Havre de Grace is a small city located about 12 miles from the Aberdeen Proving Ground. Historic homes surround the city center, while the rest of the town features sprawling neighborhoods and a vast golf course. Homebuyers can expect to see median sale prices in the $350,000 range for homes in Havre de Grace. When renting a home, prices range from $1,300 to $1,700 a month.
Living here puts residents near the Susquehanna River and the bay beyond. Waterfront activities are always on tap, including fishing off the banks of the river and boating in the bay. Going to the waterfront also allows residents to check out the Skipjack Martha Lewis near Frank J. Hutchins Memorial Park.
When residents want to stick to dry land, they can always have fun in the Bulle Rock neighborhood at the Bulle Rock Golf Course. This 18-hole course has a challenging yet player-friendly layout that's a sight to behold. Tall meadow grass, evergreen groves, and ponds surround the well-maintained fairways, creating picture-perfect views.
Visitors can stop by the Gourmet Pub & Grill between games for delicious eats and an even better view of the landscape. Although their regular menu is excellent, their brunch menu brings in the crowds, ready to snack on their ever-popular Crab Cake Sandwiches and so much more.
Havre de Grace Amenities
Weis Markets
Water Street Seafood
Friends-Concord Point Lighthouse
Millard Tydings Memorial Park
Lock House Museum
Perry Hall
Perry Hall is an unincorporated area about 25 miles west of Aberdeen Proving Ground. Although nearly 30,000 people live in the area, this town has endless small-town vibes that make everyone feel welcome from the very start. Community members take great pride in their homes, often working with the Perry Hall Improvement Association to make beneficial upgrades.
Their combined efforts have been in effect since 1945, resulting in a beautiful mix of new and well-maintained older buildings all across town. As far as the residences go, home designs range from Craftsman-style homes to modern split levels. Homes in Perry Hall typically list from the $400s. Condos are $185,000 on average, while Harford County townhomes in Perry Hall list from $280,000. Renting a home costs anywhere from $1,500 to over $2,000 monthly.
Moving to Perry Hall is an excellent choice for people who love the outdoors. Gunpowder Falls State Park is only a short drive away, ensuring residents are never far from enjoying bike rides, fishing excursions, and kayaking trips. On the north side of town, residents can easily reach the trailhead for the Gunpowder Falls State Park hiking area. For indoor sports fun, AMF Perry Hall bowling alley has good times for all ages and snacks to match.
Perry Hall Amenities
Giant Food
Mission BBQ
Outback Steakhouse
Tropical Smoothie Café
Sparky's Music Studios
Belcamp/Riverside
Belcamp/Riverside sits about 10 miles due west of the Aberdeen Proving Ground. In this small town, residents enjoy a tight-knit community feel and a genuinely welcoming atmosphere wherever they go. All the neighborhoods are arranged in cul-de-sacs, featuring attractive modern homes with reasonably spacious yards.
Homes for sale in Belcamp/Riverside list from the $200s to the $500s. If you prefer to rent a home, the average monthly prices for a two-bedroom unit are in the $1,600 range.
Since much of the city stretches along the banks of the Bush River, living in Belcamp's waterfront homes gives residents ample opportunities for fun on the riverside. Residents just have to travel to the private beach near Water Edge Condominiums to dip in the water. More swimming adventures are available with a quick drive north to the Aberdeen Family Swim Center.
When residents would like to put their boat in the water, all it takes is a trip south to the ramp at the Bar Harbor RV Park and Marina. The fishing is good in the river, often resulting in anglers reeling up largemouth bass, white perch, and channel catfish one after another.
Belcamp/Riverside Amenities
Boulevard Bistro
Waters Edge Events Center
Bush Declaration Natural Resources Management Area
Riverside Community Center
Plaza Mexico
Canton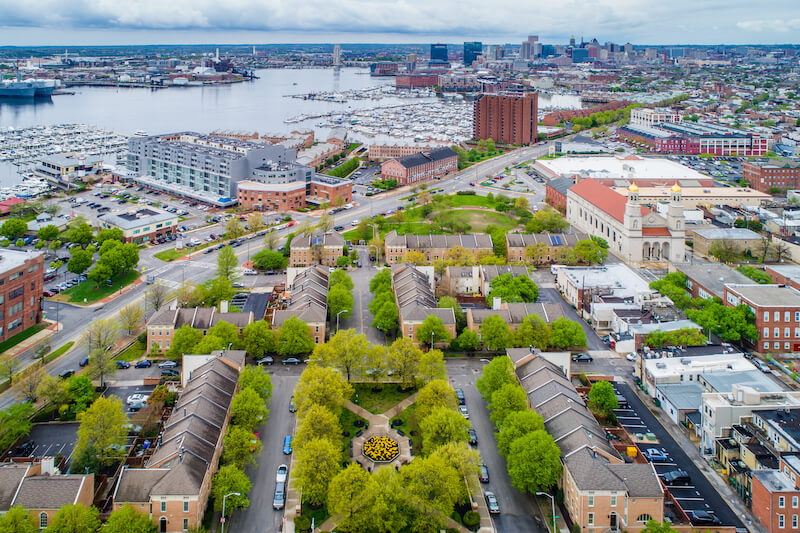 Canton is an area of Baltimore located about 35 miles from Aberdeen Proving Ground. This community sits on the Patapsco River waterfront and features many of the trendiest eateries in town. Beautifully remodeled row houses fill most of the space, along with several beautiful parklands here and there.
On average, Baltimore homes in Canton sell for around $340,000, depending on their floor plan and amenities. When renting a home, residents can expect to pay about $1,500 a month for a one-bedroom unit. A three-bedroom apartment is closer to $2,000 per month.
Living here makes it easy for residents to zip to the downtown area for shopping, dining, and much more. The neighborhood also has many excellent eateries, including Pho Bac, Mama's On the Half Shell, and The Chasseur.
When residents want to enjoy scenic views of Fort McHenry, Canton Waterfront Park is the place to be. Visitors can pay their respects at the Korean War Memorial and stroll along the promenade at this park. For even more waterfront adventures, they can go to the pier to catch the water taxi and enjoy a sightseeing tour to remember.
Canton Amenities
Tutti Gusti
Smaltimore
Verde Pizza Baltimore
The Shops at Canton Crossing
Corner Juice Bar
White Marsh
White Marsh is around 24 miles southwest of Aberdeen Proving Ground. This unincorporated community features the perfect balance of commercial and residential lots. Much of the city is dedicated to the White Marsh Mall, which allows residents to fill the day with shopping, dining, and entertainment.
Upon moving here, the mall is often the first stop residents make. With over 190 specialty shops and six anchor stores, visiting the mall can take up the whole day. The popular specialty shops include Forever 21, Journeys, Lids, NYS Collection Eyewear, Pink, Torrid, Zales, and Bath & Body Works. Ikea and Target are anchor stores.
Visitors can recharge by stopping by any eateries onsite, like Master Wok, Red Robin, and Sarku Japan. Endless entertainment, including arcade games at Dave & Busters and movies at AMC Theaters, is also available. Residents love to go to iFLY Indoor Skydiving for a chance to fly high and do cool tricks mid-air.
Well-planned residential neighborhoods allow all residents to live near the mall. Stately modern homes sit side by side in the neighborhoods, although everyone has a reasonably sized yard to enjoy. Homes for sale in White Marsh have a median listing price in the high $500s. Average rental rates are $1,500 a month.
White Marsh Amenities
T.J. Maxx
Giant Food
Pine Valley Swim and Tennis Club
Dick's Sporting Goods
TGI Fridays
Nottingham
Nottingham is located about 25 miles southwest of Aberdeen Proving Ground. This unincorporated area is across the John F. Kennedy Memorial Highway from the White Marsh Mall. Residents enjoy ample shopping and dining options, but they have to circle the freeway through White Marsh Boulevard to get there.
When moving here, residents have a nice mix of single-family homes and apartment complexes to consider. The median listing price for homes in Nottingham is around $430,000. On the other hand, rentals are about $1,400 a month on average for a one-bedroom apartment.
As with the White Marsh area, the mall is a significant attraction, often inspiring residents to window shop and grab a bite to eat whenever they have a spare moment. Seeing the latest flicks at AMC Theaters is also a great way to spend the day.
When residents want to get outdoors, they can head to Nottingham Park. This beloved greenspace has dedicated picnic areas and pavilions that residents often use for birthday parties and other celebrations. There are also athletic fields, baseball diamonds, and playgrounds for people of all ages to enjoy together.
Nottingham Amenities
CCBC Essex Stadium
Lowe's Home Improvement
QDOBA Mexican Eats
Duck Donuts
CAVA
Endless Excellent Options for Off-Base Housing
There are many excellent communities for off-base housing near the Aberdeen Proving Ground in Maryland in Baltimore County, Harford County, and more. Military personnel and their families have a range of options, each offering unique advantages. Some communities provide easy access to shopping and dining options, while others offer peaceful living in the countryside. When choosing a community, it is essential to consider factors such as commute time, school districts, and amenities. By doing so, military personnel and their families can find a community that meets their needs and offers a comfortable living experience while stationed at the Aberdeen Proving Ground.
Preparing to move near the Aberdeen Proving Ground? Call The Bob & Ronna Group of Berkshire Hathaway HomeServices with Maryland Real Estate Advantage at (410) 465-4440. Our local real estate agents can help you find the perfect home near the Aberdeen Proving Ground.