6 Best Parks in Ellicott City, Maryland
Posted by Bob and Ronna Chew on Tuesday, September 7, 2021 at 11:00 AM
By Bob and Ronna Chew / September 7, 2021
Comment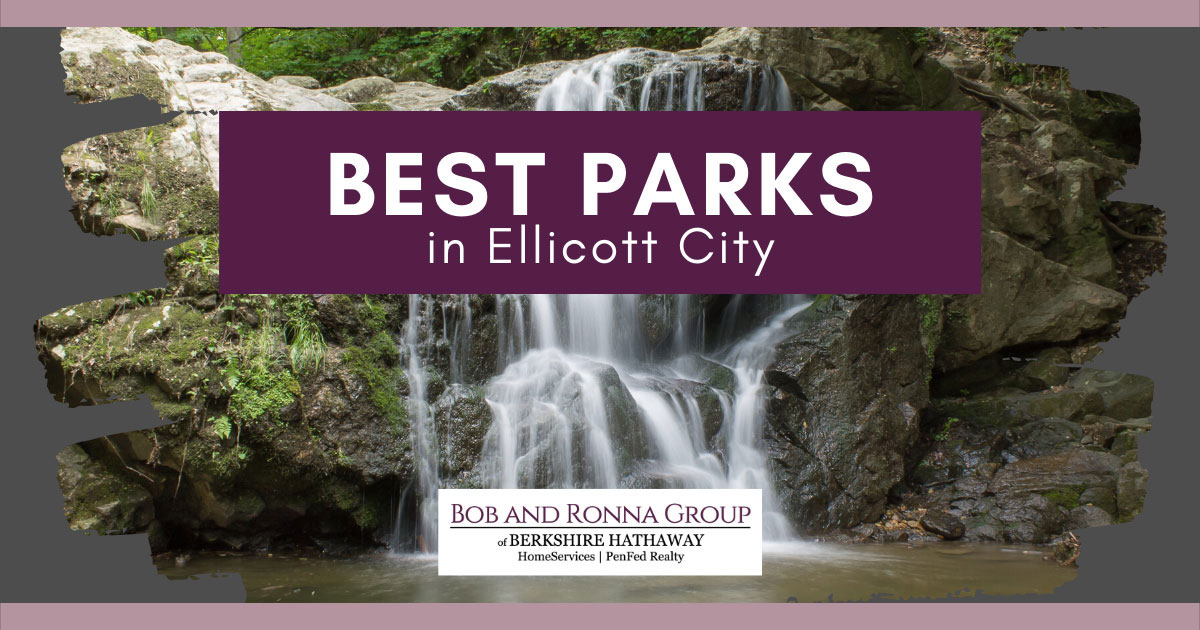 The charm and appeal of the Ellicott City community aren't lost on those who live here, nor can visitors deny the relaxed feel of the community. Ellicott City streets are lined with historic townhomes, shops, eateries, and key service businesses. Progress hasn't impeded the city's appreciation for nature, so read on to discover the best parks in Ellicott City for locals and travelers to enjoy.
Patapsco Valley State Park Has it All
Patapsco Valley State Park Amenities
16,000 acres
Disc golf
Fishing
Multi-use trails
Playgrounds
Picnic shelters
Campground
First established in 1907 as Patapsco State Forest Reserve and now known as Patapsco Valley State Park, this is the very first state park in Maryland. Lands extend for 32 miles along the river and encompass just over 16,000 acres of woodlands and open spaces. This historical park features old outbuildings, swinging bridges, and cascading falls along with the typical park amenities one expects.
These features vary throughout eight distinct recreational areas in the park. The McKeldin Area is where visitors can find a disc golf course, fishing spots along the river, and several multi-use trails for hiking, mountain biking, and horseback riding. The Daniels Area is where an old mill town called Daniels once stood. Today, it's a respite for swimmers, kayakers, canoeists, and anglers.
The Pickall Area has playgrounds and picnic shelters for day use. The Hollofield Area is in the park's center and features a 70+ site campground that has a few shelters. Hiking trails through the valley surround the site. The Hilton Area has mini-cabins along with tent spaces. There's a large playground, a nature center for kids, a tire fun zone, and trail access points.
The other four areas are Avalon, Glen Arney, Orange Grove, and the Flour Mill. This is where historical sites like the Swinging Bridge, the old Mill, the Arch Bridge, and the Thomas Viaduct are located alongside trails and a pier for fishing and launching non-motorized boats.
Patapsco Valley State Park Additional Information
Phone: 410-461-5005
Hours: 7 a.m.–Dusk (Without Overnight Permit)
Visit the Lake at Centennial Park
Centennial Park Amenities
337 acres
Stocked 54-acre lake
Seven miles of trails
Picnic pavilions and tables
Playgrounds
Sports courts and fields
Skate park
Centennial Park was opened in 1987 as a place for locals and visitors to play the day away with Ellicott City's outdoor sports, hikes, boating, fishing, and much more. This 337-acre area of wooded and open spaces has a stocked 54-acre lake surrounded by over 7 miles of interconnected paved trails. Many Ellicott City residents use the paths to travel to nearby communities and local attractions.
Four main areas comprise Centennial Park, with the South Area being the most popular for gatherings. It's right next to the lake and open to boaters from March through November. There are several picnic pavilions and tables as well as a playground, volleyball courts, and a 2.6-mile paved pathway. The West Area has a ball field, basketball courts, tennis courts, a playground, and hiking trails.
The North Area has a skate park, ball fields, numerous sporting courts, natural areas, playgrounds, and trail access. The East Area is where visitors will find horseshoe pits, volleyball, tennis, and basketball courts near a covered pavilion.
Centennial Park Additional Information
Phone: 410-313-7271
Hours: Daily 7 a.m.–Dusk
Tails Are Wagging at Worthington Dog Park
Worthington Dog Park Amenities
Off-leash
Separate enclosed areas if needed
Dog training
Agility trails and equipment
Sitting areas for owners
Water stations in warmer months
Open year-round save for days of highly inclement weather, the off-leash Worthington Dog Park has something to entertain dogs of all sizes and breeds. The rules are simple. No children under 12 are permitted in the fenced-in zones, and handlers must be 18 or older. Proof of vaccinations and a current license are required, and guests must pick up after pets. The park has a fee for use, but it's well worth it.
There are enclosed areas dedicated to small, timid, or elderly dogs, and a space for larger and more frisky dogs. Some fenced-off smaller areas are for rent, as well. Dog training is available at Worthington Dog Park, and there are agility trails and equipment. Benches, chairs, and a covered shelter are available for owners, and water stations operate during the warmer months. Owners should bring their own water containers.
Worthington Dog Park Additional Information
Phone: 410-313-4455
Permit Fee: Daily Permit $5, Annual Permit $40 (up to 3 dogs)
Meadowbrook Park is Fun and Relaxing
Meadowbrook Park Amenities
Sporting fields and courts
Hiking trails
77 acres
Meadowbrook Athletic Complex
Meadowbrook Park is home to several sporting fields, hiking trails, and playground facilities. This 77-acre treasure has an open play area with an accessible playground that is oversized for big fun. There are three baseball fields, two basketball courts, and two tennis courts, and this is also the home of the community's prized Meadowbrook Athletic Complex.
Throughout the park are 2.5 miles of pathways and sidewalks. Meander the trail to see wildlife, including various species of hawks. It's a birder and photographer's paradise. There are restrooms and water fountains. Parking, as well as park access, is free.
Meadowbrook Park Additional Information
Font Hill Wetland Park is a Natural Retreat
Font Hill Wetland Park Amenities
25 acres
Two wetland ponds
Lots of wildlife
Pathways and boardwalks
Playground
Benches and tables
There are 25 acres of land and two wetland ponds at Font Hill Wetland Park. Both ponds and the shorelines are teeming with wildlife, including numerous birds and the largest list of dragonfly species in Howard County. Completed in 1997 as the first wetland park in the county, visitors love the abundance of wildlife here.
The two interconnected ponds boast a cattail marsh, wooden boardwalks and bridges, and small off-shooting streams. The ponds and streams are home to many wildlife species, including nutria, foxes, beavers, snakes, and deer, and bird species are abundant. Some of the more notable are the yellow-crowned night heron, Candian goose, white-winged crossbill, marsh wren, peregrine falcon, northern shoveler, and yellow-bellied flycatcher species.
There are 0.7 miles of mostly flat paved pathways and boardwalks that are wheelchair accessible. There is a small playground as well as benches and tables for resting and feasting. Many love visiting here right at dusk in the summertime to see incredible numbers of fireflies illuminating the trees. The park has after-dark exceptions so that visitors can enjoy the light show.
Font Hill Wetland Park Additional Information
Hours: 7 a.m.–Dusk
Annual Dues for Use: $25, with optional donations
Play it Up at Kiwanis-Wallas Park
Kiwanis-Wallas Park Amenities
Nine baseball fields
Three softball diamonds
Most have covered dugouts and are fenced in
Batting cages
Snack bar
Shaded pavilion
Sports fans and athletes have made Kiwanis-Wallas Park a home away from home. There are an impressive 9 baseball fields with different sizes to accommodate everything from T-Ball to full-field tournaments. The park boasts 3 softball diamonds, two of which feature lighting for night games. Each field is pristinely maintained, from the grassy infields to the raised dirt mounds and bases. All fields are up to tournament standards, making the park a top choice for local ball groups of all types.
Almost all of the fields have covered dugouts, and most are fully fenced in. Kiwanis-Wallas Park is ultra-convenient for batting practice with three cages onsite. There's a snack bar when games are going, clean restrooms, and a shaded pavilion. This is a great place to relax, hold a team meeting, or practice for an upcoming game. Parking is plentiful, and admission is free.
Kiwanis-Wallas Park Additional Information
Phone: 410-313-2636
Hours: Daily 7 a.m.–10 p.m.
Parks and Open Spaces Abound All Around in Ellicott City, Maryland
Living in Ellicott City is highly desirable, as it is a smaller community with easy access to the city of Baltimore, the Annapolis community, and Washington D.C. Commutes from Ellicott City are reasonable, and housing options are plentiful. Attractions include shopping, dining, museums, and, of course, amazing parks.
Many of these parks are pet-friendly and encompass plenty of playgrounds, groomed trails, and water recreation options like fishing and swimming. Bring a picnic and spend the day soaking in the natural world and the fresh air of Ellicott City. Between the parks and nearby oceans in surrounding communities, the glories of the outdoor realm are always nearby.
If you're looking for your Ellicott City dream home, contact The Bob & Ronna Group of Berkshire Hathaway HomeServices with Maryland Real Estate Advantage at (410) 465-4440 to get in touch with an Ellicott City real estate agent who can help find the perfect place for you.