6 Best Parks in Annapolis, MD: Find Your Favorite Local Park
Posted by Brian Alexander on Monday, January 24, 2022 at 8:29 AM
By Brian Alexander / January 24, 2022
Comment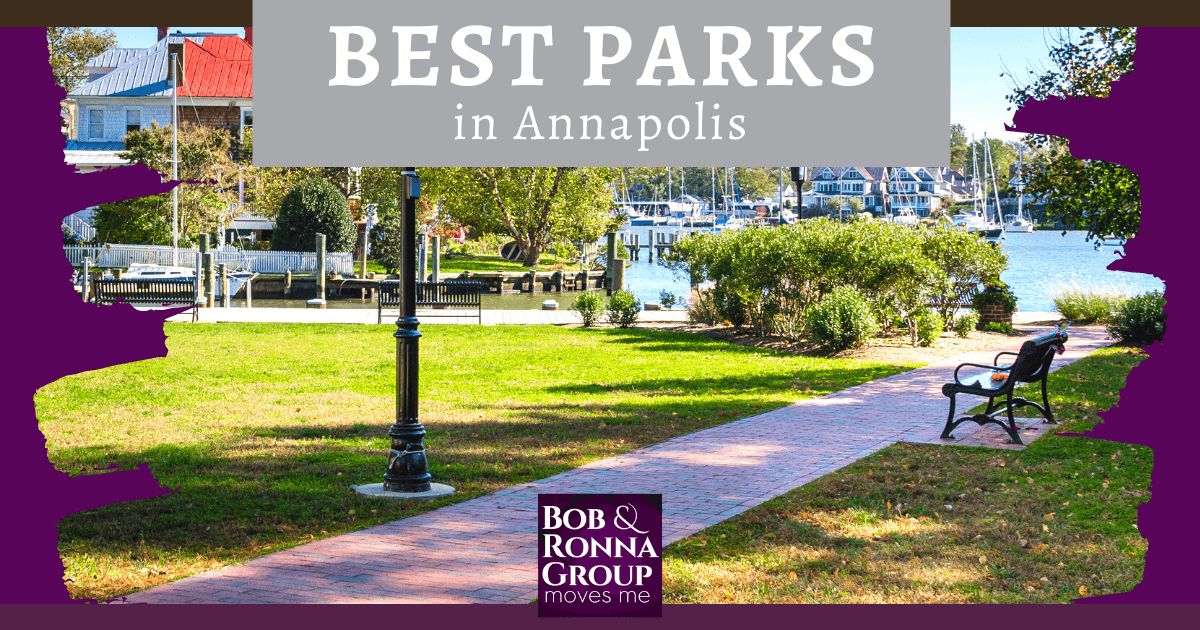 Situated at the mouth of Severn River on the Chesapeake Bay, the city of Annapolis is one of the best places to live for people wanting to live near Washington, D.C., or the city of Baltimore. Founded in the 1600s, it's also a city filled with rich American history. Those who enjoy outdoor activities will be happy to learn that Annapolis has many fantastic parks. Keep reading to discover some of the best parks in Annapolis, Maryland.
Quiet Waters Park
Quiet Waters Park Amenities
Pavilions for rental
Dog park and beach
Reading and Butterfly Garden
Trails
Quiet Waters Park is a 340-acre green space located in the far south of Annapolis. It's just west of the lovely waterfront homes in Hillsmere Shores, one of the most popular neighborhoods in Annapolis. The park has several outdoor pavilions that can be rented for group gatherings and barbecues. There is a large designated dog park and dog beach located at the far southern end of the park, near Loden Pond and the north bank of the South River. It also has a Reading and Butterfly Garden near the park's Visitor Center, with playground equipment for kids. This lovely park has several miles of trails for walking, hiking, or bird watching.
There is a $6 parking fee at Quiet Waters Park ($5 with a handicapped permit, free parking for active-duty military). The park is open every day from 7 a.m. until dusk. The Visitor Center's hours are from 9 a.m. to 4 p.m. on weekdays and 10 a.m. to 4 p.m. on weekends.
Jonas and Anne Catharine Green Park
Jonas and Anne Catharine Green Par Amenities
Shade from trees
Picnic tables
Paved walking paths
Fishing pier
Boat launch
Jonas and Anne Catharine Green Park is located just across the Naval Academy Bridge on the north side of the Severn River. While this park does not have playground equipment, it does have a number of shade trees, picnic tables, and paved walking paths. The main draw at this park is that it offers water access to the Severn River. There is a 288-foot pier where fishing is allowed; striped bass, white perch, spot croaker, and channel catfish are the main species that anglers catch here, and there are many additional species in the Severn. The park also has a public boat launch. Depending on the time of year, the launch is 50 to 100 feet from the parking area.
There is no parking fee or entrance fee to use this park. Hours of operation vary depending on the season, but it is open seven days a week.
Truxtun Park
Truxtun Park Amenities
Swimming pools
Tennis and pickleball courts
Skateboard park
Baseball fields
Shaded pavilions
Boat launches
Locals love Truxtun Park because it's situated right in the center of Annapolis, surrounded by townhomes and green space. This park provides a lot of activities for Annapolis residents. It has two seasonal swimming pools, tennis and pickleball courts, a skateboard park, two baseball fields, and several shaded pavilions for picnics. Dogs are welcome in Truxtun Park, so long as they are leashed. At the end of Truxtun Park Road, two easy-access boat launches are open to the public and first-come, first-serve. The boat ramps launch into Hawkins Cove, which feeds directly into Spa Creek and then Annapolis Harbor. There is a $5 per-boat fee to use the ramps, though the beach launch is free to use.
There is no parking or entrance fee at Truxtun Park, although there is a small charge to use the swimming pools. The park is open from sunrise to sunset.
Broad Creek Park
Broad Creek Park Amenities
4.7-mile trail
Leashed dogs allowed
Birdwatching
Nature views
For those who want a no-frills outdoor adventure, Broad Creek Park is their best bet. It's located directly behind Annapolis High School, on the western side of Annapolis. There are no amenities at this park, but plenty of trees. It has a 4.7-mile unpaved walking trail that locals describe as "rugged and woodsy." The hike on Broad Creek Trail is classified as "moderate" difficulty. Broad Creek itself borders the western edge of the park, which feeds into the South River. Leashed dogs are welcome to accompany their owners on a hike or jog. The trail follows a loop around the park, so visitors won't get lost. The park feels secluded, and visitors can't even hear the nearby traffic once they get into the woods. Birdwatching and nature views are the main draws at Broad Creek Park.
There are no parking or use fees at Broad Creek Park. The park's hours are from sunrise to sunset, seven days a week.
Susan Campbell Park
Susan Campbell Park Amenities
Brick plaza
Harbor views
Firework celebrations
Naval Academy Concert Band music
Susan Campbell Park is a community gathering spot for major city events in Annapolis. This brick plaza is also a lovely spot to sit on a bench under a tree and enjoy the beautiful views of Annapolis Harbor. The park is located in the downtown area, with many local shops and restaurants nearby. The park is the location of the city's annual fireworks celebrations on New Year's and Fourth of July. The Naval Academy Concert Band plays live music occasionally, and the park is the launching point for several different annual activities.
The park is a great spot to take a break after shopping and browsing the downtown area. No matter what time of year it is, visitors are sure to get a great view of the water and the many boats on the harbor.
Waterworks Park
Waterworks Park Amenities
Three freshwater ponds
11 miles of trails
Wildlife sightings
Waterworks Park is a 600-acre wooded area that is mostly undeveloped. The park has three freshwater ponds where catch-and-release fishing is allowed. The park surrounds the Old Annapolis City Reservoir and has approximately 11 miles of unpaved trails for walking, hiking, biking, bird watching, and dog walking. Note that the hiking trails are not directly accessible from any of the parking areas. Visitors can follow the signs and walk or bike through the woods to reach the loop trails. Waterworks Park is in the north end of the city, and visitors can occasionally catch a glimpse of deer and other wildlife.
It costs $10 for a monthly permit to use Waterworks Park. Groups or families are welcome to use the park so long as one person in the group is a permit holder. The park is open from sunrise to sunset, seven days a week.
Great Public Parks in Annapolis, MD
The City of Annapolis has worked to create hundreds of miles of hiking and walking paths in its numerous community parks. Even though Annapolis is just a few miles from Baltimore and Washington, D.C., many of the parks here can make visitors feel as if they're far away from the hustle and bustle of the big cities. Those moving to Annapolis will find plenty of opportunities to get outside and start exploring!
If you're looking for your Annapolis dream home, contact The Bob & Ronna Group of Berkshire Hathaway HomeServices with Maryland Real Estate Advantage at (410) 465-4440 to get in touch with an Annapolis real estate agent who can help find the perfect place for you.