5 Fun Outdoor Activities in Severna Park: Explore Nature in Maryland
Posted by Bob and Ronna Chew on Thursday, December 9, 2021 at 6:25 AM
By Bob and Ronna Chew / December 9, 2021
Comment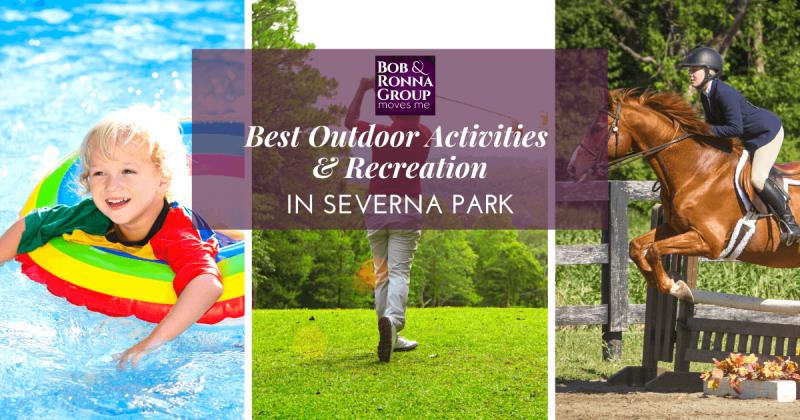 Severna Park is a moderately sized city in Anne Arundel County with two rivers and the Chesapeake Bay nearby. The homes in Severna Park are excellently located for those who commute to Washington DC or Annapolis. The long list of things to do in Severna Park includes outdoor activities ranging from water action to parks and hiking and biking trails. Keep reading and discover some of the best things to do outdoors in Severna Park, Maryland.
Water Recreation in Severna Park
Natural Water Sources in Severna Park
Lake Liberty
Severn River
Magothy River
Cattail Creek
Mill Creek
With access to two rivers and the Eastern Bay, boating and water activities are popular in the community. There are marinas throughout the area, with three in Severna Park proper. Magothy Marina rents, stores, and repairs boats of all sizes. Cypress Marine rents powerboats and yachts, while Absolute Marine Service is a one-stop for boating enthusiasts.
Annapolis Electric Boat Rentals offers patrons a unique and exciting way to experience the beauty of the local waterways. They rent environmentally friendly battery-operated boats. These boats are virtually silent and hit speeds of 5 miles per hour, which allows for a safe water excursion at a comfortable pace. It's a good option for those who don't own their boat or want to celebrate a special occasion out on the water.
The Severn River Swim Club is bordered by Severn Park and the Yantzes Cove and consumes 9-acres of space. Swimmers can take on the massive Olympic style 'T' shaped pool, enjoy the bathhouse amenities, while outdoors awaits a marina, boat ramp, and kayak racks. Daily, weekly, monthly and annual memberships are available at the swim club.
Severna Park Hiking & Biking Trails
Trails Near Severna Park
Baltimore-Annapolis Trail
Wildflower Trail
Perimeter Trail
Forked Creek Trail
Bacon Ridge Trail
There are many places in and around Severna Park to hike, bike, and jog. One of the top spots is Grist Mill Trail in Patapsco Valley State Park. The park's main trail stretches 2.5 miles through the heavily wooded space. The trails are pretty gentle, and it is also wheelchair accessible.
Patapsco Valley State Park is one of the state's oldest parks, and it is situated in a lovely steep river valley that extends for 32 miles along the Patapsco River. This park is nationally recognized for its exceptional scenery and groomed trails.
Stony Run Trail near the city of Baltimore travels along an old Maryland and Pennsylvania Railroad line. This long-standing trail is 3 miles long and passes by small parks and stream-side valleys to give visitors a quiet respite from the city scene.
Black Hill Trail runs through Black Hill Regional Park and boasts gentle inclines across 16 miles. The trail is mostly paved, and there is a lovely lake inside the 1300 acre park. This is one of the most frequented parks in the area and has an array of amenities beyond trails for recreation and picnicking.
The Meadowlark Connector Trail is short and provides a handy link between the Meadowlark Botanical Gardens and the W&OD Trail. The trail meets the W&OD Trail-goers can then connect to the longer trail to Arlington or Purcellville.
The MA & PA Heritage Trail consists of two segments about 2 miles apart. The path runs through the wooded parks in the town of Forest Hill and the Bel Air community. Long deserted as a rail line, the trail is alive with babbling brooks and twittering birds and is a natural oasis today.
Parks in Severna Park
Parks in Severna Park
Baltimore-Annapolis Trail Park
Southgate/Old Mill Park
Lake Waterford Park
Beachwood Park
Herald Harbor Park
Tick Neck Park
Kinder Farm Park was once a fully operational farm and consists of 288 acres. There are many things to do and see on the farm, including a small petting zoo and a museum. Tours of the farm are offered, and there are also sports fields, paved trails, and several playgrounds. The amenities are open on weekends, and special events occur at the farm each month.
Lake Waterford Park is a delight for nature lovers and boasts stunning water views, excellent fishing, playgrounds, and trails. There are nicely groomed trails circling the 12-acre lake, so visitors can enjoy waterfowl during a stroll or stop a while from dropping a fishing line in the water. The park also has several sporting fields and tennis courts, so grab some gear, pack a picnic, and head to Lake Waterford Park for a day of outdoor fun.
Quiet Waters Park in the city of Annapolis, MD, is a unique 340-acre park with six miles of trails, a playground, a boat launch, and impressive formal gardens and art galleries. Quiet Waters is the area's most famous park, with almost 700,000 visitors each year. Be forewarned that weekends can be busy here, so arrive early to secure a good parking spot or a picnic pavilion.
Golf Courses in Severna Park
Golf Courses in Severna Park
Chartwell Golf & Country Club
Severna Park Golf Center
Compass Pointe Golf Courses
The Preserve at Eisenhower
Bay Hills Golf Club
Renditions Golf Course
Heritage Harbor Golf Course
There is only one golf course in Severna Park, Maryland. However, there are 39 other courses within a 20-mile range, with a good balance of public, private, and municipal ranges. Here are some top-rated golfing destinations in and around the community.
Chartwell Golf & Country Club in Severna is a private course with 18 holes. The course is 6,463 yards from the back tees for a par of 72. Membership is required to play here, but many locals don't mind because it is two miles from the city center. The next closest place to play a few holes is at the 898 yards, 9-hole Severna Park Golf Center & Park Course, just four miles from the city. The course is open to the public and has excellent early bird and sunset rates.
The Sherwood Forest Club Course is private, but it is only five miles from Severna Park. There are only nine holes on this short course, and the game is friendly for all skill levels. The Preserve At Eisenhower Golf Course is one of the most challenging in the area and is located in Crownsville, a few miles away. There are 18 holes of play across 7100 yards with a par of 71.
Five miles from the city is Bay Hills Golf Club, a public, nine-hole course with a par of 27 and one of the more affordable courses in the community of Gambrills. The amenities are modest, but there is a small pro shop, food and drinks, and lessons are available. The Bay Hills Golf Club in Arnold is an 18 hole public course with a challenging par of 70.
Compass Pointe Golf Courses have a northeast course, an east course, a southwest course, a south course, and a Northeast Course in Pasadena, MD. The Northeast and Southwest courses are 18 holes and open to the public. The south and east courses are only nine holes of play but have playing lengths above 3500 yards for a par of 36.
Other Unique Outdoor Activities in Severna Park
Those who love horses can ride and board their horses at various locations in the area. Fence Post Farm also offers to-ride lessons in the neighboring Pasadena community, and they work with students of multiple ages and skill levels with group and private lessons. Hidden Haven Farm provides permanent homes to over a dozen special needs equines. Be a part of assisting with these animals while enjoying riding, grooming, and other activities on the farm.
Tennis enthusiasts can play at various schools and parks, with Severna Park being a top option. The park has three public courts, but they are not lighted for nighttime use. Another great place to play is Lake Waterford Park, which has four courts open to the public.
Join the Outdoor Lifestyle in Severna Park
With so many great parks, trails, golf courses, and water activities in Severna Park, Maryland, getting outdoors is popular with locals and visitors alike. There are plenty of great neighborhoods with private river amenities in Severna Park, inviting you to make water fun a daily ritual. Most are near great shops, restaurants, and other attractions that make moving to Severna Park appealing.
If you're looking for your Severna Park dream home, contact The Bob & Ronna Group of Berkshire Hathaway HomeServices with Maryland Real Estate Advantage at (410) 465-4440 to get in touch with a Severna Park real estate agent who can help find the perfect place for you.