Best Ellicott City Outdoor Activities Recreation Guide
Posted by Bob and Ronna Chew on Monday, July 19, 2021 at 2:15 PM
By Bob and Ronna Chew / July 19, 2021
Comment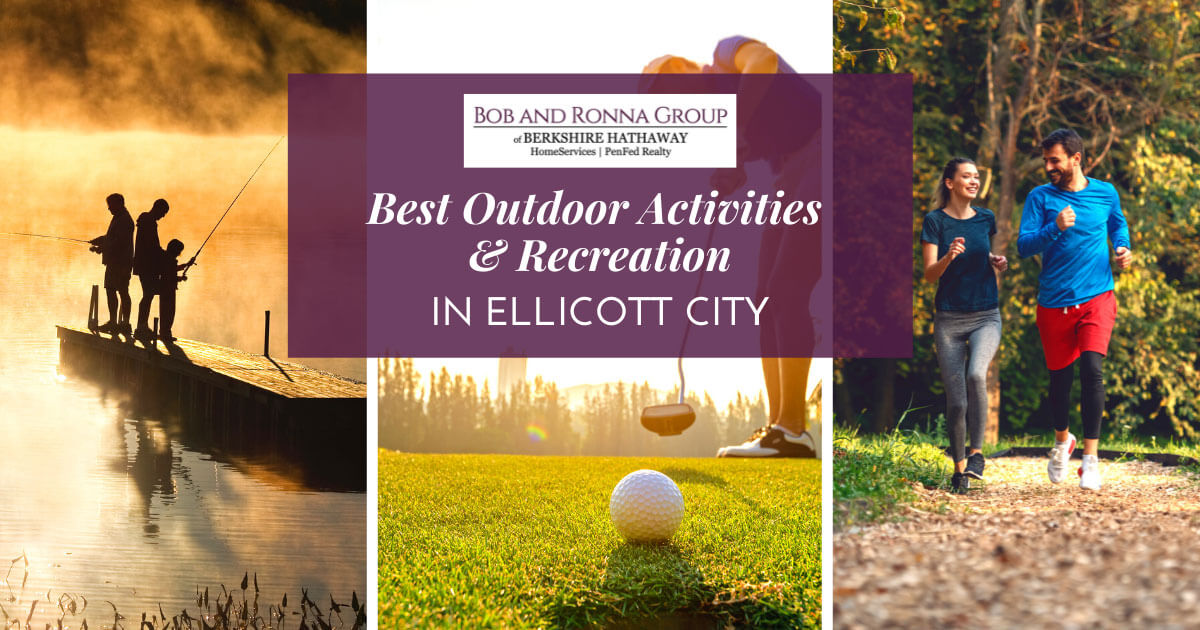 Ellicott City, Maryland, is surrounded by lush hills, mesmerizing wildlife, and is a nice respite from the nearby urban communities of Annapolis, Washington D.C., and Baltimore. Many people here come home to historic townhomes in Ellicott City and modern master-planned communities after their daily tasks and are ready to get outside. There are plenty of things to do in Ellicott City, and residents enjoy easy access to outdoor recreation. Read on to learn about some of the best outdoor activities in the Ellicott City community.
Water Enthusiasts Can Cool Off, Set Sail, or Catch a Big One
There is an abundance of water activities and sports to pursue in and around Ellicott City, Maryland. Here are some top ways to take advantage of the city's impressive lakes, rivers, and the nearby oceanside.
Freshwater Fishing in Centennial Lake
Centennial Lake Amenities
54 acres
Well-stocked
Bass, trout, tiger muskies, sunfish
Adventure Shack & Rentals
Centennial Park is home to 54-acre Centennial Lake, which is well-stocked by the state's fisheries department. There are bass, trout, tiger muskies, and sunfish here. Bring a boat, kayak, or canoe, or rent one from Adventure Shack & Rentals right in the park's southern area.
Centennial Lake Additional Information
Catch a Charter to Land a Big One
Fishing Charter Possible Catches
Blue marlin
White marlin
Shark
Rockfish
Billfish
Tuna
Bluefish
Bonito
Fishing charters offer the opportunity to catch sport fish, such as blue marlins, that could weigh over a half-ton. Anglers often book with the top fishing charters in Ocean City, which is the marlin capital of the world. Many companies guarantee a catch or refund passengers' fees!
Kayaking and Canoeing the Rivers
Spots for Watercraft
Eastern Watersports
Patuxent River Park
Pick up a canoe or kayak at Eastern Watersports in Gunpowder Falls State Park for water sports adventures such as fishing, leisurely cruises, or stand-up paddleboarding. Another great area for canoeing and kayaking is the Jug Bay Natural Area of the 7000-acre Patuxent River Park. Smooth waters, quiet coves, and a rural history museum make this a standout choice. The park offers on-site boat rentals.
Get Moving on Ellicott City's Hiking & Biking Trails
Finding a trail for hiking, biking, jogging, and other trekking pursuits is easy in Ellicott City and nearby communities. These are some that locals rave about.
Patuxent Trail
Patuxent Trail Amenities
Parallel to Little Patuxent River
For bikers, runners, and equestrians
9.4 miles round-trip
Half gravel, half paved
The Patuxent Trail runs parallel to the Little Patuxent River between Lake Elkhorn and Savage Park. Bikers, runners, and even equestrians are treated to a 9.4-mile round trip trail with optional two-mile loop extensions at the start and end of the path. Half the path is gravel, and the other is paved.
Patuxent Trail Additional Information
Number Nine Trolley Trail
Number Nine Trolley Trail Amenities
1.25 miles
All skill levels
Along a stream
Leashed pets allowed
The short 1.25-mile historic Number Nine Trolley Trail is a good option for hikers of all skill levels. A rippling stream follows the route, and leashed pets are permitted on this year-round trail.
Number Nine Trolley Trail Additional Information
Wincopin Trails
Wincopin Trails Amenities
Moderate challenge
By Little Patuxent and Middle rivers
Wildlife
The network of wooded trails at Wincopin Trails is a moderately challenging trek. The path is situated at the confluence of the Little Patuxent and Middle rivers. Be ready to see a plethora of wildlife along the way.
Wincopin Trails Additional Information
Relax or Play the Day Away at Ellicott City Parks
Some of Ellicott City's best neighborhoods are next to excellent parks. Here are three beloved community options.
Patapsco Valley State Park
Patapsco Valley State Park Amenities
16,000 acres
Along Patapsco River
200 miles of trails
Picnic areas
Lake
Patapsco Valley State Park encompasses over 16,000 acres of grounds extending 32 miles of the lovely Patapsco River. The park has eight developed areas for hiking, biking, fishing, camping, kayaking, and horseback riding. Two hundred miles of trails, picnic areas, and a small lake make Patapsco the place to be.
Patapsco Valley State Park Additional Information
Phone: 410-461-5005
Hours: 7 a.m. to dusk without an overnight permit
Font Hill Community Park
Font Hill Community Park Amenities
Two connected ponds
Boardwalk
Tables and benches
Playground
Enjoy two interconnected ponds crossed via a wooden boardwalk, take a stroll on paved pathways along the stream, and soak in the abundance of wildlife in Font Hill Community Park. Tables and benches near a small playground are great for picnics.
Font Hill Community Park Additional Information
Centennial Park
Centennial Park Amenities
337 acres
Stocked 54-acre lake
7.3 miles of trails
Divided into four areas
Centennial Park is a 337-acre park that boasts a stocked 54-acre lake and much more. There are 7.3 miles of paved trails connecting to many nearby gated community homes. This park is divided into four main areas with different entrances, each with an array of native flora, fauna, and amenities.
Centennial Park Additional Information
Take a Swing at the Golf Courses in Ellicott City
Turf Valley Golf Resort Amenities
Original course
Hialeah course
Golf is huge in Ellicott City, and there are two primary courses in the city proper: Turf Valley Golf Resort—Original Course and Turf Valley Golf Resort—Hialeah Course. The Original course is 18 holes with a par 71 from the back tees at 6,751 yards. It has a 131 slope and a 72 rating. The Hialeah Course is also an 18-hole course with 6,554 yards for a par 71. Its slope is 132 with a 71.1 rating. Occasionally, Ellicott City golf course homes are available for purchase.
There are challenges in both courses, and they are very similar in difficulty level. Many players prefer the Hialeah over the Original course. Membership or package purchase is required to play. Call for pricing. Both courses are located on the same property adjacent to each other.
Turf Valley Golf Resort Additional Information
But Wait! There Are More Ellicott City Outdoor Activities
Clarks Elioak Farm Amenities
Farm animals
Petting zoo
Fresh food
Pony ride
Cow train ride
Pay a visit to the Enchanted Forest at Clarks Elioak Farm, a fun-filled outdoor attraction that features farm animals, a petting zoo, tasty food, and fresh air. Take a pony ride or get on board the cow train ride for a unique day. Be sure to stop at the roadside stand for amazing local produce.
Clarks Elioak Farm Additional Information
Phone: 410-730-4049
Hours: Tuesday — Friday 10 a.m. — 5 p.m. | Saturday & Sunday 10 a.m. — 5:30 p.m.
Admission: $8
Get in Gear, Get Outdoors in Ellicott City
When the outdoors are calling, there are more than enough options to satisfy right here in Ellicott City, Maryland. Plus, with the oceans and nearby amenities in surrounding cities, there will never be a need to look very long for a place to enjoy nature and all its glories.
If you're looking for your Ellicott City dream home, contact The Bob & Ronna Group of Berkshire Hathaway HomeServices with Maryland Real Estate Advantage at (410) 465-4440 to get in touch with an Ellicott City real estate agent who can help find the perfect place for you.