5 Fun Outdoor Activities in Annapolis: Boating, Hiking & More
Posted by Brian Alexander on Tuesday, January 25, 2022 at 10:32 AM
By Brian Alexander / January 25, 2022
Comment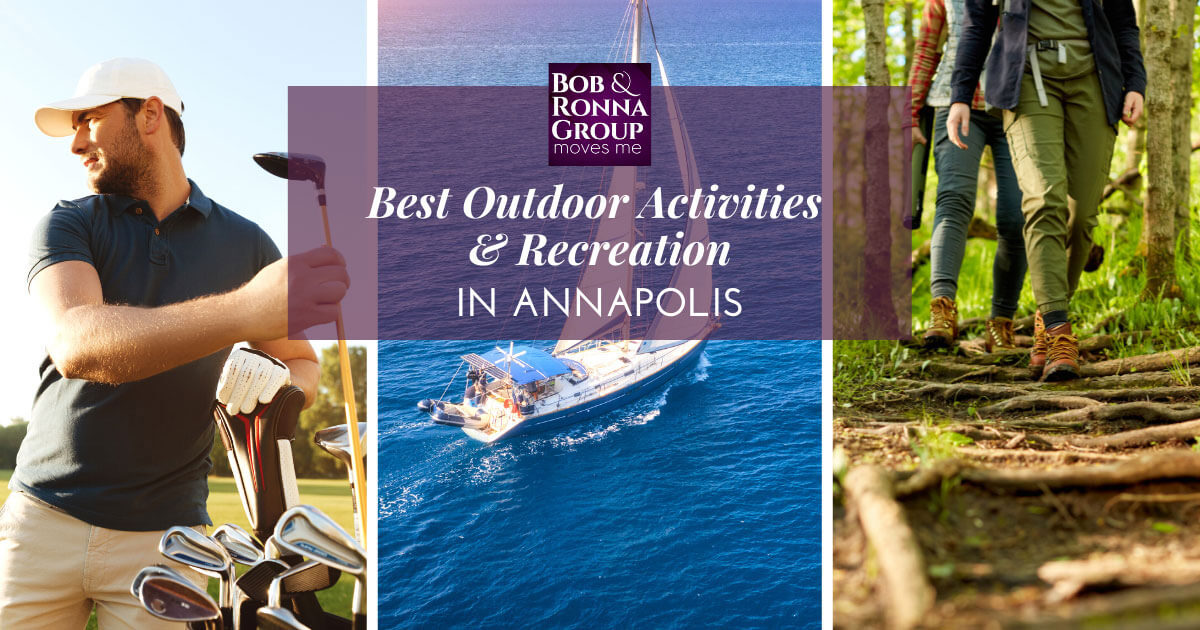 Annapolis, Maryland, is famous for many reasons. As a historic waterfront town, the Annapolis community boasts many things to do indoors and outdoors. With 38 parks and trails and more than 200 acres of parkland, the city has something to offer for most visitors or residents looking to get outside for some fun. Are you moving to Annapolis with hopes of finding fresh air and sunshine? Keep reading to learn about the best things to do outside in Annapolis.
Water Recreation in Annapolis
Annapolis Water Recreation Options
Chesapeake Bay
Schooner Woodwind sailing cruise
Cruises on the Bay by Watermark
Capital SUP
East of Maui Surf Shop
The numerous bodies of water near Annapolis invite residents to paddleboat, kayaks, boats, or along the shorelines. The city has 533 miles of shoreline and streams, rivers, creeks, covers, and the Chesapeake Bay. Of the many fun things to do on the Chesapeake Bay, renting a sailboat is one of the most popular. However, many residents often own boats and moor them at private docks behind their waterfront homes.
Several charter services are available to those who may not want to captain their boat just yet. It's often best to book these in advance of visiting to ensure availability. For canoeing and kayaking opportunities, there are rentals available along Third Street. It's also possible to book a popular sailing cruise, such as the Schooner Woodwind, which offers two 74-foot schooners set sail in the Chesapeake Bay. Cruises on the Bay by Watermark are also a popular option. They take place throughout the week and offer various options, from sunset cruises to those traveling along the 6-mile river.
Other types of water recreation in Annapolis include paddleboarding – check out Capital SUP for access to the Severn River and Bay (they offer lessons too) and windsurfing at East of Maui Surf Shop. Take lessons to have some fun here. For those looking for another experience, consider going crabbing on the bay, as some charters allow for that. Don't overlook the fishing, sailing, and shoreline fun along the city's rivers and lakes, too.
Annapolis Hiking & Biking Trails
Popular Annapolis Trail Locations
Sandy Point State Park
Quiet Waters Park
Jonas Green Park
Truxtun Park
The best trails in Annapolis promise tons of fun. Many areas have streams and creeks that add to the peaceful surroundings in these areas. One of the locations that stand out for hiking fun is Sandy Point State Park. The walking and biking paths are tucked into a beautiful natural area that often offers views of the Chesapeake Bay. Birdwatching is easy to do since there are so many trees in the area. Shorebirds often nest in this area, too.
The Quiet Waters Park offers six miles of walking trails. There's a playground here and areas for fishing. Some of the trails take walkers through the formal gardens and up close to the boating and fishing areas. This park may be known for its numerous events, but it's also a welcoming walk around nature.
A popular park for hikers is Jonas Green Park. It's smaller, but the trails are right along the Severn River, which means beautiful sights and tranquil waters. A portion of the trail here is a part of the East Coast Greenway, a national trail that connects the country from Maine to Florida.
Truxtun Park is a large city park with over 80 acres of green space. It's great for hiking, but there is also a bike trail that's well cared for and easy to use most times of the year. This area gets crowded since there is a boat ramp, tennis courts, and basketball courses. For those who want to take things to the next level, this area also has an indoor rock climbing wall in the Roger W. Pope Moyer Recreation Center.
Annapolis Parks
Popular Annapolis Parks
Annapolis Walk Community Center
Newman Street Park
Primrose Acres
Sandy Point State Park
William Paca Garden
Thomas Point Park
Helen Avalynne Tawes Garden
The parks in Annapolis are welcoming to visitors looking for relaxation, a workout, or just some simple fun. As noted, the city has 38 parks throughout it. That includes numerous playgrounds, including the Annapolis Walk Community Center, Newman Street Park, and Primrose Acres. Neighborhood parks, such as those within some of the area's subdivisions, are also available in many areas. The city has installed some impressive parks to encourage various types of play, such as the Hedra design play structure located near the Pip Moyer Recreation Center.
Stepping away from playgrounds, Annapolis has numerous opportunities for people of all ages. As noted, Sandy Point State Park is a prominent location to visit, and William Paca Garden is another local favorite. These lavish formal gardens are a part of a home built in 1772. There's a walled 2-acre garden with a parterre garden, naturalized wilderness areas, and much more.
The 44-acre Thomas Point Park is another notable location. It's home to boating, fishing, and swimming options. This area has ample wildlife, including deer, ospreys, and herons. The views of the bay can be mesmerizing, especially early in the morning.
Yet another park is the Helen Avalynne Tawes Garden. This 50-acre garden has a dense forest, streams, and a peninsula for long walks. The trickling creeks and ponds create a peaceful experience for visitors.
Golf Courses in Annapolis
Annapolis Golf Courses
Golf Club at South River
US Naval Academy Course
Preserve at Eisenhower Golf
Chartwell Golf
Country Club
Compass Pointe
Renditions
Golfing in Annapolis is a favorite pastime for many people. It's not uncommon to see a tournament hosted here or for groups of business professionals head out to spend time on the greens. Both Annapolis and Anne Arundel County have plenty of golf options. People who are really want to be immersed in the lifestyle will be pleased by the many Annapolis golf course homes for sale.
One of those options is the Golf Club at South River. This club is extensive, with over 500 members. Numerous events take place at the clubhouse and on the greens. This 18-hole golf course was designed around the South River Colony community. It welcomes members for everything from movie nights to fitness classes.
The US Naval Academy Course is another option. This 18-hole university course is home to the Brigade of Midshipmen, including golf teams made up of both active and retired military. There's a clubhouse, shop, and putting area. Non-members are welcomed throughout the year as long as tee times are available.
The Preserve at Eisenhower Golf is a municipal golf course tucked into a wooded area. It's quite beautiful and has been updated over its 50-year existence. Today, the course is maintained by Anne Arundel County Recreation and Parks. It offers league play, women's clinics, men's clinics, junior camps, and golf instruction for many people.
Still, other golf courses exist in the area, including Chartwell Golf and Country Club, Compass Pointe, and Renditions.
Other Annapolis Outdoor Activities
More Annapolis Outdoor Activities
Trolley tour
Maryland State House tour
Banneker-Douglas Museum
Walk along Main Street
For those looking for other things to do in Annapolis, it just depends on the time of the year and the locations visited. Some people may want to get a good layout of the area. A trolley tour is an excellent way to see the 350 years of history the city has to offer in about an hour. It's a great way to see the Victorian architecture and colonial mansions present here.
Take the time to tour the Maryland State House. It's where George Washington resigned as commander and chief of the Continental Army and the location of the Treaty of Paris being ratified. In addition, numerous museums exist in the area, including the Banneker-Douglas Museum, a museum dedicated to African American history. The exhibits here showcase the accomplishments of Harriet Tubman, Thurgood Marshall, and many others. Both of these locations offer outdoor gardens to explore along with interior exhibits.
It's impossible to go to Annapolis without spending some time walking along Main Street. There are numerous shops in the area, many places to stop for a meal, and some fun art galleries. Many of the businesses here are locally owned as well. There's also all street art to take in, especially in the city's Main Street and West Street areas.
Get Outdoors In Annapolis
The outdoor experiences in Annapolis may keep people busy for a long time. From walking along the city's public dock to exploring the street food vendors, there is an experience around every corner here. But, of course, the Chesapeake Bay is at the heart of it all. People love spending their time soaking in the sun along the bay, from sailing to fishing. There are even festivals throughout the year that welcome people to step outside to explore the city again.
If you're looking for your Annapolis dream home, contact The Bob & Ronna Group of Berkshire Hathaway HomeServices with Maryland Real Estate Advantage at (410) 465-4440 to get in touch with an Annapolis real estate agent who can help find the perfect place for you.