8 Best Columbia Maryland Neighborhoods: Where to Live
Posted by Bob and Ronna Chew on Tuesday, December 21, 2021 at 6:04 AM
By Bob and Ronna Chew / December 21, 2021
Comment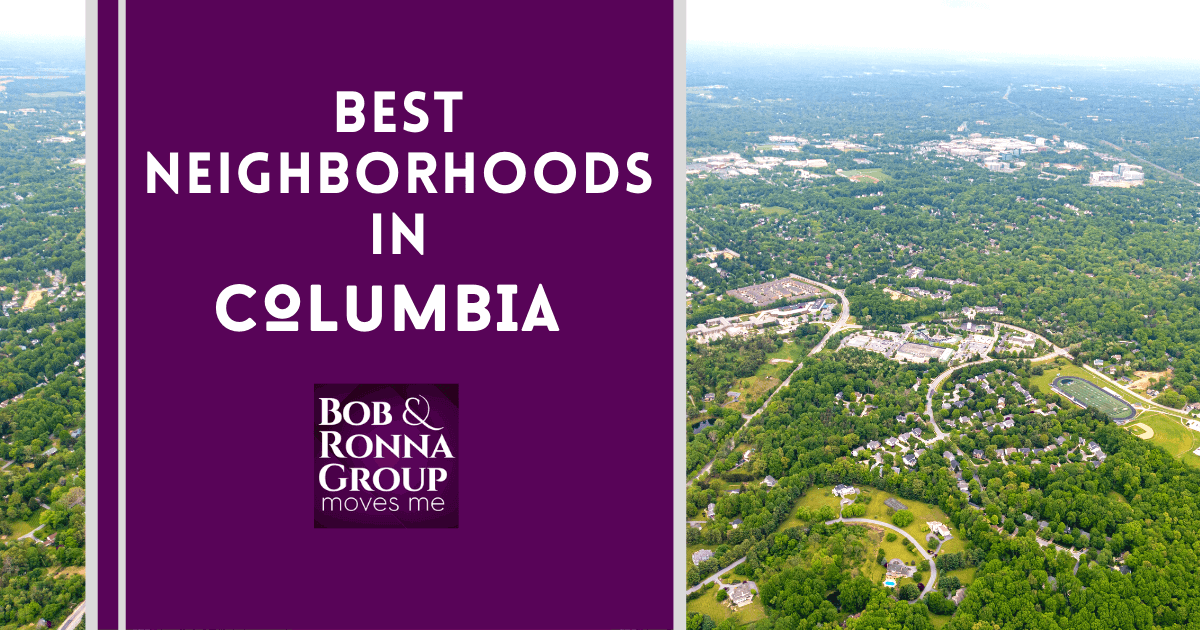 Columbia is a moderately sized planned city in Maryland with 107,318 people spread across the ten designated villages. Villages are still owned by the Columbia Association but are ultimately operated under the rules set by their community association. Real estate in Columbia was divided into villages to improve residents' values and quality of life and avoid the economics and logistics of a planned subdivision. Moving to Columbia soon? Keep reading to learn about the eight best neighborhoods within Columbia.
Kings Contrivance
Kings Contrivance Amenities
Merriweather Post Pavilion
The Corner Stable
Trattoria E Pizzeria de Enrico
Symphony Woods Park
Robinson Nature Center
As the third-largest village in Columbia, around 11,000 residents have chosen to settle in the Kings Contrivance area. This community has a wide variety of homes and townhomes, each with its flair and level of luxury. Therefore, Kings Contrivance homes for sale are likely to fit most buyers' budgets and styles comfortably. These abodes are known to be spacious, boasting high ceilings, fireplaces, gourmet kitchens, and large windows that allow natural light to flow right in. Luxury baths with spa features are relatively common, as are high-end kitchens with granite or quartz countertops.
The low traffic on residential streets in Kings Contrivance makes it very pedestrian and jogger-friendly. This allows those who live here to get out to hit shops or restaurants in the nearby city center. There are plenty of options for all of that and more in the Pavilion, barbershops, jewelry stores, clothing retailers, pharmacies, grocers, restaurants, and banks. Locals can stay cool and fit in one of the three pools in Kings Contrivance. Of course, there are plenty of trails that take locals around the lakes and into forested areas through the community.
The Village of River Hill
The Village of River Hill Amenities
River Hill Grill
Tasty Empanada
River Hill Villiage Center
Robinson Nature Center
Clark's Elioak Farm
The Village of River Hill was the final addition to Columbia's villages, yet it comprises two distinct residential neighborhoods: Pointers Run and Pheasant Ridge. The founder of Columbia had an initial vision for River Hill of making it into a recreational area with ski slopes and a lake.
However, he ultimately decided to preserve a portion of the land due to its environmental value for nature's creatures. Today, this space is called the Middle Patuxent Environmental Area, and fewer homes are here than in Pointers Run. Homes in both River Hill Village segments are a mix of colonials, modern farmhouses, and custom-built single-family dwellings.
River Hill homes for sale typically have hardwood floors, two-story entryways, formal dining and living rooms with fireplaces, high ceilings, and designer kitchens. Each room is carefully designed to meet the needs of a modern lifestyle. When residents want to get out and about and enjoy the city, there is no shortage of options in River Hill. Locals can buy almost anything at the River Hill Village Center complex—even groceries, restaurant meals, and furniture. The local parks are hopping in warmer months, while the ski and recreation areas come alive in winter.
The Village of Wilde Lake
The Village of Wilde Lake Amenities
Wilde Lake Park
Saluda's Restaurant
Shoppes at Wilde Lake
Centennial Park
Merriweather at Sky Park Symphony & Music Venue
Seasons 52
The Village of Wilde Lake is often referred to as the city's historic district. Primary early construction began in 1967 with the Slayton House and Swim Center placement. Shortly after that, the beloved Village Center shopping megaplex and the Wilde Lake Tennis Center were erected. Homes began cropping up fast, and people were eager to enjoy the abundance of nature and the beauty of Wilde Lake. Homes for sale in Wilde Lake range from modest in size to three-story colonials, and some apartments and condos are available.
Today, Wilde Lake has a mixture of housing styles, including single-family homes, condos, townhomes, and rental apartments. Wilde Lake is captivating but not swimmable, but it is still a popular hiking and gathering place. Lake Kittamaqundi is an artificial 27-acre reservoir and is a sight to see, and it is an exceptional place to fish. This community is near the Mall in Columbia and the Merriweather Post Pavilion, where there are retailers, restaurants, a theater, and unique boutiques.
Town Center Village
Town Center Village Amenities
The Cheesecake Factory
Maggiano's Little Italy
The Mall in Columbia
Columbia Village Center
Main Event
Town Center Village is located in the heart of Columbia, Maryland. Residents here enjoy the urban amenities while having ample natural places for peace and quiet. Town Center Village is divided into seven distinct neighborhoods: Amesbury Hill, Banneker, Creighton's Run, Crescent, Lakefront, Vantage Point, and Warfield. These mini-communities are dispersed but still very connected as a whole community. Town Center homes for sale tend to be moderately sized but well-appointed single-family homes and condos.
Numerous parks and trails for walking, hiking, and biking are available for locals in Town Center Village. The community's close location allows residents to easily walk or bike to almost all Columbia's amenities, cultural activities, attractions, shopping, and restaurants. This is where the impressive Federalist mansion is located alongside some of the city's beautifully restored historic structures.
The Village of Long Reach
The Village of Long Reach Amenities
The Cheesecake Factory
The Mall in Columbia
Columbia Art Center
Main Event
Centennial Park
The Village of Long Reach has just over 6,000 single-family homes and townhouses of many styles, ranging from modern to the more classical historical vibe of Columbia. Long Reach homes for sale tend to have a nice-sized lot, which is excellent for those who enjoy landscaping or want a private backyard respite. Most have paved patios and fenced yards, making a hot tub or pool addition a potential.
Features in the dwellings are typically modern with features that home buyers appreciate, such as deluxe kitchens, spa-like bathrooms, and tall ceilings with large windows. Rooms are spacious with walk-in closets and extra storage space. The Village of Long Beach is in the middle of the city, and there are more than 20 stores and retailers within a five-minute walk.
There are ample stores and grocers, including organic options, along with two pharmacies and two fuel stations. The Village of Long Reach is proximal to a sprawling playground, an outdoor pool, and lighted basketball courts. Sidewalks are paved and lit to ease dusk adventures, so walking is an option versus driving.
The Columbia Art Center offers lessons for ceramics, drawing, and painting at affordable rates for locals. The schools are also within walking distance, as are several restaurants, shops, and sites of interest. A short trip is all it takes to arrive at the sizable Columbia Mall, which has dozens of stores, a movie theater, and restaurants. The ease of getting around the Village of Long Reach makes it a popular choice for home buyers with busy lifestyles.
The Village of Hickory Ridge
The Village of Hickory Ridge Amenities
Color Burst Park Ice Rink
Toby's Dinner Theatre
Main Event Columbia
Columbia Swim Center
Cured 18th & 21st
The Village of Hickory Ridge is the second largest of the villages in Columbia, and there are approximately 4,700 dwelling units that establish three neighborhoods. Hickory Ridge homes include single-story and two-story homes, grand townhomes, and modernized condos. There is a variety of square footage, floor plans, and price points to suit just about any home buyer's needs.
Most have large living rooms with hardwood floors and cozy fireplaces. Built-ins are often found throughout the high walls in primary rooms. There are also luxurious kitchens with top-of-the-line appliances and fixtures compliment spa-like baths with jetted soaking tubs, double showers, and sometimes a steam room. Most also have front and back yards so that buyers can get creative with gardening or entertaining.
Shoppers will appreciate the proximity to the beloved Columbia Mall and additional shopping centers and standard retail stores for everyday needs. Those who enjoy eating out rather than cooking will find around two dozen restaurants, cafes, and delis at Hickory Ridge. Popular options are Uncle Julio's Columbia. There are a few parks and green spaces here with picnic options and a playground.
Village of Oakland Mills
Village of Oakland Mills Amenities
Sky Zone Trampoline Park
African American Art Museum of Maryland
Lucky's China Inn Restaurant
5485 Restaurant and Bar
The Mall in Columbia
Columbia Crossing
There are 9,900 residents who call the Village of Oakland Mills in Columbia home sweet home. Oakland Mills boasts three neighborhoods: Stevens Forest, Talbott Springs, and Thunder Hill. The homes for sale in Oakland Mills tend to be more luxurious and are highly sought out by many home shoppers. On average, the community is composed of three, four, or five bedrooms, and most of them are two stories. Styles range from ranch and colonial to ultra-modern.
Most dwellings here will have luxurious bathrooms that could efficiently serve as couples' spa retreats. Kitchens often have smart appliances, and it's not uncommon for the entire home to be "smart" and ultra-efficient. High-quality flooring, fireplaces in great rooms, and walk-through kitchens are standard features in homes in the Village of Oakland Mills.
Oakland Mills has around two dozen restaurants, with a quarter of them falling into the fine dining category. Delis and coffee shops are abundant for those on the go. There are two malls and several independent and big-box retailers to shop at. The village boasts a half dozen parks, most with picnic areas, pavilions, and playgrounds. Some also have basketball courts and other game fields that are free to use.
Harper's Choice Village
Harper's Choice Village Amenities
Columbia Sports Park
Curry & Kabob
Uncle Julio's Columbia
Cured 18th & 21st
Harper's Choice Village is often the first choice for home buyers looking for newer and more luxury townhomes. However, there are plenty of single-family homes in modern craftsman, ranch-style, modern and colonial. They have three to five bedrooms and two to three baths on average.
Harper's Choice homes for sale have spacious rooms, grand master suites, oversized showers and tubs, and kitchens with chef-quality appliances. These homes often have substantial plots of land, leaving plenty of room to construct an outdoor oasis. Many already have covered patios designed for grand outdoor kitchens.
There are several popular retailers in the neighborhood, along with dozens of places to eat. The Harpers Choice Village Center is a hotspot for shoppers, as it has a huge grocery store, banks, barbers, salons, a carousel, 75 retailers, and a dozen restaurants. A short drive away from the community are options for mini-golf, batting cages, and several parks with trails for hiking and biking pursuits.
Explore the Best Neighborhoods of Columbia, MD
With so many options to choose a distinct vibe of the city, the look of the neighborhood, and the amenities that matter the most, Columbia, Maryland, may be the perfect place to shop for a new home. While Columbia's economy and the local amenities are robust, the city retains a sense of an older time instead of other big cities. Come and see what Columbia has to offer!
If you're looking for your Columbia dream home, contact The Bob & Ronna Group of Berkshire Hathaway HomeServices with Maryland Real Estate Advantage at (410) 465-4440 to get in touch with a Columbia real estate agent who can help find the perfect place for you.