8 Best Neighborhoods in Annapolis, MD: Live Near Chesapeake Bay
Posted by Bob and Ronna Chew on Thursday, December 16, 2021 at 1:21 PM
By Bob and Ronna Chew / December 16, 2021
Comment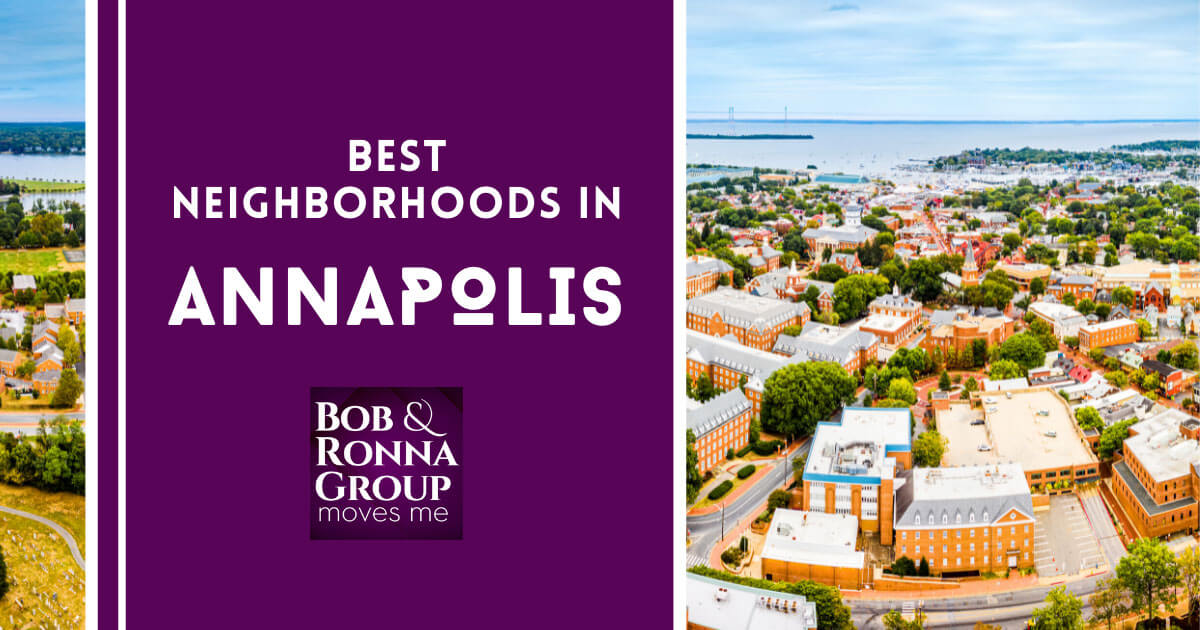 Annapolis, Maryland, is on the Chesapeake Bay, and there are several luxury homes and waterfront homes in the community, along with 18th-century brick houses. People buy Annapolis real estate to take advantage of the local job market, the delightful outdoor attractions, and the rich history that's led to Annapolis' unique architecture throughout the community. The neighborhoods and districts of Annapolis offer something for every prospective buyer. Looking for the top communities in town? Keep reading to learn about the best neighborhoods in Annapolis.
Arundel-on-the-Bay
Arundel-on-the-Bay Amenities
Main & Market
Wild Country Seafood
Annapolis Maritime Museum & Park
Bay Forest Shopping Center
Bay Ridge Market Place Shopping Center
The Arundel-on-the-Bay community is situated on a former post village and popular resort area in Anne Arundel County. This master-planned community is located approximately 2 miles from the state capitol building of Annapolis. It's an ideal place to call home for water sports enthusiasts, boaters, and anglers. Arundel-on-the-Bay is bordered by the Severn River, the South River, and it's a peninsula bounded by Fishing Creek and the Chesapeake Bay, making it one of the best places to find Annapolis waterfront homes for sale.
This growing neighborhood has grown substantially since its founding in 1890. Once only an enclave of vacation homes and undeveloped property, the property holds around 345 homes. Most homes are single-family properties with various styles, including colonial and traditional coastal styles. Arundel-on-the-Bay homes for sale typically cost between $450,000 and $1 million.
Residents here enjoy the stunning view of Thomas Point Lighthouse along with the community's private amenities. Arundel-on-the-Bay has a private pier, a boat ramp on the beach, nature trails, a playground area, and a lighted basketball court. Residents also have access to unrestricted use of the property's canoes and kayaks. Popular sites nearby include the Hammond-Harwood House, a landmark from the revolutionary period.
Thomas Point Park is a short stroll from the neighborhood and has a wide array of trails, sporting courts, and other attractions for visitors. There are also a variety of retailers and eateries nearby. Those who buy a home here are ensured the beaches and grasslands in the community will be maintained and improved regularly because Arundel-on-the-Bay is a special tax district.
Hillsmere Shores Community
Hillsmere Shores Amenities
Tuesday Morning
Queenstown Premium Outlets
Ebb Tide Ice Bar & Grill
Davis' Pub
Dark Horse
The Hillsmere Shores community in Annapolis, Maryland, is known as "Where the South River meets the Bay." This neighborhood is relatively large and has just over 1200 homes, most of which are situated next to Quiet Waters Park or are on the shoreline of the Bay. There are many layouts and floorplans, with some having six or more bedrooms. The prices for Hillsmere Shores homes for sale typically range from $475,000 to $1,075,000. Hillsmere Shores is only 3 miles from downtown Annapolis, allowing for short commutes for most residents.
The neighborhood has private pools, hot tubs, pristine beach areas with volleyball courts, rain gardens, outdoor grills, and picnic pavilions. Residents have access to a private marina with boat and kayak ramps, harbors, and piers in multiple areas of the community's shoreline, along with playgrounds for youngsters.
Highlights near Hillsmere Shores include the stunning historic William Paca House & Garden, a massive mansion on a hillside. The home has been restored to its original glory, and tours of the home and gardens include historical information. Quiet Waters Park is an excellent respite for residents. While relatively small, it's a nice place to hike, bike, picnic, and ice skate. There are also two art galleries in the park's visitor center.
Germantown-Homewood Neighborhood
Germantown-Homewood Amenities
Paul's Homewood Cafe
Compass Rose Theater
Las Tortugas Deli Mexicana
Shops at Town Center
Keratsini Greek Kitchen
Since 1916, the Germantown-Homewood community has been growing steadily as more home buyers see how lovely the area is and recognize the location's convenience. The community has a unique charm, with just over 550 homes designed in various styles depending on the year they were constructed.
Most homes in this neighborhood are single-family homes with spacious yards. Germantown-Homewood real estate prices typically range from $350,000 to $699,900. Germantown-Homewood is relatively quiet, as most homes are tucked behind the busiest streets. Within the community itself, there is an array of amenities.
Residents in Germantown-Homewood enjoy amenities including pools, hot tubs, two parks, playgrounds, and a community fitness center. It's near West Street, and residents can walk or bike to many shops, parks, restaurants, and attractions in downtown Annapolis. There are also public transportation options nearby, along with local freeways.
Those who live here can take a short stroll to Michael E. Busch Annapolis Regional Library, or drop a line or swim at the headwaters of Spa Creek behind Germantown-Homewood. The Germantown Athletic Fields host numerous games. The Poplar Park Path connects to West Street, where shops, pubs, and restaurants. Homeowners can get downtown to check out the City Dock, the U.S. Naval Academy, and the Maryland State House just a bit further down West Street.
Admirals View Neighborhood
Admirals View Amenities
Sam's Club
Navy Federal Credit Union
Halsey Park
Target
Ruth's Chris Steak House
Level Small Plates Lounge
The Admirals View neighborhood is a small community that predominantly consists of 64 three-story Annapolis townhomes for sale. While it's located close to downtown Annapolis, its placement in a wooded preserve makes this newer neighborhood rather popular.
The Admirals View real estate market comprises 2000-square-foot townhomes with three bedrooms and two or three baths along with a two-car garage with prices ranging between $359,000 and $500,000 depending on upgrades to the unit. Homeowner fees cover lawn and building maintenance and upkeep of the community's amenities.
Community amenities available to owners and renters at Admiral View include top-of-the-line appliances, hardwood floors, floor-to-ceiling windows, heated swimming pools, and paved trails. Just minutes from downtown Annapolis, it's easy to get around to many local eateries, parks, shops, and attractions on foot or by bike.
The City Dock is minutes away, where locals come to watch sailboat races, indulge in fantastic cuisine and boutique shops. There's always something going on around the Admiral View neighborhood. Food and wine festivals, music events, and annual street festivals include the Annapolis Fall Festival, the Irish Festival, the Paca Gardens Concert Series, and Maryland Day.
Blackwalnut Cove Neighborhood
Blackwalnut Cove Amenities
Caliente Grill
Vin 909 Winecafe
Taqueria Juquilita
Tuesday Morning
Whole Foods Market
Aveda Store
The Blackwalnut Cove community is a relatively small community of 133 single-family homes situated along the Annapolis Neck Peninsula just outside of downtown Annapolis. Dwellings here are an assortment of sizes ranging from 1500 to 4800 square feet with three or four bedrooms and two or three baths. Lot sizes average 3/4 acres. Blackwalnut Cove homes for sale can cost between $315,000 to $630,000.
Amenities in this neighborhood are highly desirable in this area. Residents will have access to the Community Pier, which leads to the Blackwalnut River for crabbing or fishing. There are storage racks and launching ramps for canoes and kayaks that are free to use.
There are two community parks with playgrounds, picnic tables, and grills. Gazebos are placed in shaded areas, and a full basketball court is on the property. Owners are given access to the nearby Hillsmere Shores Pool. Thomas Point Park and the Chesapeake Bay are highlights, and there are many local shops and eateries within walking or biking distance.
Annapolis Landing Neighborhood
Annapolis Landing Amenities
The Pier Waterfront Bar & Grill
Edgewater Restaurant
Wawa
Annapolis Maritime Museum
Festival at Riva Shopping Center
Revival Home & Gifts
Annapolis Landing is a moderately sized waterfront community right off Beard's Creek and the South River. The neighborhood consists of 248 single-family homes of various sizes and styles, including several Annapolis boat dock homes for sale. Prices for these waterfront homes typically fall between $420,000 and $600,000. The community features tree-lined streets, naturally wooded areas, plenty of open ground, and paved sidewalks. Annapolis' historic downtown is a short walk away, and of course, water is right out the door of every home.
The community is loaded with features, many of which are designed around the water-loving lifestyle. There is a multipurpose dock, a huge marina with room to store 42 dinghies, canoes, or kayaks, and slips for 62 boats of various sizes. Benches and tables for picnics are spread throughout the neighborhood. There is a well-equipped play area, and residents hold seasonal events throughout the year. Getting to local shops, eateries, and sites of interest is a breeze from the homes for sale in Annapolis Landing.
The Neighborhood of Bay Ridge
Bay Ridge Amenities
Dark Horse
Lewnes' Steakhouse
Maggiano's Little Italy
Mi Lindo Cancun Grill
Bay Ridge Market Place Shopping Center
The neighborhood of Bay Ridge is bordered by the Chesapeake Bay, the Severn River, and the gorgeous Lake Ogleton. This community boasts some of the largest and grandest waterfront homes in Annapolis. The property once served as a luxurious respite for vacationers and was wildly popular at the turn of the 20th century. There are around 175 homes here, with prices ranging between $875,000 and $2,100,000.
The neighborhood's natural beauty is remarkable, and it has several small forests known as the Big Woods. Bay Ridge has a lovely peninsula in the Bay with picnic tables and sensational views. Amenities include a clubhouse, playgrounds, and a large pool with a swim team. The neighborhood's marina is large enough to easily store both yachts and smaller boats. Boaters can easily cruise out to the Thomas Point Lighthouse from the marina.
Eastport Neighborhood
Eastport Neighborhood Amenities
Carrol's Creek Cafe
Chart House
Davis' Pub
Annapolis Town Center
Queenstown Premium Outlets
The diversity of housing in the Eastport neighborhood is tremendous, ranging from luxury townhomes and gated communities to individual single-family homes. Most Eastport real estate comes with a decent amount of square footage, and the ample waterfront homes make it one of the best Annapolis neighborhoods for boating. Prices range from around $700,000 to $1,000,000, with some palatial estates going for much more.
Eastport is a walkable town and ideal for those who like to spend the day shopping, sightseeing, or taking in a meal. Various shops range from traditional goods to antiques and fine art. A highlight awaits at the tip of the peninsula at the Annapolis Maritime Museum, and visitors can sign up for tours of the Chesapeake.
Those wanting some water action can stop at one of the many marinas in Eastport that rent boats, kayaks, and canoes, as well as Annapolis Canoes and Kayaks. A unique experience can be had by renting an environmentally friendly battery-powered boat from Annapolis Electric Boat Rentals.
What's Your Favorite Neighborhood in Annapolis?
When those who live in Annapolis rate a neighborhood as superior year after year, that's always a good sign that living there could create a comfortable lifestyle. Regardless of the size and budget home shoppers have, it's likely they can be guided by reviews and advice from a local real estate agent to make the best choice. If water, nature, history, and a strong economy are of interest, these Annapolis neighborhoods are undoubtedly worth considering.
If you're looking for your Annapolis dream home, contact The Bob & Ronna Group of Berkshire Hathaway HomeServices with Maryland Real Estate Advantage at (410) 465-4440 to get in touch with an Annapolis real estate agent who can help find the perfect place for you.