6 Best Lakes in Columbia, MD: Explore Lake Kittamaqundi & More
Posted by Bob and Ronna Chew on Monday, March 28, 2022 at 5:50 AM
By Bob and Ronna Chew / March 28, 2022
Comment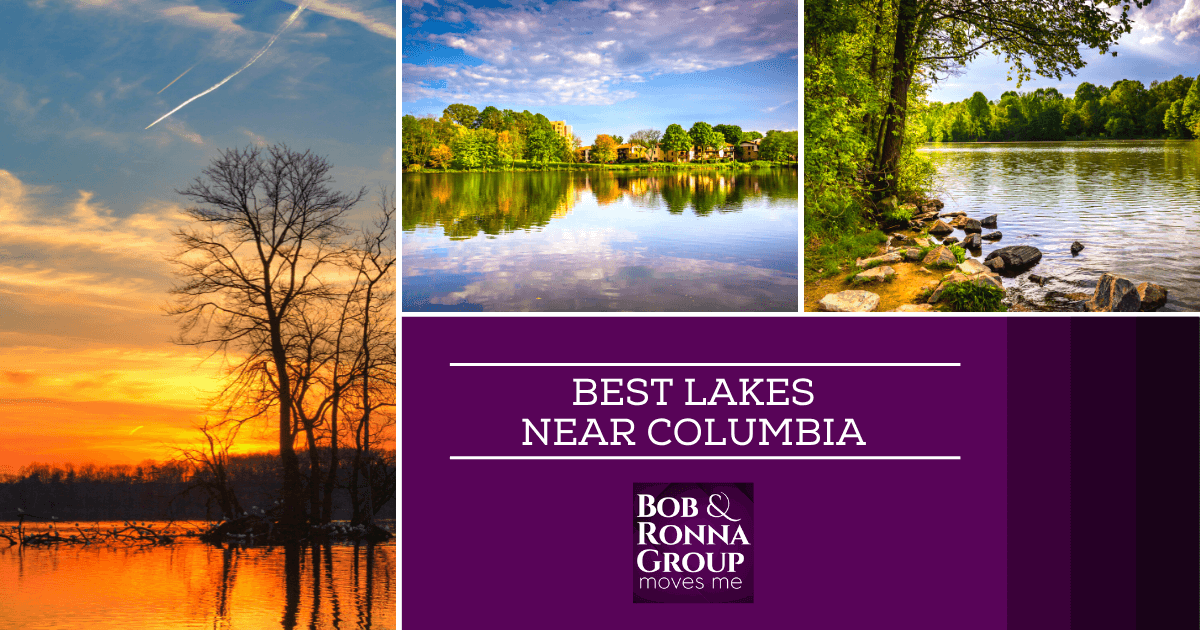 Columbia is an unincorporated master-planned community 20 miles south of the city of Baltimore in Howard County. It's divided into ten villages with an estimated population of 104,000 residents. As a master-planned community, people who live in Columbia homes enjoy access to everything they need within a short distance.
There are plenty of fun things to do in Columbia, ranging from entertainment venues like the Merriweather Post Pavilion to an assortment of local parks. Additionally, the best lakes near Columbia invite people to enjoy fishing, boating, and more. If you're ready to make a splash, keep reading to learn about the six best lakes near Columbia.
Lake Elkhorn
Lake Elkhorn is one of Columbia's best and largest lakes. Like most lakes in the area, it is also an artificial reservoir. The 37-acre artificial lake has an average depth of 8 feet, but it can be as deep as 15 feet at some points.
It is named after the Elkhorn branch of the Little Patuxent River and flows into the Village of Owen Brown. There are 44 acres of parkland around the lake, perfect for laidback relaxation. The area is characterized by plenty of mature trees and an open green field, meaning it's well-shaded and perfect for picnics. Even better, there's a 2-mile paved loop trail around Lake Elkhorn. It has an elevation gain of about 13 meters and is ideal for pleasant walks with your dog, running, hikes, and bird watching.
The trail takes you around the lake, sometimes passing close to the luxury home neighborhoods in the area, and connects you to exciting habitats like the Elkhorn Branch Garden to the east. You might, however, want to visit early as it's subject to heavy traffic.
It opens from May to September, and although dogs are welcome, they must be on a leash throughout. On top of the trail, Lake Elkhorn has a picnic pavilion and a kid-play area. The lake is accessible to the public. It opens from 6:00 a.m. to 10:00 p.m. daily, and parking is available off Dockside Lane on the north bank and the southwest corner close to Broken Land Parkway.
Lake Kittamaqundi
Lake Kittamaqundi is a 27-acre artificial lake created in 1966 as part of the master-planned community of Columbia.
The lake has a depth of about seven feet. It is home to various fish species, including popular options like the carp, bluegill, and largemouth bass, making fishing a popular activity around the lake. Boating is also pretty prevalent, and the lake even features a wooden pier and launching ramp open to the public on its western bank. Other water activities to try out include kayaking and canoeing.
For year-round fun, take a walk on the park's beautiful Lake Kittamaqundi trail. It winds around the lake, rewarding visitors with stunning water vistas, and meanders past Kennedy Gardens for a refreshing walk. It also links to other paved trails in the area, so you can go for an even longer walk if you're looking to get some exercise while enjoying nature.
Besides being a recreational feature, Lake Kittamaqundi serves as the primary catch basin for water runoff from the nearby Wilde Lake. It once had an island known as Nomanisan Island, but the gap between it and the lake's bank was filled to create a peninsula in 2010. Entry to Lake Kittamaqundi is free. It opens from sunrise to sundown daily. Parking is available near the Lake Kittamaqundi dock and Lot 6 of the Merriweather Post Pavillion Parking.
Wilde Lake
Wilde Lake is a 22-acre artificial lake north of the Columbia town center. Initially a marshland area with a small stream, Wilde Lake was the first part of James Rouse's (Columbia master plan developer) new town development and is surrounded by gorgeous Columbia luxury homes.
Like most lakes in Columbia, MD, Wilde Lake is also a catch basin for water runoff. It has a maximum capacity of 48.2 million gallons and an average 8'-13' depth. There's a 1.5-mile moderately trafficked loop trail around the Lake.
It has an elevation gain of about 15m and is one of the best spots for bird watching in the Columbia area. The trail is kid, stroller, and wheel-chair friendly and is partially paved with lovely views of the Lake. Dogs are allowed but must be on a leash. It opens from April to September and is popular among walkers, hikers, and bird lovers. Parking for lake visitors is available in the Birches neighborhood off Hyla Brook Road.
Centennial Lake
Created by damming part of the Little Patuxent River, the 54-acre Centennial Lake is one of the best lakes in Columbia, MD, for a good reason. It is located within a park, meaning plenty of wildlife in the area and a quaint environment offering an excellent escape from the bustling cities around it. There are nine picnic pavilions in the park, a kid play area, snack stands, and multiple ball courts.
The lake is home to fish like rainbow trout, sunfish, bass, catfish, and numerous other fish species, making fishing quite popular. Fishing restrictions apply but may be lifted occasionally when there's an overabundance of fish in the lake. However, fishing in the wildlife area at the lake's western end is prohibited.
If fishing isn't your speed, boating is a viable activity in Centennial Park, and there's even a boat ramp open to the public from March to November and boat rentals available on site. And if you prefer something else other than water activities, there's the Centennial Lake Loop, a 2.5-mile paved trail lined with beautiful exotic trees, meaning it's shaded and perfect for a relaxed walk.
The path has an elevation gain of about 29 meters and is ideal for all skill levels, but it can be pretty trafficked, especially on weekends. While on the trail, you might spot the white-tailed deer, the hooded merganser, and the Canvasback, among other wildlife varieties. Dogs and other pets are welcome, but they must be leashed at all times. There are several paved and grass overflow parking lots around the park, and it opens from 7 a.m. to dusk every day. Smoking is restricted, and the park is generally free for all.
Triadelphia Reservoir
The Triadelphia Reservoir might not be as famous as the three James Rouse artificial lakes, but it's one of the best lakes near Columbia. It is an 800-acre artificial reservoir created on the Patuxent River in 1943.
Close to the lake is a gorgeous 5-acre Brighton Dam Azalea Garden. The garden comes to life from mid-April to early- May when the over 20,000 azaleas grown here bloom covering the area in beautiful shades of pink, orange, yellow, to red. The garden is a nationally-recognized landmark and attracts hundreds of visitors annually.
As if not impressive enough, the area around the Triadelphia Reservoir is home to more than 240 bird species and is even considered one of the top bird-watching spots in Howard County. Predominant bird species include the Canada Goose, long-tailed duck, the red-breasted merganser, the Belted Kingfisher, and the bald eagle.
Besides bird watching and the azalea garden, visitors can also boat the Triadelphia reservoir as long as they have a self or battery-powered vessel and have permits. Other popular activities include fishing, picnicking, horseback riding and hiking.
While access to the Brighton Dam is free, a day or seasonal pass is required at the reservoir. Day passes go for $6, while seasonal ones cost $72. The watershed recreation areas often open between March and November, half an hour before sunrise to sunset. The azalea garden opens daily from 7:00 a.m. to dusk.
Patuxent River
The Patuxent River is one of the largest rivers, not just in Columbia but in Maryland. It boasts a diverse range of fish species, ranging from freshwater options like the crappie to salt-water species like the Spanish Mackerel.
Most of the best lakes near Columbia, MD, such as the Centennial Lake above, were created by damming the Patuxent River. If you're looking to explore the river in the Columbia area, head over to the Patuxent River State Park to find about 6,700 acres of land that's perfect for hiking, hunting, and horseback riding.
Fishing is allowed in designated sections of the river, like the catch and release trout stream on the upper part of the river. It opens from sunrise to sunset daily and is conveniently located between Routes 27 and 97. Parking is available at Howard Chapel, Long Corner, and the Mullnix Mill.
Explore Columbia's Best Lakes
Columbia promises a broad assortment of activities, ranging from its ample shopping centers to some of the best lakes in Howard County. Whether you're looking to fish, boat, or hike, each of the lakes listed is sure to deliver.
If you're looking for your Columbia dream home, contact The Bob & Ronna Group of Berkshire Hathaway HomeServices with Maryland Real Estate Advantage at (410) 465-4440 to get in touch with a Columbia real estate agent who can help find the perfect place for you.