Cape Cod Interior Design Ideas: 4 New England-Inspired Tips For Your Cape Home
Posted by Bob and Ronna Chew on Tuesday, February 8, 2022 at 11:25 AM
By Bob and Ronna Chew / February 8, 2022
Comment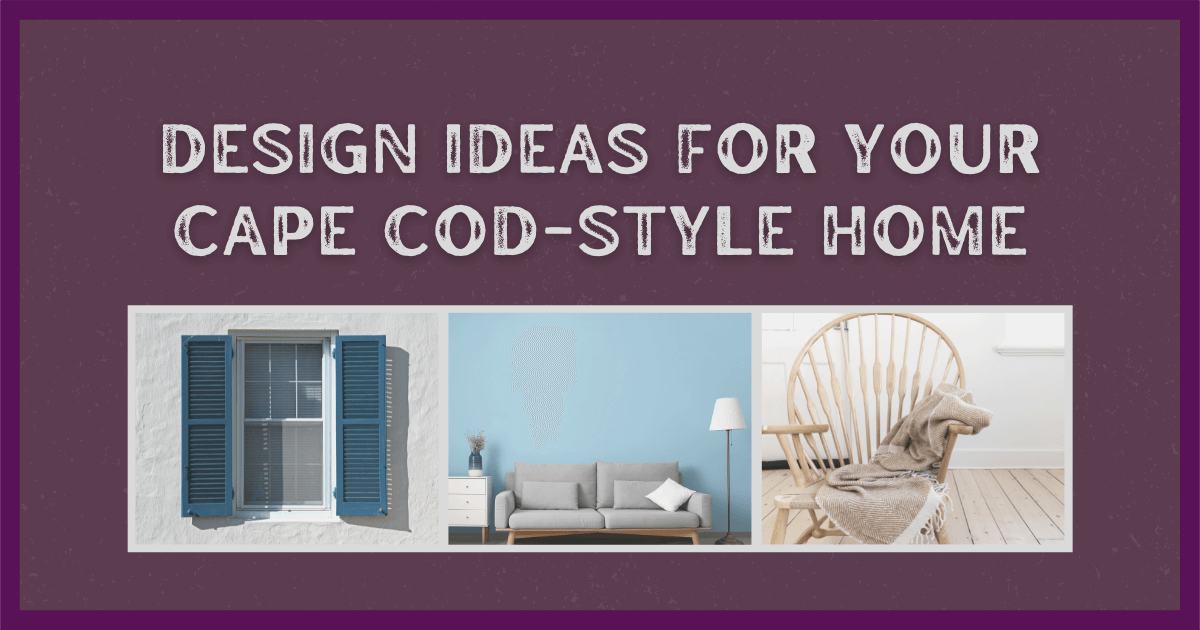 Cape Cod-style homes are reminiscent of the 1700s when early settlers arrived along the New England coast. Inspired by the traditional English cottages already present in the region, the newcomers built similar homes with distinctive aesthetics that would become known as the Cape Cod style. These homes feature steep roofs with gables, large dormer windows, and double-hung windows complemented by wood shutters.
Other standard features of a Cape Cod style home include wood-shingle siding or symmetrical clapboard, and they were typically one and a half stories, with open attic space for seafaring boarders. Read on to learn about design ideas for Cape Cod-style homes.
Choose Coastal Colors
To stay true to the Cape Cod home vibe, it's best to stick to a coastal color palette when decorating and designing. Coastal-style color schemes are traditionally light and airy, reminiscent of the ocean on a sunny day. While there is a wide range of hues that work well, be sure to plan ahead when choosing a scheme that will complement any furnishings or existing accessories that are must-keeps.
Think about going with white walls, ocean blues, or greens used on alternating spaces or in combination with trim accents. This presents a beach-like sense of calmness and clouds situated against a perfect day by the sea under bright blue skies.
Soothing neutral tones like beige and tan create an illusion of sandy beaches and mix well with bleached or gray driftwood hues. All of these contrast beautifully with soft hues of yellow and coral, especially when accented with vibrant and bright tropical tones like beach flower pink and sunset orange.
Popular Cape Cod patterns tend to lean towards thick stripes, nautical designs, and delicate florals for upholstery and fabrics. Rustic, quilted fabrics with embroidering can add a cozy feel, especially when using natural textures such as burlap, vintage linen, or grasscloth.
Employ the Use of Rustic Furnishings & Colors
Simplistic furniture is typically the best choice to showcase the interiors and outside living spaces in Cape Cod-style houses. Rustic, clean-lined handmade wood furniture with smooth edges ideally meld into a Cape Cod-style home. Painting wood furniture in brighter pastels, whitewash, or natural finishes give the home an inviting feel.
Popular choices include furnishings in the traditional Early American style, such as Windsor chairs, step-back cupboards, ladder-back chairs with rush seats, and trestle-style tables. Overstuffed upholstered loveseats, chairs, and sofa or wicker furniture with slip-covers can enhance the laid-back, casual coastal feel that makes a Cape Cod cottage stand out.
Aside from pastels, sage greens, sea glass, and butter yellow can add charm to the furnishings of a Cape Cod home and a comfortable vibe. Many prefer to base their furniture's colors on the exterior paint, trim, and shutters outside the home by employing complementary colors.
Decorate With Nautical Accessories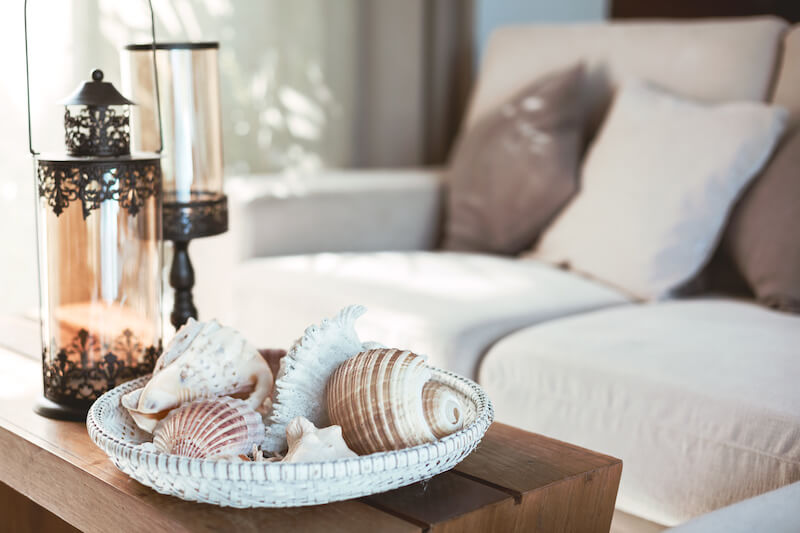 Decor dominated by a nautical or ocean theme is typical in Cape Cod-style homes. Still, it is necessary to balance themed decorations and other more simple types of accessories. Establish the core look desired first, considering traditional seaside adornments that may include:
Seashells
Driftwood
Starfish
Anchors
Navigation Wheels
Portholes
Propellers
Bells
The inclusion of natural displays alongside vintage or replica ship or boat parts creates interest and complements the home's interior architecture nicely. To add interest and balance the theme in a Cape Cod-style home, go back to some standard basics that still represent the concept throughout the home.
Sheer window coverings will allow natural light in, which will allow for live houseplants and greenery to thrive, bringing the outdoors in. Woven baskets can hold plant containers, and colored glass vases or bottles can add sparkle to any room.
Add interest to walls with artwork and shelves that display old books or knickknacks. Spruce up window seat nooks, sofas, and chairs with various pillows and throws in varying materials and patterns. It's common to see traditional lantern-style lighting in copper or brass that ranges from wall scones, hanging lanterns, and outdoor oil-fueled lampposts.
Get the Exterior Details Right
There are specific exterior details that are essential to achieve the look and feel of an authentic Cape Cod-style house. Roofing is traditionally crafted of natural shingles along the steep slopes while being complemented with numerous high and narrow dormer windows present predominantly along the front of the home.
Shutters are traditionally a primary feature of most Cape Cod-style cottages, and these additions still offer homes a timeless look to this day. Choosing ones that can be opened and closed is ideal for seaside homes or those within seasonal climates and are perfect for allowing fresh air into the structure on moderate days.
Even the landscaping selections in the yard and window boxes should be true to the style, with wildflowers being abundant with an array of colors that will rejuvenate seasonally. Beautiful gardens historically dominated the yard of Cape Cod-style homes instead of a sizeable grass-filled lawn. In many climates, an abundance of flowers and blooming plants will bring about butterflies and pollinating creatures throughout the year.
Use These Design Tips For An Authentic Cape Cod Style Home
Why not fully embrace the breezy and airy feeling of a Cape Cod-style home with decorations and furnishings that genuinely encompass the oceanside lifestyle? These design tips for colors, patterns, furnishing, and accents inside and out make it practical and straightforward to achieve an authentic feeling of Cape Cod.