Best Annapolis Suburbs: Where to Live Near Annapolis MD
Posted by Bob and Ronna Chew on Wednesday, December 15, 2021 at 2:19 PM
By Bob and Ronna Chew / December 15, 2021
Comment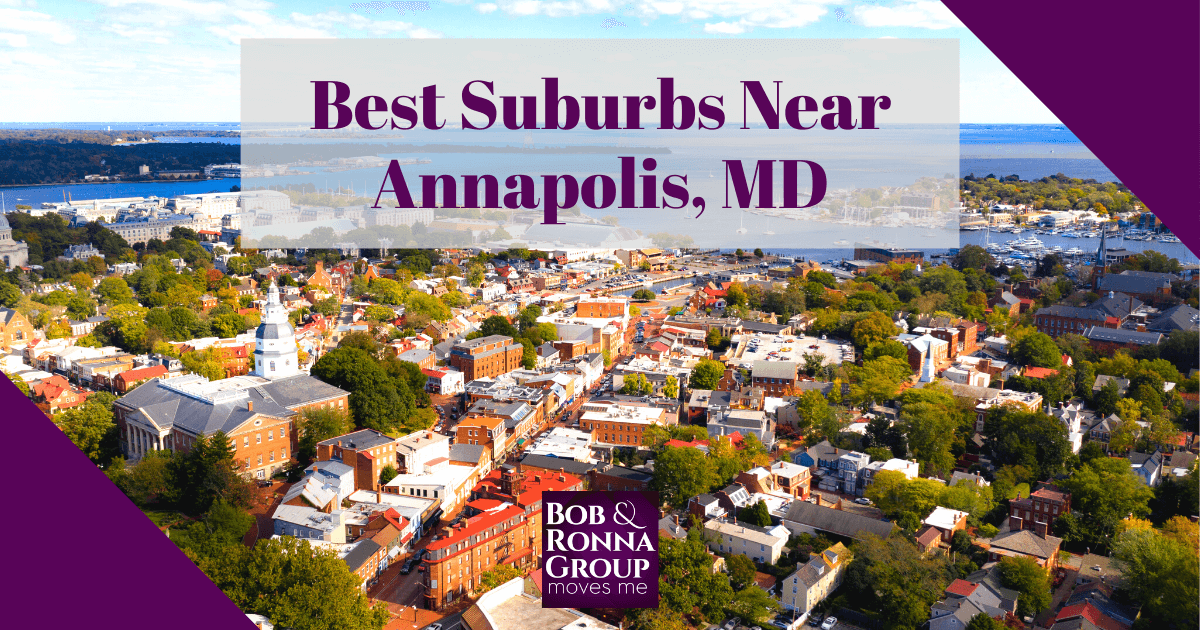 Annapolis, Maryland's capital city, is ideally situated on the Chesapeake Bay. Homes in Annapolis are near a variety of highlights, including popular destinations such as the exciting arts district, the city dock, and the Navy-Marine Corps Memorial Stadium. Sometimes, though, living in a condo downtown doesn't appeal as much as living in the suburbs. Alongside the many popular neighborhoods in Annapolis, this city has a wide range of suburban communities, so read on to discover which of Annapolis' best suburbs might be the one for you.
Crofton
Crofton Amenities
Crofton Centre Shopping Center
Hopkins Place Shopping Center
Bowie Town Center Mall
Fat Boys Crabhouse
Allison's Restaurant
The suburb of Crofton is steadily growing with a variety of gated community homes, golf course homes, and a popular historic district that includes 18th-century brick houses. Established in 1964, Crofton is just 10 miles from the capital and is 24 miles from Baltimore and Washington, D.C.
Initially, Crofton was a gated community that revolved around the Crofton Country Club and was considered very exclusive. Today, it is a much more open community, and prices for Crofton homes for sale usually average in the $400,000 to $600,000 range. Crofton has been dubbed as one of the top 100 places to live in the U.S. by Money Magazine. The community has a population of around 32,000 full-time residents.
One of the most interesting sights in Crofton is the Katcef Archeological Site, with native campsites from the Paleo-Indian Clovis period to the Woodland period. Another historical site of interest is Linthicum Walks, which is a home built over 200 years ago, once a tobacco farm and a stopping point for George Washington during his travels.
Severna Park
Severna Park Amenities
Kinder Farm Park
Cafe Mezzonata
Squisito® Pizza and Pasta
Escape Time Escape Rooms
Marley Station Mall
Severna Park is considered to be a part of the Baltimore-Washington Metropolitan Area. This suburb has a great location about eight miles north of Annapolis, 17 miles south of Baltimore, and 40 miles east of Washington, D.C. The community's population is just over 38,000 but is quickly growing as people continue to move to Annapolis and its surrounding area.
The median value of homes in Severna Park is typically in the high $600s, though homes can be found as low as the high $200s and as high as over $1 million, with rentals averaging around $1,600 monthly. One of the biggest appeals of Severna Park is its fantastic access to multiple rivers and waterways alongside other natural respites. Hikers enjoy fast access to the Baltimore & Annapolis Trail, and bikers and joggers also take advantage of this 13.3-mile trail.
There are numerous places beloved by locals, including shopping centers, restaurants, and multiple attractions. The Severna Park Marketplace is a shopper's paradise, with several major retail stores, restaurants, and a grocery store. The Severna Park Lanes is a hotbed of activities, including bowling, arcade games, and food. Another attraction is the North Arundel Aquatic Center, where there is an eight-lane pool and a children's water park.
Pasadena
Pasadena Amenities
Two Rivers Steak & Fish House
The Grove Restaurant
Mutiny Pirate Bar and Island Grille
Anne Arundel Seafood
Located about halfway between the city of Baltimore and Annapolis, the town of Pasadena, Maryland, is a vibrant community that still offers a small-town vibe. About 30,000 people call Pasadena home. The Pasadena area is largely residential, but it still has plenty to see and do.
The city has a wide range of real estate options, including single-family homes, condos, and apartments. Many homes for sale in Pasadena are Colonial, Cape Cod, or ranch style, and average selling prices are usually around $400,000, though homes ranging in price from the $200s to luxury homes in the millions can be found. The cost of living in Pasadena is comparable to the rest of the state, so there's a home to suit most budgets.
Recreational space is abundant in Pasadena, Lake Waterford Park being a favorite of residents. The park features picnic areas, tennis and basketball courts, and fishing is a popular activity, along with jogging and hiking on the trail around the lake. Golf enthusiasts can practice their swing at Compass Pointe and Pasadena Golf Center, and both courses are public. Arundel Mills Mall is one of the best places to shop for clothing, household goods, sporting gear, and other necessities.
Glen Burnie
Glen Burnie Amenities
Glen Burnie Mall
Pappa's Restaurant & Sports Bar
Mission BBQ
Plaza Garibaldi
Located in Anne Arundel County, Glen Burnie, Maryland, is a fairly large suburb of Baltimore, established in 1812 by district attorney Elias Glenn, who named his property Glennsburne. Eventually, it became Glen Burnie as his descendants took over the land.
Glen Burnie has over a dozen neighborhoods today, with each having a distinctive flavor. The inner city has a number of businesses, while the southern portion of town is more residential. Almost 70,000 people are permanent residents of Glen Burnie. Many move to this sprawling community for the short 13-mile commute to Baltimore, along with ample access to public transportation.
Glen Burnie real estate is predominantly single-family homes, but townhomes, apartments, and rowhomes are located closer to the city center. Those shopping for a Colonial-style home will want to check out popular neighborhoods like Harundale, Margate, and Marley.
Finding things to do in the city is a breeze. There are many places to shop and be entertained. Locals can find just about everything at the Marley Station Mall, which has more than 100 stores, entertainment venues, and restaurants. Glen Burnie has a solid reputation for being a part of the farm-to-table scene.
Another popular destination is the massive Patapsco Valley State Park that extends for 32 miles adjacent to the Patapsco River. There are 16,000 acres to explore, hike, swim, picnic, and participate in horseback riding.
Odenton
Odenton Amenities
Town Center Laurel
The Mall at Prince George's
The Hideaway
Arturo's Trattoria
Regal Waugh Chapel & IMAX
Located 20 miles from Baltimore and 15 miles from Annapolis, the city of Odenton, Maryland, has around 37,000 residents. However, it started as a small farming community around 1840 and was initially centered around the Annapolis and Elk Ridge Railroad. It was officially named Odenton in 1868.
The community is rapidly growing and is known for being a hub for many active military personnel and scientific specialists who work at Fort George G. Meade or the NSA headquarters. As an industrial hub, there is plenty of public transportation, with the station on the MARC Penn Line being the most popular way to get around town and to nearby communities.
Homes for sale in Odenton typically range from the low $300s to over $1 million. There are plenty of options concerning style and layouts, ranging from townhomes and condos to historic single-family homes. Nearby the community, there are opportunities for fishing, hunting, hiking, and sporting courts, with the Patuxent Research Refuge being a favorite place to get in touch with nature.
There are numerous big-box retailers, specialty shops, and other businesses throughout the city to choose from. Odenton also has other pursuits for those who enjoy competition, and the Piney Orchard Ice Arena is popular with skaters year-round.
Severn
Severn Amenities
Queenstown Premium Outlets
Seven Oaks Shopping Center
Copper Canyon Grill
The Cheesecake Factory
With a long history dating back to the mid-1700s, Severn, Maryland, has been continually growing and is considered one of the best cities in the state to call home. There are nearly 21,000 people, and this suburb has increased in population dramatically in recent years.
Life here offers residents plenty of things to do, as homes for sale in Severn are near lots of parks, shops, restaurants, and entertainment venues. Severn's median home prices are generally around the $400s, and most own their homes versus renting.
Fort McHenry National Monument and Historic Shrine is nearby and is best known for playing a role in the War of 1812 while defending Baltimore Harbor from the British Navy. Another place for excitement is Severn-Danza Park, which has many amenities such as picnic areas, multiple trails, baseball fields, basketball courts, and there's even a BMX track.
Gambrills
Gambrills Amenities
Mission Escape Rooms
Crofton Go-Kart Raceway
Regal Cinemas Waugh Chapel
Night Hawk Golf Center
The Blackwall Barn & Lodge
Smashing Grapes - Gambrills
Named after plantation owner Augustine Gambrill, the suburb of Gambrills, Maryland, consists of an incorporated portion and an unincorporated area. This suburb is home to just under 3,000 residents, giving the city a rural feel without being short on things to do.
Median home prices in the area are generally around the $500s, but there are homes for sale in Gambrills at many price points, from single-family homes in the $300s to luxury homes over $1 million. Locals have ample public transportation via the Maryland commuter rail service and bus routes 3 and 32.
When it comes to places to shop, there are small retailers in the city center along two large shipping centers adjacent to each other. Waugh Chapel Towne Centre is part of a 1.2-million-square-foot mixed-use development with over a hundred stores. The center houses popular big-box retailers, restaurants, and a theater. Other popular places to visit include the Horizon Organic Dairy Farm and Education Center, which promotes research and public education with a large museum.
Crownsville
Crownsville Amenities
Founders Tavern & Grill
Lures Bar and Grill
Bean Rush Cafe
Jalapeno's
S K Pizza & Subs
Crownsville, Maryland, is a smaller community in Anne Arundel County. Just over 2,000 residents live in this Chesapeake Bay community, and homes for sale in Crownsville usually range from the $200s to the $600s, though there are luxury homes on the market worth $1 million and up. Commuting to Baltimore or Washington D.C. is a relatively quick 40-mile journey via an extensive rail line.
Along with the increase in industries like manufacturing and shipping, most of the downtown area has been revamped with an emphasis on historic preservation. Locals enjoy waterfront scenery and plenty of natural spaces and parks in Crownsville. The restored waterfront is a popular leisure and commercial destination with a top-notch aquarium and several museums.
Crownsville is home to the annual Anne Arundel County Fair and also hosts the Maryland Renaissance Festival. Those looking for playing fields and nature trails often visit Generals Highway Corridor Park. Another treasure is the Bacon Ridge Natural Area, which offers over 600 acres of marshes, forests, and trails.
Golfers tend to favor the 6,659-yard long, 18-hole Eisenhower Golf Course that was designed by golf architect Ed Ault. The Anne Arundel County Fairgrounds hosts events throughout the year in addition to the traditional fair. Residents have access to large retailers, small boutiques, and two malls nearby.
Discover the Best Suburbs of Annapolis and Find a New Home
There are many neighborhoods in Annapolis, but city life may not be for everyone. Those looking to enjoy a smaller community should check out these top Annapolis suburbs.
If you're looking for your Annapolis dream home, contact The Bob & Ronna Group of Berkshire Hathaway HomeServices with Maryland Real Estate Advantage at (410) 465-4440 to get in touch with an Annapolis real estate agent who can help find the perfect place for you.