5 Annapolis Communities With On-Site Marinas: Boat Life Made Easy
Posted by Bob and Ronna Chew on Monday, January 31, 2022 at 11:00 AM
By Bob and Ronna Chew / January 31, 2022
Comment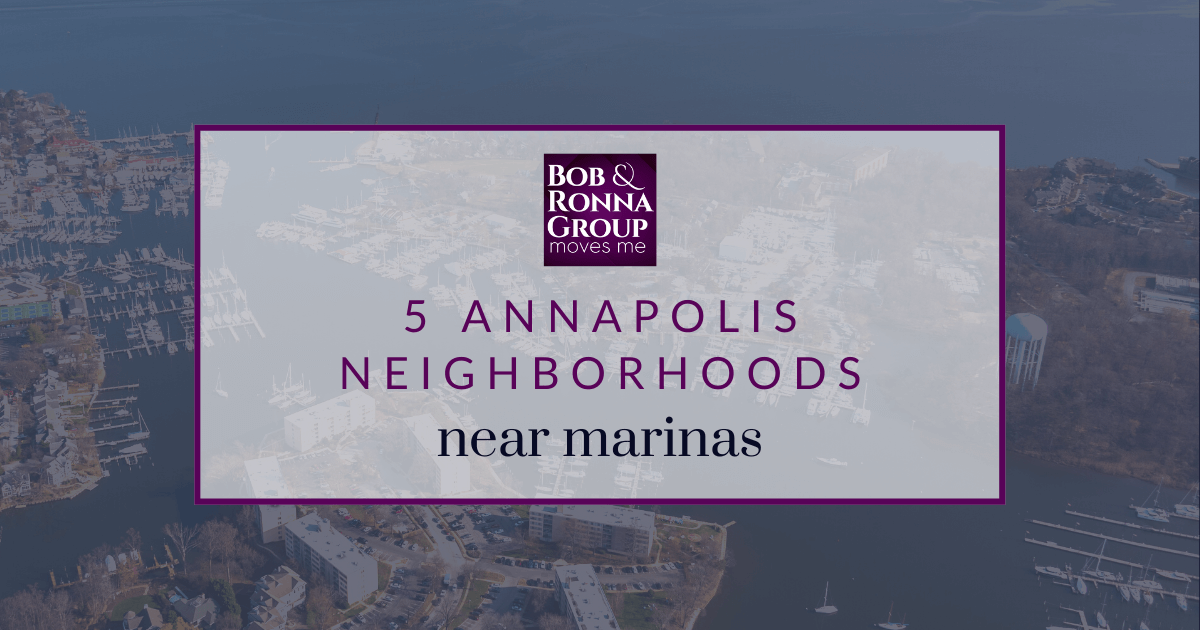 Annapolis is surrounded by bodies of water, so it's no surprise that boating is part of the lifestyle here in Maryland's capital city. That also means that many thousands of residents need space to dock their boats. Fortunately, Annapolis has no shortage of public and private marinas, in addition to the occasional waterfront homes for sale with private docks. Here is a closer look at some great neighborhoods with homes for sale near Annapolis marinas.
Eastport
Eastport is considered the "maritime district" and is one of the best neighborhoods in Annapolis for boaters. It has everything from Colonial-style homes to luxurious low-rise condos when it comes to housing. The neighborhood's famed "Restaurant Row" is a bonus for residents; this little stretch of town features some of the best waterfront dining on the East Coast.
The Eastport Yacht Center is a full-service marina with 106 fixed and floating docks. They offer part-time and annual rental dock space and have enough amenities for boat owners who want to live on their watercraft year-round. Catamarans, sailboats, and powerboats up to 55 feet in length are allowed. Amenities include free WiFi, a bathhouse and laundry facility, a pump-out station, a picnic area with a grill, and on-site storage units. Rates typically range from $3,460 to $11,060 per month based on boat length.
The Annapolis City Marina is also located in Eastport. It has 86 fixed pier slips available daily, monthly, or annually. Amenities include a pump-out station, a gas and diesel fueling station, a bathhouse, electrical and water hookups, an on-site convenience store, and laundry facilities. Overnight fees for docking at the Annapolis City Marina are $2.75 per vessel foot. Both the Annapolis City Marina and the Eastport Yacht Center are located on Spa Creek, which empties into the Severn River.
Downs on the Severn
Downs on the Severn is a residential community just to the north of Annapolis, situated between Brewer Creek and Clements Creek. Both creeks feed into the Severn River. There are 225 homes in this beautiful, wooded area, and all residents are members of the local Property Owners Association. The Owners Association maintains two marinas in Downs on the Severn as private amenities for the residents here. Homebuyers considering the merits of marinas vs. private docks may find that they get the best of both worlds in Downs on the Severn.
Clements Creek Marina has 76 slips available. It has a small number of 20-foot slips available, but most are for 30- to 50-foot vessels. There are electric hookups at the 30-feet-and-above slips. There are restrooms, an icebox, and a picnic area available for residents. Slip holders also have access to fresh water and a pump-out station. A volunteer committee within the community keeps the marina in immaculate shape at all times.
The Brewer Creek Marina, on the north side of Downs, is not a "marina" with dock slips. It's a boat launch area for smaller watercraft like boats under 23 feet, kayaks, and jet skis. Residents are allowed to park their trailers at the marina when their boats are actively being used. This boat launch is also exclusively for Downs residents.
Fishing Creek Farm
Fishing Creek Farm is a secluded community with 120 waterfront homes that border the South River. The community is just a few minutes south of Downtown Annapolis. Fishing Creek Farm has a private community swimming pool, a clubhouse, tennis courts, and other amenities that are exclusively for residents. It also has a private crabbing pier that stretches out into Fishing Creek.
Fishing Creek Farm has a private marina for its residents, which also rents out a few transient slips. It has 36 slips available just for residents. In order to rent a temporary or transient slip at this marina, sailors must be a guest of one of the residents in Fishing Creek Farm. Transient slip rentals are just $15 per day, regardless of vessel size. The marina is on beautiful Duvall Cove, which empties into the South River.
The marina also provides a mooring field for additional boats. Some slips have power lifts available, and the outermost slips are reserved for vessels with a deeper draft. Other amenities at the Fishing Creek Farm marina include a jet ski docking area, a boat launch for non-slip holders, and a pump-out station.
Chesapeake Harbour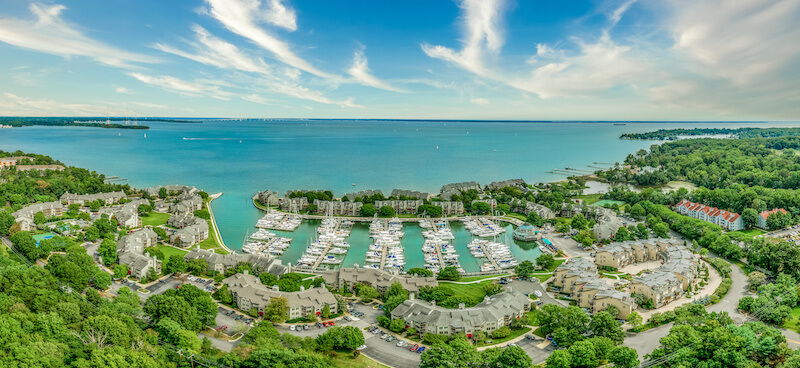 Located in southeast Annapolis, Chesapeake Harbour is a private community of waterfront homes and condos. As its name implies, the community is on the banks of Chesapeake Bay, right next to the mouth of the Severn River. It is a gated community with private swimming pools, private tennis courts, and a private marina for residents only.
The Chesapeake Harbour Marina is one of the finest private marinas in Annapolis. The marina is in a protected basin for added protection of the boats. Amenities at the Chesapeake Harbour Marina include complimentary WiFi, electric and fresh water hookups, and dock boxes. There is a private beach, multiple private fishing piers, an on-site waterfront restaurant, on-site laundry, two bathhouses, and a shuttle bus. The standout amenity at this marina is the Yacht Butler, a service that acts as a point of contact for all slip holders. The Yacht Butler coordinates maintenance and detailing for boat owners, restocks coolers before owners head out on the water, and will even help remove canvas.
The Chesapeake Harbour Marina has 215 slips available for residents and maintains a few transient slips during the summer months. The boats docked here are primarily smaller yachts, sailboats, and catamarans.
Epping Forest
Epping Forest is a private, gated community just a few minutes north of Downtown Annapolis. The community is bordered by Clements Creek to the north, Saltworks Creek to the south, and the Severn River to the east. Epping Forest has so many trees that the community is often 10 degrees cooler than in surrounding areas during the hot summer months. It's a very tight-knit community where most people know their neighbors well. Epping Forest has a private beach area, a clubhouse, a private marina, and a private pier for residents' use only.
The Epping Forest Boat Club handles maintenance and private events at the marina in Epping Forest. So many residents own their own boats in Epping Forest that there is often a waiting list for the limited number of slips at the marina. The Boat Club hosts annual events for the community like a rockfish contest in spring, a dock party in summer, and an Oyster Roast in the fall. One of the major factors some boaters overlook when choosing a marina is the community that comes with it—in Epping Forest, the active community is a stellar feature.
The beach area and the docks in Epping Forest are a hub of activity throughout most of the year. It's not unusual to see many of the community's children playing on the beach in the summer or jumping off the diving board at the end of the pier in the designated swimming area. Boating and playing on the water are a big part of life in Epping Forest.
Annapolis is a Boating Community
Relaxing, sailing, fishing, and racing on the waters in and around the Chesapeake Bay is a major part of life in Annapolis. It's no wonder Annapolis is home to the US Naval Academy and a major US Coast Guard station. Residents of Annapolis have been enjoying the waters of Chesapeake Bay for centuries, and as a result, the city has a robust array of public and private marinas available year-round.