4 Annapolis Neighborhoods With Colonial-Style Homes
Posted by Bob and Ronna Chew on Wednesday, May 18, 2022 at 2:20 PM
By Bob and Ronna Chew / May 18, 2022
Comment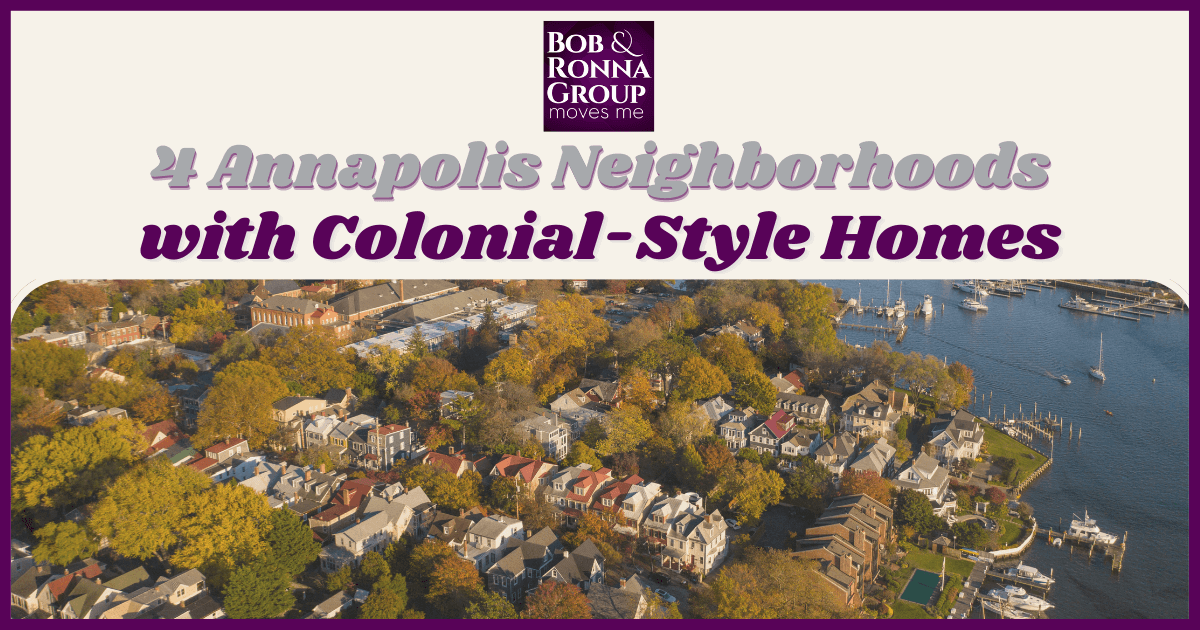 With a long history stretching back to 1649, the city of Annapolis features numerous Colonial-style structures, including Colonial-style homes. The charming state capital offers impressive Colonial homes in several walkable neighborhoods near downtown or nestled alongside the area's various creeks and forests. These great Annapolis neighborhoods provide near-endless entertainment, education, and exercise opportunities with on-site amenities like pools, playgrounds, and piers complemented by nearby venues like restaurants, museums, and parks. Keep reading to discover why these four Annapolis neighborhoods with Colonial-style homes are some of the best.
Murray Hill
The creekside Murray Hill neighborhood boasts beautiful Colonial-style homes, walkable streets, and nearby attractions like restaurants, museums, and performing arts centers.
This historical neighborhood traces its roots back to 1651 when carpenter Richard Acton received a certificate of survey for 100 acres north of today's Spa Creek. Initially called Acton Hall, Murray Hill's current namesake comes from a lawyer named James Murray, who obtained about 100 acres of the area in 1837. Murray's heirs began selling off portions of the estate in the 1880s, resulting in the neighborhood's formation in 1890. Over its long history, Murray Hill has seen the construction of homes in various periods and architectural styles, including stately Colonial-style properties.
Today, Murray Hill is one of Annapolis' most walkable neighborhoods. Greenery like trees and hedges line the neighborhood's quiet streets, providing ample shade. With Spa Creek visible from several roads and public boat launches available at local parks, it's easy to enjoy the water even without owning a waterfront home.
Murray Hill's walkability makes it easy to access Annapolis' nearby attractions, including the bustling downtown region. West Street features numerous popular restaurants, such as Miss Shirley's Cafe and Sailor Oyster Bar. The nearby Banneker-Douglass Museum highlights the region's spirited history. Meanwhile, Maryland Hall to the west provides opportunities for engaging with the arts.
Historic Annapolis
Located in the heart of the state capital, Historic Annapolis is one of the most vibrant parts of the city, featuring impressive Colonial-style homes and near-endless attractions, including museums, docks, and restaurants.
Living in Historic Annapolis can provide all the comforts of modern life while enjoying charming 18th-century architecture and style. Annapolis boasts more original 18th-century buildings than any other US city, with many preserved in its historic district. The neighborhood's layout takes inspiration from old European cities. It features circular streets surrounding St. Anne's Parish and the Maryland State House and straight roads radiating from these central points. Colonial-style homes and rowhouses line Historic Annapolis' streets, with many dating back to the 17th and 18th centuries.
Many preserved homes in Historic Annapolis are open for tours, including the Hammond-Harwood House and Chase Lloyd House. Additionally, venues like the Museum of Historic Annapolis and the US Naval Academy Museum promote knowledge of history.
Known as the historic heart of Annapolis, the Annapolis City Dock hosts many of the city's major events, including the Annapolis Spring Sailboat Show. Take a relaxing stroll along the docks or dine outside at one of the area's numerous waterfront restaurants.
Kingsport
Tucked away in the outskirts of Annapolis, Kingsport is a secluded neo-traditional neighborhood featuring large Colonial-style homes and fun community amenities, including playgrounds, docks, and pools.
Kingsport's homes are roomy and have spacious, well-manicured lawns and gardens. Basheer and Edgemoore began building the neighborhood's elegant brick homes in the early 2000s. Although the homes are relatively new, they maintain a traditional feel due to design choices upheld by the Kingsport Community Association. The neighborhood's architecture and recent construction enable residents to enjoy a Colonial-style home's charm while benefitting from modern construction techniques and furnishings.
Sidewalks and paved trails make it easy for residents to walk around Kingsport and access its various amenities. A community pool complex located at the neighborhood's center boasts opportunities for swimming, sunbathing, or relaxing in the community hot tub. A nearby playground and grilling areas make the complex a prime location for community gatherings.
Just south of Kingsport lies Crab Creek, which connects to the South River. Kingsport has a community pier where anglers can cast a line for striped bass, white perch, largemouth bass, and other fish. Additionally, kayak and canoe storage racks and a loading bar on the community pier make it easy to get out on the water.
Hunt Meadow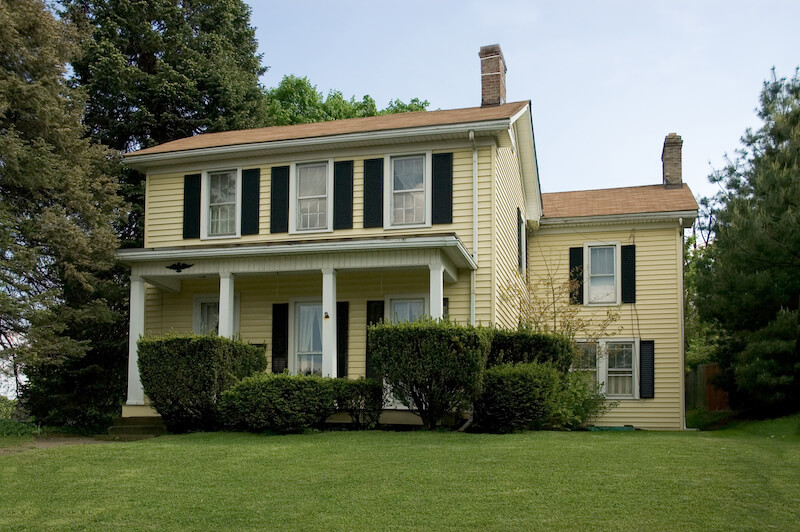 Nestled between Quiet Waters Park and lush vineyards, Hunt Meadow is a beautiful neighborhood offering lovely Colonial-style homes and plenty of opportunities for outdoor activities in Annapolis.
Although most houses in Hunt Meadow are single-family homes, the quiet neighborhood has several townhomes located off the northern stretch of Hunt Meadow Drive. Most of the neighborhood's homes boast generous lawns and shady trees, allowing for hours of outdoor enjoyment.
Sidewalks alongside every road make it easy to walk around the neighborhood and reach amenities like the Hunt Meadow pool and tennis courts. Take a dip in the pool's shallows, practice swimming laps in the marked lanes, or dive into the deep end! The pool parking lot also has a basketball hoop with half-court markings to practice shooting hoops.
Just southwest of Hunt Meadow lies Great Frogs Winery, an award-winning vineyard producing some of the Chesapeake Bay region's best wines. The winery's self-guided indoor and outdoor tastings usually last about two hours.
Quiet Waters Park, located on Hunt Meadow's southeast side, spans 340 acres and offers trails, playgrounds, and gorgeous gardens. The park hosts concerts and private gatherings in picnic pavilions or the Blue Heron Center. Visitors can look out over the South River from one of the park's vantage points or experience the water firsthand with a rented boat.
Find Colonial-Style Homes in Annapolis
Annapolis is a great city for finding Colonial-style homes characterized by symmetrical floor plans, steeply pitched roofs, and multi-paned windows. These four neighborhoods are some of the best places to look for charming Colonial homes due to their prime locations, impressive amenities, and walkable streets. With plenty of activities to do in these neighborhoods and nearby, it's easy to enjoy living in Annapolis.