Blue Angels Annapolis: 6 Best Neighborhoods For Seeing the Blue Angels
Posted by Bob and Ronna Chew on Monday, October 10, 2022 at 1:12 PM
By Bob and Ronna Chew / October 10, 2022
Comment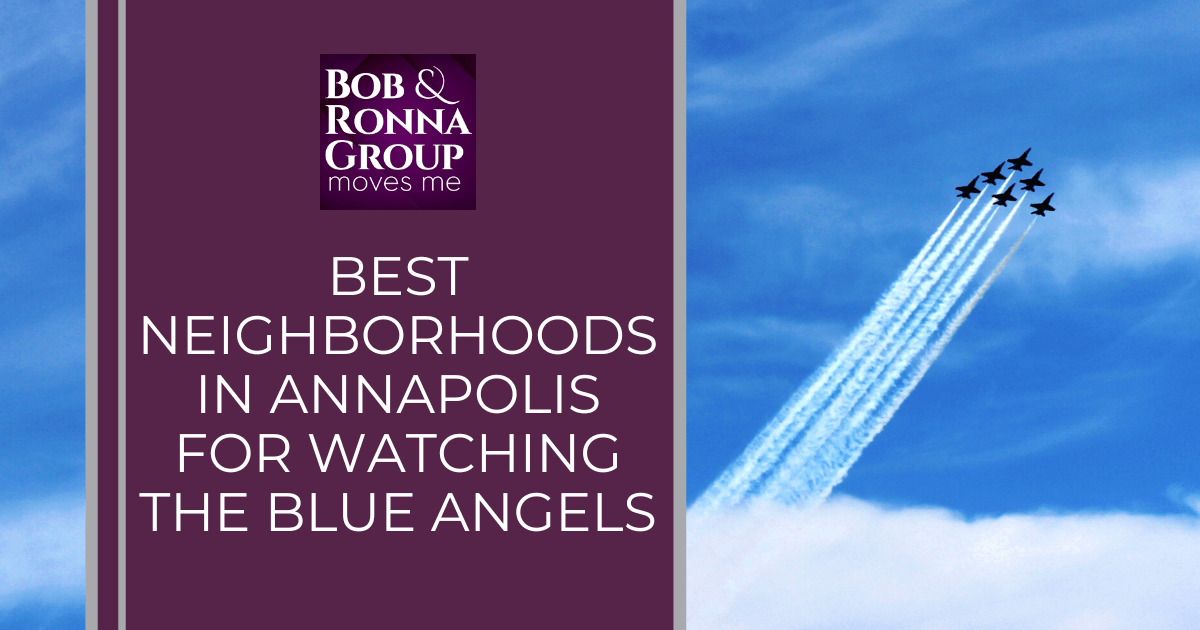 The Blue Angels is a squadron of the United States Navy that has performed jaw-dropping flight formation demonstrations for over 75 years. Founded in 1946, it's the second-oldest formal acrobatics team in the world. There are five Navy pilots and one Marine Corps pilot, each flying Boeing Super Hornet planes.
Each year, the squadron performs for nearly 11 million spectators in 32 locations in the United States and Canada between March and November. The city of Annapolis, Maryland, is one of these locations and offers several neighborhoods with great views of the Blue Angels' fantastic shows.
Bay Ridge
Located just southeast of Annapolis, Bay Ridge was initially developed as a summer resort and hotel in 1879. Situated where the Severn River meets the Chesapeake Bay, this town takes its name from the Bay Ridge Company, which operated the now-defunct Bay Ridge and Annapolis Railroad, a 4.5-mile route between the two towns. Bay Ridge was a popular vacation destination for visitors who arrived by boat or train.
Today, in stark contrast, the neighborhood is notable for not having commercial businesses within its borders. Bay Ridge residents drive to nearby communities and downtown Annapolis for shopping, dining, and other services as a trade-off for keeping their town almost entirely residential. Many of Bay Ridge's homes are waterfront properties, providing clear views of the skies for Blue Angels shows.
Since 1999, locals have enjoyed access to the members-only Bay Ridge Pool. It includes nearly 200 feet of private beach access, a 25-foot-long pool with six lanes, a unique L-shaped diving pool, and a 300-square-foot children's pool. The Bay Ridge Pool is an especially popular hangout spot during the summer months. The Bay Ridge Pool Association sponsors several events each year, including a luau at the end of the summer.
Bay Ridge Amenities
Almost entirely residential community
Bay Ridge Pool
Waterfront properties
Community events
Sherwood Forest
Northwest of Annapolis, Sherwood Forest is an officially unincorporated community similar to Bay Ridge, initially conceived as a resort town. In the early 1900s, businessmen and developers cleared trees for a community that included over 341 houses with amenities such as a golf course, a marina, a swimming pool, tennis courts, a bowling alley, and a softball field.
Sherwood Forest homes are within a gated community operated by the Sherwood Forest Club and the Sherwood Forest Company. "The Club" is responsible for creating and enforcing local bylaws and regulations, while "The Company" is responsible for infrastructure maintenance, including roads, piers, the waterfront, and other amenities. The neighborhood prides itself on its original cottages, limited to specific colors to blend in with the surrounding forest.
Sherwood Forest Amenities
Gated community
Unique architecture
Private amenities
Eastport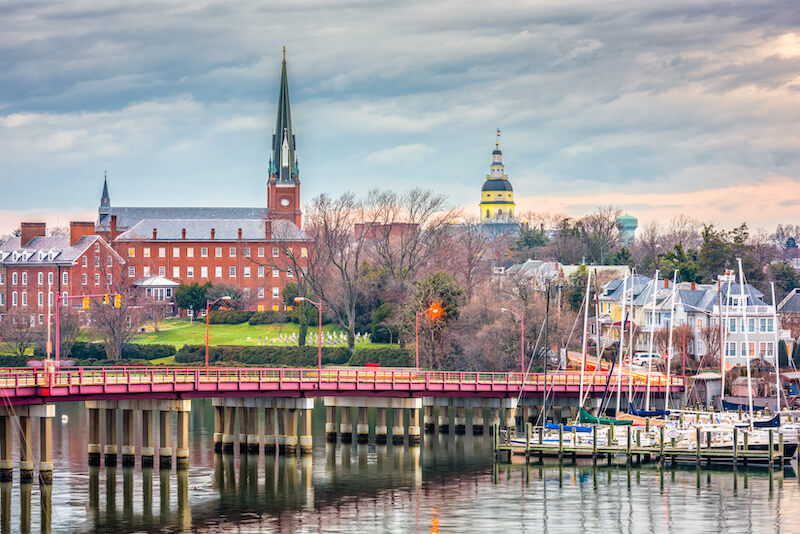 Affectionately referred to as "a different side of Annapolis," Eastport is across Spa Creek from downtown. It was initially settled in 1655, incorporated in the late 1800s, and was later annexed by Annapolis in 1951.
Eastport is known locally as the Maritime Republic of Eastport. The town declared independence from Annapolis in 1997 when the state highway administration temporarily closed the drawbridge that connects it to the rest of the city. Annapolis is well aware of this mock secession and even embraces it. Every year, locals participate in a tug-of-war between Eastport and Annapolis.
Being a maritime community, Eastport played a pivotal role as a protective encampment for troops in the American Revolutionary War and the War of 1812. The area grew significantly in population after the United States Naval Academy (USNA) was established in the city. Many Eastport residents work at the USNA, giving the area special significance as a fantastic place to view the dazzling feats of the Blue Angels.
Visitors and locals can tour several museums not far from the homes in Eastport. Bustling Restaurant Row offers dozens of waterfront options to satisfy virtually every craving, including several steakhouses and seafood spots.
Eastport Amenities
Annual Tug of War Event
Restaurant Row
Eastport Yacht Center
Annapolis City Marina
Boat community
Admiral Heights
Situated northwest of downtown Annapolis within walking distance of the Maryland state capitol building, Admiral Heights is near the Navy-Marine Corps Academy Stadium and home to several waterside parks. Established in 1951, Admiral Heights includes over 600 homes and serves as another excellent place to watch the Blue Angels in their airborne glory.
Admiral Heights was established in an area that was once farmland owned by the Dorseys, who first arrived in the mid-1600s. Ownership of land changed hands several times, including a period when it belonged to St. John's College. Most of the community's streets are named after US Navy admirals.
As with other Annapolis neighborhoods, Admiral Heights includes several waterfront areas, including Dewey Dock and Halsey Park. Many residents love to kayak or canoe on Weems Creek. Locals can even rent a rack to store their kayak or canoe for an annual fee.
Residents also enjoy membership at the Admiral Heights Boat Club, owned and operated by the Admiral Heights Improvement Association. Boat slips at the club are primarily reserved for members, but anyone part of the AHIA can always dock their watercraft temporarily.
Admiral Heights Amenities
Dewey Dock
Halsey Park
Kayaking and canoeing on Weems Creek
Admiral Heights Boat Club
Arundel on the Bay
Arundel on the Bay is about two miles southeast of Annapolis. This community is also a former resort area situated on a peninsula flanked by Fishing Creek and the Chesapeake Bay. Locals can enjoy views of the eastern shore on clear days. Arundel on the Bay feels far away from Annapolis, offering great views of Blue Angels performances and a tranquil environment to enjoy them.
Arundel on the Bay is close to the Historic District of Annapolis, which offers an abundance of dining and retail options. The community also owns a private beach that provides quick access by boat to the Thomas Point Lighthouse. Widely considered the most recognizable beacon in all of Maryland, this lighthouse is a 1.5-story, hexagonal cottage with a light and a foghorn. The Thomas Point lighthouse is a registered national landmark in the National Register of Historic Places.
There are over 300 homes in Arundel on the Bay. Use of the beach, pier, boat ramp, and boat launch is for residents only, and residents should accompany visitors to use the facilities. Guest passes are always available for visitors to identify themselves.
Arundel on the Bay Amenities
Close to the Historic District
Private beach with access to Thomas Point Lighthouse
Resident-only community amenities
Highland Beach
Downtown Annapolis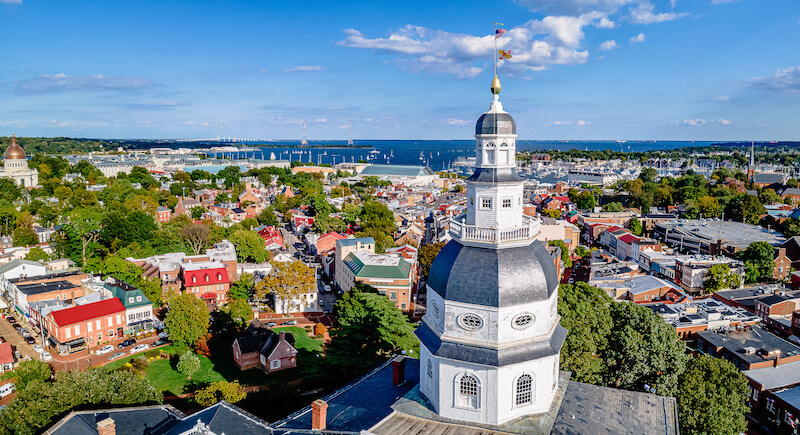 Downtown Annapolis has a reputation as being one of the nation's most walkable towns. The next time the Blue Angels come to the area, you can make a day out of experiencing downtown and its various shops, restaurants, galleries, and historic buildings, all while enjoying the aerial performance. Grab a cup of coffee as you walk down Main Street – you'll want to stop and enjoy the views of boats sailing in and out of the Annapolis Harbor.
In the heart of downtown Annapolis, the United States Naval Academy campus is open to visitors. What better way to start or follow up a Blue Angels performance than with an up-close-and-personal look at the institution that produces officers for the Navy and the Marine Corps? An onsite museum provides fascinating exhibits on the school's history, and visitors can also stroll around the campus, observing the architecture and other points of interest.
If you're a sports enthusiast, the USNA also has athletic teams participating in competitive collegiate events such as football and basketball. Tailgate parties are a big deal at USNA, so check the home game schedule. Aside from football and basketball, you can watch rugby, lacrosse, and wrestling matches. The institution competes against nearby St. John's College in the annual Annapolis Cup croquet match.
Downtown Annapolis Amenities
Walkable community
United States Naval Academy
Shops, galleries, and historic buildings
Main Street
Discover Annapolis Today
There are many places where you can watch the Blue Angels. Annapolis, Maryland, is a particularly special place to watch this fantastic show, thanks to the city's nautical legacy. Situated on the Chesapeake Bay, Annapolis and many of its neighborhoods offer waterfront locations for all to enjoy. From sailing and kayaking to experiencing the area's historic charm firsthand, there are so many things to do in Annapolis.
If you're looking for your Annapolis dream home, contact The Bob & Ronna Group of Berkshire Hathaway HomeServices with Maryland Real Estate Advantage at (410) 465-4440 to get in touch with an Annapolis real estate agent who can help find the perfect place for you.