4 Best Annapolis Neighborhoods for Boating: Set Sail on the Chesapeake Bay
Posted by Brian Alexander on Monday, December 13, 2021 at 10:36 AM
By Brian Alexander / December 13, 2021
Comment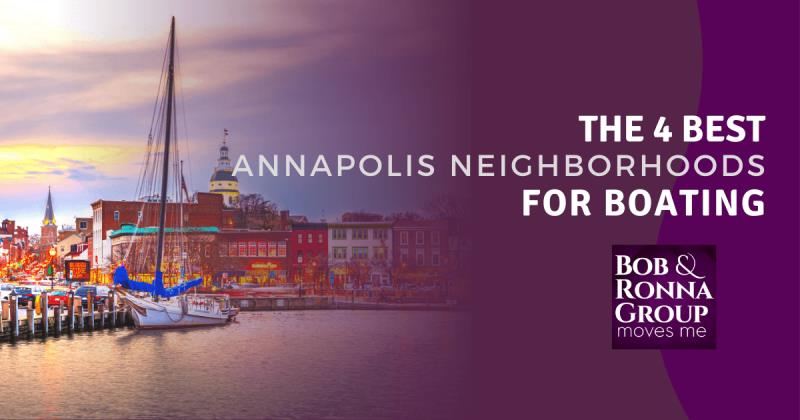 Nestled amid the Severn River, Magothy River, and the Chesapeake Bay, Annapolis is a beautiful city in Maryland, just 25 miles out of Baltimore. The town is famous for various reasons, but perhaps most of all among boaters, earning the nickname "The Sailing Capital of the World." As such, there's an excellent selection of Annapolis homes with boat docks for sale.
Are you a boater looking to make your dream of sailing daily a reality? Keep reading to find out the top four Annapolis neighborhoods for boaters.
Eastport: Sail Near Downtown Annapolis
Eastport is a vibrant community within a short walk of downtown Annapolis. Like most of the best neighborhoods in Annapolis, it also features eclectic home architecture ranging from waterfront homes, condos, townhouses to colonial-style houses. As a peninsula sandwiched between Spa Creek and Back Creek, Eastport not only boasts immense natural beauty, it's also a haven for boaters and homeowners who enjoy the endless boating amenities it offers.
It's also the perfect Annapolis neighborhood for boaters looking to skip tourist crowds at the bay. This nautical neighborhood has countless marinas, street-end water parks, kayak and canoe ramps for storage, and even boat and kayak rentals. Boat enthusiasts interested in maritime history will enjoy spending time at the Annapolis Maritime Museum, where they can familiarize themselves with the ecology of Chesapeake Bay through fun and interactive exhibits, as well as public tours.
Homes in Eastport are also close to the state-of-the-art Naval Academy Campus in the Admiral Heights neighborhood. In a nutshell, Eastport might be small, but it is entirely independent and has the charm of a growing mid-size urban center. It's no wonder Annapolis boaters love Eastport.
Chesapeake Harbor: A Bayfront Dream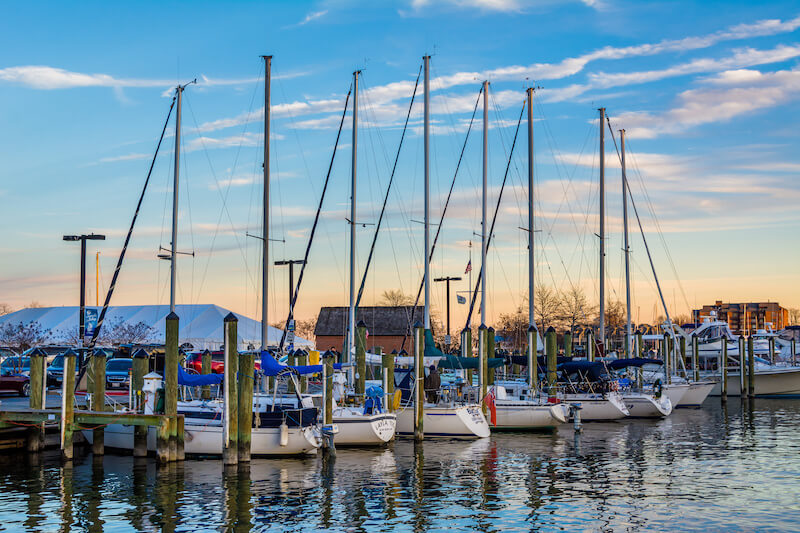 When looking for an Annapolis neighborhood that's great for boaters, there's no other better place to search than by the bay itself, which is where you'll find homes in Chesapeake Harbor. It is a community of homes divided into four villages and is just a walking distance to the bay. It has a resort-style feel and comprises homes with different floor plans ranging from condos to duplexes and massive waterfront homes.
Its location near the bay and at the mouth of the Severn River means living here unlocks free access to some of the best cruising spots around the Chesapeake Bay and a plethora of boating amenities. For instance, residents have access to a deep-water marina with over a hundred slips, kayak, and canoe ramps and rentals. It is also a haven for watersport lovers.
Those looking for ways to keep fit will also be glad to know the Chesapeake Bay has multiple tennis coats and perfectly maintained walking and biking trails. For laidback weekends at home, the Chesapeake Harbor has a picnic area and is pet-friendly, meaning Fido can tag along too.
Fishing Creek Farm: A Thomas Point Haven For Boaters
Fishing Creek Farm is a beautiful waterfront community with something for everyone. Located near Thomas Point, the neighborhood offers unobstructed access to the Chesapeake Bay, meaning boat owners can take cruises on the bay whenever they want. There's even a kayak rack and a pier extending from the creek to the bay. The community has a thirty-six slip, affordable marina, and a boat ramp, making life easier for boat owners.
Fishing Creek also has a well-maintained tennis court, a clubhouse where residents meet for a chat, and a waterside pool if you'd like to take a break from boating. Plus, they hold fun social events throughout the year. To add to the list of exciting perks for residents, part of Fishing Creek Farm is a vast, natural open space of pristine beaches, beautiful woodlands, and even an estuarine shoreline. Fishing Creek holds some of the most luxurious homes in Annapolis.
Admiral Heights: Enjoy a Private Dock on Weems Creek
Characterized by about 600 homes and streets named after admiral graduates from the nearby US Naval Academy, Admiral Heights is a waterfront community just minutes from downtown Annapolis. The historic neighborhood is also a short drive to popular spots like the Chesapeake Bay Bridge, Annapolis Mall, and Route 50. Ease of access aside, residents love the area for its strong community feel and boat-friendly features.
It is close to the Chesapeake Bay and at the same time has waterside parks where resident boaters can take their vessels for a spin or spend the day fishing and swimming. For kayak and canoe owners, Admiral Heights has a shared storage rack. The community even has a boat club, an annual party, and neighborhood events throughout the year, so there's enough to keep boat enthusiasts busy. Like most neighborhoods in Annapolis, Admiral Heights is also an HOA-run community.
Boaters: Make Yourselves at Home in Annapolis
Annapolis is an excellent place to live, not just because it's close to the nation's capital but also for its wealth of scenic waterfronts. So, it's no surprise that it's home to some of the best neighborhoods for boaters. Of all the things boaters should know about buying waterfront homes, the first thing is where to find them in Annapolis.