Best Bang for Your Buck: 4 Ways to Increase Enjoyment & ROI of Your Annapolis Luxury Waterfront Home
Posted by Bob and Ronna Chew on Monday, November 1, 2021 at 1:43 PM
By Bob and Ronna Chew / November 1, 2021
Comment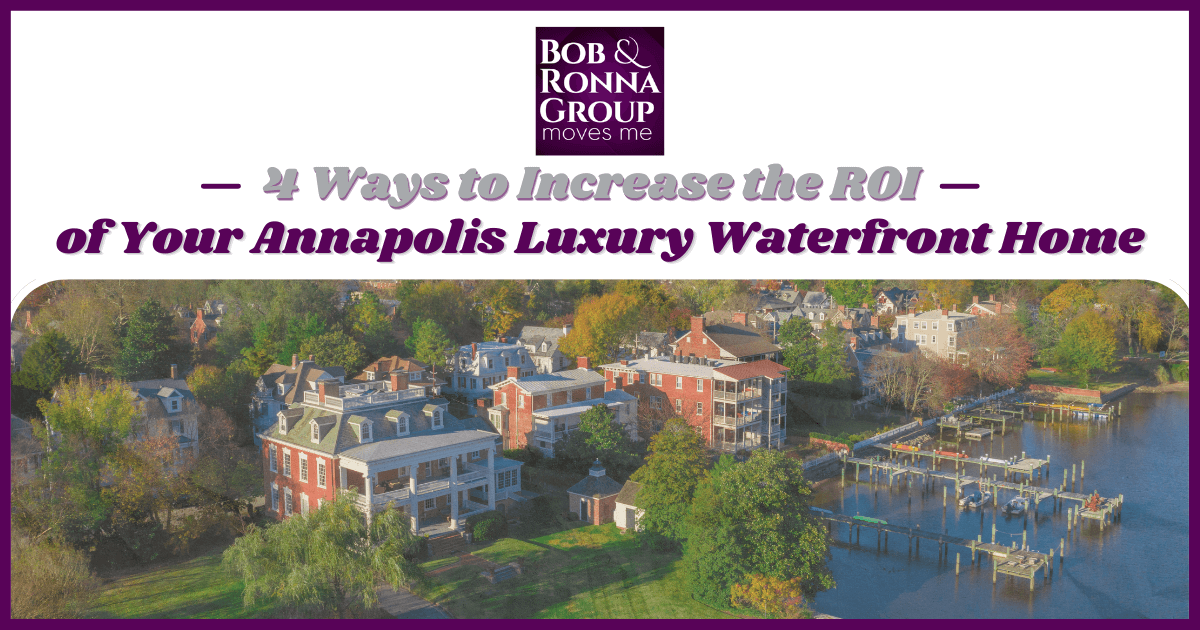 Annapolis, Maryland's capital city and the county seat for Anne Arundel, is a vibrant, upbeat city with historical and contemporary charms in equal measure. Long known for its high number of well-maintained 18th-century buildings and miles of woodland gardens, homes in Annapolis offer an endless array of possibilities for everyone. Its breathtaking shorelines feature lighthouses, eateries, spas, yachts, and beautiful luxury waterfront homes with idyllic views and picture-perfect sunsets.
Planning to invest in one of these homes? Here's how to get the best bang for your buck when buying a luxury waterfront home in Annapolis, MD.
Build a Private Dock or Boat Slip
Depending on the boat's size and length, docking rentals may charge anywhere between $150 and $1,000 per month. Add in extra off-season storage costs, and ongoing docking expenses can quickly push to the four digits.
On the other hand, building a private dock eliminates these ongoing docking, maintenance, and storage costs at a local marina. Besides, homeowners don't have to break the bank, as there are different types of docks, ranging from affordable piped ones to permanent, low-maintenance piling-based boat slips that cost as low as $1,000.
Other than reduced costs, building a private dock also comes with plenty of other perks. A private dock or boat slip will significantly boost the value of your luxury waterfront home in Annapolis. It makes excursions and boat rides into the sunset a matter of simply drifting away instead of dealing with boat traffic at the harbor.
Besides, a private dock or boat slip can be custom-built to feature good lighting and decking, as well as a few cozy outdoor chairs, providing a functional outdoor space for entertaining. A private boat slip also enhances the boat's security since it's easier to keep an eye on it when it's just a few meters from home than when it's minutes away in a docking rental. Plus, one can always install cameras to beef up security, unlike at the marina.
Ensure Deeded Water/Beach Access
Another way to maximize the value of a luxury waterfront home in Annapolis is by securing deeded beach access rights. With deeded rights, luxury waterfront homeowners have the legal right to enter and exit someone else's private property to access the beach area. That means the property owner cannot build a fence or in any way restrict other homeowners from accessing the beach.
These rights also specify the pathway other property owners can use to directly access the water and parts of the beach they can explore to prevent trespassing conflicts. Some of these contracts also specify what one can and cannot do while on a beach on private property. Deeded beach rights must be included as an amenity in the recorded deed for validity. Review, and ensure your contracts have these rights as they help boost home value, provide seamless access to the beach, and prevent property owner conflicts in the future.
Riparian rights are another valuable thing to have, ensuring that homeowners have the legal right to use the water adjacent to their homes and build amenities like piers and docks.
Design an Outdoor Living Space
An outdoor living space creates extra space to relax and catch up with loved ones. It also boasts endless potential for entertainment since one can host anything from private barbecues to neighborhood parties. Add in idyllic views only a luxury waterfront home can offer, and it becomes an incredible relaxation spot. An outdoor living space also increases the waterfront's property values, allowing homeowners in Annapolis to make the most bang for their buck when reselling.
To design a magazine-worthy outdoor space that offers comfort without hindering functionality on a luxury waterfront home, prioritize the intended use. This helps in selecting the ideal layouts as well as elements needed for comfort. For instance, if you plan to host family dinners, a well-equipped outdoor kitchen should be part of the blueprint. If the space is meant for formal entertainment, ample seating and proper overhead protection from the sun and harsh weather are of the essence.
Consider natural elements, such as wind patterns, especially if you plan on incorporating a fire pit. Choose the right furniture, add a few plants, and consider a mini-bar to create a fully functional yet cozy outdoor space to enhance a luxury waterfront home's appeal and maximize value.
Prioritize privacy as well to create an outdoor living space that will allow you to maximize and enjoy it fully. If possible, consult a professional designer to create the perfect outdoor living space.
Purchase in a Community with Extra Amenities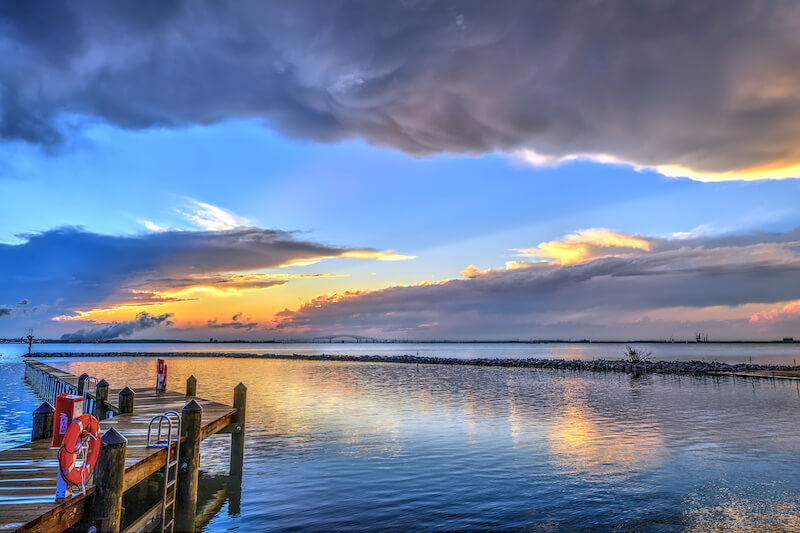 Some waterfront communities often feature extra amenities to boost comfort and luxury for the residents. For instance, some luxury waterfront home communities have a private marina, allowing homeowners a different way to skip the costs of public docking rentals. Other communities offer picnic areas complete with picnic tables, basketball courts, kids' playgrounds, tennis courts, gyms, and communal pools, among other wellness and recreational amenities.
Such amenities not only provide a great escape from indoors, but they also save on out-of-pocket costs as they're often much more affordable when they're bundled together, or in some instances, even free. They also evoke a sense of community and help a home resell quickly and at a high price whenever need be.
Maximizing Luxury Waterfront Home Value and Comfort
Owning luxury waterfront homes in Annapolis comes with unique perks such as waking up to the soothing sound of ocean waves gently crashing against rocks in the Chesapeake Bay or the gentle, lapping water of the Severn or South River. But while owning a waterfront home is already a big deal, there are steps you can take to get the most value for your investment. The ideas presented here may be helpful to enhance the quality of living and significantly increase a waterfront's home value in Annapolis.