What to Keep in Mind When Apartment Hunting in Baltimore
Posted by Bob and Ronna Chew on Tuesday, August 15, 2023 at 9:34 AM
By Bob and Ronna Chew / August 15, 2023
Comment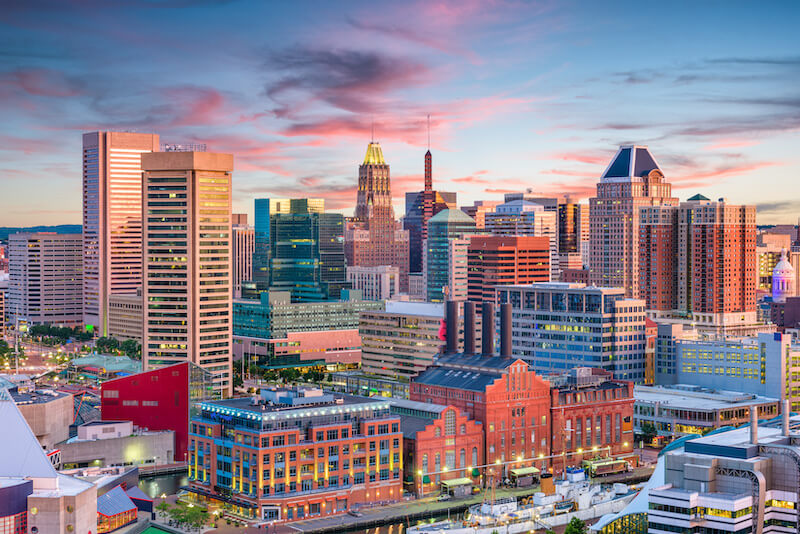 Like many U.S. cities, Baltimore's population and homeownership growth fluctuated through the pandemic. However, the latest stats indicate that people are making their way back to the city, with a 0.51% increase in the metro population from 2022–2023.
Whether you're a newcomer browsing for your first apartment (Baltimore is considered one of the best places to put down roots for Gen Z), or you're just looking to downsize and simplify, read on for some pointers on what to consider when apartment hunting in Baltimore!
Budget
When planning your move, determine your budget first and stick to it! There's so much more to budget for besides the rent; consider monthly expenses such as utilities, the price of groceries at your local market, and how much it'll cost to commute to and from work or school.
Remember that Baltimore's cost of living can vary significantly by neighborhood, so determine your budget before you begin your search.
Location
Each Baltimore neighborhood has its own unique character and amenities, so it's a good idea to scout locations that suit your lifestyle, your needs, and your pocketbook.
Do you have a dog? Consider an apartment in a neighborhood with a nearby dog park. Are you an avid runner? There are many areas with scenic running trails for getting some exercise.
Check the availability of essential local services such as healthcare facilities and schools, if applicable. It will also be helpful to know which grocery stores, parks, restaurants, and shopping centers are accessible from the potential apartment's location.
Transportation & Commute
If you plan to work or study in a specific area, consider the commute to your daily destination. Baltimore's traffic can be challenging during rush hours, so living close to work or school can be a significant convenience.
If you have a car, find out about parking options. Some areas in Baltimore may have limited street parking, and off-street parking may come at an additional cost.
If you'd like to navigate your commute without a car, find out if you can easily walk or whether you need to use public transportation. Many areas of downtown Baltimore are walkable and offer easy access to the MTA Bus, Subway, or Light Rail.
Amenities
Apartment properties typically offer an array of amenities to stay competitive in the rental market. Keep in mind that your rent will reflect that, so plan according to your needs vs wants when apartment hunting.
For example, if you already have a membership to a nearby gym, consider if it would be more cost-effective to keep it or to move to a property with an on-site gym. If you plan to travel extensively in the warmer months, does it make sense to pay extra for access to an on-site pool?
With a bit of research, you should be able to find a place you can afford that strikes a balance between "must have" and "would be nice to have" amenities.
Apartment Size
Consider the apartment's layout and how much room you'll need to be comfortable. For example, some people feel right at home with an efficiency-style layout, and some don't. If you've found a place you love but can't afford that second (or third) bedroom, are you willing to take in a roommate to help with expenses?
The Landlord's Reputation
Research the reputation of the landlord or property management company. Look for online reviews or talk to current or former tenants of the apartment complex to get insights into the living experience and the management's responsiveness.
Do they respond to maintenance calls quickly? Do they keep the grounds well-maintained and safe for the tenants? Are they communicative? Good communication and a responsible management team can make your stay much easier and more pleasant.
Lease Terms
Carefully review the lease agreement before signing it. Pay attention to the terms, including the length of the lease, rent increases, security deposit, and any additional fees or charges. Inquire about how maintenance and repairs are handled in the building.
If you have pets, confirm the apartment's pet policy, including any restrictions, fees, and pet-friendly amenities in the building or area. Be aware of your legal rights as a tenant in Maryland. Familiarize yourself with state and local tenant laws, which can help protect your interests.
Welcome to Baltimore!
Baltimore is an exciting city with so much to offer its residents! You'll find stunning architecture, a fascinating history, and a vibrant arts and culture scene. Chesapeake Bay offers a gorgeous backdrop and some of the country's best seafood. We have world-class restaurants, exciting sports venues, and entertainment to suit anyone's interests. With a little bit of careful research, you're sure to find the perfect apartment here to suit your needs!