Outdoor Design Tips for Your Luxury Waterfront Home
Posted by Bob and Ronna Chew on Monday, November 15, 2021 at 11:38 AM
By Bob and Ronna Chew / November 15, 2021
Comment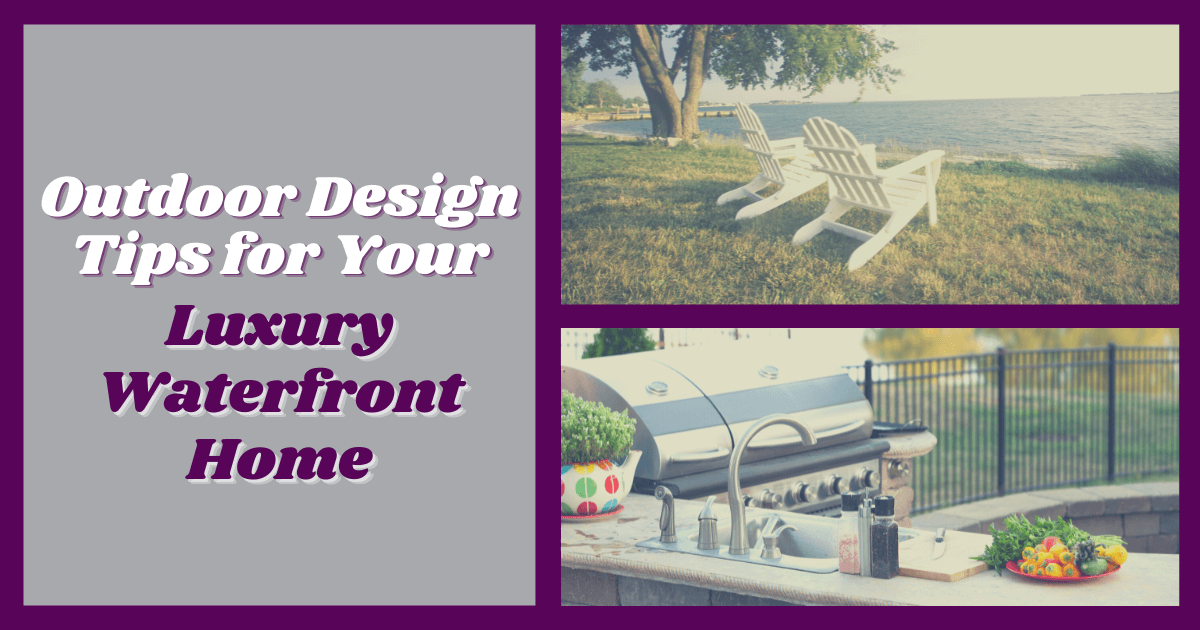 While a luxury waterfront home is already a delight to own, designing its waterfront is even more gratifying. It's a chance for homeowners to create a dreamy private waterfront paradise that accentuates an already stunning environment, offers a great summer escape, and boosts property value.
Whether set on the beautiful shore of the ocean or by an ever-tranquil river or lake, read on to learn how to design a private beach for a waterfront home.
Know the Access Deeds to Your Waterfront Property
Even though owning a luxury waterfront home with water access comes with riparian rights, adjacent property owners may still have deeded access to the shore. That means they have the legal right-of-way to the beach through a designated path on your property. Depending on the specific property clause, such homeowners may also have unlimited access to certain parts of the beach. Designing a private waterfront space in a way that blocks their access can result in disputes. So, before converting a standard-looking waterfront beach into a dreamy summer haven, luxury waterfront homeowners should first find out whether neighboring property owners have deeded water access.
If they do, waterfront designers should also learn about the stipulations of the deed since they vary based on community guidelines. For instance, some communities may allow deeded waterfront owners to set up a boat slip or docking station and have picnics on the beach, but overnight parties may not be permitted. Understanding such stipulations helps homeowners learn their rights as private beach owners. It allows them to avoid anything that might violate deeded property owner rights while designing their private waterfront.
Make Space to Play on the Shore
A day of fun at the beach is never complete without competitive games. While building sandcastles is fun, creating space to play will keep homeowners and their guests on the private beach long after sunset. Build a soccer or sand volleyball court for fun, casual matches when guests are over, or create a horseshoe pit and compete at scoring ringers on a weekday with a friend or spouse.
Note that these projects might be effort- and time-consuming, so homeowners might want to hire a pro for the job. Since direct access to the beach comes with the territory, consider getting a speedboat or installing water slides and other fun water features to encourage fun and competitive water activities on the private beach.
Design Your Waterfront Home with Relaxation in Mind
To create a pleasantly secluded ambiance typical of luxurious beach resorts, incorporate design features that promote relaxation. For instance, include a pergola or gazebo complete with loungers and outdoor daybeds to create a cozy lounging area and a dry, sheltered corner that's alluring both in summer and winter.
Add a DIY fruit cabana to turn a private waterfront beach into a true tropical retreat perfect for lazy lounging on hot summer afternoons. An outdoor kitchen is the best way to embrace open-air living, so beach owners should ensure they design one on their waterfront property too. Use cozy, laid-back weatherproof furniture and décor pieces that complement the coastal ambiance.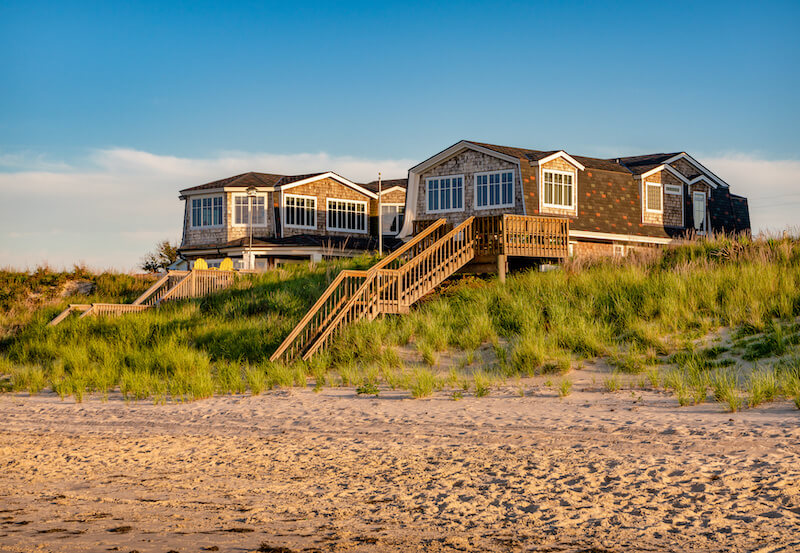 Nothing beats good company, great wine, and making s'mores around a beach bonfire on clear nights with star-filled skies. Adding a quality fire pit to a private beach means beach owners can now have more of those nights even when the weather is chilly. (Just make sure you follow the city ordinances for fire pits!) And to enhance it even further, set up a cinema area and use cozy beanbags and outdoor cushions for blissful movie nights under the stars.
A wood-burning fire pit provides the most authentic experience, but propane fire pits are an excellent aesthetic alternative. Invite even more relaxation and design your private beach into an everyday relaxation oasis by adding a water feature.
The ocean is just steps away from luxury oceanfront homes, but the water can sometimes be a bit chilly for swimming. A hot tub would make an outstanding water feature since it promotes full-body relaxation and is especially perfect for evening entertaining during winter nights.
Don't Forget to Decorate
An outdoor kitchen and dining space, pergola, fire pit, and a hot tub allow for an excellent beach experience, but tastefully decorating it is how you turn it into a tranquil escape. Consider building an outdoor bar, and invest in quality outdoor lighting as well. Good lighting ups a private beach's safety and coziness factor, making it a functional yet relaxing extension of a waterfront home.
Creatively combine general, task, and accent outdoor lighting to accentuate the private beach's best features. For instance, add string lights to the thatched roof of a tiki bar to enhance its visual interest or fairy lights inside a clear table umbrella to illuminate the outdoor dining area. Opt for energy-efficient, low-maintenance outdoor lighting such as solar or smart, color-changing bulbs that can be dimmed to create an intimate ambiance or brighten for a festive atmosphere during parties.
With proper lighting in place, incorporate other décor elements and create separate seating areas for a more intimate feel. To do this, leave most of the ground in its natural state but use different hardscapes for different seating areas. Finally, add some greenery using plants native to the shorelines to complement a blissful private beach.
Designing a Private Beach Oasis
Not every luxury waterfront homeowner has the privilege of a private beach. If you're one of the lucky few, designing it well lets you turn it into an everyday retreat and significantly increases property value. Design it with relaxation in mind, tastefully decorate it, and maximize the tips above to create a tropical paradise.