Things to Do in Annapolis, MD: What Are Your Weekend Plans?
Posted by Brian Alexander on Wednesday, January 26, 2022 at 9:37 AM
By Brian Alexander / January 26, 2022
Comment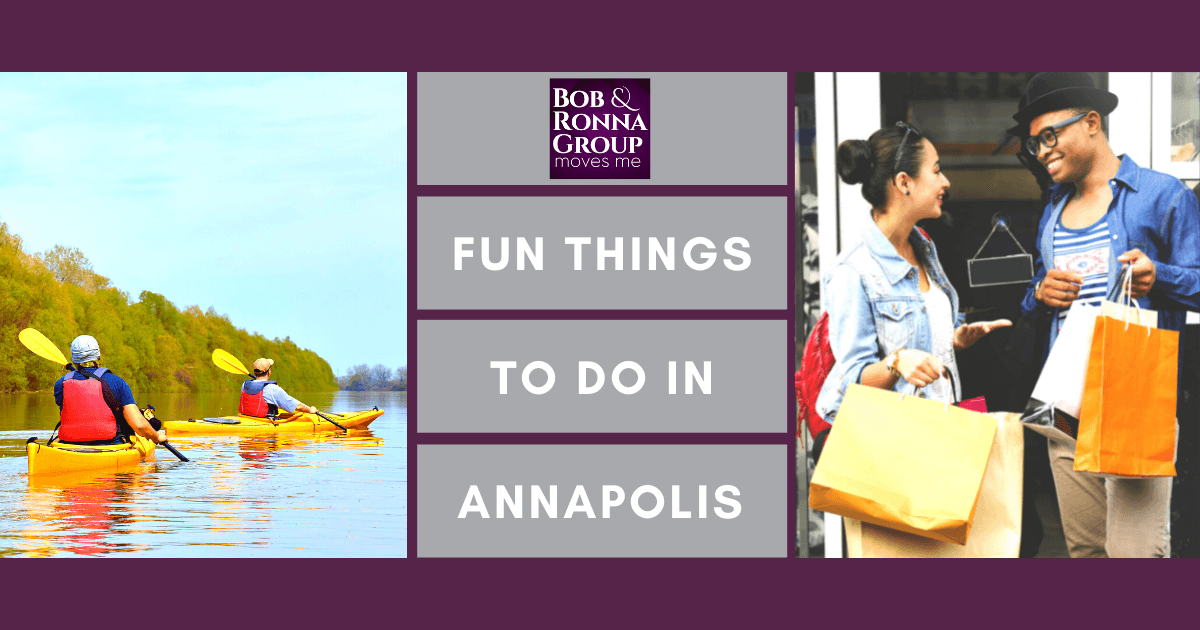 The historic city of Annapolis is graced with quite a few exceptional places to go and sights to see. As the state capital of Maryland, those who live here enjoy easy access to Washington, D.C., and have relatively easy commutes.
However, all work and no play is certainly not the state motto, and Annapolis contains historical sites, impressive waterfronts, and attractions for all ages. Check out these fun things to do in and around the vibrant city of Annapolis, Maryland.
Annapolis Outdoor Adventures
There are endless outdoor pursuits to partake in within the area, with parks for people and pets, water activities, and plenty of cycling, hiking, and biking trails. Get moving and soak in nature at these top places for outdoor adventures in Annapolis.
Parks
Popular Annapolis Parks
Sandy Point State Park
Quiet Waters Park
Jonas Green Park
Sandy Point State Park lies within the Atlantic Flyway on East College Parkway and is a favorite place to get up close with nature. There are scenic views of the Chesapeake Bay, making it an exceptional park for those seeking opportunities to spot sea birds like swans, geese, and ducks that dominate the waters in spring and fall. Picnic areas, a playground, and a few trails are here, as well.
Quiet Waters Park encompasses 340 acres and offers six miles of trails, fishing piers, picnic spaces, playgrounds, two glorious off-leash dog parks, and a shared beach. This premier park in Annapolis is a great place to spend a day with groups and pets.
Jonas Green Park is relatively small but allows fishing along the Severn River from their private pier. As part of the East Coast Greenway, this is a part of a trail leading from Florida to Maine. Jonas Green is popular for hikers, bikers, and boaters, but it's likely to find a few artists here creating coastal-inspired pieces.
Water Recreation
Annapolis Water Recreation Options
Capital SUP rentals
Kayak Annapolis
Schooner Woodwind
Head to Spa Creek and get a rental from Capital SUP to have excellent access to various waterways, including the Chesapeake Bay and the Severn River. This outfitter offers lessons, paddleboard yoga, guided tours, LED outings at night, and even a party barge that holds up to eight passengers for group trips.
Kayak Annapolis offers hourly rentals, sunset cruises, water scavenger hunts, and kayak tours. Passengers start in Spa Creek, head through the historic Eastport beneath a massive drawbridge, and go to the world-famous City Dock, where many historical sites await exploration.
Schooner Woodwind offers several activities and events on the water, including sunset and brunch cruises, wine tasting sails, and a sunrise breakfast excursion. They also rent sea vessels by the hour or the day for those ready to take on the waters without a guide.
Hiking & Biking Trails
Popular Annapolis Trails
Navy-Marine Corps Memorial Stadium Trail
Poplar Avenue Trail
Spa Creek Trail
Baltimore Annapolis Trail Park
Annapolis' multi-use hiking and biking trails can take locals where they want to go, while transients take in the sights and sounds of the natural environment. The Navy-Marine Corps Memorial Stadium Trail offers 2.5 miles of paved trails and circles the Navy-Marine Corps Stadium for those looking for a smooth surface for jogging or cycling.
The half-mile Poplar Avenue Trail is a grade-separated biking and hiking trail following Popular Park's old B&A railway line. Spa Creek Trail is a 1.5-mile asphalt trail connecting pedestrians and cyclists to Truxtun Park via West Street. Baltimore Annapolis Trail Park is a longer 13.3-mile trail following the former B&A railway. Runners, bikers, and rollerbladers use this trail, which is also wheelchair accessible.
Those ready to get outdoors or head to a few local diners and shops will find these trails to be fantastic alternatives to driving into the city center. Even better, many of these trails offer easy access to public transportation.
Annapolis Shopping
Annapolis Shopping Destinations
Annapolis Harbour Center
Festival at Riva Shopping Center
Annapolis Town Center
Locals in Annapolis have a massive selection of places to shop for household goods, clothing, and antiques. Much of the shopping action revolves around downtown, which has an array of quaint boutiques and shopping malls for browsing and buying what they want and need. Bargain shoppers and those looking for luxury goods will find it all right here!
One of the most popular places for shopping in Annapolis is the 280,000-square-foot Annapolis Harbour Center. Despite its size, this lifestyle center and retail outlet has the feeling of a small town and boasts a movie theater, an Amish market, and several shops and eateries.
With more than 45 stores and excellent restaurants, the Festival at Riva Shopping Center has popular stores, including T.J. Maxx, Michael's Arts & Crafts, Five Below, Buffalo Wild Wings, and other major retailers. Those looking for even more options and access to local events might prefer the Annapolis Town Center shopping complex featuring the Muse Paint Bar, luxury clothing, fine and casual dining, boutique shops and larger retailers, spas, and even furniture stores.
Annapolis' Top Restaurants, Pubs & Breweries
Annapolis Restaurants
Café Normandie
Lewnes' Steakhouse
Vin 909
Carpaccio Tuscan Kitchen and Wine Bar
Boatyard Bar & Grill
Café Normandie is a quaint and cozy Main Street mainstay wildly beloved by the locals for French country cuisine dining at reasonable prices. Their happy hour is popping, too! Lewnes' Steakhouse is another staple place to dine in Annapolis and has been doling out tender, juicy steaks, chops, and homemade side dishes since 1921. Vin 909 is a popular wine bar that serves a locally sourced New American menu. They specialize in brick oven pizzas and have an extensive pairing menu so guests can find the perfect wine to complement their offerings.
Carpaccio Tuscan Kitchen and Wine Bar is conveniently located in the downtown district and offers sophisticated dishes inspired by the Tuscan region of Italy and a great selection of vineyard delights. The Boatyard Bar & Grill is a hot spot for fresh, local seafood providing an excellent selection of signature dishes, specials, and craft beers from their nano-brewery.
Arts & Culture in Annapolis
Annapolis's arts and culture scene brings together the community with artistic creativity just about everywhere one looks. There are contemporary murals, historic architecture, museums, and galleries throughout the city, with several being in the downtown and harbor front areas.
Annapolis Museums
Popular Annapolis Museums
Banneker-Douglass Museum
Maryland State House
The state's official museum of African American heritage is the Banneker-Douglass Museum. This historical museum documents and promotes this rich history and culture with various exhibitions and programs that appreciate and honor diversity.
The Maryland State House is a haven for history buffs, and the structure once served as the capital of the nation in its founding years. As the oldest state house continually used by the U.S. legislature, this is the best place to explore America's past and view authentic documents.
Art Galleries in Annapolis
Popular Annapolis Art Galleries
Circle Gallery
Annapolis Collection Gallery
The Circle Gallery combines history and art and continues to serve the community for 50 years now. This includes the State House, the Annapolis Maritime Museum, and several other installations. One never knows what they can find in the Circle Gallery, as exhibitions routinely change.
Dance & Theatre Around Annapolis
Annapolis Dance & Theatre Opportunities
Annapolis Opera
Baltimore Center Stage
The Annapolis Opera is the best place for regional and global artists' dance performances and theater productions. Tickets for the most popular shows sell out fast, so be sure to check the venue's website routinely to catch the hottest acts coming to town.
Baltimore Center Stage was founded in 1963 and is the designated the State Theater of Maryland. The theater provides the community with eclectic productions in an intimate 99-seat setting and offers educational programs for aspiring actors.
Whether one is visiting or lives here permanently, there are plenty of places to get entertained, educated, and wowed by the arts and culture in Annapolis, Maryland.
Nightlife in Annapolis
Annapolis Nightlife Destinations
Armadillo's Restaurant
Dock Street
Pussers Caribbean Grille
Rams Head
The harbor-front has a variety of restaurants with sidewalk seating during warmer months. Two gems are Armadillo's Restaurant and Dock Street, which are two buildings apart. Both have D.J.s on weekends and food, which makes them hot spots for those looking for club-like atmospheres amid smaller crowds.
Pussers Caribbean Grille is located in the Annapolis Waterfront Marriott and is a British pub that clears out for a D.J. in the evening. One of the most famous destinations for live music in Annapolis is Rams Head. They have an 'On Stage' section with nightly music and have weekend performances amid their 'Tavern' zone in the back garden or basement.
Experience Annapolis Every Day by Joining the Community
Anyone looking for a great place to invest in a luxury home or reside in a gated community home proximal to plenty of things to do and job opportunities will find ample experiences here in Annapolis. Be sure to check out these top places to see just how much this vibrant city offers.
If you're looking for your Annapolis dream home, contact The Bob & Ronna Group of Berkshire Hathaway HomeServices with Maryland Real Estate Advantage at (410) 465-4440 to get in touch with an Annapolis real estate agent who can help find the perfect place for you.