4 Neighborhoods in Annapolis With Ranch Style Homes: Admiral Heights, Hillsmere Shores & More
Posted by Bob and Ronna Chew on Tuesday, October 11, 2022 at 2:38 PM
By Bob and Ronna Chew / October 11, 2022
Comment
Ranch-style homes are always in demand among Annapolis homebuyers. The common characteristics of ranch-style houses make them an excellent choice for any lifestyle. Spacious, open floor plans offer space to entertain, strategic layouts shower living spaces with natural light, and attached garages provide extra convenience. If you're in search of Annapolis ranch homes for sale, these five neighborhoods are likely to have just what you're looking for.
Heritage Harbour
Heritage Harbour is one of the most popular 55+ communities in Annapolis. It's conveniently located a short drive from Downtown Annapolis, St. John's University, and the Naval Academy. It's also close to Route 50, making it an easy drive to the west to reach Washington, DC.
Developers started building homes in Heritage Harbour in the 1970s and were still building houses as recently as 2008. The neighborhood has a few condos and duplexes, but most living spaces are single-family homes. This includes a large number of ranch-style houses.
While a few home-based businesses are in the neighborhood, it is primarily zoned as residential. The single largest building in the neighborhood is the Heritage Harbour Community Association. Community members have access to all Heritage Harbour amenities offered at the Community Association.
The building has an indoor and outdoor pool, a Jacuzzi, and a sauna. Rooms are set aside for arts and crafts, woodworking, billiards, card games, education courses, and an auditorium to host live entertainment. There's also a fitness center, a library, and a garden lounge for residents only.
Hillsmere Shores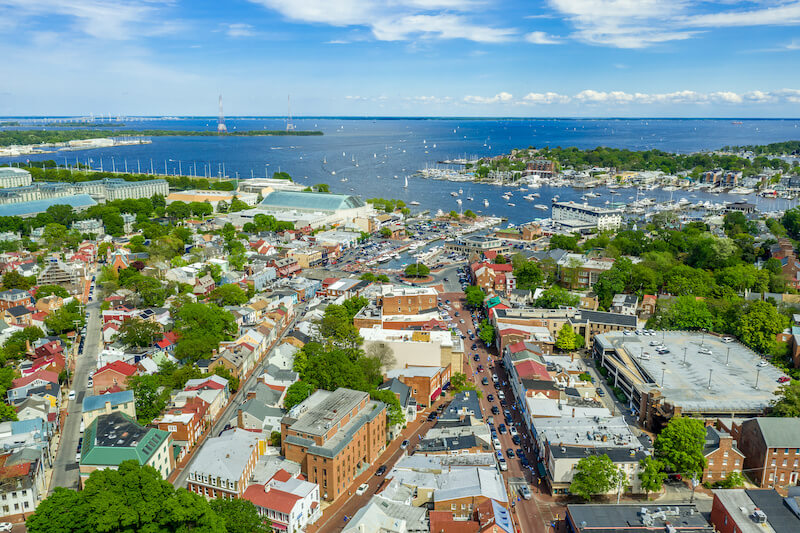 As its name suggests, Hillsmere Shores is surrounded by water and water activities. There's a private beach for community members to enjoy and a private marina that offers direct sailing access on the South River, making it one of the best neighborhoods in Annapolis.
This is a very sought-after community to live in. There are more than 1,200 homes in Hillsmere Shores, including many ranch-style houses. Imagine coming home at the end of a long day to a waterfront ranch home with stunning views of the South River. That's a dream that is well within reach in this community! Many homes in the neighborhood were built back in the 1950s.
As far as amenities, Hillsmere Shores offers Quiet Waters Park, a 340-acre green space with multiple things to do. It has a fenced-in dog park and one of the only dog beaches in the Annapolis area. There's also a playground for children, a reading and butterfly garden, and numerous walking paths through the forest.
The beach has picnic tables, a kayak rack, and a playground. The neighborhood even has an outdoor pool for residents to enjoy. Hillsmere Shores is about a 3-mile drive from Downtown Annapolis.
Tyler Heights/Primrose Acres
Tyler Heights and Primrose Acres are two small Annapolis neighborhoods that border each other, located south of downtown. There is a good mix of different housing types in these two neighborhoods, including apartment buildings and residential homes. Many of the houses here fall within the definition of ranch-style, and this is one of the more affordable areas to purchase a home in the Annapolis area.
Tyler Heights and Primrose Acres are just minutes away from downtown. Truxton Park is an ample outdoor space just a short walk north of Primrose Acres. It has multiple baseball fields, tennis courts, a skate park, a public boat launch, and a municipal pool. There's a lot to see and do in this park.
The median list price for homes in Tyler Heights and Primrose Acres is around $500,000. However, some ranch-style homes can be found here in the high $300s. These two small neighborhoods are close to several schools in the area, making them convenient for students to walk to. Since most residents here work directly in Annapolis, they enjoy daily one-way commutes of as little as 15 minutes.
Admiral Heights
Anyone looking for a ranch-style waterfront home would be remiss to ignore the Admiral Heights neighborhood in Annapolis. The northern border of this neighborhood is directly along Weems Creek and Harts Cove. The southeast border of the neighborhood is the Navy-Marine Corps Memorial Stadium, making this a great place for football fans.
Residents near Weems Creek can access a dock, boat slips, and a community pier. Kayak racks are provided for Admiral Heights residents to use anytime as well. The Admiral Heights Improvement Association takes good care of many of the amenities listed here.
Admiral Heights is an excellent neighborhood to search for a ranch-style starter home. Average list prices are around $650,000.
Residents can join a local boat club in this neighborhood if they are boat owners. The boat club hosts an annual block party each year in August. Several parks border the waters of Weems Creek. Admiral Heights is located just north of the Annapolis Historic District and is just a few blocks from the Maryland State House.
Find Your Ranch-Style Home in Annapolis
It's easy to find Annapolis ranch homes when you know where to look! With these five great neighborhoods, you can explore your options and choose the community that best fits your desired lifestyle. Once you've found the perfect place, all that's left to do is design your ranch-style house to be picture-perfect.